Your San Diego Social Diary
Kima's Columns
Introducing Kima the Canine Connoisseur
Kima 'The RunAway Bride' - Shopping for My New Man!
Kima 'Lookin' for Love on Valentine's
Kima in Xmas Gown with Belle the Horse
Kima at Events
Kima on the Star Studed Red Carpet for the 2009 Genesis Awards
Kima the Service Dog and Arthritis Dog Honoree at Helen Woodward's Shangri-Paw Gala
Kima as Arthritis Dog Honoree at the Arthritis Gala 2009
Kima the Arthritis Dog Honoree for the 2009 Arthritis Foundation Walk
Kima at the 2008 Patrons of the Prado
Kima at the Golden Hanger's For Make-A-Wish
Fur Ball 2008 'A Flurry of Furry Pets'
Kima at the 2009 Patrons of the Prado
Kima the Celebrity Model at Vista Hill Fashion Show and Luncheon
Kima the Service Dog at the Vista Hill VIP Party
Kima at the 2009 Center For Children Gala
Kima at the 2007 Arthritis Walk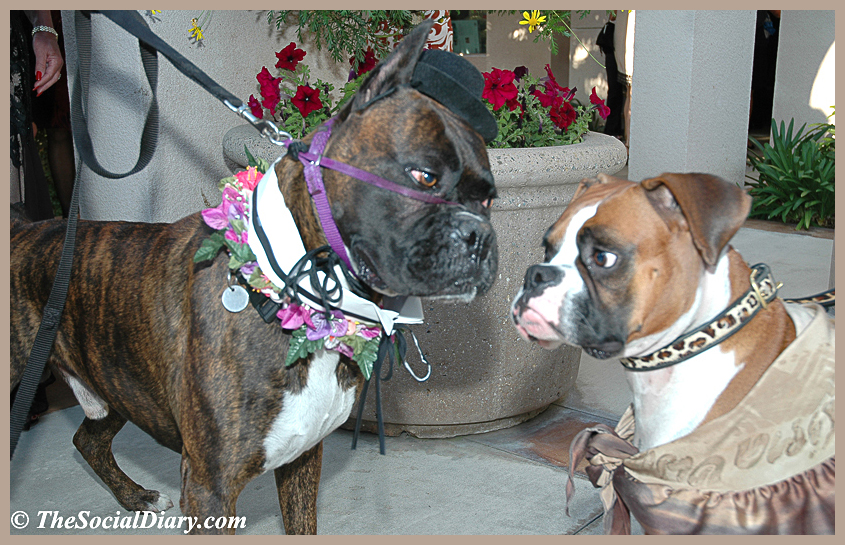 Kima getting an admiring look from Jake while modeling her Jordan Art Couture at the 2008 Fur Ball.
WOOF!!
Kima says please consider adopting, donating, volunteering for animals!!
Favorite Links to Adopt / Care For Beautiful, Deserving Animals
San Diego Animal Support Foundation
______________________________________________________________________________
** photos, video and writing on this site are the
2011 copyright of The Social Diary LLC, San Diego Social Diary and it's subsidiaries.
No reproduction of any part or parts is allowed without written permission by The Social Diary
Opera 2011 Photo Preview - Page 2
Opera 2011 Photo Preview - Page 3
Opera 2011 Photo Preview - Page 4
Opera 2011 Photo Preview - Page 5
Opera 2011 Photo Preview - Page 6
Opera 2011 Photo Preview - Page 7
SD Social Diary Magazine Hosts Fashion Show at Neiman Marcus