Prado Patrons 'On Track' with the Orient Express
More than 370 elegantly attired guests were "on board" with the Orient Express theme at the historic Casa del Prado in Balboa Park July 18th, 2009.
The benefit was hosted by the Patrons of the Prado, a formidable group of philanthropic women who have raised more than $1.5 million for the 11 Balboa Museums since the group's founding in 1997. This year, the chosen beneficiaries are the Timken Museum of Art, the San Diego Natural History Museum and the San Diego Junior Theatre.
Co-Chairs Anita Crider and Elisabeth Bergan
The mystical air of the Orient pervaded the night. Arlene and Richard Esgate arrived in Asian attire of years gone by replete with umbrella, wigs, and makeup.
Also in attendance with striking and glamorous looks were Valerie Cooper in an embroidered Alexander McQueen dress, Denise Hug in an off-white fringed number by Camilla and Marc, Bertrand Hug accessorized with a top hat, Judy Wheatley in a one shoulder gown by Jordan, and Teri Nagelberg in a South American designed gown by Iodice. The gown featured provocative cutouts on the sides.
Jennifer Greenfield was a standout in a flowing royal purple gown by Emanuel Ungaro, Emma Zuckerman wore a sophisticated Gucci with a border of beading, Jeanne Jones wore a trim and colorful gown by Pucci, and gala co-chair Elisabeth Bergan looked simply pretty in a beaded Pamela Roland gown.
Guests started the evening by enjoying cocktails and incredible appetizers by Jeffrey Strauss of the Pamplemousse Grille. Jeffrey also provided the dinner, as well as a very generous auction prize: dinner for 24 in his private dining room, wine included. That went for $10,000. The auction prize for a trip aboard the real Orient Express riding from Venice to Paris went to Ellen and Tim Zinn for a cool $15,000! They bought the trip on The World too. Their daughter and son-in-law, Drs. Jacqueline and John Lesher, bought trips to Macchu Pichu and Africa.
In addition to the funds raised, the star entertainment was stellar too! "The Patrons of the Prado's gala was a major success" said Board of Directors President Dottie Stanley. "Besides selling out, the entertainment was spectacular, namely, Steve Tyrell from the Carlisle in New York! Other bands besides Tyrell's provided a wide variety of music before and after dinner."
And there were plenty of other enthused guests. "The evening was totally fabulous," remarked Arlene Esgate. "Amazing food, drink and friends surrounded by wonderful music and dancing. A really great event!"
Sally B. Thornton added this fun quote:
"INTRIGUE ON THE ORIENT EXPRESS
THE SYNERGISTIC AMBIANCE
CREATED AFFABLE EXCITEMENT!
THE "BEAUTIFUL PEOPLE,"
Elegantly attired,
Savored Pamplemousse grille Owner,
Jeffrey Strauss'
culinary magic.
Steve Tyrell's
marvelous melodies,
captured our hearts.
THE PATRONS of the PRADO
did them$elve$ proud!"
"We had a really great time" said Valerie Cooper. "Steve Tyrell was super and then there was dancing afterwards to NRG back where the reception was. Our group was there to the bitter end."
Elisabeth Bergan was very pleased the way the event turned out. "The evening was terrific. We wanted it to be the best and it all came together. It was a sell-out. Tyrell is an extraordinarily genuine, generous performer - The Way You Look Tonight... Jeffrey Strauss outdid himself with fantastic dinner and wines - Veuve Clicquot was the bubbly poured. The auction exceeded our expectations, which we set high, with trips on the orient Express and stay at Ciprianni in Venice. René Van Rems brought his magic to the tables with elegant white tables capes. Diane Kern did a masterful job of pulling it together for us - she really made it all happen. There was fab, impromptu after party at the Sofia* - which explains why I am just getting off the sofa. It was a great night for the museums along with the Prado - we made money and had fun! Endless thanks to Anita Crider, my twin in this caper and to all who so generously supported our journey on the Orient Express from London to Istanbul."
"The party had a truly magical quality about it," added Jeanne Jones. "The setting was like a page out of a storybook, complete with swaying palm trees, a magnificent fountain and table tops covered with brilliant pink roses. Jeffrey Strauss did his usual exceptional job of presentation with his marvelous menu and the famous singer, Steve Tyrell put on an amazing show. Of course, having an unusually warm balmy summer evening for this outdoor event was the perfect final touch!"
John Wilson, Executive Director of the Timken Museum of Art, had this remark. "In these difficult times the philanthropy of the Patrons of the Prado is very literally crucial to the fiscal well being of the Timken. We're extremely grateful for their hard work for us, and for all our colleagues in Balboa Park museums."
The Timken Museum of Art houses the world-class Putnam Foundation Collection of European old masters American art, and Russian icons. The Balboa Museums afford San Diegans an international 'stay-cation for the arts, hisotry, aerospace, and sports.'
Balboa Park is a great place to hang out too!
This year's Patrons of the Prado gala raised significant funds for Balboa Park Museums thanks to the terrific work of Co-Chairs Elisabeth Bergan and Anita Crider, Honorary Chair Charlotte Nielson and their terrific supporters including Barbara Brown, Kathleen Buoymaster, Betty Brayshay, Joyce Glazer, and Lola Green.
Lola summed up the purpose of the evening with this comment. "This organization represents a road map of how each of us should live our lives… giving to others and receiving more in return."
To learn more please visit www.patronsoftheprado.org
Please enjoy the photos.
If you wish to purchase photos, please email your inquiry. No downloading of photos without express written permission by The Social Diary thank you.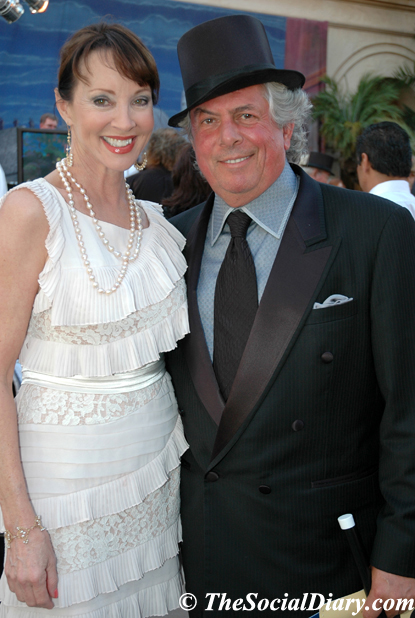 Denise and Bertrand Hug
Jennifer Greenfield getting a squeeze and kiss from husband Dr. Richard Greenfield ** Arlene and Richard Esgate
Betty Kornreich with Cindy Goodman ** Judy Wheatley with Kima the Arthritis Dog Honoree
Jack White with Kima ** Ida and Rob Whitaker
Leonard Simpson with Linda and Don Swortwood ** Lynne Wheeler ** Judy Wheatley
Don Breitenberg and Jeanne Jones with Jennifer Greenfield ** Patty and Dale Gribow
Ellen Zinn with Charlotte Hogue ** Judy and Peter Corrente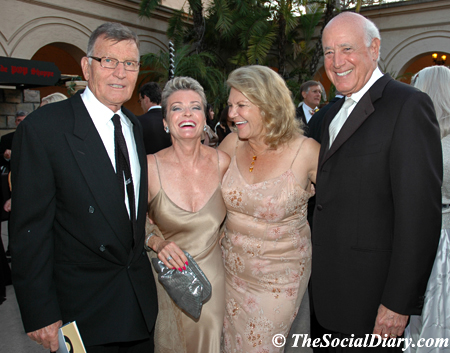 Lola and Walter Green with Guests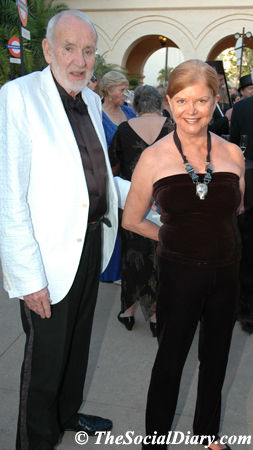 William and Elizabeth Zongker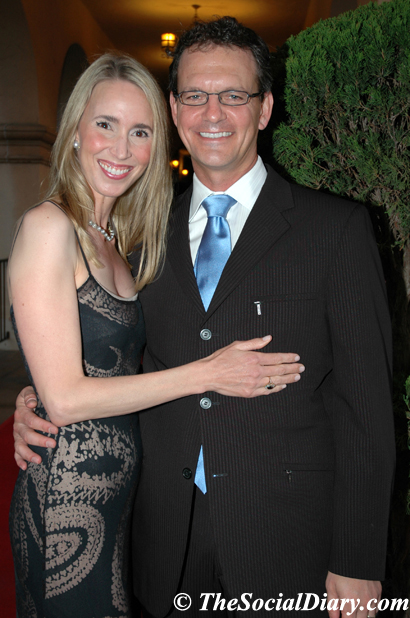 Gail and Ralph Bryan
Arlene and Richard Esgate ** Robert Horsman and KK aka Katherine Kennedy
Robert Horsman with Katherine Kennedy ** Dr. Richard Greenfield and Jennifer Greenfield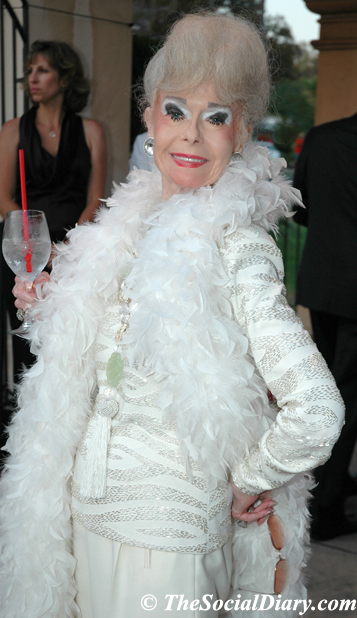 Sally B. Thornton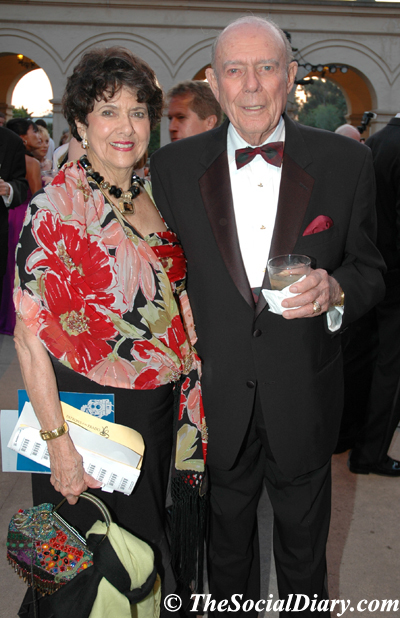 Betty and Jim Brayshay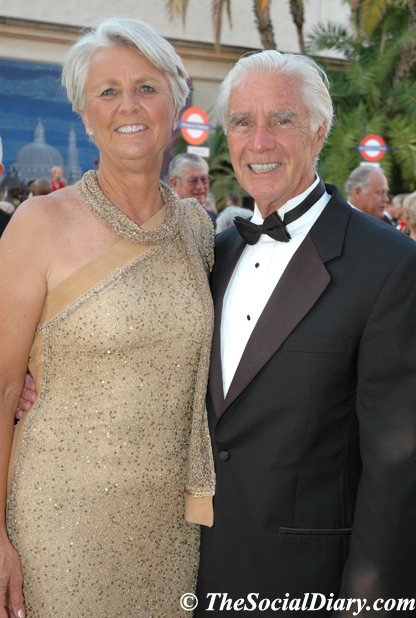 Judy and Chuck Wheatley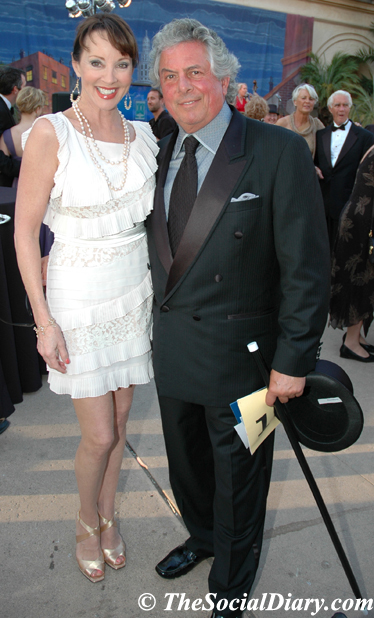 Denise and Bertrand Hug
Valerie Cooper with Teri Nagelberg ** Jeanne Jones with canine friend, Kima the Service Dog
Leslie Meads with Anna Sue and John Wilson of the Timken Museum, and Maggi Crowell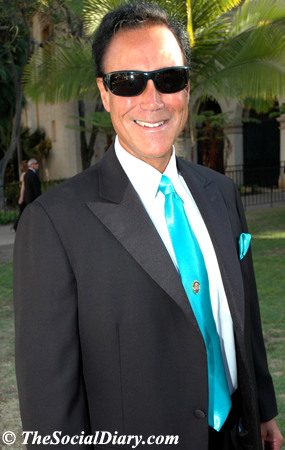 reported by '411' Margo Schwab with '911' Scott Johnston
all photos and content are the strict copyright 2009 of TheSocialDiary.com and it's subsidiaries
The Buzz
....Hear that Southern Accent in the Air?
The Texans are here...can you blame them? A tradition for many, the heat has annually chased them to San Diego. Always in time for their favorite past time...the Del Mar Race Track!
Upcoming Events
July 30th - 'After the Finish Line's' summer fundraiser, A Tribute to the Majesty of Thoroughbreds. Please visit www.afterthefinishline.org for details.
July 31st - August 23rd - The La Jolla Music Society will host its SummerFest series. Please visit www.lajollamusicsociety.org for details.
August 1st - Old Globe Gala will host its black tie soiree to coincide with the production of the First Wives Club. Please visit www.oldglobe.org for details.
August 8th - Las Patronas will host its Silk & Spice themed Jewel Ball at the La Jolla Beach & Tennis Club. Please visit www.laspatronas.org for details and tickets.
August 13th - ChildHelp and Leonard Simpson fashion at the W Hotel. Details to follow.
August 15th - The 'Catch the Royal Wave' will be the theme for the Fur Ball at the San Diego Humane Society. Please visit www.sdhumane.org for details.
August 23rd - The Moores UCSD Cancer Center will host the 1th Annual Luau & Longboard Invitational by Scripps Pier. For more information please ring 858-822-0023.
August 23rd - Country Friends will host an exciting new event called Hats and Flats. Sip champagne among the fashionable set. The event will take place at the San Diego Polo fields. Details to follow.
August 29th - The Art of Fashion at The Timken Museum in collaboration with Fashion Careers College's Pat O'Connor. For reservations, please visit www.timkenmuseum.org
September 11th - SIMA will host the 6th annual Liquid Nation Ball at the private oceanfront residence of Fernando Aguerre. This year the Humanitarian of the Year award will go to surf star Flea. Please contact Shannon Park at shannon@sima.com for more details or visit www.liquid -nation.com
September 12th - Club Monte Carlo is coming to the Museum of Contemporary Art San Diego. For details on this gala event, please visit www.mcasd.org
September 17th - The Costume Council of the San Diego Historical Society will be hosting a one-of-a-kind event in Balboa Park to showcase select San Diegan's couture finds. The Social Diary is pleased to be a part of this showcase. For more information about this event, please visit www.sandiegohistory.org
September 17th - The San Diego Police Hisotrical Association will host a Legends Behind the Badge gala & awards evening at the U.S. Grant. San Diego Police Department's Chief of Police William Landsowne will serve as Honorary Chair with Ramin Portemeyer serving as Co-Chair. Please ring McFarlane Productions at 619-233-5008 for ticket information.
September 24th - The Country Friends will present the 54th annual "Art of Fashion" Runway Show at The Inn at Rancho Santa Fe. Proceeds from the luncheon, fashion show, boutique shopping and wine tasting will benefit Voices for Children, which provides court advocates for children in foster care. Couture fashions presented will be provided by South Coast Plaza. For ticket information, please contact The Country Friends at 858/756-1192, Ext. 4 or via email at events@thecountryfriends.org.
September 14th - Crime Stoppers Golf Tournament.
October 16th - The Rainforest Alliance will host it's gala. Details to follow.
October 17th - Sundt Memorial Fundraiser. Details to follow.
October 22nd - The Walden Family Services will host their 6th Annual wine D'Vine event. Please visit www.waldenfamily.org for more details.
November 7th - The Golden Hangers / FCC benefit for Make-A-Wish and San Diego Variety Children's Network.

________________________________________________________________
Photoshopping and Photography Services
Photos on this website available if it is of you
available by The Social Diary
~ 619-384-7333
email TheSocialDiary.com
_____________________________________________________________________
Email Commentary to be added
email editor@thesocialdiary.com
* Margo Schwab, more formally known as Margaret E. Schwab, has produced, written, interviewed and photographed for various media organizations since 1989. Schwab attended Holton Arms School, La Jolla Country Day School and La Jolla High School. Schwab has a B.A. from Scripps College, spent a business internship with S.A.I.C., Science Applications International Corporation, and earned a Masters of Business degree, M.B.A., from the University of San Diego. Schwab additionally took college courses from Harvard University, and Syracuse University. Schwab volunteers for numerous charity organizations. She also continues to support animal organizations and the prevention of people and animal abuse. Schwab is the editor of The Social Diary.
The Social Diary is pleased to announce new partnerships with the San Diego Humane Society and San Diego News Network.
Warning ** photos, video and writing on this site are the
2009 copyright of The Social Diary LLC and its subsidiaries.
no reproduction of any part or parts is allowed without written permission by The Social Diary