San Diego Social Diary LLC All rights reserved 2011 (This material may not be published, broadcast, rewritten or redistributed)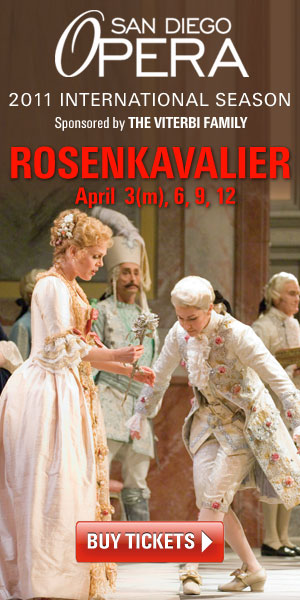 619-708-1933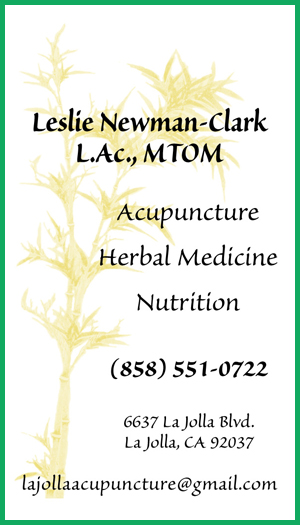 SPECIALS EVERY DAY - Open 7am-3pm!
Homemade, Delicious Food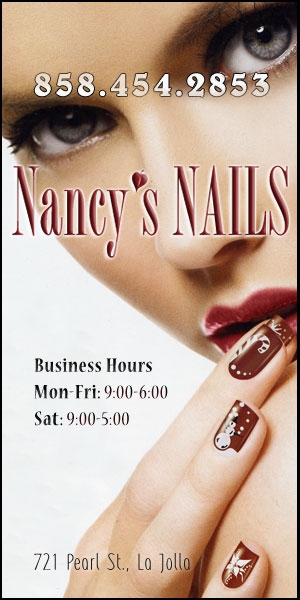 REFLEXOLOGY SPECIALISTS TOO
Click Ad above for Special Promotions!!
WineSellar & Brasserie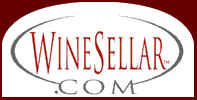 858-450-9557
Restaurant, Gary Parker's Wine Club,
Wine Store and
~ Wednesday & Saturday wine tasting's ~
XXXXCheck out Gary Parker's Pick... X...XXXXXXXa 2007 Clos de la Roche, Grand XXXXXXXXCru for $54 WineSellar Club XXXXPrice,this Pinot Noir is STELLAR!
_________________________
For Advertising, please
your inquiry.
Ask about you can support your favorite organization!
_________________________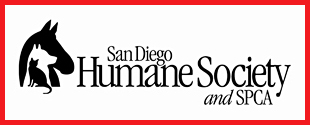 BUSTER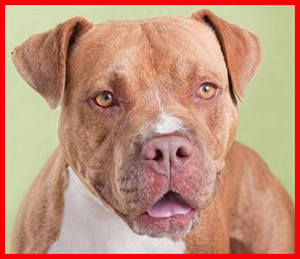 Breed: Pit Bull mix
Color: Red/White
Age: 2 years
Sex: Male
Hair: Short
Buster is a handsome dog who can't wait for a second chance at life with a loving family and home! He is always thrilled to accompany his human companions on their athletic pursuits and outdoor adventures. Youthful, active and fun-loving, Buster is guaranteed to make you smile. While Buster enjoys hanging out with his human companions, he is also content to hang out on his own. Buster will do best in a home with children 16-years-old and older and in a home without cats.

ROXY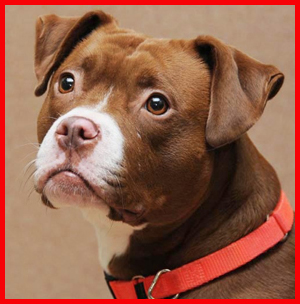 Breed: Pit Bull mix
Color: Brown/White
Age: 2 years
Sex: Female
Hair: Short
Roxy is an adorable dog who can't wait for a second chance at life with a loving family and home! She is always thrilled to accompany her human companions on their athletic pursuits and outdoor adventures. Youthful, active and fun-loving, Roxy is guaranteed to make you smile. While Roxy enjoys hanging out with her human companions, she is also content to hang out on her own. Due to Roxy's energy level, she'll do best in a home with children 16-years-old and older, and as the only pet in the home.
SpaSAN DIEGO HUMANE SOCIETY & SPCA
GAINES STREET CAMPUS
5500 GAINES STREET
SAN DIEGO, CA 92110
(619) 299-7012
www.sdhumane.org rky
with other dogs or cats.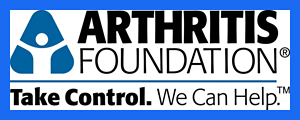 Kima would like to thank her supporters, who helped raise over $130,000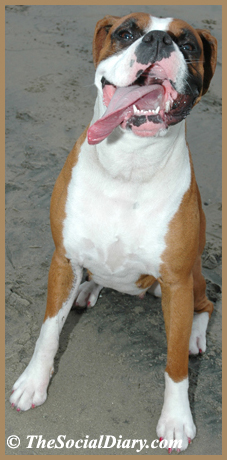 'The Social Diary is a delight to partner with!
As a result of their contributions to our organization, our 2009 Arthritis Walk event revenue increased by 50%!! I am very much looking forward to our continued partnership.'
- Andrea Muir, 2009 Development Director, Arthritis Foundation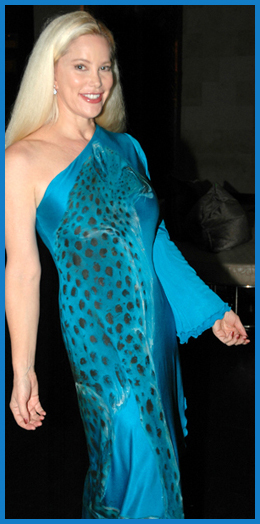 909-534-1495
Where the locals dine
for Homemade Pastas, Raviolis, and Sauces
Cafe Milano
711 Pearl St, La Jolla
858- 454-3806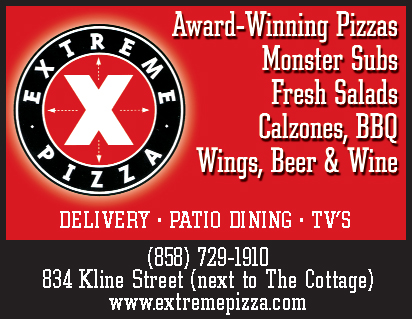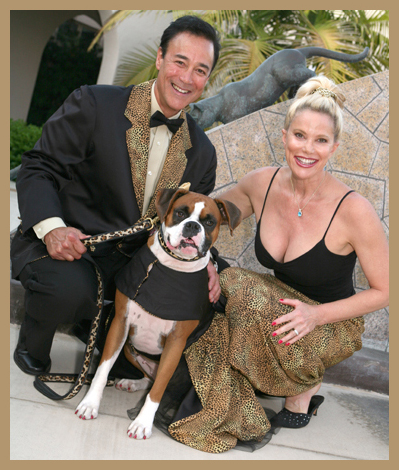 Scott Johnston, Margo Schwab and Kima!
Photoshopping &
Photography Services
available by The Social Diary
~ 619-384-7333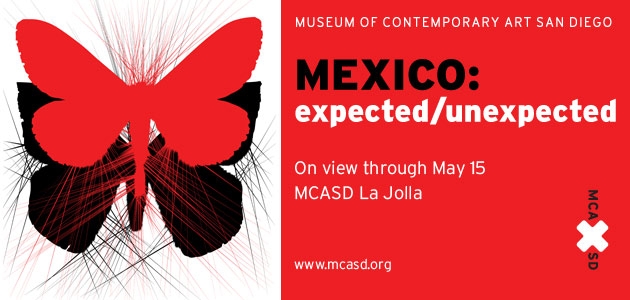 La Revista Diario Sociales de San Diego - 'Su Conexión Con La Sociedad '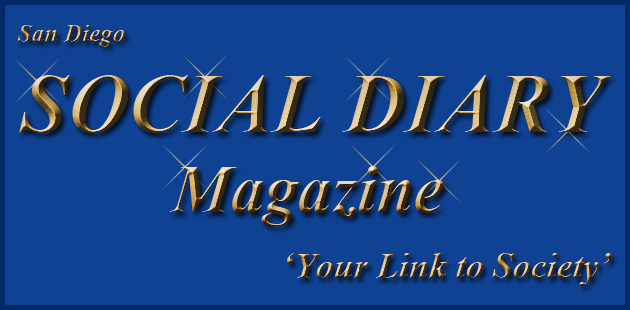 SD Social Diary Magazine Hosts Private Spring / Resort Fashion Show at Neiman Marcus
It was San Diego Social Diary Magazine's second collaboration with Neiman Marcus for a fashion luncheon February 8th, 2011. A special 20 'PYL's' aka 'Pretty, Young (and smart!) Ladies' were invited to enjoy champagne, delectable couture fashion styled by Alex Yanez, all while nibbling on a delicious Zodiac lunch (love the halibut) served up by Panache Productions.
Among the guests there were Salem Ciuffa of Giuseppe's Restaurants and Catering in Kate Spade, Miriam Smotrich in Yigal Azrouel, Ana Lombrozo in black cashmere, Rosella Fimbres in Chanel, newlyweds Elaine and Kelly Hooker (Kelly was the only other male there aside from SDM's Scott Johnston), Sarah Nicole Dolgen of the new 'it' destination Body Sculpt by Sarah in La Jolla, and another 'go to gal,' Bonnie Saldivar-Jones of Concierge Fitness San Diego. Bonnie wore a Chanel jacket with jeans and killer turquoise Louboutin's!
More there included Nancy O'Connor, commercial banker Marina Phillips, real estate broker Laura Barry, Rocio Bernal-Flynn in red hot Fendi, fellow animal friend Meaghan Hunt, Jennifer aka Jen Keslik-Bell in leopard bootie with stilettos and our wonderful new assistant Megan Blaich.
Kima was there too. She wore a custom burgundy outfit by SDM Fashion Writer Jemima Dutra.
All in all it was a day of fun..... and later shopping!
Luncheon guests this day are not just beautiful but also generous to the many organizations they support. Among their favorite causes are Voices for Children, Ronald McDonald House, Just Like My Child Foundation, Jewish Family Services, Helen Woodward Animal Center, Kids Korps USA, Jenna Druck Foundation, Humane Society, Rady's Children Hospital, Wounded Warrior Foundation, SNAP aka Spay and Neuter, the Humane Society United States, Yoga for Hope, City of Hope San Diego Office, and Rancho Coastal Humane Society.
Neiman Marcus in San Diego by the way supports quite a few organizations but most notably the Old Globe Theatre, the San Diego Opera, and Seacrest Retirement Villages..... and quite a few others as well.!
Special thanks to the terrific Neiman Marcus hosts including Lyndy Carreiro, Ida Sandico-Whitaker, Alex Yanez, Jade Wong, and Linda Cantowine.
All in all a great day to thank wonderful, wonderful people who do so much for the community... and they do so with great style and grace... San Diego Social Diary Magazine salutes you!
Be advised strictly no downloading, publishing, broadcasting, printing, or copying of photos or content. Please email purchase requests of photos you are in.
The Social Diary Magazine Luncheon Guests
Meaghan Hunt, Rocio Flynn, Carmel, Bonnie Saldivar-Jones, Margo Schwab and Kima, Miriam Smotrich, Salem Ciuffa, Rosella Fimbres, Diana Malk, Nancy O'Connor, Becky Merrill, and Elaine Hooker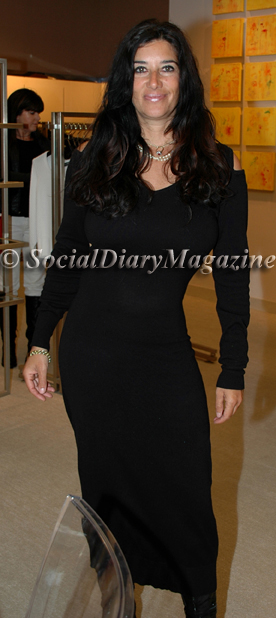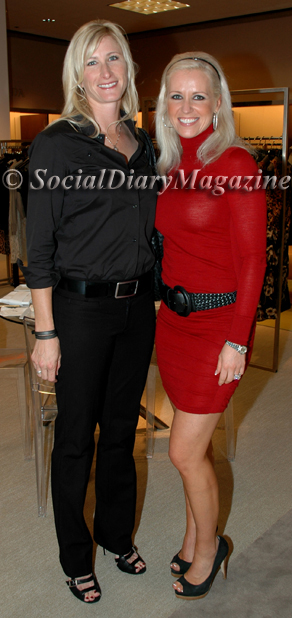 Ana Lombrozo ** Meaghan Hunt and Marina Phillips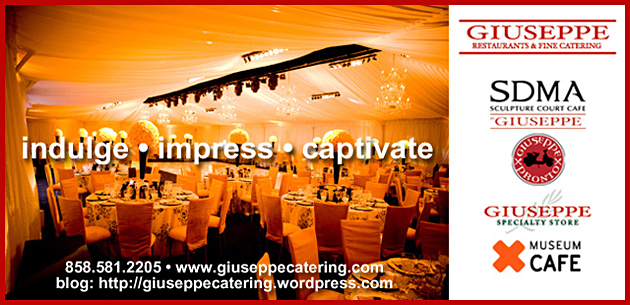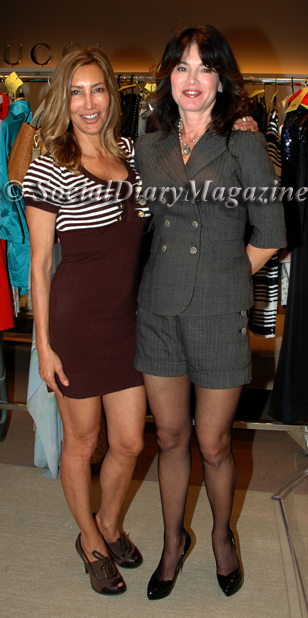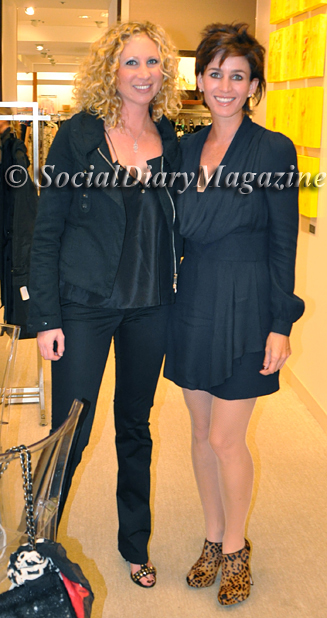 Nancy O'Connor with Becky Merrill ** Sarah Nicole Dolgen with Jennifer Keslik Bell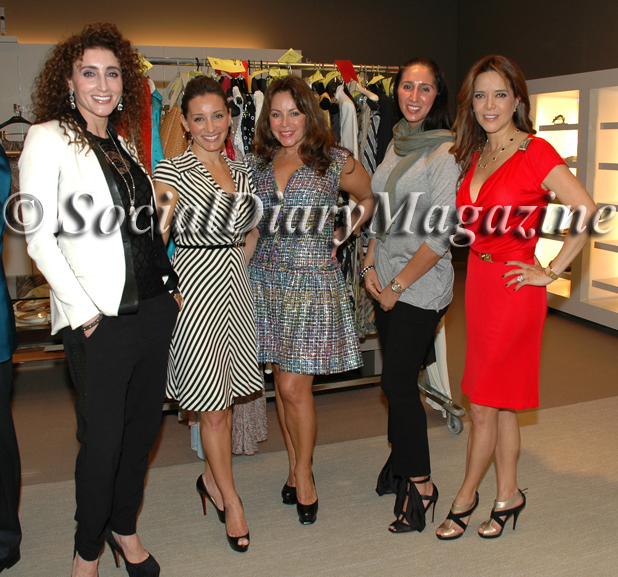 Miriam Smotrich with Salem Ciuffa, Rosella Fimbres, Diana Malk and Rocio Bernal Flynn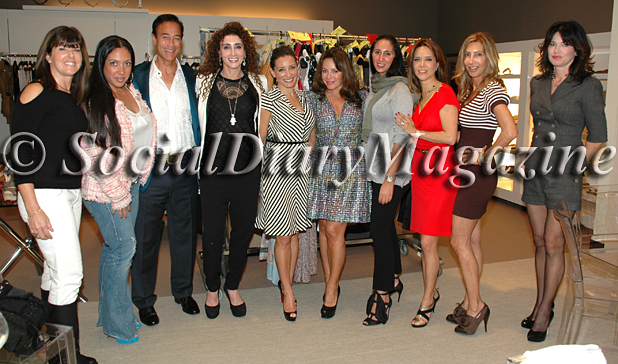 Carmel, Bonnie Saldivar-Jones, Scott Johnston, Miriam Smotrich, Salem Ciuffa, Rosella Fimbres, Diana Malk, Rocio Flynn, Nancy O'Connor and Becky Merrill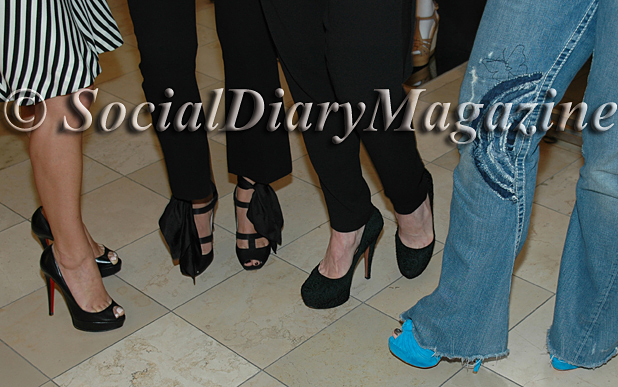 It's all about the shoes!!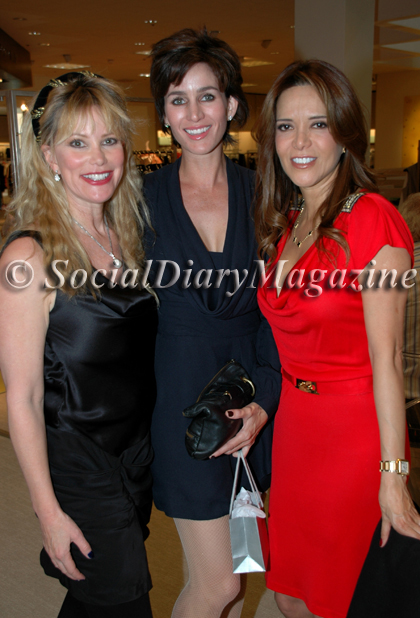 Margo Schwab with Jennifer Keslik Bell and Rocio Flynn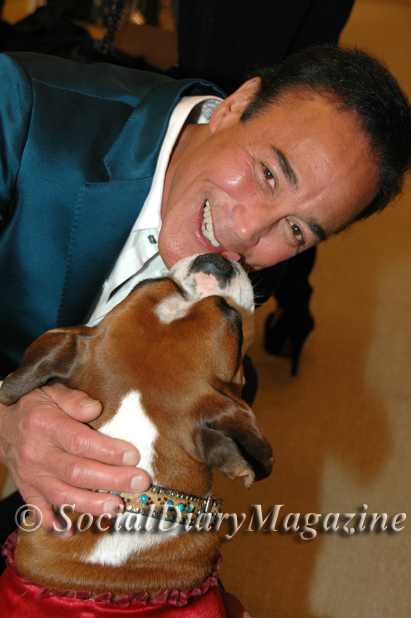 Daddy's Girl... Kima giving Scott Johnston a kiss!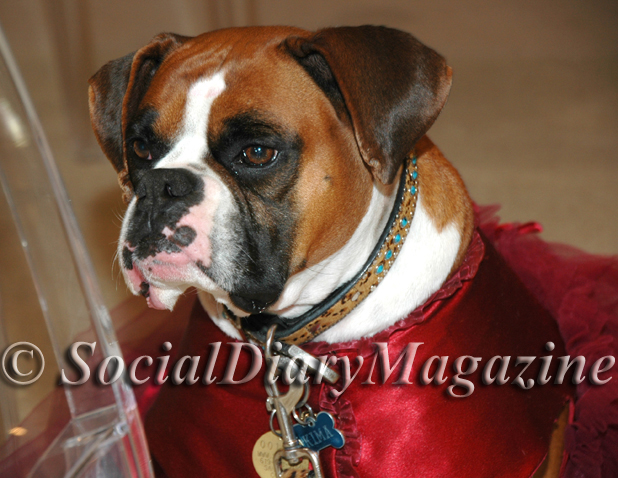 Kima the Arthritis Dog Honoree (3 years now) and Service Dog in a Jemima Dutra custom design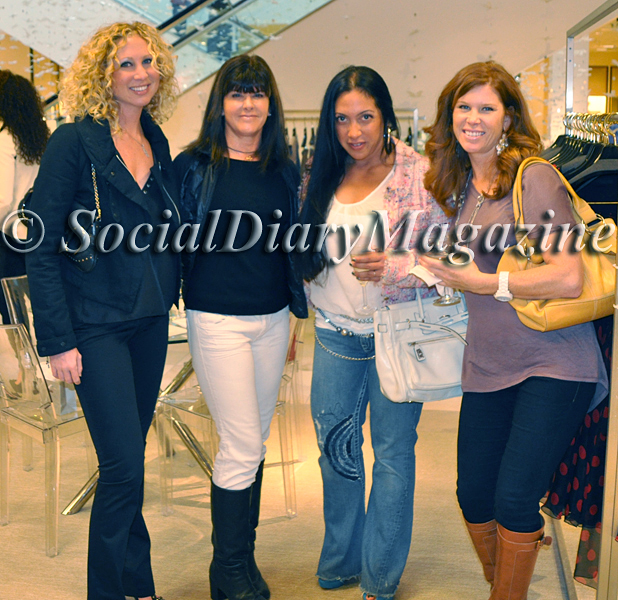 Sarah Nicole Dolgen with Carmel, Bonnie Saldivar-Jones and Stacie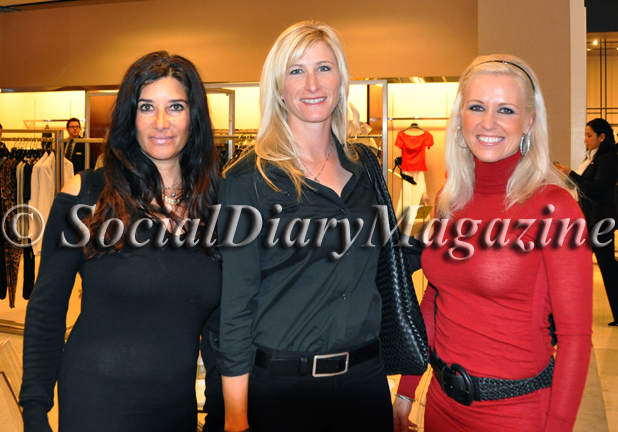 Ana Lombrozo with Meaghan Hunt and Marina Phillips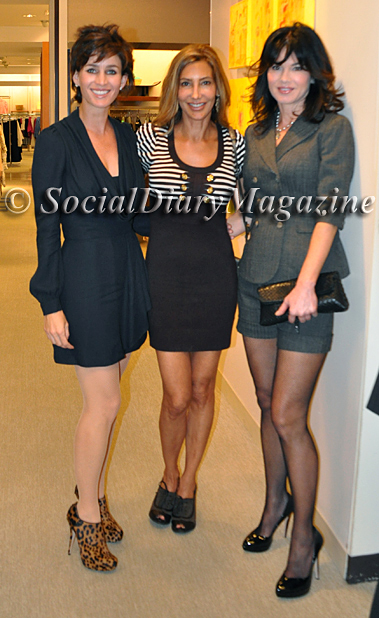 Jennifer Keslik Bell with Nancy O'Connor and Becky Merrill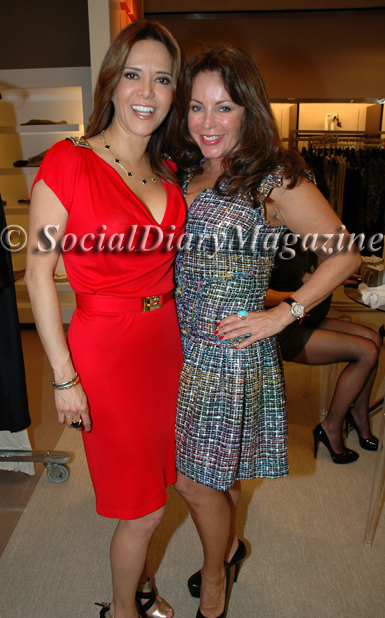 Rocio Bernal Flynn and Rosella Fimbres
Margo Schwab with Rocio Flynn, Rosella Fimbres and Nancy O'Connor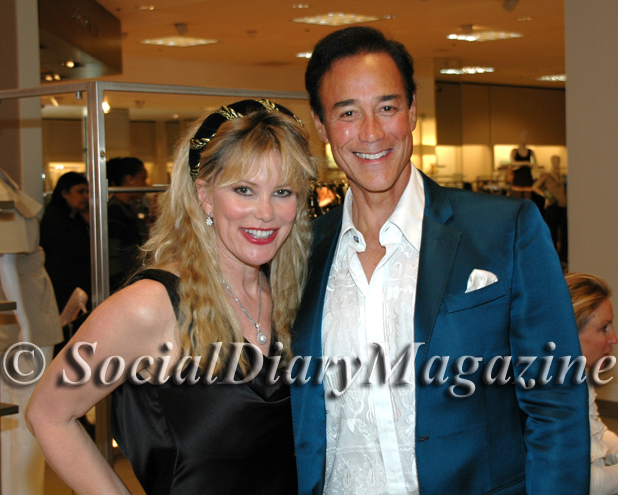 Margo Schwab and Scott Johnston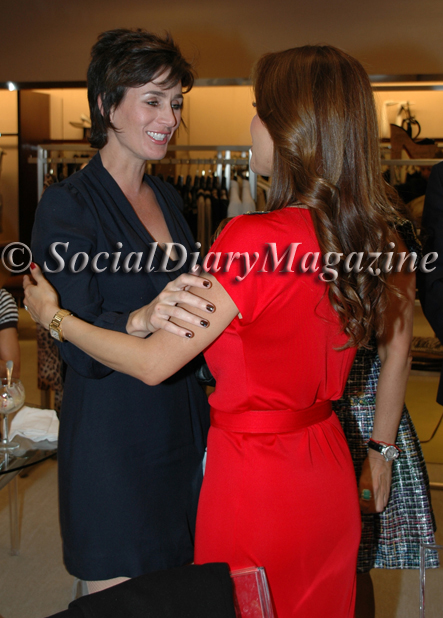 Jennifer Keslik Bell with Rocio Flynn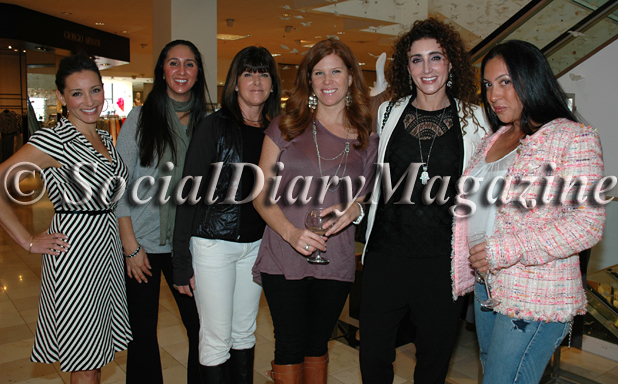 Salem Ciuffa with Diana Malk, Carmel, Stacie, Miriam Smotrich and Bonnie Saldivar-Jones
advertisement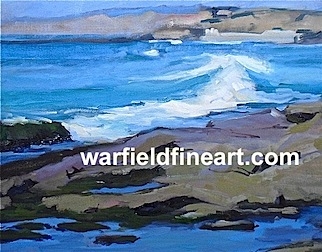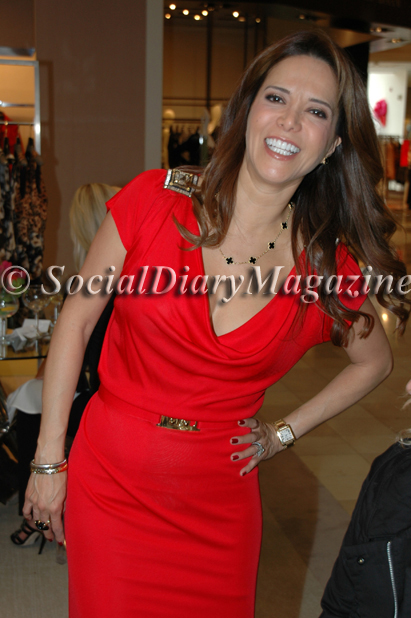 Rocio Flynn
advertisement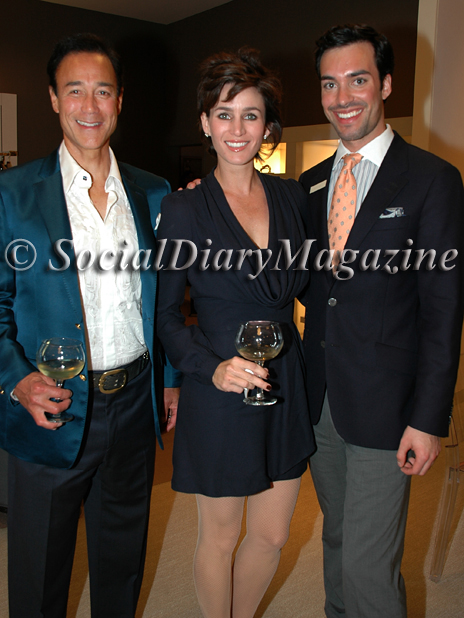 Scott Johnston with Jen Keslik Bell and Alex Yanez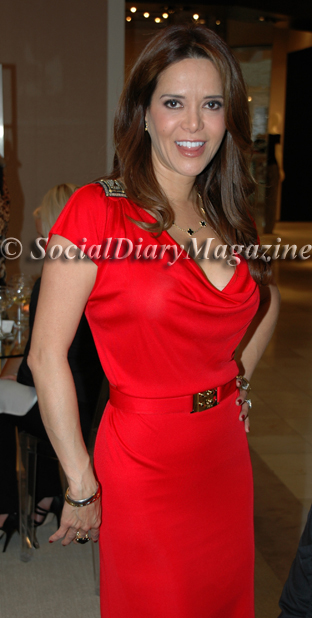 Rocio Flynn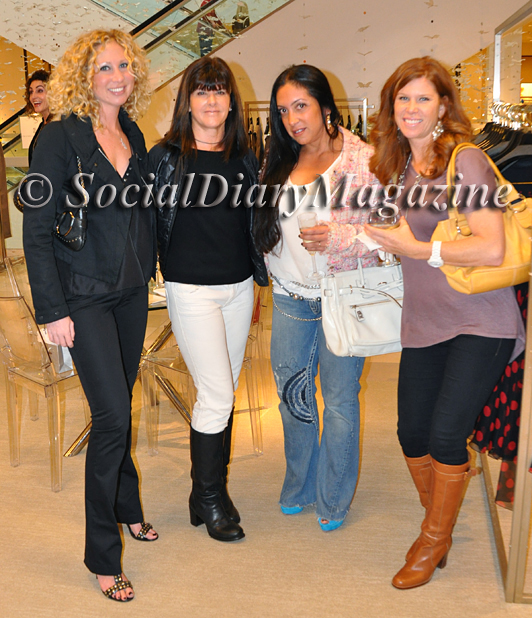 Sarah Nicole Dolgen with Carmel, Bonnie Saldivar-Jones and Stacie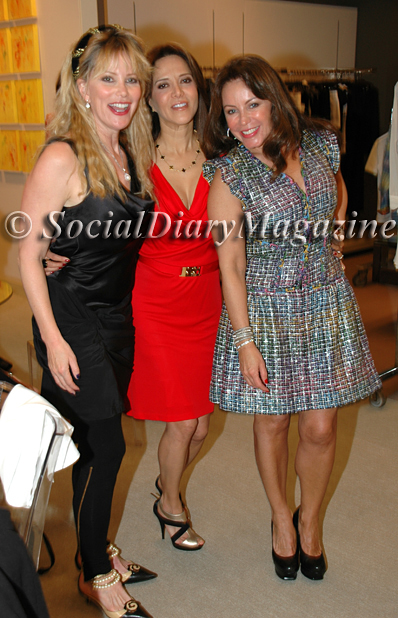 Margo Schwab with Rocio Flynn and Rosella Fimbres
And now Fashion Show Excerpts with Trend notes by Alex Yanez.
The trends presented for Spring 2011 were the color coral, floral, bohemian chic, head-to-toe white, stripes and polka dots, and wide leg pants. I love that designers are taking a lot of cues from the 1970's with the whole boho trends and casually elegant looks. The wedges are fantastic, as are the flowy looks seen on the runway. I am also loving the mix between hard and soft, as with Valentino's studded bags and Christian Louboutin's spiked heels.
Key outfits:
Prada sundress in coral and teal poppy print; teal lace Etro bolero with natural linen trim; tan and coral straw hat; Prada tote in coral Saffiano leather; jade suede Christian Louboutin cork 70's inspired platform sandal
Coral knit Missoni dress; turquoise Prada trench; Chanel lambskin classic flap bag in iridescent saffron leather with multicolored stone signature clasp; turquoise, white, and yellow patent leather beach-ball inspired Christian Louboutin peep toe slingbacks.
Gold Alberta Feretti dress with side ruching; saffron semi-sheer Chanel coat with all-over sequined detail and gold, orange, and coral tweed trim; gold patent leather Prada crossbody bag, and gold glitter Christian Louboutin pumps with ankle strap
Coral Theory tank; gold coated linen Alice & Olivia shorts; multicolored Chanel caftan in pastel pink, blue, green, orange and yellow ; Eric Javits woven straw hat; woven straw Prada tote with natural linen web top handles; coral patent leather Miu Miu thong sandals with crystal detail on heel
Mixed-print Dolce & Gabbana dress with ruched leopard print bodice and high-waisted floral print skirt; beige Giorgio Armani coat with pleated detail, strong shoulder, and asymmetrical zip closure; tan Fendi Peekaboo with anaconda trim;
Cotton Etro blazer in blue, orange, purple, and yellow floral print; Chanel wide leg pleated trousers in pale yellow silk; Fendi front-zip hobo in periwinkle leather; purple Yves Saint Laurent Tribtoo pump with covered platform
Chanel printed textured-silk tent dress in ivory, brick, and blue; ocean blue woven Prada ballet flats; red crocodile Nancy Gonzalez hobo with loop-closure
Brunello Cucinelli halter dress in taupe with grosgrain tie belt at hip and rounded hem with raised front; Brunello Cucinelli dark taupe jersey leggings; Gucci military green bamboo-detailed leather and natural rope flat sandals; grey Bottega Veneta slouchy hobo with Intreccio detail in cobalt blue; metallic grey leather Gucci flat thong with horsebit and crystal detail
Alberta Feretti printed silk chiffon dress in orange, gold, and green with metallic gold rope detail; burnt orange Fendi hobo with Plexiglass chain linked shoulder strap; Prada metallic gold leather and rope studded thong flat sandal
White chiffon Zac Posen dress with plunging neckline and sheer back and sleeves; Chanel clamshell crossbody bag in black resin; black patent leather Valentino pumps with perforated lace effect and beige suede underlayer
Off-white Chanel sleeveless dress with lace collar and lace and white beaded hem; Chanel classic flap bag in light pink tweed with woven natural straw trim; white and light pink printed Chanel scarf; ivory patent leather Manolo Blahnik strappy sandals
White knit Chanel cardigan with gold CC button closure and cream and white pailette trim; cream Brunello Cucinelli asymmetrical tank top; white cotton Chanel five pocket jeans with tan CC logo on back pocket; perforated patent leather and calfskin hand-embroidered Chanel bowling bag in sand, ivory, and black; Chanel gladiator pump with chunky heel in ivory, sand, and black
Black Rena Lange suit with lace-up detail jacket and corseted high waisted skirt; semi-sheer Giorgio Armani blouse in black and white diagonal-striped silk organza; black patent leather Valentino bag with studded strap and studded latch lock detail; black Christian Louboutin pumps with triple strap closure and pencil-thin metal spike heel
Navy Oscar de la Renta knit cashmere cardigan with allover white beaded circles and white beaded stripe trim; white Oscar de la Renta blouse with embroidered cascading ruffle detail; navy silk Oscar de la Renta pencil skirt with white beaded circle detail and scalloped white hem; white quilted Dior bag with pearl-accented gold chain; grey and slate blue tie-dye covered suede Christian Louboutin pumps
Naeem Khan shift dress with navy and white sequined striped and three-quarter sleeves; silver Swarovski crystal Judith Leiber disco ball bag with tassel detail and across-the-body chain; metallic silver strappy Manolo Blahnik sandals
Sheer black Zac Posen blouse with balloon sleeves and embroidered bow detail; black crêpe Akris wide leg trousers; Valentino nude and black Napa leather envelope flap pouchette with studded wristlet and black beads and briolettes on top and multicolored crystal floral motif detail on bottom; black patent leather Valentino pumps with nude Napa leather bow
Navy silk Akris evening jacket with navy allover pailettes; midnight blue and black textured Giorgio Armani pleated trousers; navy Swarovski crystal rectangular Judith Leiber clutch; Yves Saint Laurent Tribute platform sandal in navy glittery patent leather
Sage green cashmere Brunello Cucinelli sweater three quarter sleeves and leather closure; laguna printed habotai silk sleeveless Gucci top with snap closure and tab collar; sand wide leg Akris trousers; sage patent leather Gucci peep toe slingbacks with woven straw bottom
Black silk crêpe romain Gucci menswear-inspired tuxedo jacket with satin shawl collar; black La Perla lace-detail corset; black silk Winter Kate wide-leg trousers; Prada frame clutch in fuchsia, pink, and lavender pailettes, black glittered Christian Louboutin peep toe pump with contrasted-colored red toe; Assael baroque Keshi pearl 50" lariat and Assael Keshi pearl and diamond earrings
Ivory matte-jersey Gucci strapless gown with asymmetrical draping and front knot detail; Radiant-Cut large opal-colored crystal Judith Leiber miniaudiere; nude Giuseppe Zanotti strappy sandal with cascading chiffon flower detail down front; Brumani cobblestone bracelet with smokey quartz and citrine in yellow gold; Brumani smokey quartz and citrine drop earrings
Gucci sea foam green satin crepe faux-wrap evening gown with plunging neckline and thigh-high slit as seen on Rihanna; light teal Judith Leiber Swarovski crystal foldover clutch; Miu Miu glittered silver pump with metallic heel; Brumani triple oval topaz and green tourmaline ring; Brumani green tourmaline, topaz, and diamond chandelier earrings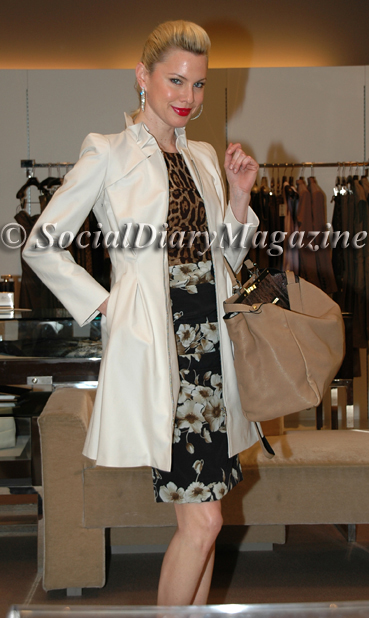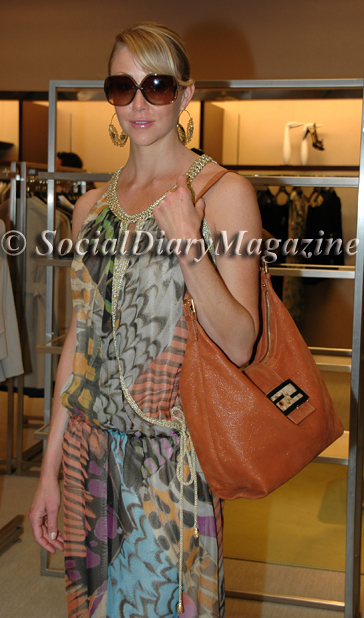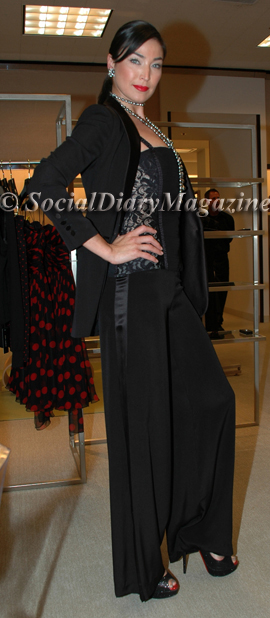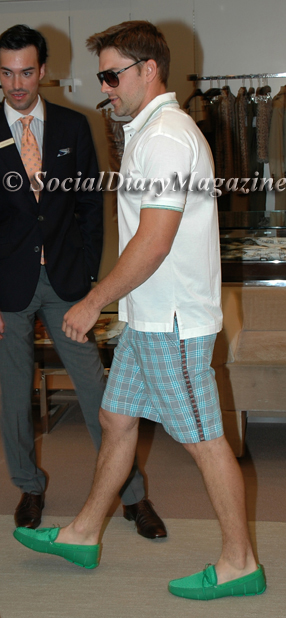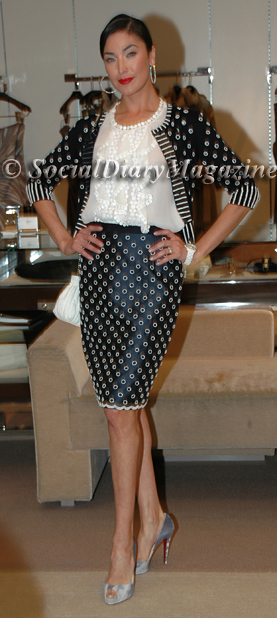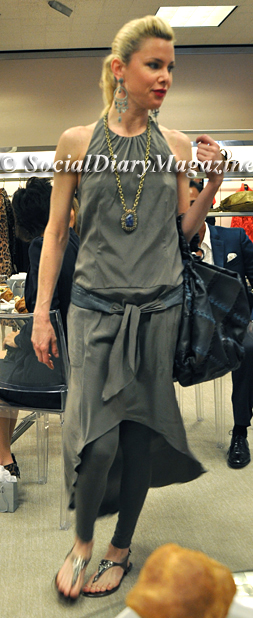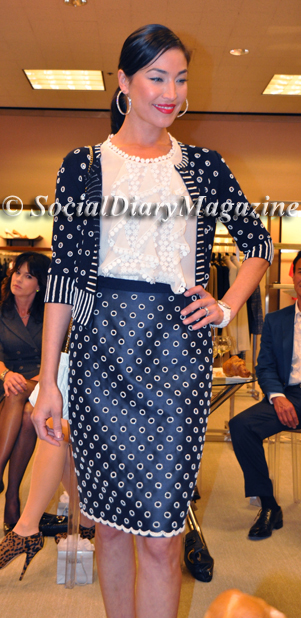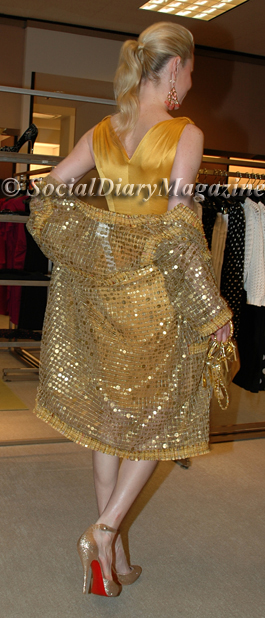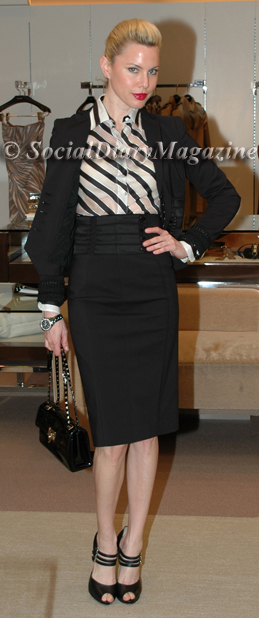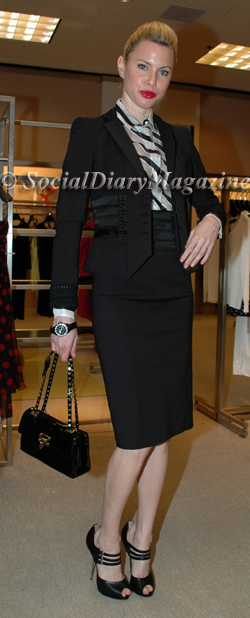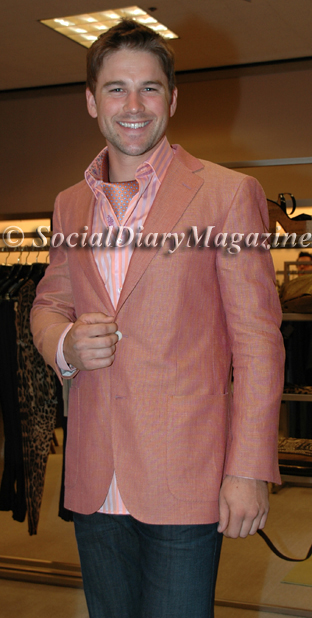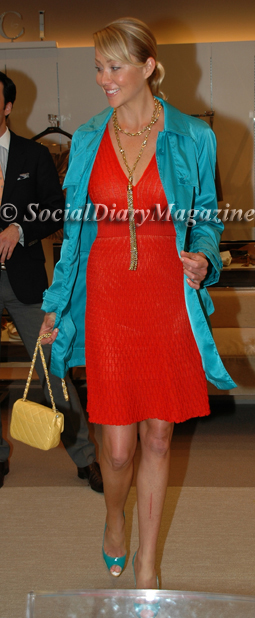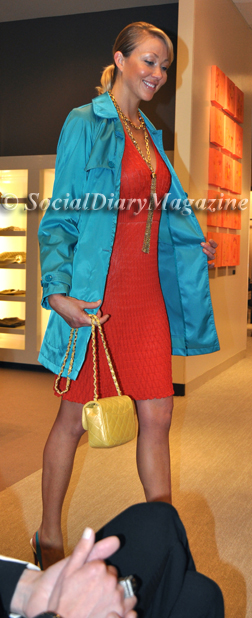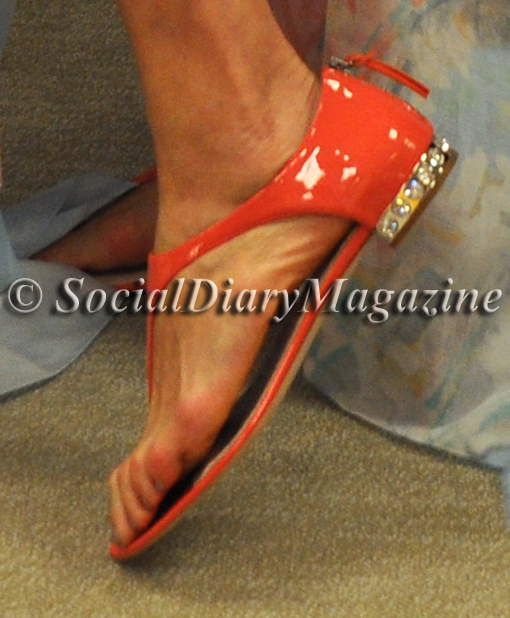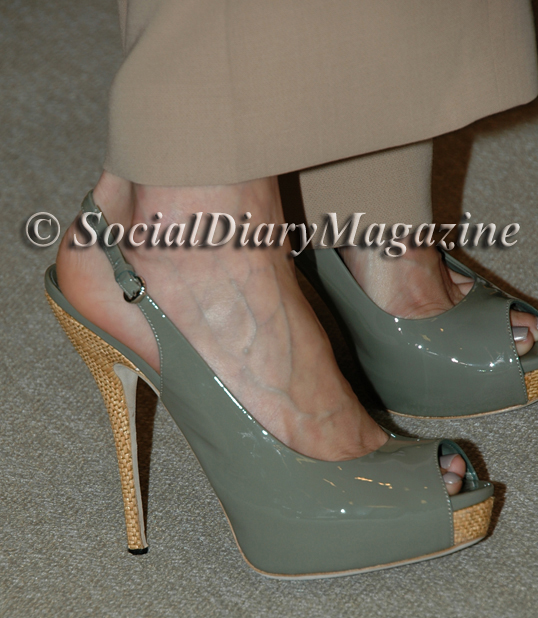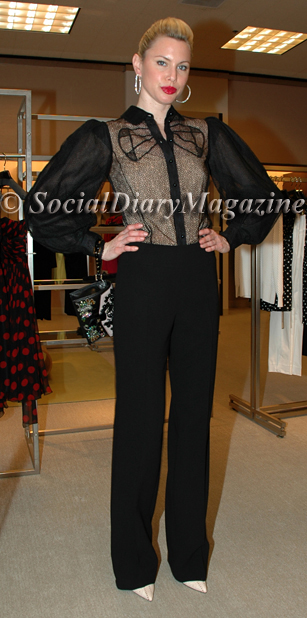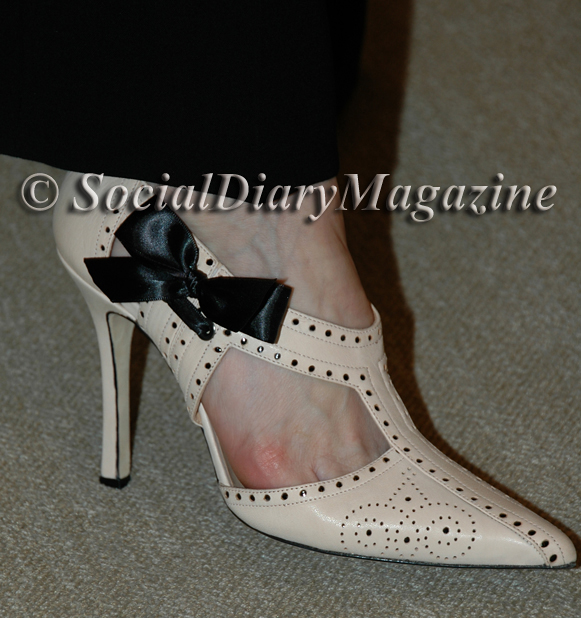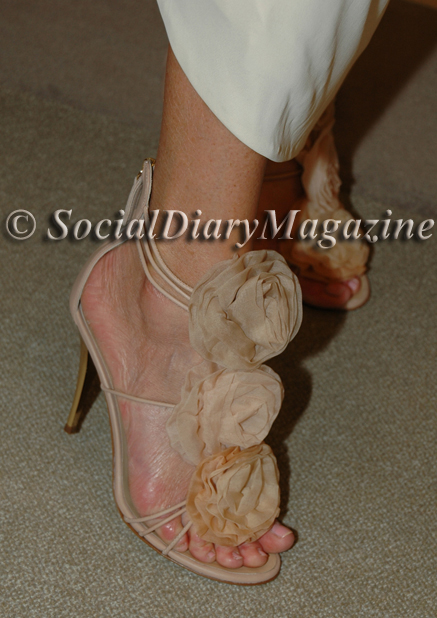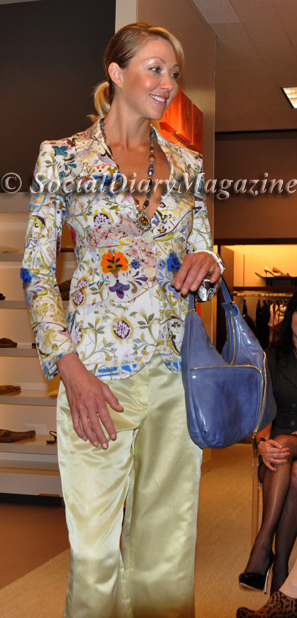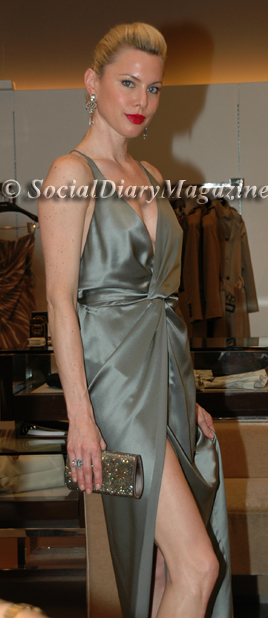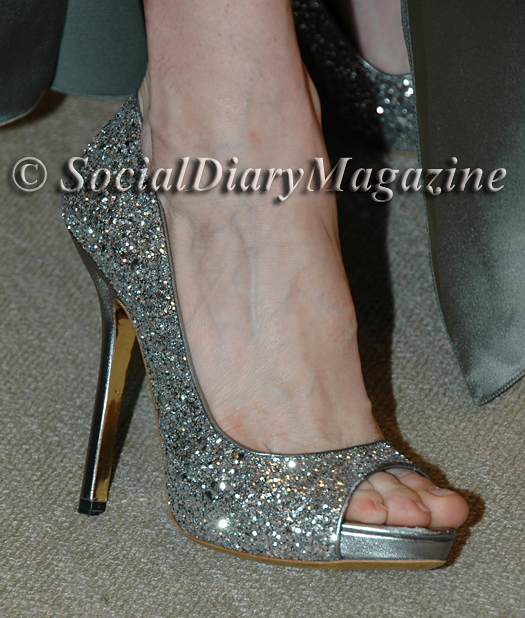 If the shoe fits...... buy it!!
Thank you again to Neiman Marcus for a terrific fashion luncheon!
Social Diary Magazine Home Page
reported by Margo Schwab
photoshopped by Scott Johnston
assisted by Megan Blaich
Please join us for fun informative updates on Twitter and Facebook

The Buzz!!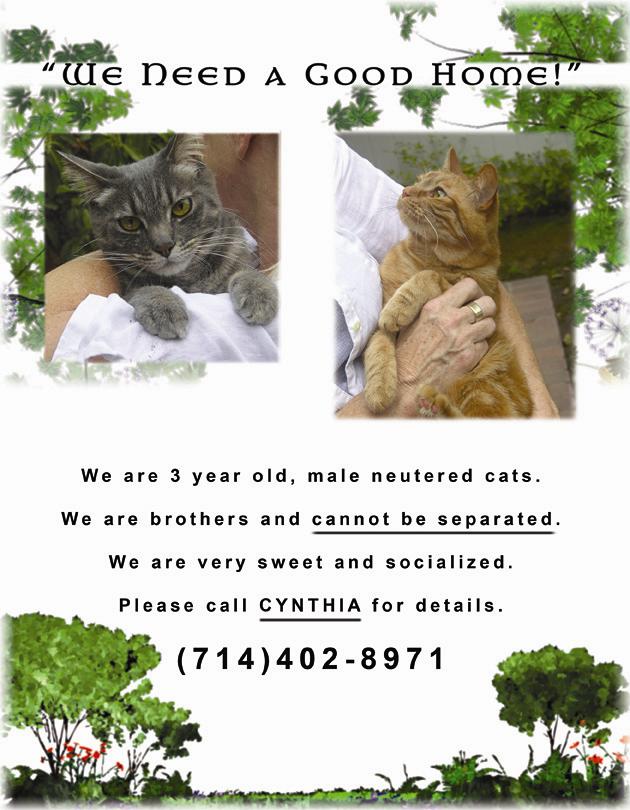 Email Commentary to be added
email SocialDiaryMagazine@gmail.com
** Margo Schwab, MBA, more formally known as Margaret E. Schwab, has produced, written, interviewed and photographed for various media organizations since 1989. Schwab attended Holton Arms School, La Jolla Country Day School and La Jolla High School. Schwab has a B.A. from Scripps College, spent a business internship with S.A.I.C., Science Applications International Corporation, and earned a Masters of Business degree, M.B.A., from the University of San Diego by way of Claremont Graduate School . Schwab additionally took college courses from Harvard University, and Syracuse University. Schwab volunteers for numerous charity organizations. She also continues to support animal organizations and the prevention of people and animal abuse. Schwab is the editor and co-owner of The Social Diary.
Margo Schwab and Scott Johnston of SD Social Diary Magazine are pleased to announce a partnerships with the Arthritis Foundation of San Diego County, their dog Kima is the Arthritis Dog honoree for the 3rd year, the San Diego Humane Society and SD METRO Magazine. They have also partnered with Country Friends and the San Diego American Heart Association.
Margo Schwab and Scott Johnston are both members of the La Jolla Beach & Tennis Club (Margo Schwab since 1974) and both are now members of the University Club and its worldwide ClubCorp Compass Society. Margo Schwab and Scott Johnston are Police Press credentialed by the Chief of Police, William Lansdowne.
San Diego's The Social Diary would like to say a special thank you to our advertisers.
The San Diego Opera
The Museum of Contemporary Art San Diego
Giuseppe Restaurants and Fine Catering
Leslie Newman Clark - La Jolla Acupuncture
The University Club and ClubCorp
Papalulu's Catering & Restaurant in La Jolla Shores
Maggie B Clothing at Rancho Santa Fe Plaza
Nancy's Nails on Pearl Street in La Jolla - for nails and reflexology!
H. Moradi Fine Jewelers on Prospect Street in La Jolla, now 2 locations!
Jordan Art Couture and Animal Fashions by Jordan
WineSellar & Brasserie
Cafe Milano on Pearl Street in La Jolla
Extreme Pizza in La Jolla
Neptunic Sharksuits
The Animal Hospital of La Jolla
Eugene Ladopoulos of Mistra Estates Olive Oil
Warning ** photos, video and writing on this site are the
2011 copyright, all rights reserved, of The Social Diary LLC and its subsidiaries including San Diego Diario Sociales - Su Conexión Con la Sociedad, no reproduction of any part or parts is allowed without written permission by Social Diary Magazine