~ The Social Diary ~
~~~~~~~~~~~~~~~~~~~~~~~~~~~~~~~~~~~~~~~~~~~~~~~~~~
Waggers and Walkers Join Arthritis Walk 2007

May 25th , 2007
The Social Diary Columnist & Photographer Margo Schwab
(high resolution photos available by request )
May 20th, 2007 started with an exciting morning down by the seaside at the Embarcadero. An enthusiastic crowd gathered for: learning from Arthritis experts, tasty food, beverages, a Kidz Fun Zone, clowns, balloons, face painting, and of course the walk for Arthritis.
The Arthritis Foundation San Diego Area Chapter promulgates the importance of awareness and fundraising efforts such as this.
"This year alone, nearly a million people will be diagnosed with arthritis. These numbers will continue to skyrocket over the next two decades as the population ages. In addition to causing pain, disability and loss of independence, arthritis exacts a hefty financial toll on the country. The Centers for Disease Control and Prevention estimates that arthritis costs the U.S. economy $128 billion annually. Walking is crucial to preventing and managing the nation's leading cause of disability. In fact, the Arthritis Foundation says Americans cannot afford not to get moving. Walking can help achieve and maintain a healthy weight and reduce the risk of arthritis. Losing just 10 pounds relieves 40 pounds of pressure on knees, and losing as little as 11 pounds may reduce joint pain and help prevent knee osteoarthritis."
Emcee Kathleen Bade, Anchor at CBS 8 San Diego, has a personal reason to support the Arthritis Foundation San Diego Area Chapter."As the daughter of a Rheumatoid Arthritis sufferer, it's so important for me to support fundraising efforts like this, so we can help put an end to the pain. And, I was so encouraged to see an even bigger turnout for the Arthritis Walk this year. It's great to see all the people out there, who really care about this disease."
And there were a lot of people. Tall, small, and quite a few well behaved dogs. Kima the Connoisseur, aka Kima the RunAway Bride learned quite a bit from her new four legged friends.
The 2007 Arthritis Walk Chair, Melanie Cruz-Walsh, imparted some important wisdom."Walking is one of the easiest, safest and most beneficial forms of physical activity for most people, and a little effort goes a long way. Walking as little as 30 minutes – even 10 minutes three times a day – can ease joint pain, improve mobility and reduce fatigue."
Event sponsors included Rituxan, Foley & Lardner LLP, Abbott, Amgen, CBS 8 San Diego, Wyeth and Chipolte.
The Social Diary was happy to make a contribution too!
To learn more about arthritis and future events, please visit www.arthritis-sandiego.org
Enjoy the photos!
Veronica Braun and Andrea Muir of the Arthritis Foundation ** Happy guests
The Arthritis Foundation helping The Social Diary's coverage ** Andrea Muir and Kima the RunAway Bride
.... and lots of dog people meet and greets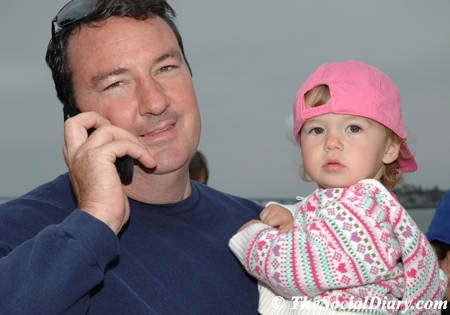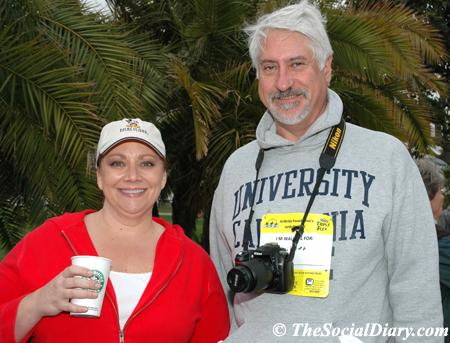 Andrea Muir and Dave Schulz, Chair of the Board of Directors for the Arthritis Foundation San Diego Area Chapter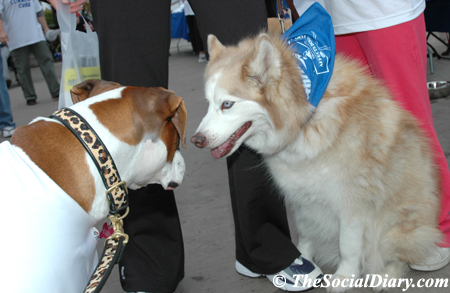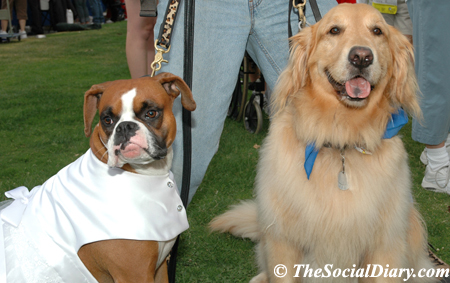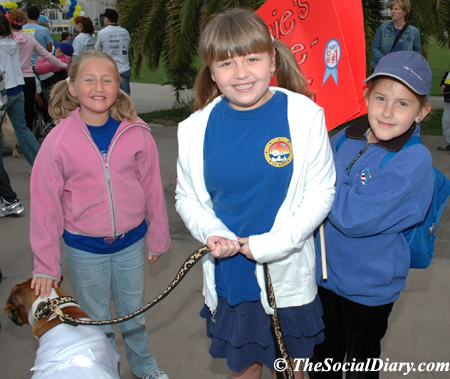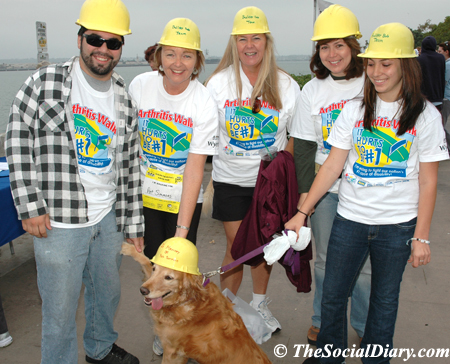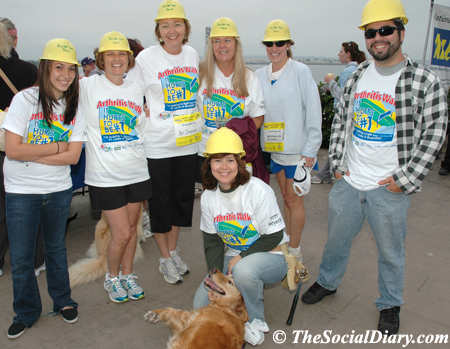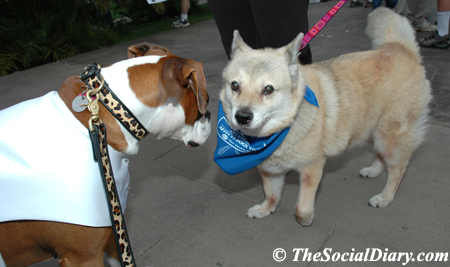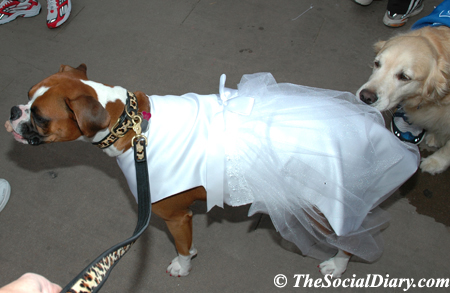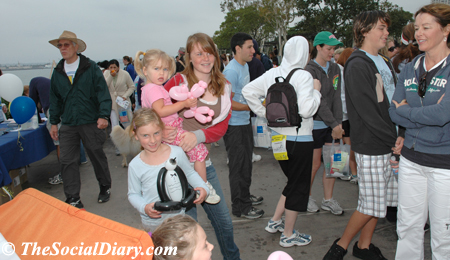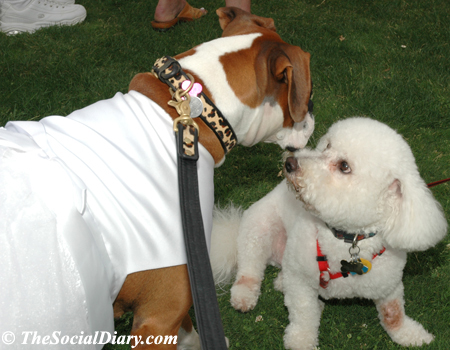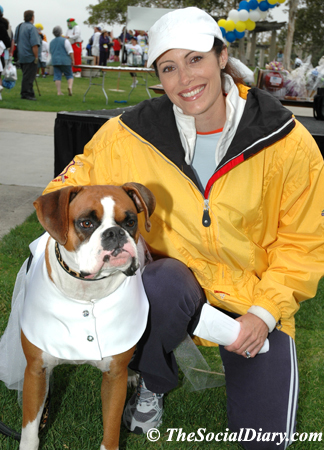 Kima the RunAway Bride with Kathleen Bade CBS 8 San Diego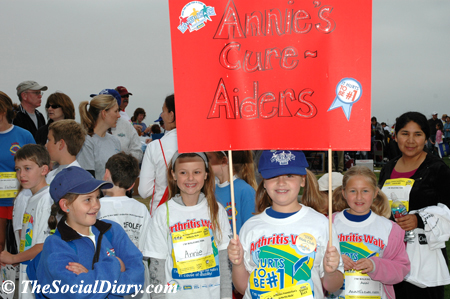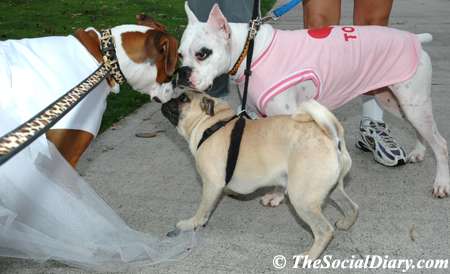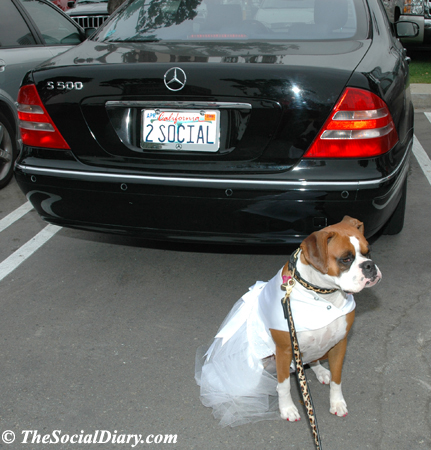 Kima had so much fun she can't wait until next year!!
* Margo Schwab has produced, written, interviewed and photographed for various media organizations since 1989. Schwab has a B.A. from Scripps College and a Masters of Business degree, M.B.A., from the University of San Diego. Schwab volunteers for numerous charity organizations. She also continues to lobby for water safety and for family violence mitigation. Schwab is the editor of The Social Diary. Margo is currently writing a book based on La Jolla.
back to New this Week.....Margo Schwab Archives...... Home
Warning ** photos, video and writing on this site are the
copyright of The Social Diary, San Diego Social Diary, margomargo.com and Margo Schwab.
no reproduction of any part or parts is allowed without written permission by Margo Schwab