Kima on Facebook! & Kima's Fan Page & Kima on Kintera! & Article on Kima
p.s. over $160,000 raised for the Arthritis Walk and more coming in!!...
Thank you and Xoxo ** Kima!

all photos and content are the strict copyright 2009 of TheSocialDiary.com
no downloading!! photos are available for purchase if it is of you!
Shangri-Paws benefits Helen Woodward Animal Center
The June 6th, 2009 evening turned balmy and breezy for the Shangri-Paws themed event to benefit the Helen Woodward Animal Center.
Guests arriving to the Fairbanks Village Plaza were treated to pineapple mai-tai's, a complimentary spin in a 2009 Maserati Quattroporte, a slew of inviting auction items, and introductions to some very cute animals.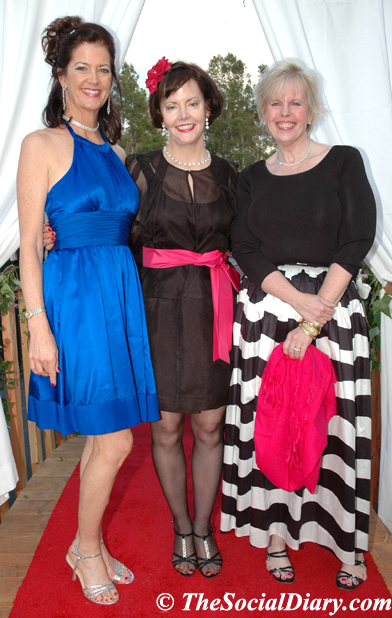 Event Chairs Katie Shull and Laurie McCrink with Event Vice-Chair Elizabeth Davidson at the Shangri-Paws benefit for the Helen Woodward Animal Center
There was Sadie a therapy dog, Chester, Coco, Patterson, Thunder, and an Australian Shepherd mix puppy named Crocodile. Crocodile was available for adoption. Cute and shy, word was he would be adopted fast!
Kima the Arthritis Dog Walk Honoree was there too. She was dressed in a wild leopard gown by local designer Jemima Dutra. Kima's dad Scott Johnston wore a hand painted tie by Jordan, another local designer. The tie featured Kima's face. So did the Jordan gown that Kima's mom Margo was wearing.
Among the elegantly dressed crowd there to support animals were Co-Chairs Laurie McCrink and Katie Shull, Vice-Chair Elizabeth Davidson, artist Ronda Ahrens, Sandie Steller, Daniel Greer, Pearl and Jim Padovano, Dixie Courtney, Katie and Jeff Holcombe, Lori Piccirillo, and Sammy Florez.
Florez flew in from China to volunteer as a bartender. He likes this event that much!
Lisa and Bill Barkett were there, and so were The Collector Fine Jewelry's Jeanne and Bill Larson, Elisabeth and John Bergan, Maggie and Gary Bobileff, HWAC President Mike Arms, and Marcy and Jeffrey Krinsk. The Krinsk's were the couple who recently hosted a high profile gathering for VP Joseph Biden.
Jacqui Grande was there too, she wouldn't miss it. Jacqui of Radiance International Fine Jewelry, may design jewelry for her living, but in her home life, she lives amongst rescue animals. Jacqui also hosted the May 2nd horse therapy event for Helen Woodward at her Oakridge Farm too.
Guests mingled and perused through various restaurant food stations. Among the tasty purveyors participating were Café Merlot, The Fish Market, some delightfully healthy cuisine from Go Chef, Trulucks, Terra Restaurant, Jakes Del Mar, Sbicca's and the very popular Ruth's Chris. They were serving grilled hamburgers.
Guests were seated at sections that were named the Himilayas, Mount Everest and the Taj Mahal. There was a dance exhibition, a fabulous live auction that had people bidding generously, and some very danceable music later on to the band Sensation.
A highlight of the evening was a short documentary on the lives of two siblings with cerebral palsy. The Helen Woodward therapeutic riding center has made a significant difference in the quality of their lives and their families' lives. Guest Pamela Howe did the voice over for the video. She cried happy tears during the entire video presentation.
Times may have changed the theme, but the animal loving support remains constant.
"When I attended my first Spring Fling 18 years ago the tickets cost less than $100 and the attendance was fewer than 125 people," said John Van Zante of the Helen Woodward Animal Center. "Before that, the Center held a similar event called the 'Fairbanks Follies.' Every year the theme was 'Western.' People attended wearing their jeans, cowboy hats, boots and the neck scarves that look like they were made from the red and white checkered tablecloths at Italian restaurants. My, how we've grown!"
Some of the food highlights: poached salmon, quinoa and a roasted beet salad and asparagus in little cups, a shrimp and lobster bisque from Sbicca's, and Truluck's tuna tartar with crab, avocado, and citrus soy reduction.
Entertainment highlight: Dance performances by Shanna Timms from Synergy Dance Zone Estrella and her troupe Nujum Al Raks.
Helen Woodward Animal Center is more than a pet adoption resource. Their programs include: Critter Camps to acquaint youngsters with animals, AniMobile bringing animals up close and personal for kids to learn about compassion and respect for all creatures, AniMeals helping to serve individuals who are unable to procure food for their pet, or unable to afford it, the Therapeutic Riding Center helping individuals ride on to new physical, mental and emotional levels, and Pet Encounter Therapy helping bring joy and a brighter outlook to those in hospice, and those who have gone through traumatic pasts.
Some of the many very generous sponsors include: Bryce and Susan Rhodes, the Jack in the Box foundation, Pam Slater-Price, San Diego National Bank, the Whittier Family foundation, O'Riordan & Associates, Ferrari & Maserati of San Diego, The Petco Foundation, Jack in the Box Foundation, EDCO, PetSmart, Wendy McWethy, Windemere Real Estate, Rancho Santa Fe Veterinary Hospital.
And the most over the top auction prize: A stay in Santa Barbara....but it was the luxurious Aston Martin ride that you got with the package that made it truly 'Concours D'Elegance' special.
p.s. - Those of you who have adopted from HWAC in the past, you get a discount at their boutique....
To learn more about the Helen Woodward Animal Center, visit www.animalcenter.org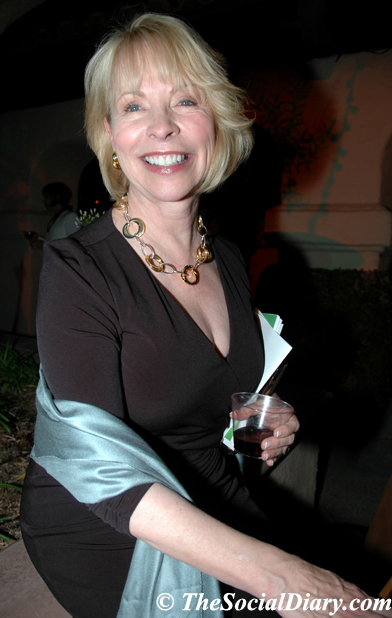 Gayle Allen
Elisabeth and Dr. John Bergan with Kima
A server getting served a hug and kiss from Kima ** Event Auctioneer Bill Menish with Kima and her Mom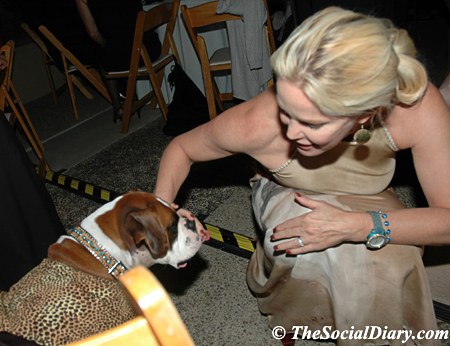 Kima getting a little H2O from Mommie
Kima with a Guest ** Trisha Lord St. George
A beautiful Therapy Dog ** Daniel Greer and Kima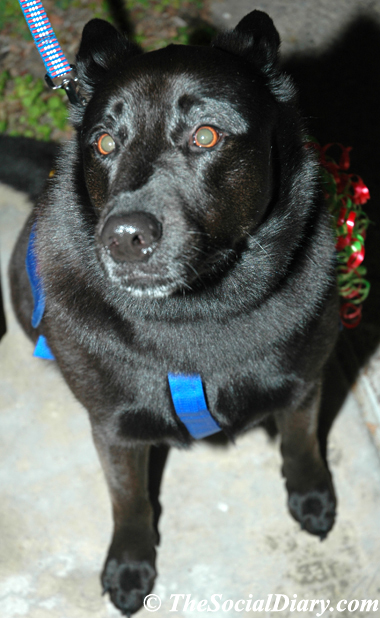 Adorable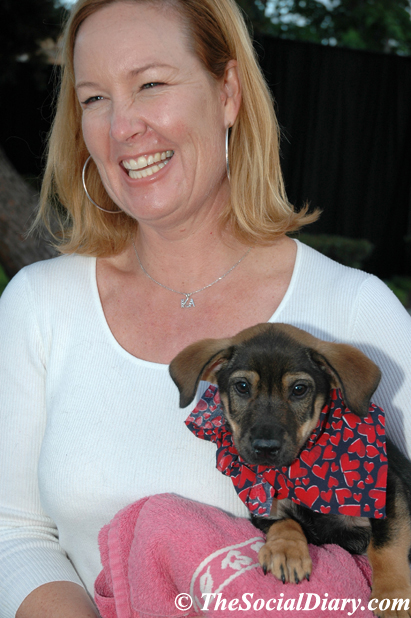 Adopt me said the puppy with his eyes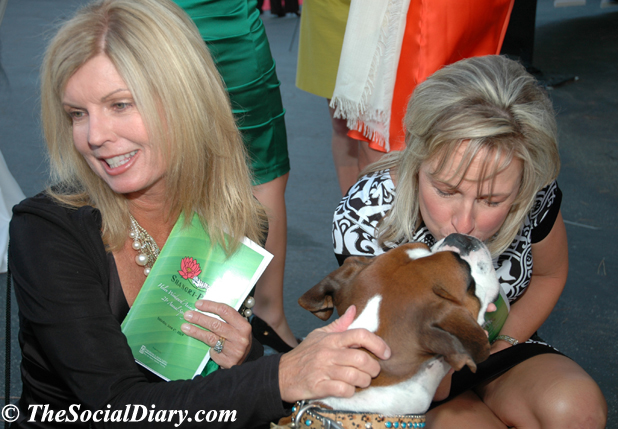 Kima telling new friends Spay, Neuter, Adopt.. and 'Let's Move Together'..the Arthritis Foundation slogan!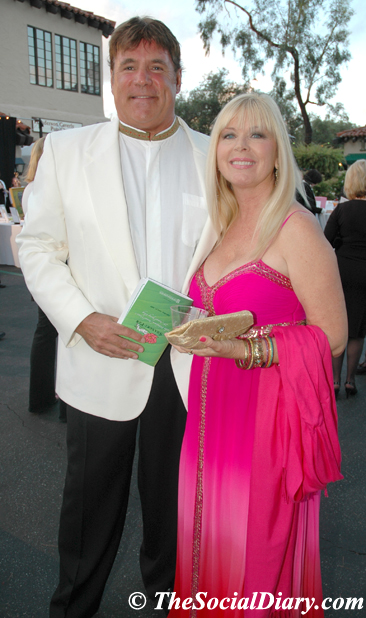 Jeff and Katie Holcombe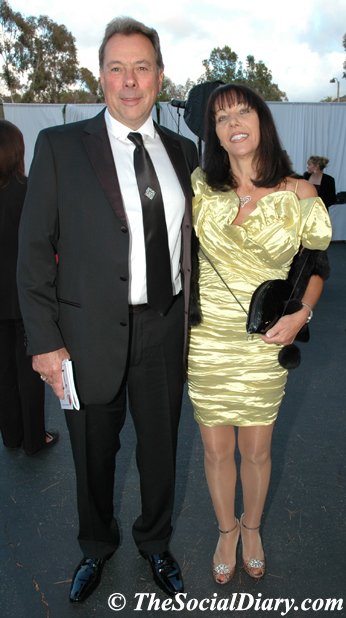 Gary and Maggie Bobileff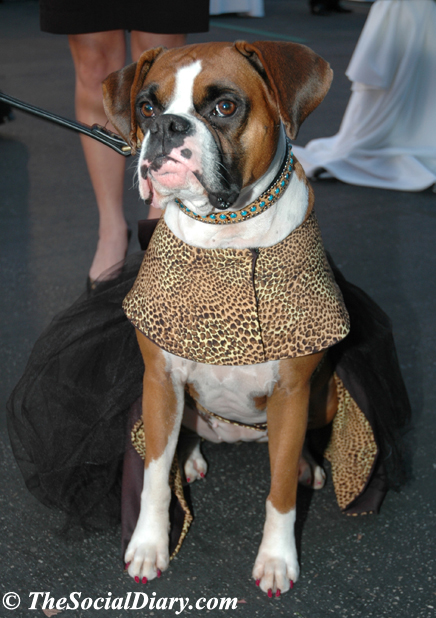 Kima in a Jemima Dutra designed leopard gown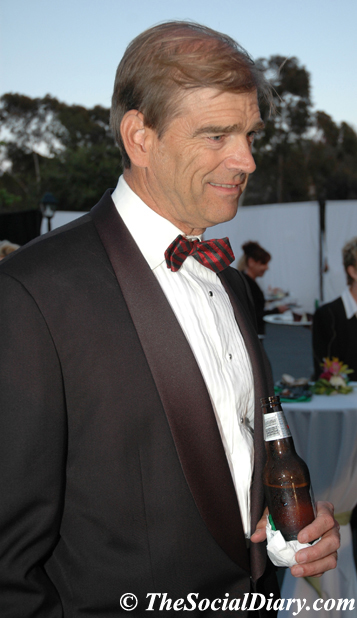 Bryce Rhodes... he is the grandson of Helen Woodward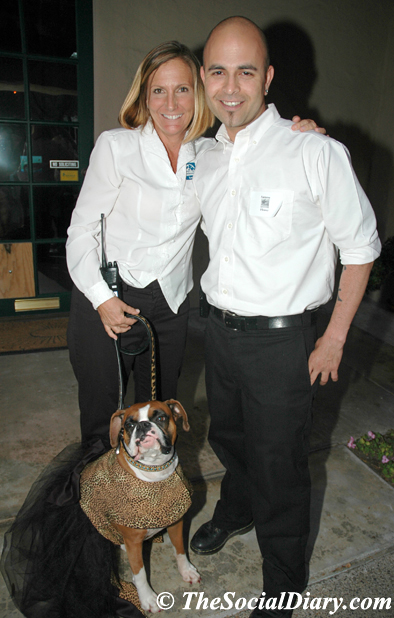 Lori Piccirillo and Sammy Florez
HWAC Volunteer and SDPD Officer Joy Brugman and Scott Johnston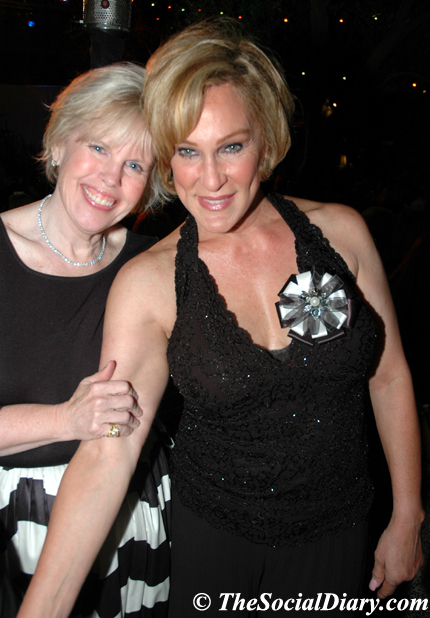 Elizabeth Davidson and Sherry Ahrens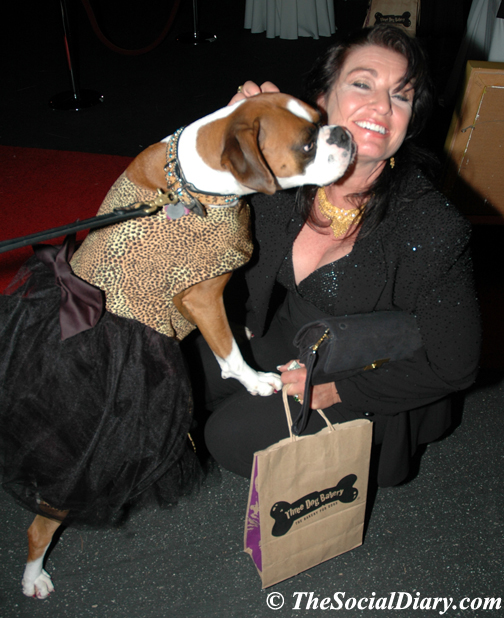 Kima with Jacqui Grande... Can you design a necklace for me?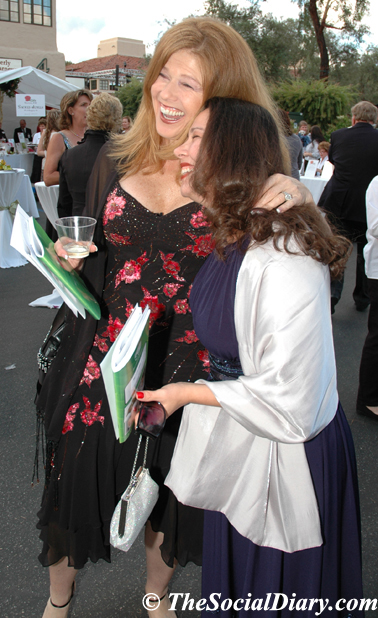 Pearl Padovano and Melanie Walsh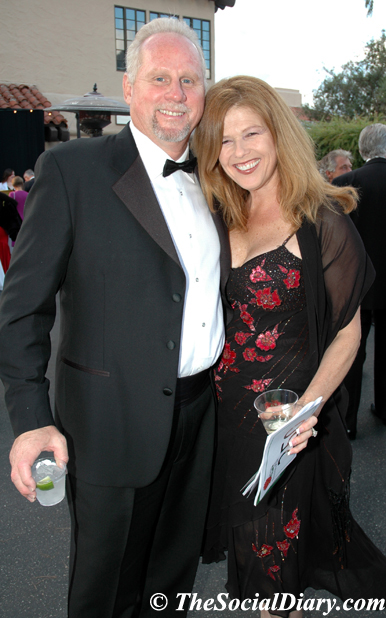 Jim and Pearl Padovano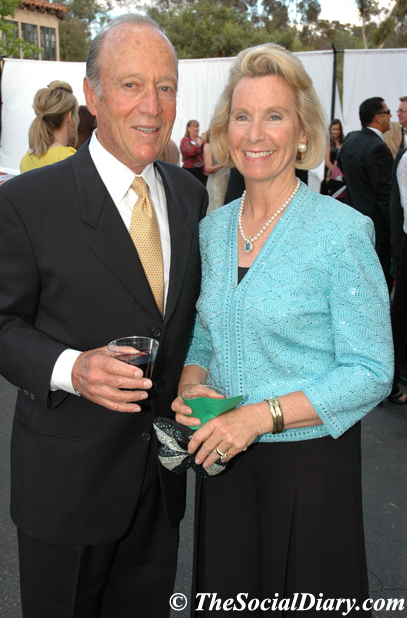 John and Kerry Payne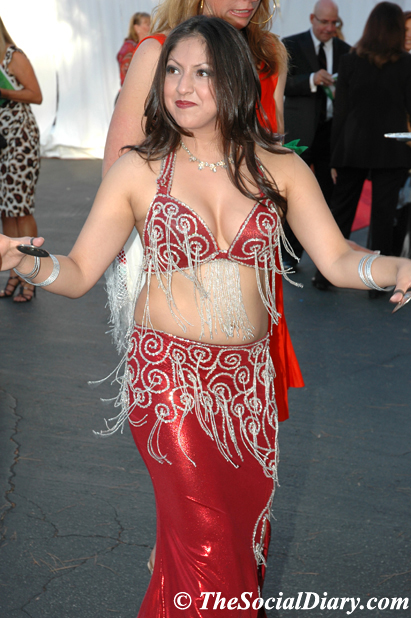 A 'Shangri-Paws' Belly Dancer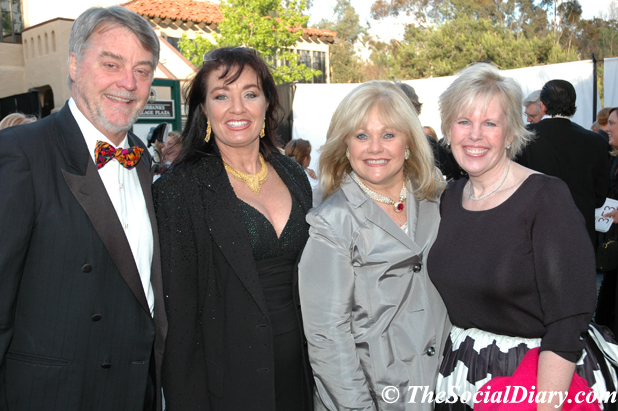 Bill Larsen with Jacqui Grande, Jeanie Larsen and Elizabeth Davidson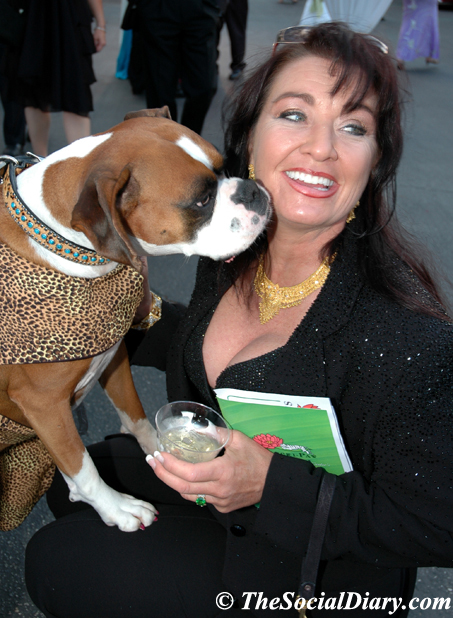 Kima with Jacqui Grande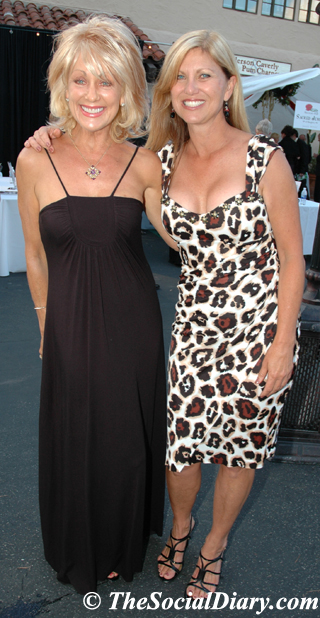 Sandie Steller with Ronda Ahrens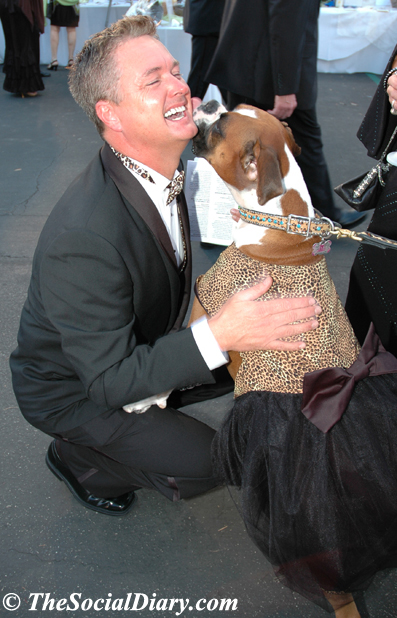 Daniel Greer with Kima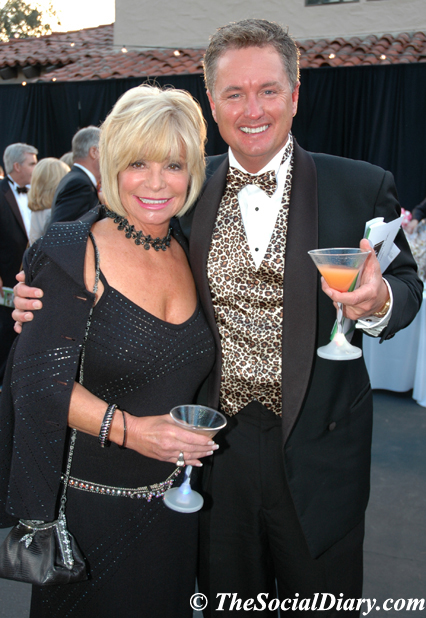 Dixie Courtney with Daniel Greer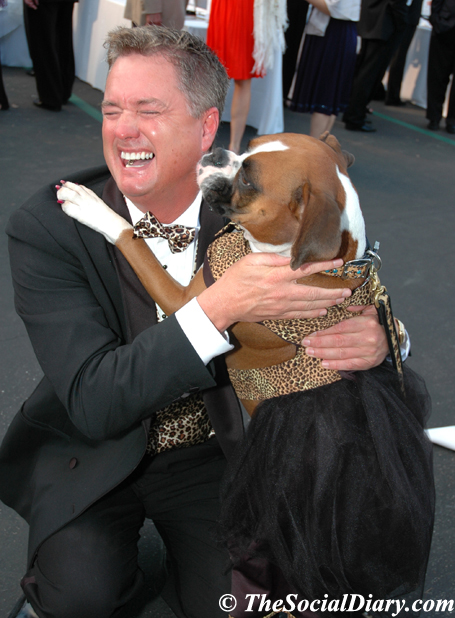 Kima in love with Daniel Greer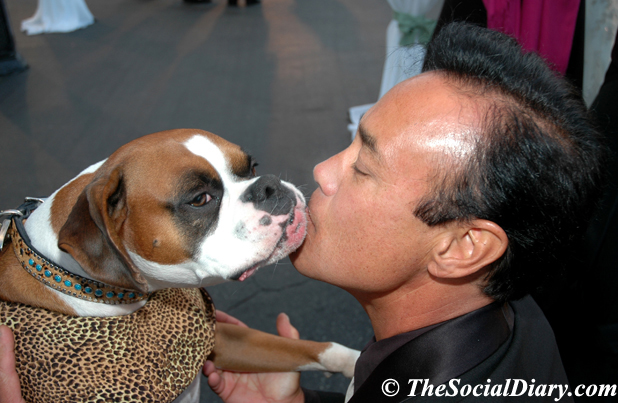 Kima with Daddy, Scott Johnston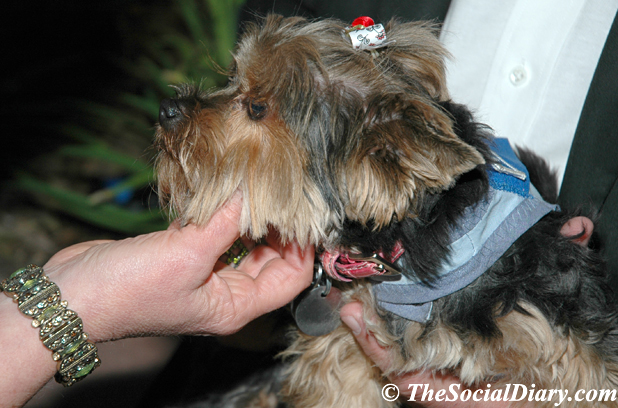 One cute doggy with a bow
reported by Margo Schwab, Scott Johnston and the Arthritis Foundation San Diego Area Chapter Dog Honoree Kima
The Buzz
hmm mm...private jet, wine and food......
The Social Diary's cover girl Jennifer Greenfield was kind enough to let us know of a posh raffle item for the upcoming Jewel Ball. It's a $100 Special Opportunity Drawing for a cushy trip to Napa on Net Jets for 8. It includes a night's stay at the super nice Auberge du Soleil and wine tasting's, gourmet meals,etc....Only 500 tickets will be sold for this prize.
.... why are we thinking that Dr. Richard Greenfield will be buying quite a few of those opportunity tickets....
Troy Aiken?
Yes apparently Troy Aiken was at the La Jolla Beach & Tennis Club for the 4th of July. The high tide kindly behaved and didn't push everyone up and over the wall during festivities....
Helen Davis .... Surprise!!
Yes Helen Davis at a young 96 thought she was going to a SeaKeeper's event chaired by her daughter Lee Clark. Surprise, surprise, it was literally a surprise birthday party for Helen at the Birch Aquarium. Among the mix were quite a few family and longtime friends.... Lee by the way put her Pasadena Playhouse training to good use by keeping the secret surprise party secret.... Lee is also a Founding Member of the SeaKeeper's.
.... and ....
Yes, Kima has been asked to stay a second year as the Arthritis Foundation's Dog Honoree..... that means more parties, more fun! Look for a Fall gathering at Barbarella's!
and....
......yes, I was asked to speak on camera at HWAC....only for animals!
Upcoming Events
July 21st - Naeem Khan and his exquisite designs will be the fashionable focus at the Globe Guilders and Neiman Marcus hosted fashion show. A champagne reception, luncheon and fashion show will take place at the Sheraton San Diego Hotel and Marina. For ticket information, please ring 858-454-0014
July 30th - 'After the Finish Line's' summer fundraiser, A Tribute to the Majesty of Thoroughbreds. Please visit www.afterthefinishline.org for details.
August 1st - Old Globe Gala will host its black tie soiree to coincide with the production of the First Wives Club. Please visit www.oldglobe.org for details.
August 8th - Las Patronas will host its Silk & Spice themed Jewel Ball at the La Jolla Beach & Tennis Club. Please visit www.laspatronas.org for details and tickets.
August 15th - The 'Catch the Royal Wave' will be the theme for the Fur Ball at the San Diego Humane Society. Please visit www.sdhumane.org for details.
August 29th - The Art of Fashion at The Timken Museum in collaboration with Fashion Careers College. For reservations, please visit www.timkenmuseum.org
September 24th - The Country Friends will present the 54th annual "Art of Fashion" Runway Show at The Inn at Rancho Santa Fe. Proceeds from the luncheon, fashion show, boutique shopping and wine tasting will benefit Voices for Children, which provides court advocates for children in foster care. Couture fashions presented will be provided by South Coast Plaza. For ticket information, please contact The Country Friends at 858/756-1192, Ext. 4 or via email at events@thecountryfriends.org.
September 14th - Crime Stoppers Golf Tournament.

Proud to be partnered with San Diego News Network
________________________________________________________________
Photoshopping and Photography Services
Photos on this website available if it is of you
available by The Social Diary
~ 619-384-7333
email TheSocialDiary.com
_____________________________________________________________________
Email Commentary to be added
email editor@thesocialdiary.com
* Margo Schwab, more formally known as Margaret E. Schwab, has produced, written, interviewed and photographed for various media organizations since 1989. Schwab attended Holton Arms School, La Jolla Country Day School and La Jolla High School. Schwab has a B.A. from Scripps College, spent a business internship with S.A.I.C., Science Applications International Corporation, and earned a Masters of Business degree, M.B.A., from the University of San Diego. Schwab additionally took college courses from Harvard University, and Syracuse University. Schwab volunteers for numerous charity organizations. She also continues to support animal organizations and the prevention of people and animal abuse. Schwab is the editor of The Social Diary.
The Social Diary is pleased to announce new partnerships with the San Diego Humane Society and San Diego News Network.
Warning ** photos, video and writing on this site are the
2009 copyright of The Social Diary LLC and its subsidiaries.
no reproduction of any part or parts is allowed without written permission by The Social Diary