~ The Social Diary ~
~~~~~~~~~~~~~~~~~~~~~~~~~~~~~~~~~~~~~~~~~~~~~~~~~~
Fiesta Del PAWS 2007

June 19th , 2007
The Social Diary Columnist & Photographer Margo Schwab
(high resolution photos available by request )
On June 3rd, 2007, the beautiful historic estate grounds of Jim Urbina, Jeff Johnston and Robert Hunt were open for supporters of P.A.W.S. That's Pets Are Wonderful Support. The Balboa Park area home boasted a Gatsby-esque reflecting pond, pristine grounds, and beautiful statues dotting the landscape.
But on this day, classically and casually dressed people with their well behaved pets joined in for the cause of P.A.W.S. Hundreds of them.
There was live jazz by The Bradley Leighton Band, and the definitive "Queen of Boogie Woogie," Sue Palmer and her Motel Swing Quintet had tails wagging. Festive food from the Miami Grille, Baja Betty's and The Caterer Bill Bond kept the people folk happy while tasty treats all about kept the pooches happy.
Oh, and there were Cosmopolitans, Mojitos, and Golden Sunsets by Tommy Bahama Rum.
And yes that was Benji, the movie star Benji mingling about with his owner Joe Camp. Joe is also the producer and creator of the Benji series. Benji served as Chair Dog for this event.
Also seen about were Judy and Dick Freeman, basketball great Bill Walton, Fiesta Co-Chairs Deb Hofler, VMD, and Todd Devin, Honorary Chairs Judy and Jack White, Doreen Schonbrun with her dog Lily, Fiesta Angel Dan Goodwin, Geary Buydos, Shawn and artist Cardill Miles, Lynn Pittman, Bill Nanninga, Clark Burnett and the May 20th Pedigree Patron Party Chairs, Esther Nahama and Matthew Midgett.
Matthew Midgett had this to say. "P.A.W.S. San Diego is the only service of it's kind in the region. As a volunteer-based nonprofit, we make it possible for the elderly and disabled to maintain their companion animals (pets). Without us, countless needy people of all ages would lose the life-enhancing companionship of their beloved pets. Even now we have a waiting list. Funding is always a challenge, and the vast majority of our budget comes from the community. Our fundraising efforts, and particularly our annual Fiesta del PAWS party, is essential to our survival. And with hundreds of people and animals counting on us, we are grateful for every dollar of support."
Jinxy the Manx, Bentley, Fansey Dancer and Rascal get help from P.A.W.S., thereby helping their owners continue to live fulfilled lives with their best friends.
Shawn Miles is one such grateful owner. Shawn is suffering from Thalamic Pain Syndrome. Her dogs Bentley and Fansey Dancer inspire her, warm her, and love her. Shawn volunteers for P.A.W.S. when she can. Her husband Cardell Miles kindly donated some of his very coveted artwork for the cause of PAWS.
And there were many more enthusiastic supporters there too.
Doreen Schonbrun had quite a lot of great things to say about this diggity dog fun event. "Fiesta Del PAWS was pawsitivly posh and precious. The grounds of the 1920's mansion seem to be endless, filled to the brim with guests and their beloved canines who sat around lovely round garden tables. In the upper court, food was sumptuous. A huge silent action that contained a lot of great pet items included an enormous, round, pink velvet pet bed with the word, "Bitch" inscribed in the middle. Judith Jarcho also donated one of her coveted "pet portraits," which was bought by Judy and Jack White. Live music played the entire day. The dogs were definitely the stars of the day. All shapes and sizes, and very well behaved. Several puppies were up for adoption and believe me, it was very tempting to bring home one of them. After all, the whole idea was to support canine, and feline causes.
Now if I had to mention a few precious pawed guests I would like to thank my beautiful Lily, a 10 months lab/ Akita that we rescued from the Helen Woodward Animal Center for bringing so much love and joy to my husband Myron and I. Furthermore, thanks for behaving so well at the event, aside from the incident where all 80 pounds of you took a sudden liking to a nice man sipping a glass of red wine.

Margo and Scott's beautiful dog Kima really rocked the party. Kima, the most beautiful boxer ever, wore her signature couture wedding dress and looked gorgeous. I am sure she attracted many suitors that day. When she was not in "wedding mode" she wore a leopard print collar and leash, which coordinated perfectly with "Mama Margo's" fabulous leopard print dress. It was truly a special day for all dog lovers."
Generous sponsors for the event included Actor Dick Van Patten's Natural Balance Pet Foods, PETCO Foundation, The Ark Antiques in La Jolla Village, Economy Print and Image, North County Wine Company, Wag'N Tails and SDSU's Cuicacalli Residence Hall.
TV's Margaret Radford and KGTV Channel 10's Bill Griffith emceed the event. Fyi, Bill Griffith is quite the dog lover. He's got nine,that's nine of them at home. All chihuahua's and Papillon's. Bill Griffith had this to say about this special event: "I had such a doggone good time helping raise money for P.A.W.S., I'm itching to do it again!"
To learn more about P.A.W.S. and their future events, please visit www.pawssdc.org

Enjoy the photos!
Scott Johnston with Kima, who is loving Bill Griffith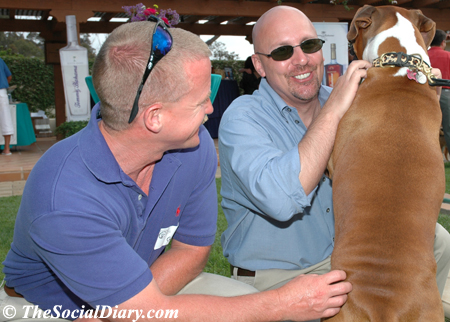 Kima making new people friends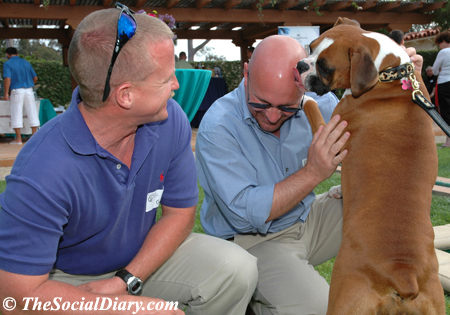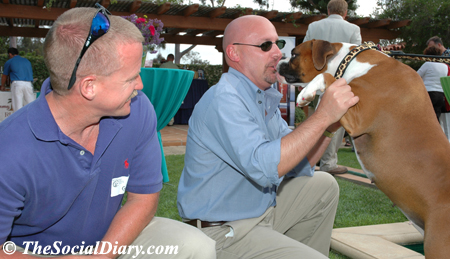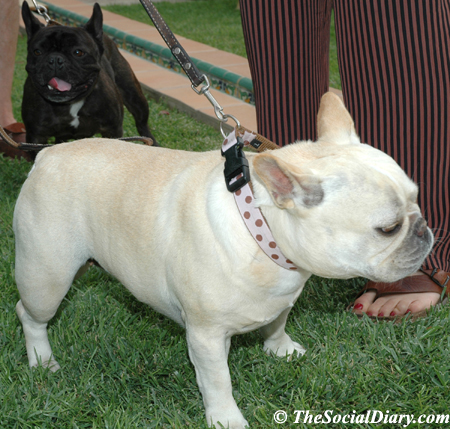 John Van Zante of the Helen Woodward Animal Center, with Kima and Scott Johnston ** Shawn and artist Cardill Miles
Esther Nahama ** Scott Johnston with Kima the RunAway Bride
Kima and Daddy Scott Johnston
Judy and Dick Freeman ** A standard poodle with her Mommie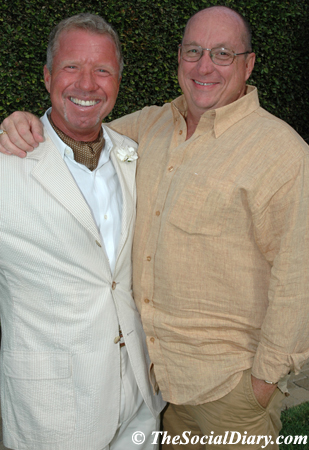 Matthew Midgett and friend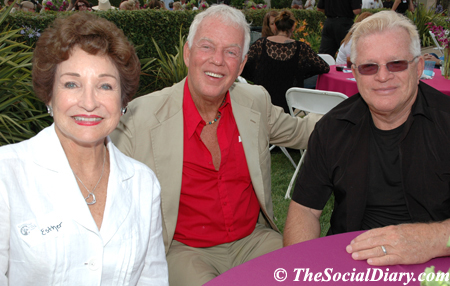 Esther Nahama with Guest and Artist Rick Herold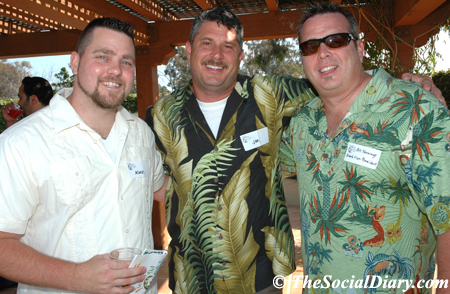 Guests with Bill Nanninga
Lily getting in good with the catering staff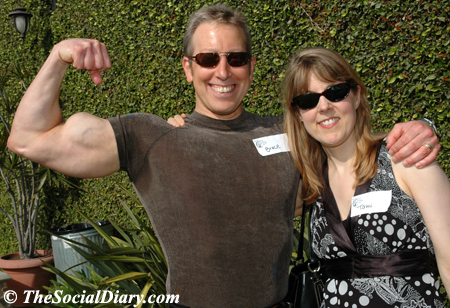 Bruce Pechman aka "The Muscleman of Technology"
Puppy love ** Kima the RunAway Bride with Mama Margo Schwab
Scott Johnston and Kima by the Rolls Royce Limo > A limo ride was a live auction prize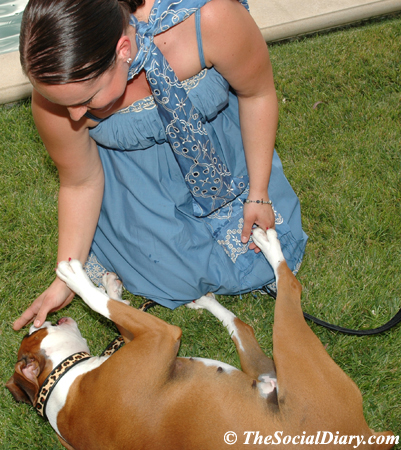 Kima loving getting loved by a new friend
One Cute Guest ** Kima .... who would like to invite you to her RunAway Bride Column
* Margo Schwab has produced, written, interviewed and photographed for various media organizations since 1989. Schwab attended Holton Arms School, La Jolla Country Day School and La Jolla High School. Schwab has a B.A. from Scripps College and a Masters of Business degree, M.B.A., from the University of San Diego. Schwab volunteers for numerous charity organizations. She also continues to lobby for water safety and for family violence mitigation. Schwab is the editor of The Social Diary. Margo is currently writing a book based on La Jolla.
Warning ** photos, video and writing on this site are the
copyright of The Social Diary, San Diego Social Diary, margomargo.com and Margo Schwab.
no reproduction of any part or parts is allowed without written permission by Margo Schwab