~ The Social Diary ~
~~~~~~~~~~~~~~~~~~~~~~~~~~~~~~~~~~~~~~~~~~~~~~~~~~
Sensational Smiles at Charity Ball 2007 in San Diego

February 13th, 2007
The Social Diary Columnist & Photographer Margo Schwab
(high resolution photos available by request )
Guests arrived February 10th, 2007 to the grande dame of San Diego hotels, the Hotel Del Coronado, for the grande dame gala of San Diego, the Charity Ball. This Year's Charity Ball benefits the Rady Children's Hospital Pediatric Dental Residency Program. The theme was "Sensational Smiles." It's aim, that all children should have healthy and sensational smiles. The evening's supporters for this great cause were a well dressed who's who of San Diego adults, sporting great smiles themselves, and some great couture.

Chairwoman Kimberly Hill Miller resplendent in a one shoulder strapped iridescent lavender gown by Marisa Baratelli.
Birthday girl Jennifer Greenfield was there, elegant in a black Chanel Couture gown trimmed in black mink. Jennifer's husband Dr. Richard Greenfield said the dress arrived to their home with the mink carefully extra wrapped in tissue paper. Dr. Richard brought a rare vintage 1981 Dom Ruinart Champagne to the VIP reception for his wife. Nothing is too good for his birthday gal.
Val Cooper was dressed beautifully in Guy Laroche Couture. You might remember this as quite the dress that Hillary Swank wore last year to the Oscar's. Well, it still is quite the dress, at least it is on Val. If you thought the front was breathtaking enough on Val's fine figure, the back certainly was ... in all the right ways. Val's husband Harry Cooper concurred.
More there mixing in fashion to support a great cause were Emma Zuckerman in a ravishing red strapless Akris with a simple matching ruby necklace and diamonds.
Iridescence was a big theme that night too with Chairperson Kimberly Hill Miller in a stunning lavender shimmering gown of hand-dyed Thai silk by Marisa Baratelli.
VIP reception nibbles included Fois Gras Eclaires, Port Wine Fondant, Cubed Scallop Louis Tart, Lamb Loli Pops
and Fig Spanish Almond Chutney. A flute and guitar player added to the atmosphere. Susan Houser and Debi Kelly Chaired the reception.
More guests there enjoying the elegant fun included Liz and Michael Copley, he wore a tartan jacket, Betty and Leonard Kornreich, Betty and James Brayshay, Leslie Pedersen, Helen and Chris Ghio, Paula and David Gillig, Karon Luce, Sally and John Thornton, Marie and Merrel Olesen, Dixie and Ken Unruh, Kristi and Michael Rossbacher, Madeleine and Frank Pavel, Cinda Lucas, Phyliss and John Parrish, Cheryl and Ron Kendrick, Kathleen and Philip Sellick, Ann and John Davies, Jane and William Hamlin, and of course Cary Miller joining his hardworking Chairwoman and wife, Kimberly Hill Miller.
Sally Thornton had a fun and perceptive take on the gala. "The San Diego "Grande Dame" of the Charity Balls, benefits Rady Children's Hospital, "Keeps Up the Tempo and Keeps Up the Pace" by combining Tradition with Contemporary Trends, thus "She" provides "Something for Everyone!"
And it truly felt that way. Many were impressed by the decor, the elegance and the fine cuisine served for dinner. Marie Olesen had this to say. "It was very interesting, not the normal event fare, and the hotel executed the meal perfectly."
And the plated dinner was exquisite. Stuffed Poach Pear Port, Stilton Endive Bouquet, Chantrel Mushroom Bisque en Crout, Burgundy Braised Short Ribs, Lobster Ravioli, Cabocha Squash Puree and Sauteed Greens. Dinner was followed by a dessert buffet of Watermelon, Honeydew and Apple Fruit Shots, Berry Tarts, Ibarra Chocolate Soup
Garnish homemade brown sugar & toffee marshmallows, Chipotle Truffle on Coconut Coffee Dacquoise, Banana Mousseline on Mac Nut Caramel Tart and Coconut Tapioca Soup Shooters.
The Malone Academy of Irish Dance performed. And later Kimberly and Cary Miller took to the ballroom dance floor for the first dance of the evening. The Millers elegantly swirled about the floor to the Blue Danube Waltz. They were soon joined by Co-Chair Nancie Geller and her husband Mark Geller, their committee members, past Ball Chairmen and then, a multitude of guests.
NRG was the band and it was an apt name for its effect on guests. It wasn't until late into the night that guests went home with white chocolate toothbrush party favors, and the knowledge that supporting this event will benefit children, their teeth, their smiles, their lives.
Chairperson Kimberly Hill Miller summed up the evening and its purpose. "I am thrilled about the success of the Charity Ball. It's all about the smile ~ and we've provided so many for our Rady children!"
And with over $400,000 raised, that's a lot of smiles.
That's thanks to all guests present at the Charity Ball and the exceptional generosity of Evelyn and Ernest Rady who were unable to attend.
To learn more about the Rady Children's Hospital, please click Sensational!
Betty Kornreich with friends ** Leslie Pedersen with Kimberly Hill Miller
Guests enjoying the Reception
Margo Schwab with Burl Stiff ** Guests
Captain Chris Ball and Guest ** Guests
Guests ** David Nelson with Marie Huff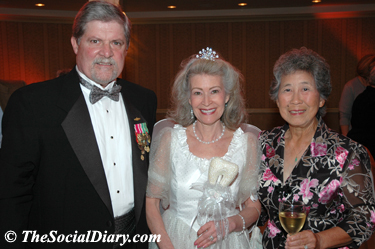 Tooth Fairy Danice Dean with Guests
Guest in golden iridescence ** Scott Johnston
Scott Johnston in Ermenegildo Zegna sparkling cuffs and studs with Lucien Picard sparkling watch and Jemima Garcia's J.Jenniene custom ascot ** Guests
Margo Schwab in J. Jenniene Couture and vintage earrings ** Guests with touches of animal and pink python cowboy boot flair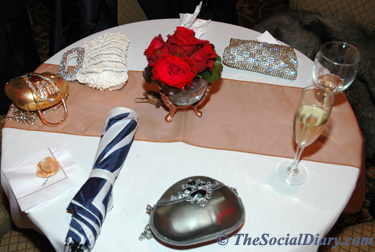 A VIP reception table with pretty clutch purses, an umbrella and champagne
Liz Copley with Marjie Atwood ** Phyliss Parrish
Liz and Michael Copley ** Jennifer Greenfield with Emma Zuckerman and Kristi Pieper-Rossbacher
Richard Greenfield and Leo Zuckerman ** Guest
Harry and Valerie Cooper ** Valerie Cooper's Guy Laroche bejeweled gown from the back
Jennifer and Richard Greenfield ** The party scene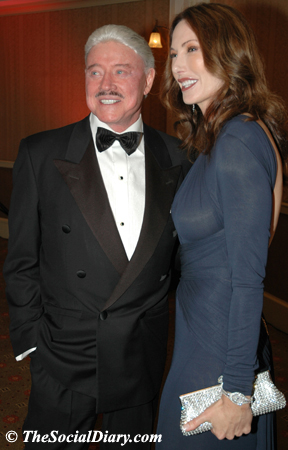 Harry and Val Cooper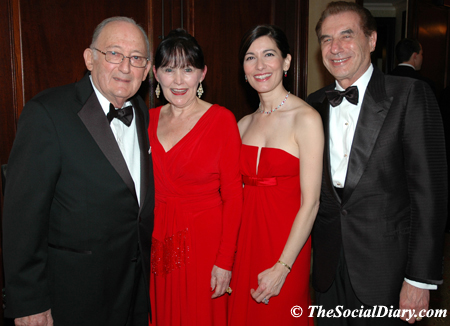 Dr. Phillip Rand and Charlotte Hogue, and Emma and Leo Zuckerman
Emma Zuckerman with Valerie Cooper and Margo Schwab ** Scott Johnston with Sally and John Thornton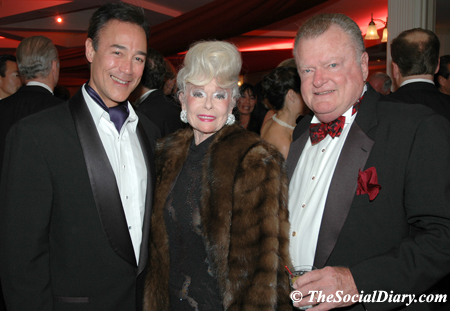 Scott Johnston with Sally and John Thornton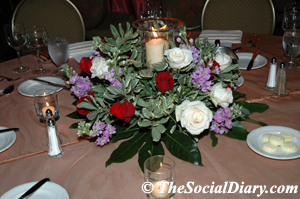 The Ball Room tables set Dinner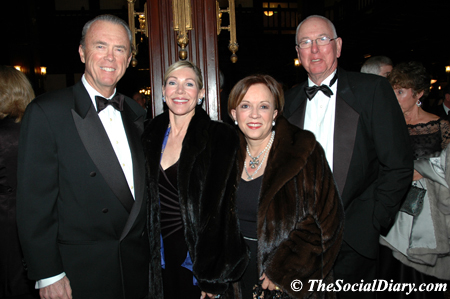 Don and Linda Swortwood with Marie and Dr. Merrel Olesen
Don and Linda Swortwood ** Marie and Dr. Merrel Olesen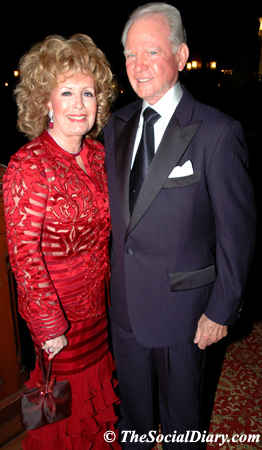 Dianne and Jim Bashor
* Margo Schwab has produced, written, interviewed and photographed for various media organizations since 1989. Schwab has a B.A. from Scripps College and a Masters of Business degree, M.B.A., from the University of San Diego. Schwab volunteers for numerous charity organizations. She also continues to lobby for water safety and for family violence mitigation. Schwab is the owner and publisher of The Social Diary. Margo is currently writing a book based on La Jolla.
back to New this Week.....Margo Schwab Archives...... Home
Warning ** photos, video and writing on this site are the
copyright of The Social Diary, San Diego Social Diary, margomargo.com and Margo Schwab.
no reproduction of any part or parts is allowed without written permission by Margo Schwab