Denise Hug's Holiday Luncheon at Mille Fleurs
Denise Hug held a festive holiday luncheon at Mille Fleurs December 2nd, 2009. What started as 20 or so guests weeks earlier quickly doubled. This was a girl's only lunch, although Denise's husband Bertrand Hug did pop in ... and quite a few gents made it quite clear that they would like to crash this bevy of beauties gathering.

Valerie Cooper with Maggie Bobileff ** Emma Zuckerman
Cocktails, a sit down lunch of parsley soup, Maine Lobster with avocado and papaya salad, and some wicked chocolate mousse did the trick. Chef Martin Woesle reigns supreme once again!
So did the conversation which flowed from topics of Aspen, Australia, to clothing, jewelry, but always back to the subject of Tiger. Lots of opinions on that!
Among the guests were Karian Forsythe, Machel Penn, Maggie Bobileff (she just celebrated a birthday), Susie Robinson, Jen Keslick (she's the girlfriend of one very snagged bachelor), Jane Carrol, Nancy Santoro, Claudia Knorr, Debbie Bello, Kelly Padilla, Adrienne Bello, Valerie Cooper (another birthday girl), Margo Schwab, Tammy Williams, and Emma Zuckerman.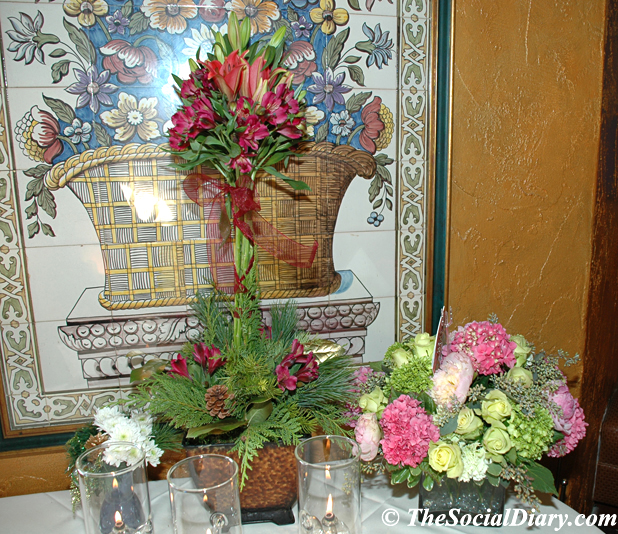 More there included Barbie Spinazolla, Cathy Lynch, Susan Parker, Judy Ferrero (she and husband Lou were the Honorary Chairs for this year's Crystal Ball), Laura Applegate (one of 2009's Best Dressed), Dee Ammon, Ellen Zinn, Linda Swortwood (her husband's company had a big holiday party at Mille Fleurs the night before), Connie McNally, Tamara, Sandy Dorros, Joy Bancroft, Kathy Connor, Joanie Wafer, Karen Hoehn (big supporter of the Timken Museum), Diane Colyear, Nina Smoley, Rhonda Stratka, June Feldman, Annie Malcolm, Dianne Bashor, Connie McCoy, Lucille Lindsey, and of course the hostess herself, Denise Hug!
A great holiday luncheon by 2009 Best Dressed Denise Hug.... all size 2 of her!
Happy Holidays Everyone!
Please enjoy the photos.
If you wish to purchase photos, please email your inquiry. No downloading of photos without express written permission by The Social Diary thank you.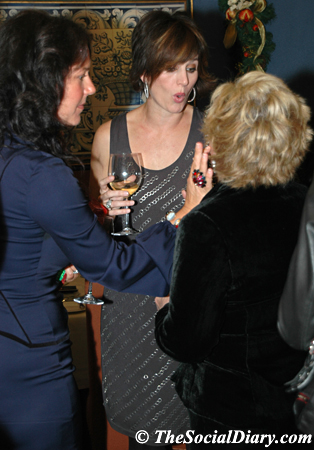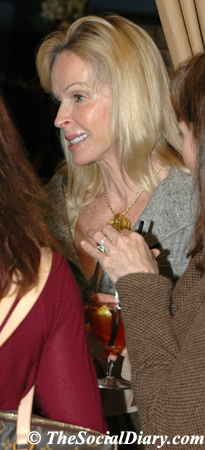 Jennifer Keslick Bell with Karian Forsyth and Judy Ferrero ** Cathy Connor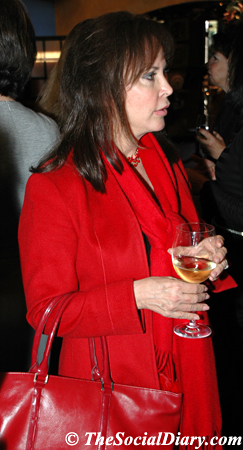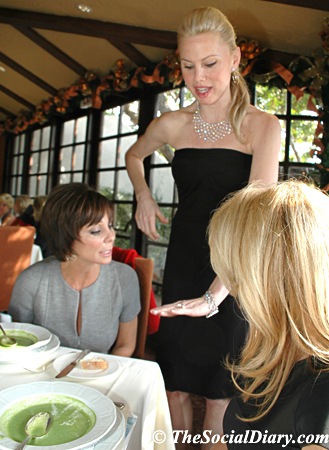 Joani Wafer ** A model showing Debbie Bello and Adrienne Bello Martin Katz Jewelry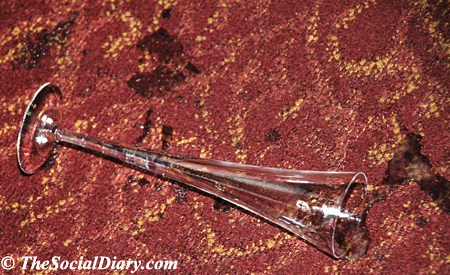 A Champagne Flute went (the sun is down Denise) down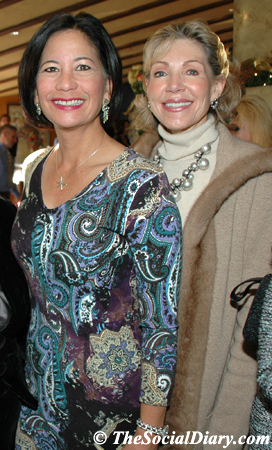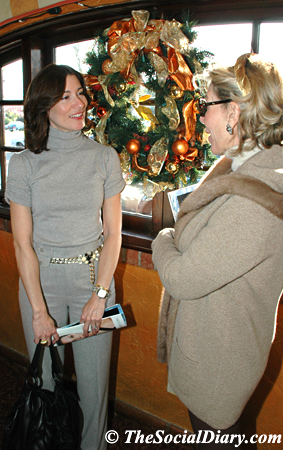 Dee Ammon with Linda Swortwood Emma Zuckerman with Linda Swortwood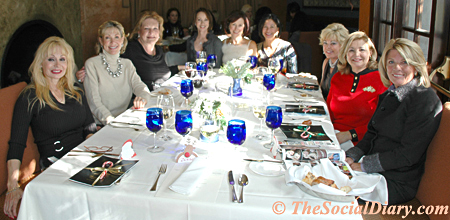 One of the Luncheon Tables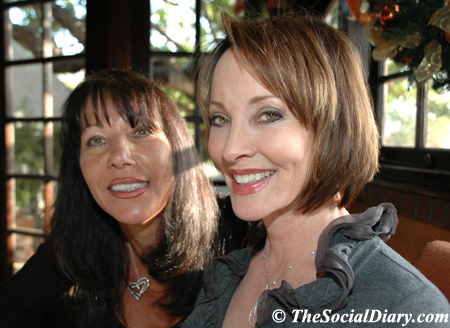 Maggie Bobileff with Denise Hug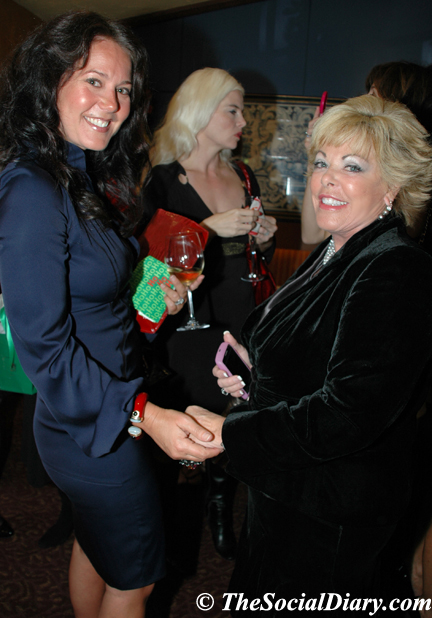 Dianne Bashor ** Karian Forsyth with Judy Ferrero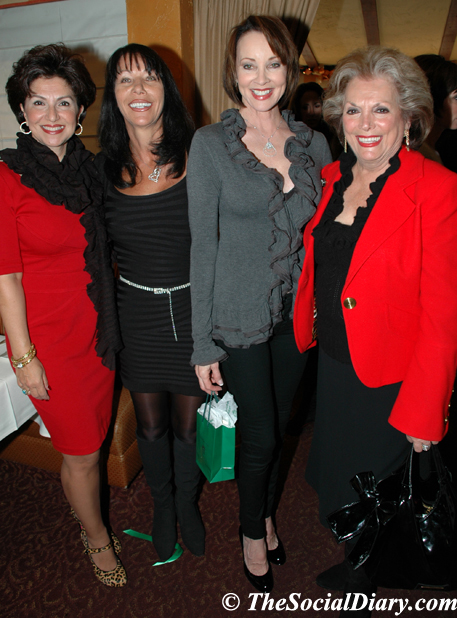 Annie Malcolm with Maggie Bobileff, Denise Hug and Connie McNally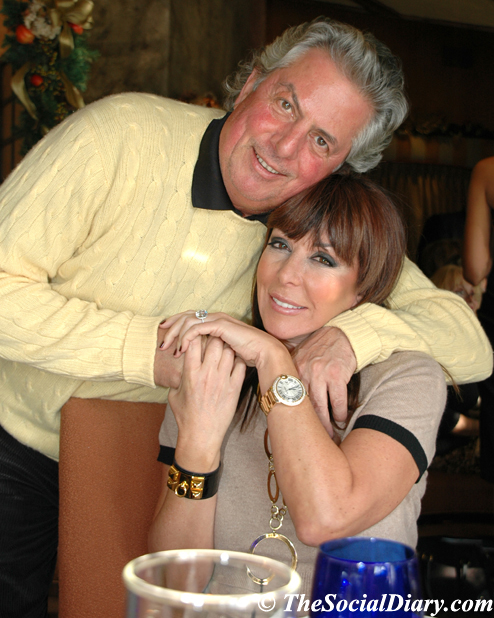 Bertrand Hug giving a squeeze to Nancy Bello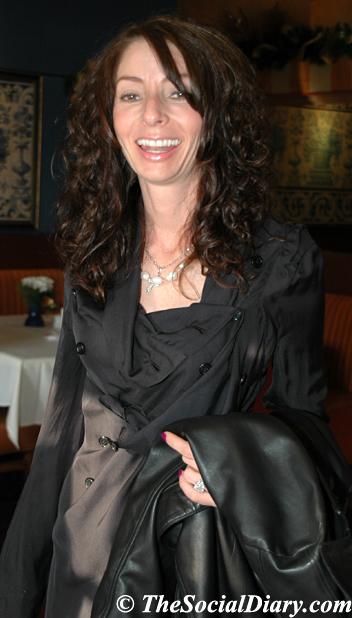 Tammy Williams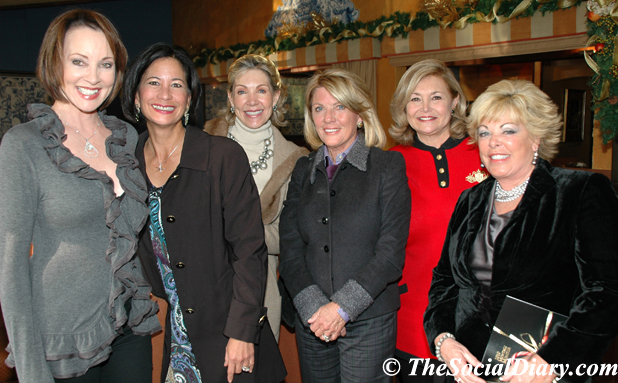 Denise Hug with Dee Ammon, Linda Swortwood, Cathy Lynch, Susan Parker,
and Judy Ferrero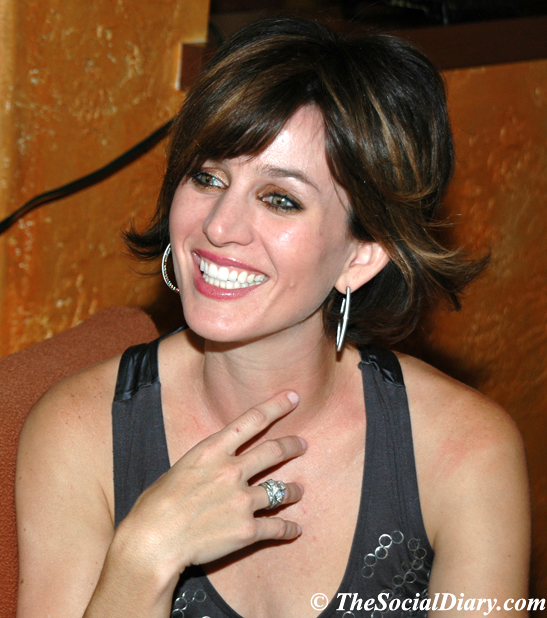 Jen Keslick Bell
reported by Margo Schwab
And for a Look Back to Related Events:
Denise Hug's Holiday Luncheon 2007
Scripps Mercy Best Dressed 2009
Bertrand At Mr. A's / Best Dressed 2009 Celebration
Scripps Mercy Best Dressed Fashion Show by Leonard Simpson
Scripps Mercy Luncheon for 2008 Best Dressed
Dressed to the Nth Degree 2008 VIP
Best Dressed Luncheon for 2008 in 2009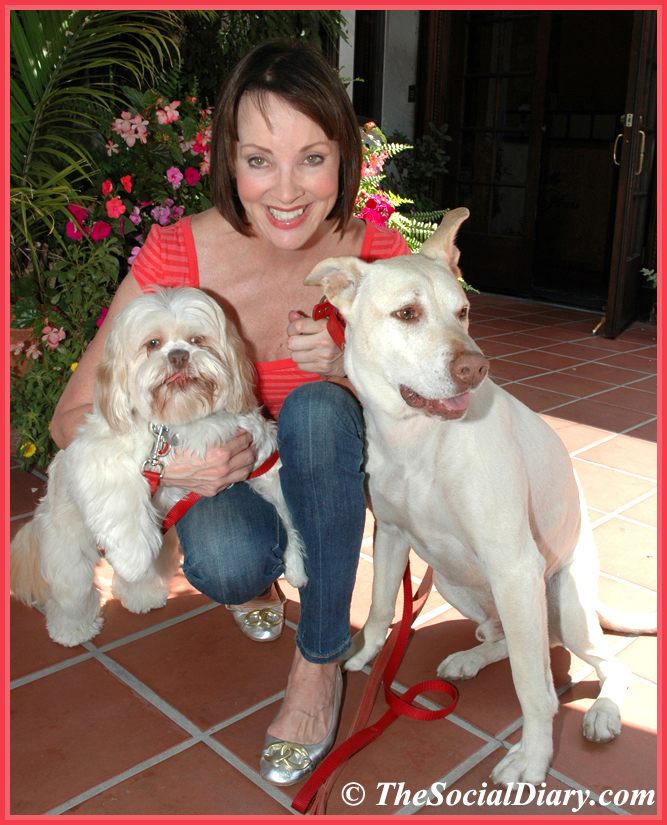 Denise Hug is pictured here at the entrance of Mille Fleurs Restaurant in Rancho Santa Fe with her wonderful dogs, Sophie and Freddy. Her furry friends are both rescues!
Denise and husband Bertrand are the owners of Mille Fleurs Restaurant in RSF and Bertrand at Mr. A's in downtown San Diego.
The Hug's support many organizations including:
March of Dimes
Casa de Amparo
Denise looks forward to becoming more involved with animal rescue organizations like
the Helen Woodward Animal Center
The Buzz
Blast From The Past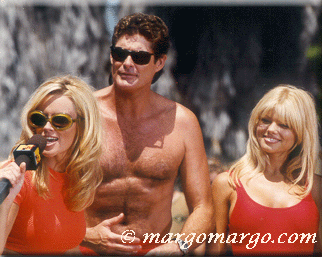 Here's the Hoff back in the day when Baywatch did a show at a Malibu location with Jenny McCarthy's 'Singled Out' show. Pictured here with Donna D'Errico as well. I dealt with David Hasselhoff on many occasions... he was always polite and knew his lines. He is theatre trained after all.
It was a great day on set.... then I went on to the Jay Leno show... how fun is that!

____________________________________________________________
Photoshopping and Photography Services
Photos on this website available if it is of you
available by The Social Diary
~ 619-384-7333
email TheSocialDiary.com
_______________________________________________________________
Email Commentary to be added
email editor@thesocialdiary.com
* Margo Schwab, more formally known as Margaret E. Schwab, has produced, written, interviewed and photographed for various media organizations since 1989. Schwab attended Holton Arms School, La Jolla Country Day School and La Jolla High School. Schwab has a B.A. from Scripps College, spent a business internship with S.A.I.C., Science Applications International Corporation, and earned a Masters of Business degree, M.B.A., from the University of San Diego. Schwab additionally took college courses from Harvard University, and Syracuse University. Schwab volunteers for numerous charity organizations. She also continues to support animal organizations and the prevention of people and animal abuse. Schwab is the editor of The Social Diary.
Margo Schwab and Scott Johnston of the Social Diary are pleased to announce partnerships with the San Diego Humane Society, San Diego News Network and now, San Diego Home & Garden Magazine.
San Diego's The Social Diary would like to say a special thank you to our advertisers.
Valerie and Harry Cooper, Patrons of the San Diego Opera
Valerie and Harry Cooper, Patrons of The Museum of Contemporary Art San Diego
Judith C. Harris, Blair Harris, and Robert Singer, MD supporting the
Dian Fossey Gorrilla Fund International
H. Moradi Jewelers on Prospect Street in La Jolla
Dr. Laurie Marker of The Cheetah Conservation Fund
Pat O'Connor of Fashion Careers College
Pamela Pogue of Juelerie
Kary Favish of the Worth Collection
Diana Cavagnaro of Designer Millinery
Jordan of Jordan Art Couture and Animal Fashions by Jordan
Gary Parker of WineSellar & Brasserie
Chef and Owner Pasquale of Cafe Milano
Alex Gonzalez of Mercedes Benz of San Diego
Kevin Smith of Extreme Pizza in La Jolla
Jeremiah Sullivan of Neptunic Sharksuits
Drs. Sue and John Morizi of The Animal Hospital of La Jolla
Eugene Ladopoulos of Mistra Estates Olive Oil
Warning ** photos, video and writing on this site are the
2009 copyright of The Social Diary LLC and its subsidiaries.
no reproduction of any part or parts is allowed without written permission by The Social Diary