~ The Social Diary ~
~~~~~~~~~~~~~~~~~~~~~~~~~~~~~~~~~~~~~~~~~~~~~~~~~~
Mille Fleurs Holiday Luncheon à la Denise Hug
A very coveted invite for the holidays was Denise Hug's Holiday Luncheon at Mille Fleurs on December 17th, 2007.
Denise's guests first gathered for Mimosa's in the sunny courtyard. Among the buzz, Valerie Cooper's return the night before from a birthday week in Costa Rica, a lot of talk about who's going to St. Barts for the holidays, mega-yachts, Kimberly Hunt's return to Channel 10, where to get the best take away for Christmas holiday entertaining, Diane Bell's new family addition, and of course Julien Hug, Denise's son and host for the luncheon.
Among the pretty mix there were Dianne Bashor, Nancy Browar, Tanya Brandes, Leanne Shapery, Kathy Connor, Laura Bradley, Conny McNally, Linda Swortwood, Joanie Wafer, Karen Hoehn, Barbara Enberg, Linda Swortwood, Jinda Schatz, Diana Cook, Patty Cooke, and the aforementioned.
.....And about fifty more guests. It was a big luncheon!
Of course the pretty hostest with the mostest with a slim size 0-2 figure, Denise Hug, made sure that everyone knew everyone else, and everyone had a terrific time..... And we did!
Guests sat down to a Chef Martin Woesle lunch of perfection. Butternut squash soup with cinnamon croutons was the starter. Followed by a salad of Maine Lobster, just picked garden greens, avocado, papaya and lemon dressing. The apple strudel dessert with currants, almonds, caramel sauce and ice cream was sinful and lovely.
Guests were admonished not to bring gifts for Denise on the invite. No one listened.
Please enjoy the photos.
(high resolution photos available by request)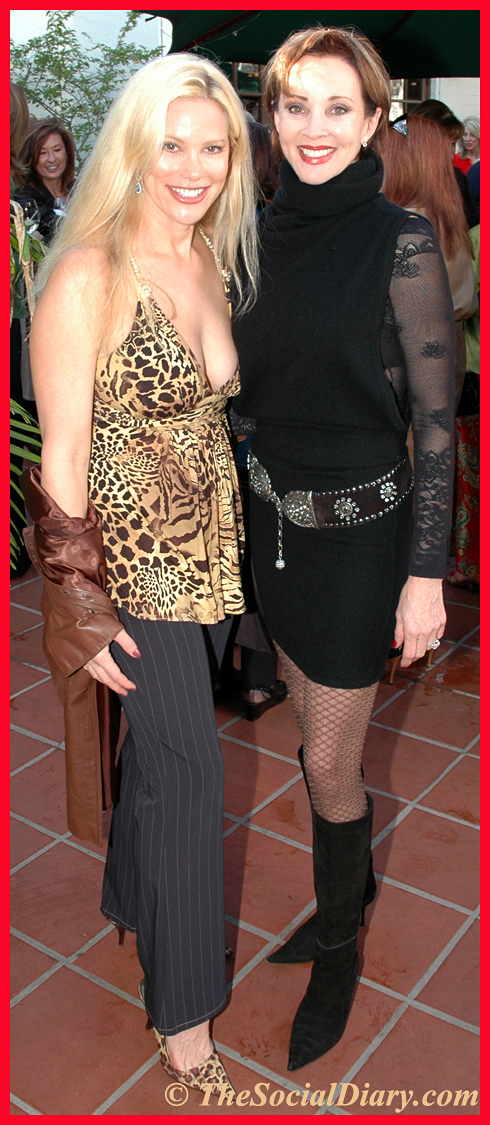 Margo Schwab with Hostess Denise Hug
Tanya Brandes and Leanne Shapery ** Denise Hug and Barbara Enberg ** Conny McNally and Guests
Valerie Cooper ** Denise Hug and Kimberly Hunt ** Guests
Linda Swortwood ** Guests ** Denise Hug with Guest ** Ellen Zinn
Guests and Dianne Bashor ** Kimberly Hunt and Kathy Connor ** Valerie Cooper and Nancy Browar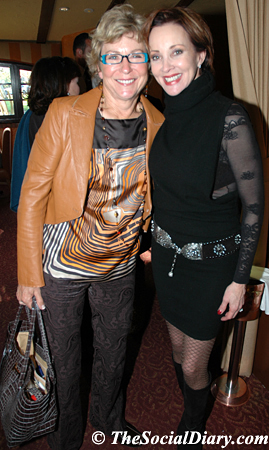 Guest with Denise Hug
reported by Margo Schwab
* Margo Schwab, formally known as Margaret E. Schwab, has produced, written, interviewed and photographed for various media organizations since 1989. Schwab attended Holton Arms School, La Jolla Country Day School and La Jolla High School. Schwab has a B.A. from Scripps College and a Masters of Business degree, M.B.A., from the University of San Diego. Schwab volunteers for numerous charity organizations. She also continues to lobby for water safety and for family violence mitigation. Schwab is the editor of The Social Diary. Margo is currently writing a book based on La Jolla.
Warning ** photos, video and writing on this site are the
copyright of The Social Diary, San Diego Social Diary
no reproduction of any part or parts is allowed without written permission by The Social Diary