Scorpion Bay Hotel, Private, Picturesque ........VIP and Club Memberships Available >>> Scorpion Bay Hotel
an international destination for World Class Surfing, Fishing and Families
founded by Fred Borrelli
~~~~~~~~~~~~~~~~~~~~~~~~~~~~~~~~~~~~~~~~~~~~~~~~~~~~~~~~~~~~~~~~~~~~~~~~~~~~~~~
~ The Social Diary ~
all photos and content are the strict copyright of TheSocialDiary.com
photos are available for purchase
~~~~~~~~~~~~~~~~~~~~~~~~~~~~~~~~~~~~~~~~~~~~~~~~~~~~~~~~~~~~~~~~~~~~~~~~~~~~~~~~~~~~~~~~
'The Women' of the Globe Gala 2008
'"The 2008 Globe Gala was a great success and we are deeply grateful for the continuing generosity of our donors who help the Globe retain its national position as America's sixth largest regional theatre. A special thanks goes to our three co-chairs, Karen Cohn, Deni Jacobs and Sheryl White, who made the Gala a lustrous evening."
Lou Spisto - Old Globe Theatre CEO & Executive Producer
And it was a lustrous 'Jungle Red' that was the key to the evening September 20th, 2008. 'Jungle Red' was entertwined into the evening's color theme, The Women's plot, and quite a few patron gowns.
Co-Chair Deni Jacobs wore a berry red gown by Les Habitudes of Robertson Blvd in Los Angeles. The florally enhanced gown was timeless and perfect. Co-Chair Sheryl White wore a beautifully detailed 'Jungle Red' gown by Oscar de la Renta. And the third Co-Chair, Karen Cohn wore a textile rich gown by designer Naeem Khan. Karen opted for white and she wore it well.
Co-Chairs Sheryl White, Karen Cohn, and Deni Jacobs ** Deni Jacobs
More fashion stunners there included Jeanne Jones in Giorgio Armani, Dixie Unruh in a feathered 'Jungle Red' by Jordan, Tanya Brandes in Angel Sanchez, Denise Hug in a short cranberry red Betsy Johnson, Lynda Kerr in a strapless Carolina Herrera, and Colette Carson Royston and Iris Strauss chose elegant Carolina Herrera's too.
A modern be-gowned glamour girl was Valerie Cooper. Valerie wore a white Roberto Cavalli with a daring back and front too for that matter. Very tasteful and breathtaking.
Men had their shining moment too. KUSI's fashion reporter Leonard Simpson wore a silvery brocade jacket with brown velvet lapels. Marc Matys accessorized with a brocaded silk tuxedo jacket. 'Jungle Red' of course!
The evening started with cocktails, canapés and silent auction viewing in the Alcazar Garden by the Globe Theatre. The buzz was big for the gala performance of The Women. And expectations were met and exceeded. The word is this Globe Production is a hit!
A hit too was the live auction bidding for some quite generous amounts. Never shy to put her bidding hand up was Darlene Shiley. Both Darlene, and Debbie Turner and Conrad Prebys won the bids for a private concert and party for 50 at their homes with cast members from The Women.
More winning bidders included Gaby and Rich Sulpizio for a Private Jet trip and Courtside Seats for the Phoenix Suns, Karen Kohlberg, and Rebecca nd David Vigil for once in a lifetime 5 star tour of Havana, Cuba, Sheila Potiker, and Lee Clark and Jerry Pikolysky for a French Luxury Trip, Karen and Donald Cohn, and Deni and Jeff Jacobs for Walk-on Roles for HBO's Smash Hit Big Love, and Marina and Rafael Pastor for a Private Performance and Party for 50 at home with the legendary writing and performing team of Holland Dozier Holland.
Patron Drew Schlossberg of the San Diego Union Tribune enthusiastically noted this about the event. "Another stellar event produced by the Old Globe. The Globe Gala captures the essence of the Old Globe: passion, partnership, commitment and entertainment."
"We had a great time...first time attending the Globe Gala" said Lynda Kerr. "I really had a blast!!! I think everyone else did too based on the comments we were getting!!! --It really looked beautiful, the play was fun and the band rocked along with my Co-chairs!!!" said Sheryl White.
Among the mix there also were Audrey Geisel and Alex Butterfield, Jeanne Jones and Don Breitenberg, Lael and Jay Kovtun, Valerie and Harry Cooper, Iris and Matthew Strauss, Tanya and Charles Brandes, Colette and Ivor Royston, Debby and Hal Jacobs, Joan and Irwin Jacobs, Lee and Frank Goldberg, Sally and John Thornton, Lynda and Richard Kerr, Noni and Drew Senyei, Sheila and Jeffrey Lipinsky, Laurie Mitchell and Brent Woods, Peter Cooper and Norman Blachford, Denise and Bertrand Hug, Mary Beth Adderley-Wright and Richard Wright, and Darlene Shiley. Darlene's husband Donald Shiley was unable to make the evening's festivities, but his giving spirit was there as noted by Lou Spisto.
"We are deeply grateful to the Shileys for their singular and extraordinary commitment to The Old Globe," said Executive Producer Lou Spisto, "and we are pleased to recognize them as Honorary Chairs of the Gala for their significant support of our artistic and education programs. Donald and Darlene's ongoing generosity allows the Globe to continue bringing the nation's most sought-after artists to San Diego."
Guests enjoyed Sheraton San Diego Hotel and Marina's Chef Steve Black cuisine for dinner. Warm Lentil and Vegetable Gateau, Asparagus and Shitake Mushroom Vinaigrette Roast Beef Tenderloin with Green Peppercorn-Cognac Cream Sauce Yukon Gold Mashed, Creamed Spinach, Porcini-Shallot Saute Cherry Florentine Crisp; Vanilla Bean Gelato and Black Cherries under a Crunchy Florentine Crisp. The dessert was topped by red shoe cookies too! Gorgeous floral arrangements were provided by Keith Dupell of Floral Act. Custom Jungle Red nail polish with the Globe logo was part of the guest take aways at each table.
Don Cohn, who is Chairman of the Board of Directors, and his wife, Gala Co-Chair Karen Cohn, both proud parents of two Yorkies, went home to the dog house..... so to speak. The Cohn's had the winning bid for a custom doghouse built by Shea Homes. The doggy home features hardwood floors, curtained windows and a shake roof with skylights. By the by, the 'doghouse' is a replica of the Old Globe!
Please enjoy the photos.
(high resolution photos available for purchase )
Kathryn Hattox ** Reception Floral Arrangement ** Jeff and Deni Jacobs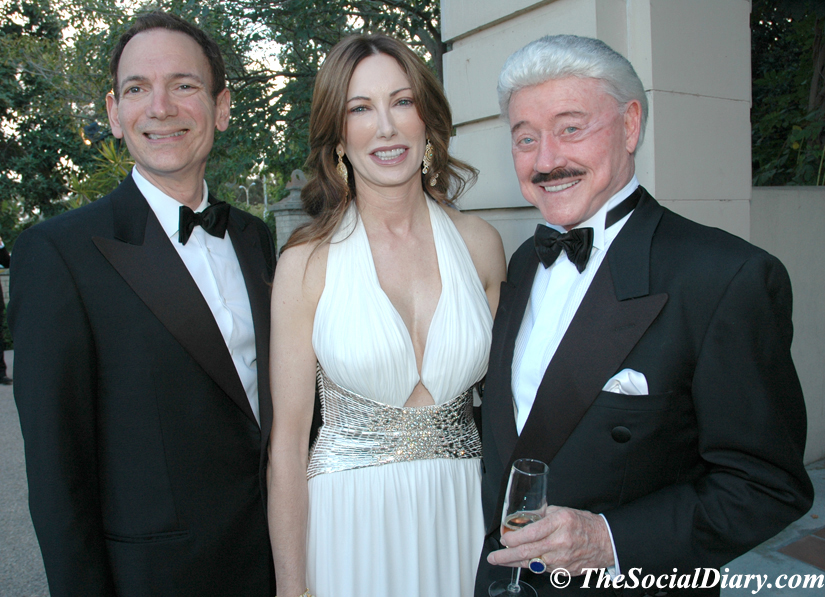 Lou Spisto with Valerie and Harry Cooper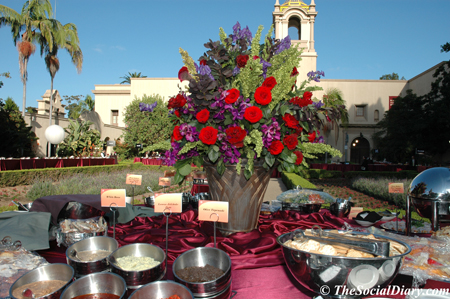 Center Table at the Reception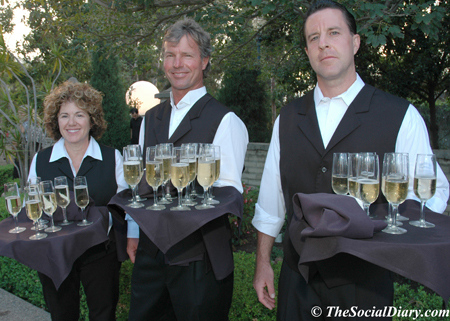 Chilled Champagne Served to Arriving Patrons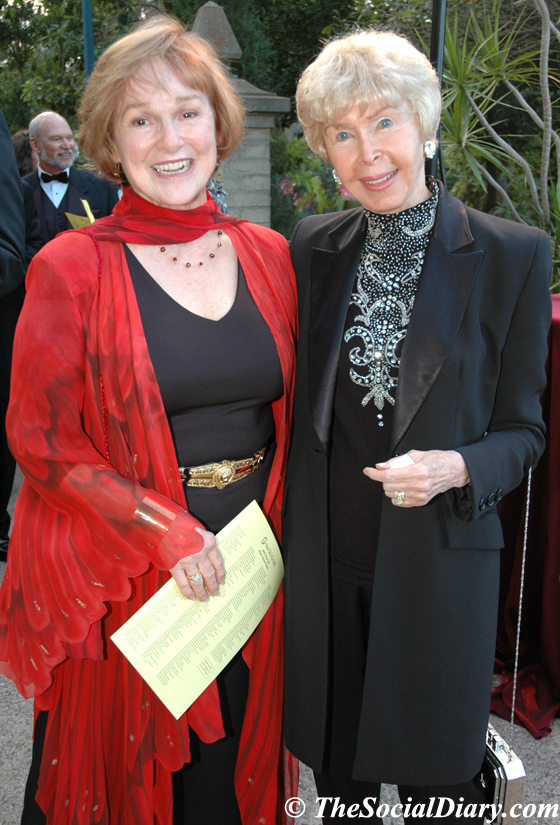 Dixie Unruh with Audrey Geisel
Guest with Todd Schultz and Valerie and Harry Cooper ** Valerie and Harry Cooper ** Lynda Kerr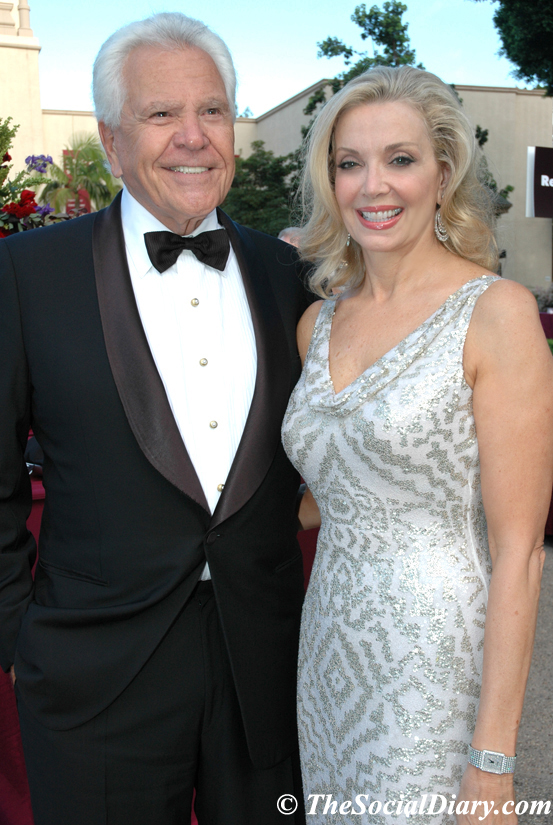 Don and Karen Cohn
Denise Hug ** Jeanne Jones ** Karen Cohn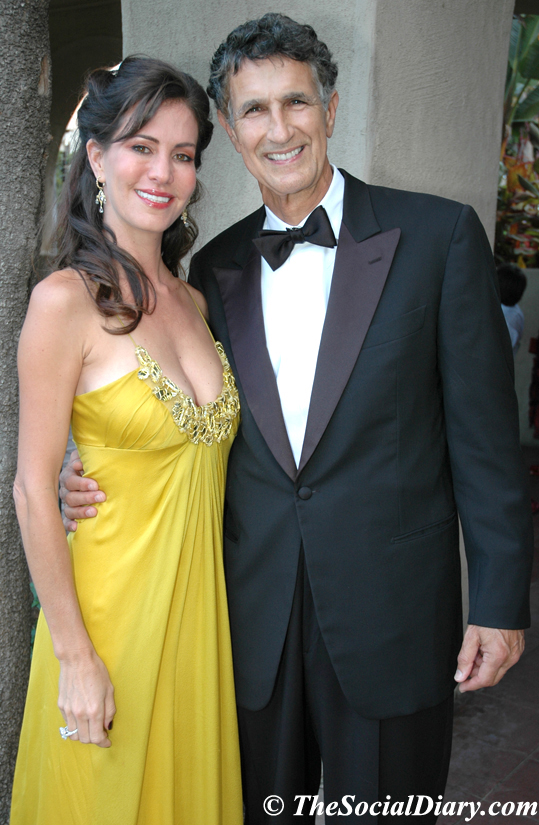 Tanya and Charles Brandes
Valerie Cooper with Tanya Brandes ** Marc Matys with Guest ** Lael Kovtun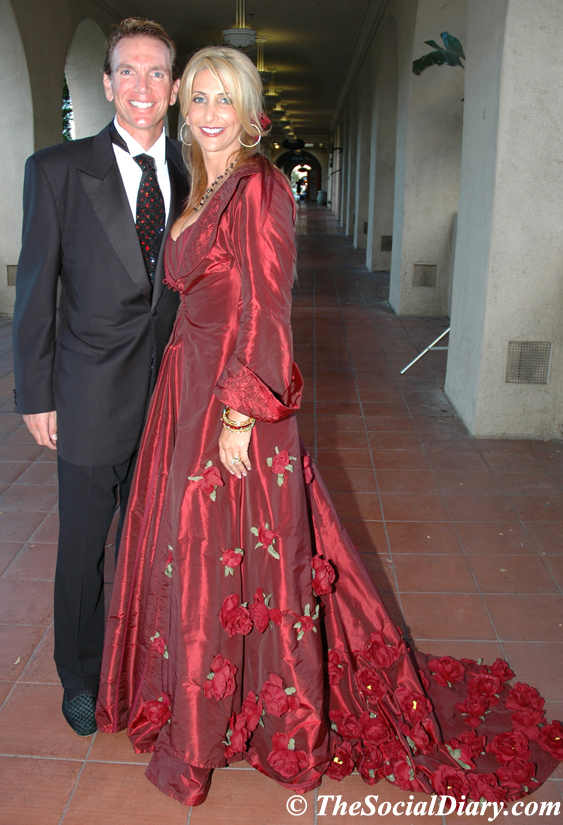 Jeff and Deni Jacobs
Erika Torri ** Tanya Brandes with Joyce Gattas ** Sheryl White
Tanya Brandes with Jeff Jacobs ** Sheryl White with Karen Cohn and Deni Jacobs ** Leonard Simpson
Valerie and Harry Cooper ** Valerie Cooper's Pretty Backside
Don Breitenberg and Jeanne Jones
Drew Schlossberg ** Sheryl White
The Backside Train of Deni Jacobs' Les Habitudes Gown, Deni is photographed here with husband Jeff Jacobs
Michael and Maree Mossmer with Lynda and Richard Kerr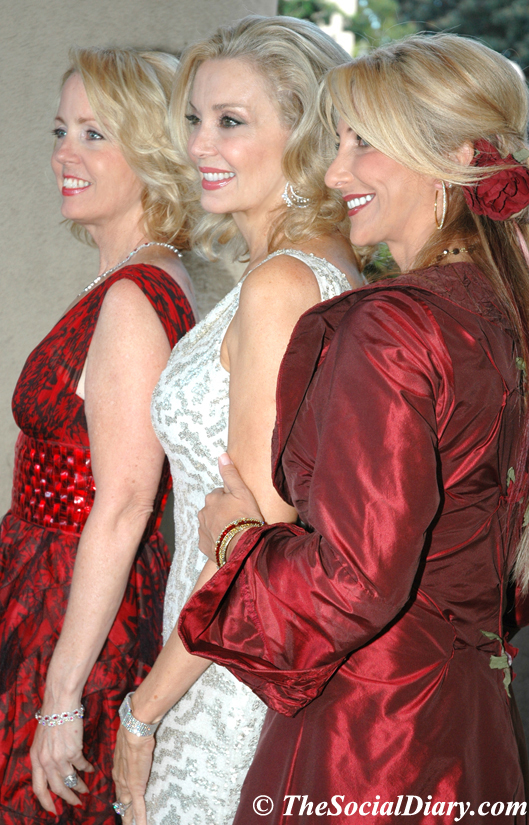 The Social Diary would like to salute and applaud Co-Chairs Sheryl White, Karen Cohn and Deni Jacobs for all they do for the Old Globe!
To learn more about current and upcoming productions, future events and more, please visit the www.oldglobe.org
reported by Margo Schwab
Email Commentary to be added
* Margo Schwab, more formally known as Margaret E. Schwab, has produced, written, interviewed and photographed for various media organizations since 1989. Schwab attended Holton Arms School, La Jolla Country Day School and La Jolla High School. Schwab has a B.A. from Scripps College, spent a business internship with S.A.I.C., Science Applications International Corporation, and earned a Masters of Business degree, M.B.A., from the University of San Diego. Schwab volunteers for numerous charity organizations. She also continues to support animal organizations and the prevention of people and animal abuse. Schwab is the editor of The Social Diary.
Warning ** photos, video and writing on this site are the
copyright of The Social Diary, San Diego Social Diary
no reproduction of any part or parts is allowed without written permission by The Social Diary