Private, Picturesque ......Scorpion Bay Hotel available too! ..., founded by Fred Borrelli
~~~~~~~~~~~~~~~~~~~~~~~~~~~~~~~~
~ The Social Diary ~
all photos and content are the strict copyright of TheSocialDiary.com
no downloading!!
photos are available for purchase if it is of you!
~~~~~~~~~~~~~~~~~~~~~~~~~~~~~~~~~~
Kids Korps USA 'Eco Ball'
~ at the Irwin M. Jacobs Qualcomm Hall ~
"One of the great features of this year's Eco Ball was that Kids Korps USA has teamed with the Fuller Center for Housing to build a 'green' house on April 18, 09. Linking youth to renovate homes in San Diego County is one of the many reasons this year's Eco Ball was right on target, relevant and important." -
Bettie Youngs, Honorary Chair and Founding Member, Fuller Center for Housing
The Eco Ball benefit for Kids Korps USA was a tremendous success with ecology and giving back as its foundation. And it's a mission that starts with youth. The event took place February 7th, 2009 at the Irwin M. Jacobs Qualcomm Hall.
Kids Korps USA's goal is "to build leaders for life through youth volunteerism. Since it was founded in 1995, Kids Korps has grown from a handful of children in its first chapter in Rancho Santa Fe to nearly 5,000 youth and family volunteers in 70 chapters around the country. Kids Korps sponsors hundreds of community service projects each year that include building homes for the disadvantaged, creating care bags for youth entering transitional facilities, and assembling bikes for kids in need."
And with that in mind quite a few who's who came out in support. And they did so also to recognize and applaud the honorees, the Hug family. That's Denise and Bertrand, and son Julien. The Hugs have been stellar supporters of Kids Korps USA for many years.
Among the guests there to applaud the Hugs were Maggie and Gary Bobileff, Laura Bradley and Fred Applegate, Jane and Phil Carroll, Valerie and Harry Cooper, Suzie and Scott Robinson, Jeff Strouth, Linda and Lew Dowdy, Barbara and Dick Enberg, Kelly Mikules, Nadine and Jack Naliboff, Catarina Petra Toumei, Debbie and Tom Harris, Linda and Don Swortwood, Joani and Chuck Wafer, Lynn Hasselberger, Carolina Katzrey, Kim Pavel and Chip Harrison, Bonnie and Bill Talbot, and Event Chair Marie, and her husband Chris Daniels.
Marie said she got an early surprise when her husband gave her the necklace she wore this evening. She then chose her Eco Green colored dress to match.
More there included Rhonda Epstein with her young son Ethan. Ethan has already written a book about volunteering. Volunteering is something he loves to do.
And so do many other kids of Kids Korps. Heather Moy and Hedda Bates for example. They not only volunteer for Kids Korps, but they did so for this Eco Ball fundraiser.
And it was with an environmental feel as noted by Chairperson Marie Daniels. "ECO Ball 2009 was a scaled back version of our annual galas of the past. In the current economy, it made sense to deliberately create a more intimate event with a purpose. Each year, the fundraiser allows the audience to contribute to the ongoing programs Kids Korps offers our youth. Kids Korps wanted to contribute this year to our environment by reducing waste, and decreasing the negative impacts of events such as these by partnering with companies of like mind, I.E. Sempra Energy, Qualcomm, and our eco-friendly local vendors. We believe we successfully joined a purposeful evening with a celebration of our honorees, colleagues and friends."
Honoree Denise Hug had this to say. "To be acknowledged by the people who are so important in the success of Kids Korps made it very special to be recognized and knowing how many of our friends were there to support us made it even more memorable."
Denise's husband Bertrand added that he was thankful for the kind words of emcees Dick Enberg and Kimberly Hunt.
Thankful were all of those attending, who learned a bit more about volunteering, and going green!
Enjoy the Photos!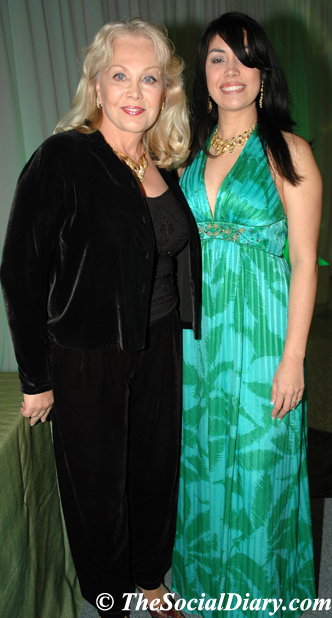 Bettie Youngs and Marie Daniels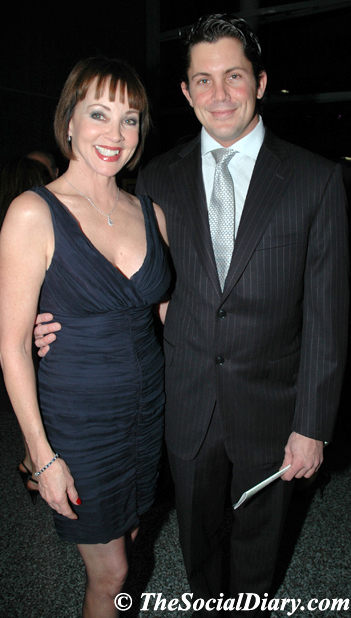 Denise Hug with her son Julien Hug
Ethan and Rhonda Epstein with Joani Wafer ** Lynn Hasselberger in eco clothing with Carolina Katzrey
Linda Swortwood ** Marie Daniels with Jennifer Youngs
I Count for my EARTH's environmentally friendly clothing and purses
Valerie Cooper with Nancy Santoro ** Roger Joseph with Tamara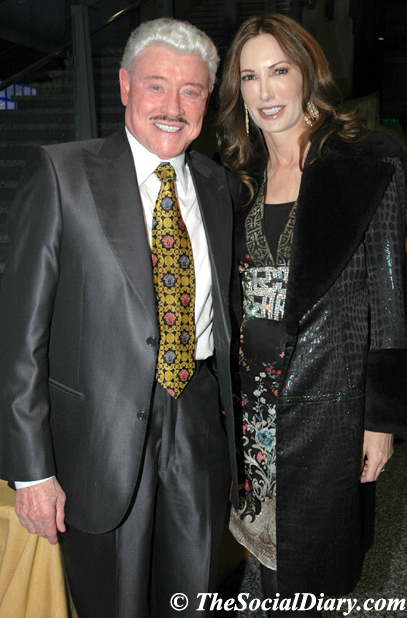 Harry and Valerie Cooper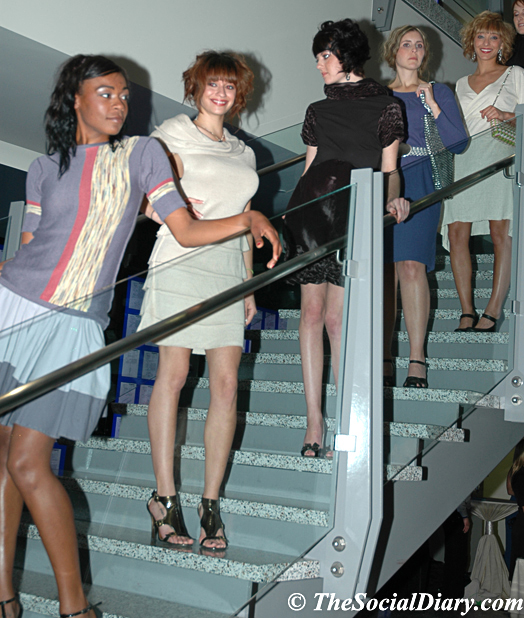 I Count for my EARTH's environmentally friendly clothing and purses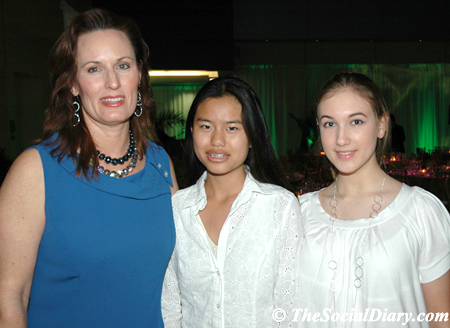 Kim Michel with Heather Moy and Hedda Bates
Jennifer Youngs and Steve Buguiel** Honoree Bertrand Hug, the Wine Maestro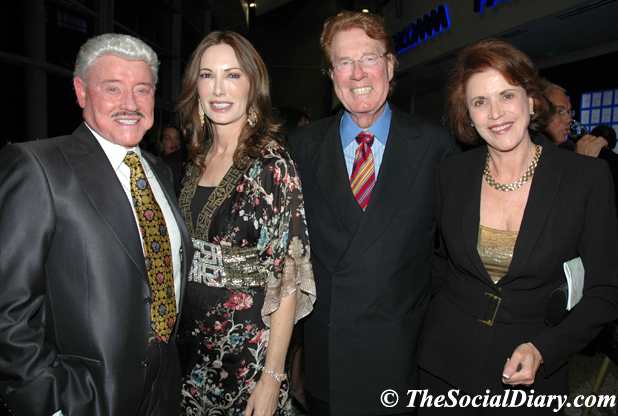 Harry and Valerie Cooper with John & Lucille Lindsey
Laura Bradley fixing fiance Fred Applegate's ascot.... the couple
Jennifer Youngs with Denise Hug ** Denise Hug with Marie Daniels
Jenny Craig with Christine or 'Chris' Penrod in the background ** Jennifer Keslik Bell with Julien Hug, and Linda Swortwood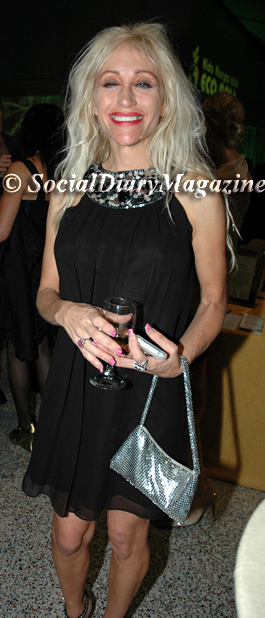 Catarina Pietra Toumei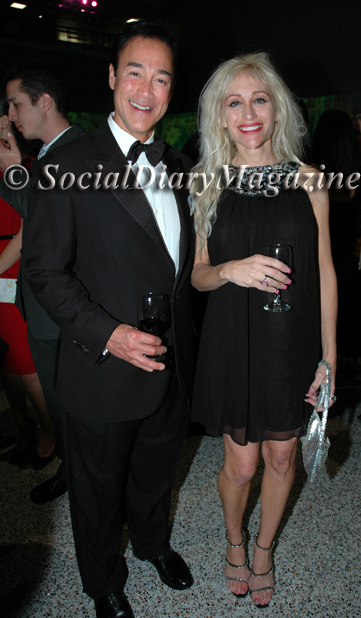 Scott Johnston with Catarina Pietra Toumei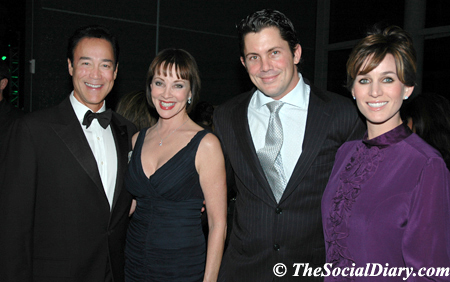 Scott Johnston, Denise Hug, and Julien Hug with Jennifer Keslik Bell
Kimberly Monday with Dr. Nasrin Mani
Gary and Maggie Bobileff ** Valerie Cooper with Linda Swortwood

Scott Johnston with Catarina Pietra Toumei ** Catarina Pietra Toumei
Valerie Cooper's satin boots with a serpentine ** Denise Hug with Suzie Robinson and Valerie Cooper
For a look a look back at Kids Korps Galas please click
To learn more about Kids Korps USA, please visit Kids Korps USA
The Buzz
Good News....
The Seacrest Village Gala featuring Broadway star Rita Moreno brought in a whopping $600,000 plus.... Pretty darn generous of the supporters... Sheila Lipinsky got the winning bid for a custom Jordan Art Couture gown.... A stunning Jordan original was worn by Chairperson Lee Goldberg by the by.
if you happen to be in New York....
The wonderful Save Venice group will be having a special lecture by scholar Mary E. Frank on Queen Esther: A Jewish Heroine in Venetian Renaissance Art. Ironically the date of the lecture is on St. Patrick's Day! The event will take place at the Colony Club.
speaking of art ................
We were kindly invited to a home recently, that was quite extraordinary. There was a Rembrandt statue here, a Gaugin there.... and a few personal items from the Czar... absolutely amazing and breathtaking.
...... for security of course we will leave the resident's name off....
Kima doing her thing for the community....
At the Arthritis Foundation San Diego Chapter's Gala last Saturday it became official. Kima will be the Honorary Dog Chair for the Foundation's upcoming walk on June 6th..... !!
Have a great week!
Upcoming Events
March 21st - The 12th Annual 'Heart of San Diego Gala' will benefit the Sulpizio Family Cardiovascular Center for the UCSD. Please visit The Sulpizio Family Cardiovascular Center at UCSD for more information.
Please save the Dates for:
May 29th - A Lizz Russell fashion show and dinner at The Westgate Hotel.
June 6th - The Arthritis Foundation walk.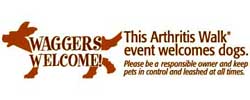 Dogs get Arthritis too! ..... Kima The Honorary Dog Chair will be there too!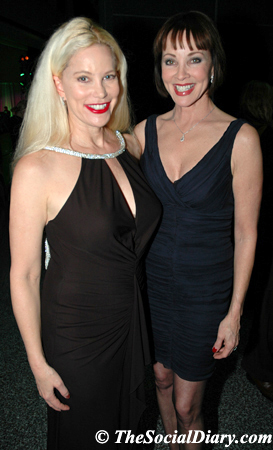 Reported by Margo Schwab, pictured here with Honoree, Denise Hug
__________________________________________________________________
Photoshopping and Photography Services
Photos on this website available if it is of you
available by The Social Diary
~ 619-384-7333
email TheSocialDiary.com
_____________________________________________________________________
Email Commentary to be added
email editor@thesocialdiary.com
* Margo Schwab, more formally known as Margaret E. Schwab, has produced, written, interviewed and photographed for various media organizations since 1989. Schwab attended Holton Arms School, La Jolla Country Day School and La Jolla High School. Schwab has a B.A. from Scripps College, spent a business internship with S.A.I.C., Science Applications International Corporation, and earned a Masters of Business degree, M.B.A., from the University of San Diego. Schwab additionally took college courses from Harvard University, and Syracuse University. Schwab volunteers for numerous charity organizations. She also continues to support animal organizations and the prevention of people and animal abuse. Schwab is the editor of The Social Diary.
Warning ** photos, video and writing on this site are the
copyright of The Social Diary, San Diego Social Diary
no reproduction of any part or parts is allowed without written permission by The Social Diary