Scorpion Bay and Fishing Club Wishing You a Very Happy Holiday!

Private, Picturesque ...... founded by Fred Borrelli
Scorpion Bay Surfing and Fishing Club
___________________________________
~ The Social Diary ~
all photos and content are the strict copyright of TheSocialDiary.com, downloading is illegal, only linking to columns is permitted
______________________________________________
VIP Party for 10 Best Dressed at Bertrand at Mr. A's
- A Fashionable Cocktail Party for Leonard Simpson's 10 Best Dressed hosted by Denise and Bertrand Hug at the one and only 'Bertrand at Mr. A's'
(note - the 'Dressed to the "Nth" Degree event Chaired by Linda Masters will be up later this week)
The List, Their Inside Tips....
It was a very coveted invite for a very select crowd on November 5th, 2008 at 'Bertrand at Mr. A.'s'. The occasion. A private cocktail reception to honor San Diego's 10 Best Dressed Women and 10 Best Dressed Men as a prelude to the 'Dressed to the "Nth" Degree' fundraiser for their November 21st Scripps Mercy Hospital event. Honorees were chosen by KUSI's 'Style Guy' Leonard Simpson. And as Leonard stated in sponsor Ranch and Coast Magazine's November issue, it wasn't just about wearing the clothes, individuals were chosen "because of their own creative personal style and the way they have inspired others to dress and be creative."
Hosts Denise and Bertrand Hug
From creative and chic, and couture and classic, here are the lists... in diplomatic, alphabetical order.
10 Best Dressed Women: Valerie Cooper, Daran Grimm, Mary Beth Kellee, Michala Lawrence, Ferne McCuen, Esther Jane Paul, Sally B. Thornton, Natalie Daryl Walter, Feben Yohannes, and Barbara ZoBell.
10 Best Dressed Men: Michael Bixler, Harry Cooper, Todd Figi, Bertrand Hug, Scott Johnston, Jessie Knight, Jr., Reuben Poon, David Reicks, Jonathan Schiff and Dean Spanos.
San Diego's Social Diary has covered most of these individuals for many years.... but we learned a lot more about them with a few questions.
~ Here are some fashionable insights from this years's fashionable honorees ~
Valerie and Harry Cooper - Former owners of the Sports Arena, builders of the Torrey Villas, Harry by way of being a mechanical engineer to a computer pioneer with General Computing, a computer consulting service, and the Career Guidance Foundation, utilizing computer technology to guide students to the right college or career. Valerie's favorite designers are Alberta Ferretti, Galliano, Zac Posen, Versace & Alexander McQueen. Valerie wore Vera Wang to the VIP party, and an Azzedine Alaaia dress to the main event. She found the Alaaia in Paris. Her favorite fashion find was a black Versace leather fringe coat that she bought in Paris years ago. She has worn it every month for years. Valerie's best fashion trick is to wear long black Gucci pants to look slim. Harry's favorite designers are Versace and Brioni. Harry's best fashion trick is dress simply and neatly.... with that Southern accent to boot of course! Harry and Valerie give back big to the San Diego community too. Some of their favorite charities are the Old Globe Theatre, the Vista Hill Foundation, Planned Parenthood, and the San Diego Opera.
Bertrand Hug - The owner of the very prestigious Mille Fleurs Restaurant in Rancho Santa Fe, and Bertrand at Mr. A's is known as quite the sharp dresser. His best accessory is hands down his beautiful wife Denise. Aside from that, French born Bertrand's favorite designers are Zegna, Hugo Boss and Brioni. Bertrand's favorite fashion find are Testoni shoes that he found in Rome. They are super soft shoe, very trendy, and are unfortunately ruined now. (Best excuse we've heard for another trip to Rome!) Bertrand's favorite fashion trick is to fashion his pocket square like a flower bud. Bertrand wore suits and shirts made by Greg Chapman of Rodeo Drive Beverly Hills to the events. He favors the Dormeuil stripe fabric. The Hugs' favorite charities include KidsKorps USA, Scripps, Children's Hospital, and quite literally many, many others.
Jesse Knight, Jr. - A former CEO for the San Diego Regional Chamber of Commerce, is quite the fashion plate representing Sempra as Executive Vice President of External Affairs for Sempra Energy, a San Diego-based Fortune 500 energy services holding company serving 29 million customers worldwide. He has smarts and fashion smarts preferring to have the classic but customized look. Jesse's favorite designers are Ralph Lauren, and Brooks Brothers. On his wife Joye Blount Knight, Jesse loves to see her dressed in Coco Chanel, Oscar de la Renta, Yves Saint Laurent, St. John, and Vera Wang. Jesse's favorite fashion find is "the Italian men's store next to the Sheraton Palace Hotel in San Francisco. His best fashion trick? Putting his family crest on various cashmere sport coats, and French cuffed collarless (banded) monogrammed white shirts for business and casual wear. Due to a prior commitment, Jesse couldn't make the VIP party, but for the big event he pulled out all the fashion wattage. A tailor-made three-buttoned beige business suit and French cuffed monogrammed white shirt from Thomas James Clothiers, Alligator Italian dress shoes and belt from Zelig, tie from Versace; antique diamond cuff links, and antique Rolex watch from Jessop's Jewelers of San Diego. Some of Jesse's favorite charities are the Sempra Energy Foundation, the International Community Foundation, and DOC:S (Doctors Offering Charitable Services).
Todd Figi - A Wisconsin boy born and raised, Todd started Figi Giftware whose products were sold in stores nationwide. After selling the company in 1998, Todd has concentrated on collecting art with his wife Jake. They both attend and support charities for which they sometimes show some theme appropriate spunk, like Todd's cow motif jacket for last September's Monte Carlo Does Dallas. Wife Jake wore sparkling kick A$$ boots by Roberto Cavalli by the way. For casual wear and fabrics for sport coats and suits, Loro Piana. Ties and socks by Missoni and ties and pocket squares Brioni. Shirts by Ascot Chang and Raiment tailors. Shoes and belts by Mayer shoemaker. Hats by John Locke. Most of Todd's clothing is tailored by Raiment and as a result, Todd's selected fabrics and designs. Still he is Wisconsin raised guy. His blue jeans come from Costco but with alterations by the great John The Tailor in La Jolla!.Todd's favorite fashion find is a quilted suede shooting vest from Beretta and a Tyrolean, bone button, sport coat from Gorsuch. To the main event, Todd wore a sport coat and slacks by Raiment tailor, cashmere fabric from Loro Piana, shirt by Ascot Chang, baby alligator shoes and belt by Mayer, tie and pocket square by Jim Thompson Silk, cuff links by Ilias Lalaounis, reluctantly socks by Missoni.He prefers no socks! Jake and Todd's favorite charities and non-profits include the Museum of Contemporary Art San Diego, The Old Globe Theatre, the San Diego Museum of Art, and recently, the Monarch School in San Diego.
Scott Johnston - 30 years of law enforcing as a San Diego Police Officer. Numerous life saving awards as well as the first Purple Heart Award recipient. Fabulous photo shopper for The Social Diary and proud Father of Kima! Scott, when he is not in uniform, loves Ralph Lauren, Zegna, Versace, The Ascot Shop, Canalli, Bruno Magli shoes, boutique socks with pistols embroidered on them, and custom designed jackets, ties and pocket squares from Jemima Dutra,. He also loves to find the unique item from boutiques in L.A. His best find was a leather Jean Claude Jitrois jacket. His best fashion tricks are Danny the tailor at Saks who makes a great suit even better, and the right accessories to make an outfit fun! Handcuff cufflinks from Polo come to mind. Scott's favorite charities are numerous but the San Diego Humane Society is Top Dog!.
Esther Jane Paul - An award winning writer and editor for the entertainment industry. Esther loves to mix and match designers. Dana Buchman and Escada are two of her favorites. Her best finds come from a little store on Bleeker Street in the West Village of New York City. It's called Verve. Esther's best fashion trick is to up the ante on clothing by having personally chosen buttons put on her clothing. She says that she picks the jewelry to go with the outfit before she selects the buttons. Esther was wearing Kay Chapner to the main event. Esther's favorite charities are the UCSD Cardiovascular Center and the Variety Children's Charity in L.A.
Ferne McCuen - A Spanish language teacher at the Academy of Our Lady of Peace. Ferne speaks and wears fashion well too. She loves designers Calvin Klein, Michael Kors, Kenar, and the very hard to find these days, Vittadini. Her favorite fashion find were linen shirts while in Provence last year. The shirts were a variety of fun colors. A pretty way to beat the late summer heat in Provence. Ferne's favorite fashion trick is to use belts as necklaces, and necklaces as belts. She also likes to mix vintage with new clothing. Ferne's favorite charities are the Alzheimer's Association San Diego and Imperial Chapters, and the Senior Community Center.
Michala Lawrence - Owner of the chic boutique Le Bel Age, and a world traveler. Michala favors designers Armani, Chanel, and Ralph Lauren. Her favorite fashion finds are too many. Most found during travels to near and far parts of the world. Michala's favorite fashion trick is to see her hair designer Karen Angel weekly, and on special occasions of course. Michala wore Jean Paul Gaultier to the VIP party and Armani to the fashion luncheon. Her favorite charities are the Humane Society, and Scripps Mercy Hospital.
Sally B. Thornton - Philanthropist with a mind boggling schedule of board meetings, and charity commitments. Epilepsy Foundation of San Diego County's Gingerbread City is one of her favorite charity events. For fashion, Sally has quite a few favorites. The list includes Armani, Mary McFadden, Chanel, Valentino, Oscar de la Renta, Mark Bouwer, Andre Laug (who Hillary Clinton also wears), Susanna of Beverly Hills, and Wendy Harrison of Beverly Hills. Wendy Harrison does beautiful custom designs in collaboration with her clients. Sally's favorite fashion trick is feathery boas and 'glittery glitz.' Her favorite finds include Judith Leiber purses. The real ones. Her absolute favorite find is a skull and cross bones detailed top and belt. Sally wore Valentino to the VIP party and Chanel to the fashion luncheon. Sally's other favorite charities include, Crime Stoppers, the San Diego Opera, Mama's Kitchen, and frankly the list goes on and on. And she is Honorary Chair or Chairperson for most of them!
Feben Yohannes - The Sales Leads Manager at the Manchester Grand Hyatt by way of schooling at the Lycee Francais, and a BA in Economics from the Addis Ababa University in Eithiopia. Feben loves her fashion and wears it well. She likes the haute couture style of Oscar de la Renta, Carolina Herrera, the unique and detailed construction of Catherine Maladrino, and Rami Kashou who is also a friend. For evening wear, Monique L'Huilier and for casual wear, Joie. Feben's fashion trick is to never be a fashion slave but instead mix up your outfit in terms of color, trends and accessorize well. One of her favorite fashion finds is a long black Malandrino skirt that can be dressed up or down. Her fashion tricks include accessorizing with an interesting piece of jewelry, one of her favorites is a necklace she found at a Sunday sale in Cape Town, South Africa. Feben wore Japanese designer Shani to the VIP party, and Angel Sanchez from M Bride in La Jolla to the main event. Feben is involved with the Make-A-Wish Foundation of San Diego, and Becky's House Women's Shelter.

Barbara ZoBell - Model, covergirl, and charity supporter. Barbara has long been a fashion plate on the San Diego scene. Some of her best finds have been on faraway travels, and small boutiques right here in town. Barbara wore Stella McCartney to the VIP party and Louis Vuitton to the fashion luncheon. Some of her favorite charities are La Jolla Playhouse, the San Diego Museum of Art, the Museum of Contemporary Art San Diego, and St. Madeleine Sophie's Center.
Mary Beth Kellee - From real estate to 2 and 2 Consulting, Mary Beth's motto is to connect the dots. That's with an emphasis for business connections into charity involvement. But she does so stylishly with Alaaia, Chanel, and a custom designer from far away Croatia, named Xenia! Her favorite fashion find includes a jacket that you can wear over a t-shirt and wear with jeans.... glamming it up a bit. For fashion tricks, Mary Beth loves to buy from little boutiques and dress the outfit up with different accessories. She wore a feather vest from Gracie, with Le Bel Age leggings and wrap skirt from Xenia for the VIP party. For the fashion luncheon, Mary Beth wore Xenia for the reception, and then changed into a Chanel sweater dress and belt with shoes from L.A.M.B. for the awards presentation. Her favorite charities include United Cerebral Palsy, The Jenna Druck Foundation, City Ballet, and the San Diego Center for Children.
Dean Spanos - President and CEO of the San Diego Chargers. Dean also is respected for his philanthropic involvement in the community. He and wife Susie Spanos are involved in many, many causes. And they dress tastefully as such. Dean's favorite designers are Brioni, Steffano Ricci, and Polo. Susie's are Etro, Alexander McQueen, and Burberry. Susie's favorite fashion item is her pair of diamond studs. She's had them 30 years and they go timelessly with everything..Susie's best fashion trick.... scarves, scarves, and more scarves. Susie travels a lot and the scarves easily make an outfit complete.. At the VIP party, Susie was wearing an Andrew GN blouse and Narcisco Rodriguez suit. Valentino dress at the lunch. Deno was wearing Brioni for the VIP Party. When Dean was unable to attend the fashion luncheon, their son A.G. stepped in. Fashionably of course. Some of Dean and Susie's favorite charities include The San Diego Blood Bank, All Education, (all schools), St. Germaine Children's Charities and Scripps Mercy Hospital. Fyi, Susie also loved Kima's Charger's outfit at the luncheon. Go Chargers!
Daran Grimm - Former model and fashion buyer. Now, Chairwoman of BIOPRO Technologies. Daran has a lot of Italian flair. Designers Roberto Cavalli and Valentino are her faves. She likes the Ralph Lauren Collections too. Daran's favorite find is a leopard print mid calve coat that she got years ago. Her best fashion trick is to hand painting on silk gowns the theme of the Special Event and then auction it off for charity. Daran wore a Ralph Lauren Black label sequin tuxedo pants and a Vintage black beaded bolero to the VIP party. For the awards luncheon she wore an off white beaded Bill Blass Couture pant suit. Her favorite charity involvement is CHILDHELP for the past 23 years. Her whole family is involved with it too!
David Reicks - Not just a financial investor, David likes to dress well too! Armani is his favorite designer although he has been seen in Ferragamo too! David loves accessories. Pocket squares, and a great cologne like Ralph Lauren Sport, Cartier or Dolce Gabanna. Whether wearing jeans or business attire, David loves to take it up a notch tastefully with just a simple touch to finish off the outfit. An Armani, Rolex, or Molvado watch, or vintage cufflinks on a French cuffed shirt do the trick for him! At the VIP party David wore a tweed double breasted suit with a lime green shirt, and tweed hat and silk scarf. They were all from Buenos Aires. At the luncheon David chose a chocolate brown three button suit with crocodile watch, belt and shoes. His favorite charities are the Special Olympics and Hospice. David would like to note that he met Mother Tersea years back on a flight from Rome to New York. He said it changed his life.
Reuben Poon - Photographer. One of the younger of the bunch, Reuben loves Laguna Beach Denim, Monarchy, Mark Nason and Raw 7. He loves to shop anywhere and everywhere including Nordstrom Rack, Off Saks .... Shop smart he says! Reuben loves to combine looks like an expensive jean with a relatively inexpensive shirt. His best fashion trick is to be unique. Create, tweak or re-invent a look that fits and extends your personality. Reuben wore Rock & Republic, Mark Nason and Roar to the VIP party. To the award event, he wore Toku, Laguna Beach and Mark Nason. Reuben's favorite charities are Invisible Children, Children of the Nations, and Special Village.
Natalie Daryl Walter - Founder of M.I.L.K. purses. Natalie loves hip brands to classic Chanel.
And what's the 'Fashion 411' on the Style Guy?........
Leonard Simpson - Leonard progressed a career of designing jewelry into producing international runway shows with his company Fashion Forward. Leonard also appears regularly on KUSI for his 'Style Guy' fashion segment. He loves Gucci, Hermes, Hugo Boss, Roberto Cavalli, Armani, Louis Vuitton, Burberry, and Brooks Brothers. Leonard wore Roberto Cavalli for the VIP party and Gucci for the fashion luncheon. His favorite find, so far, was a vintage Louis Vuitton piece of luggage found in Soho New York. It was a bargain $150.00! His fashion trick is to use men's ties as belts and ascots inside his shirts. Leonard's favorite charities are too numerous to name. But, fyi, he does quietly serve meals to the homeless every Sunday afternoon!
Enjoy the Photos.... !
Todd Figi in that fun 'cow' jacket' with Laurie Mitchell, Sheryl White, Jake Figi and Karen Cohn at Monte Carlo Goes Dallas at MCASD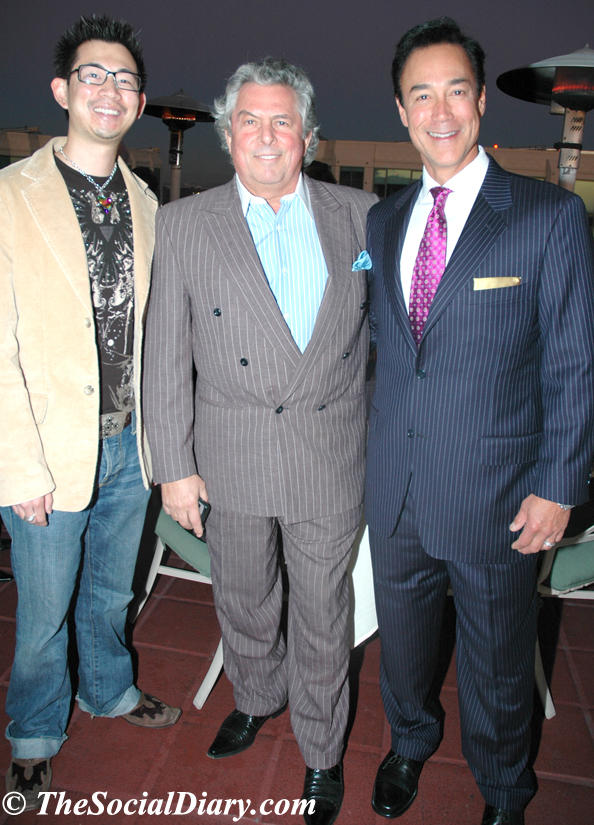 Reuben Poon with Bertrand Hug and Scott Johnston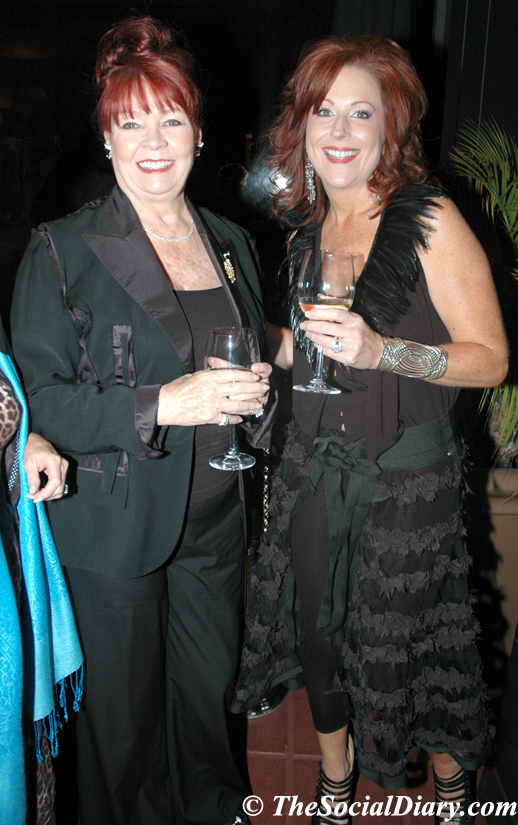 Michala Lawrence and Mary Beth Kellee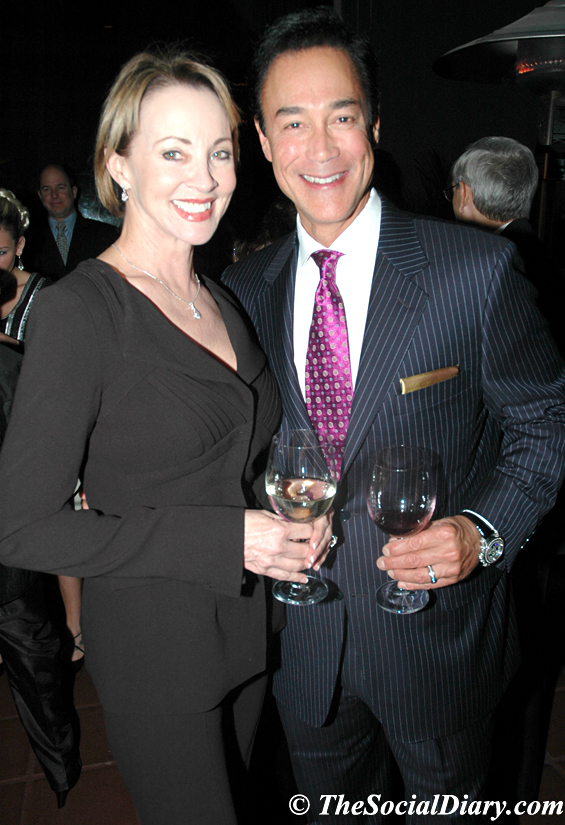 Denise Hug and Scott Johnston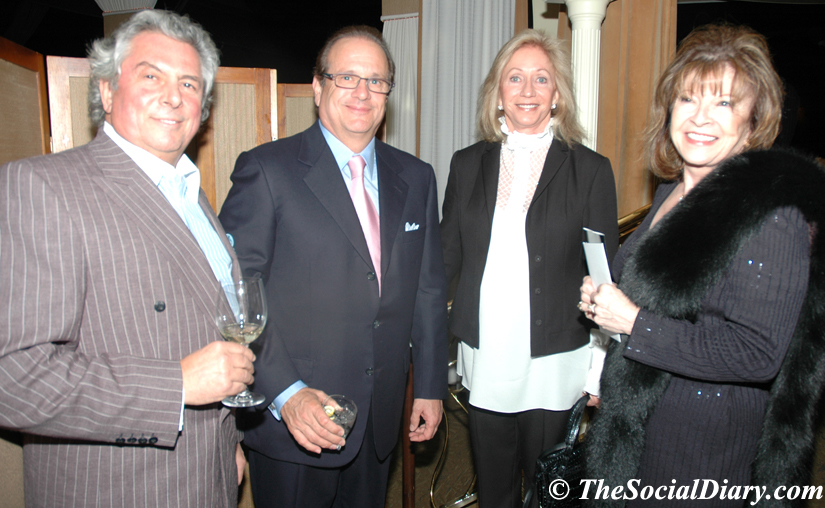 Bertrand Hug with Dean and Susie Spanos and Linda Masters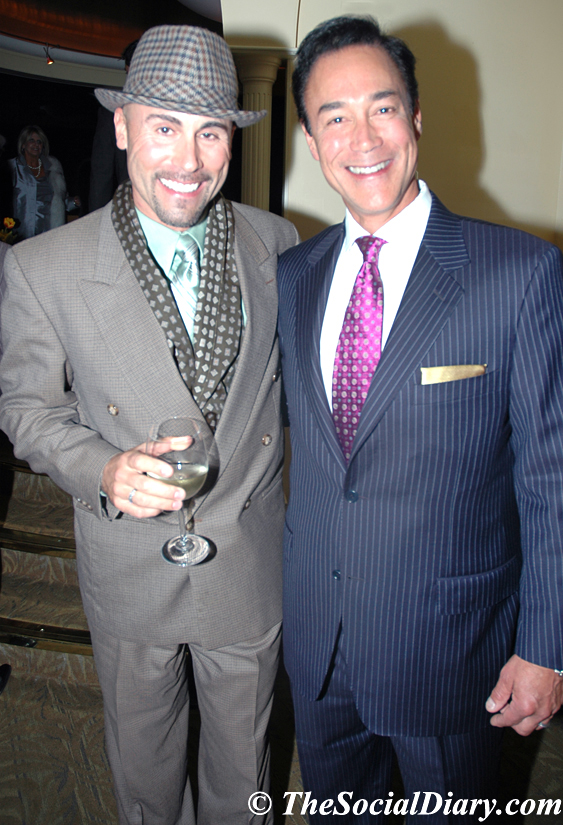 David Reicks and Scott Johnston
Sally B. Thornton ** Barbara ZoBell and Daran Grimm
Daran Grimm ** Ferne McCuen
Jonathan Shiff ** Natalie Daryl Walter with her Mother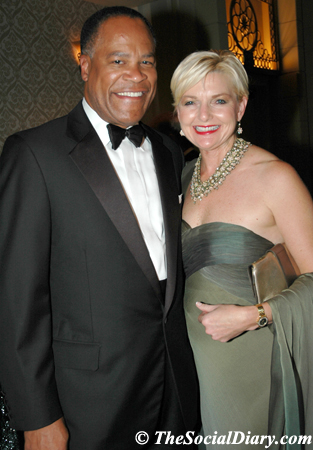 Jesse Knight Jr. with his wife Joye Blount Knight at the Globe and Anchor Salute
Feben Yohannes and Valerie Cooper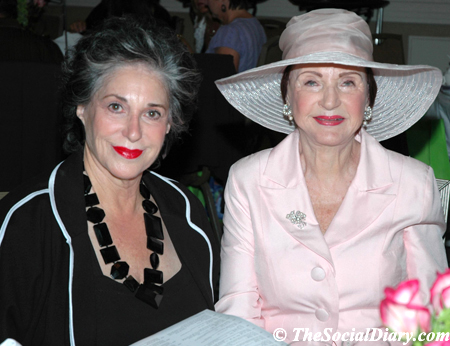 Esther Jane Paul at a recent luncheon for St. Madeleine Sophie's Center with Mary Walker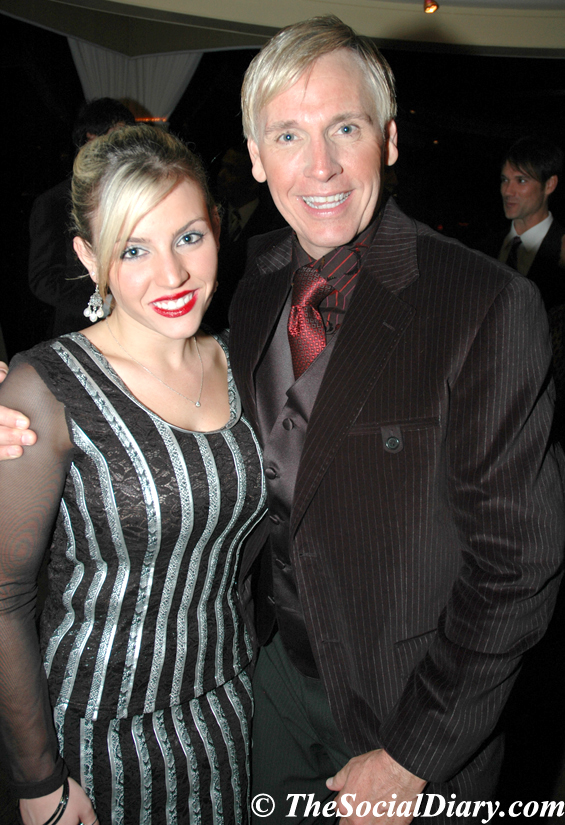 Brittany Simpson with her Father, Leonard Simpson
The Social Diary Applauds Individuals who Give Back to the Community!!
Reported by Margo Schwab
Email Commentary to be added
email editor@thesocialdiary.com
Thank you, thank you .... Linda Masters, Event Chairperson
Scott looks really dashing! - P
* Margo Schwab, more formally known as Margaret E. Schwab, has produced, written, interviewed and photographed for various media organizations since 1989. Schwab attended Holton Arms School, La Jolla Country Day School and La Jolla High School. Schwab has a B.A. from Scripps College, spent a business internship with S.A.I.C., Science Applications International Corporation, and earned a Masters of Business degree, M.B.A., from the University of San Diego. Schwab volunteers for numerous charity organizations. She also continues to support animal organizations and the prevention of people and animal abuse. Schwab is the editor of The Social Diary.
Warning ** photos, video and writing on this site are the
copyright of The Social Diary, San Diego Social Diary
no reproduction of any part or parts is allowed without written permission by The Social Diary