www.arthritis-sandiego.org/walk
Kima on Facebook! & Kima's Fan Page & Kima on Kintera! & Article on Kima
p.s. Kima says if you notice your pawfriend limping or becoming inactive, you might check with your vet, it could be arthritis. The good thing is there are medicines to help!
_______________________________________________________________________________________________________________________

all photos and content are the strict copyright 2009 of TheSocialDiary.com
no downloading!! photos are available for purchase if it is of you!
Alzheimer's Gala Focuses on Bright Future

The Alzheimer's Association took a cue from the economy and pared their annual gala to simpler fare with the theme 'A Tasting Party Under the Stars.'
Folks came in summer chic casual to the Rancho Santa Fe residence of Lori and Steve Temko.
The gala gown element may have been taken out of the event, but the top notch food, wine and entertainment was still unparalled.
Over the top dining by the bite was provided by Donovan's, the Inn at Rancho Santa Fe, Mille Fleurs, Enoteca Style, Ruth's Chris Steak House, Roseville, 333 Pacific, Black and Blue Steakhouse and Lounge, Villa Capri Ristorante, Pacifica Del Mar, Vivace of the Four Seasons, Delicias and more. Wine was generously poured by Cuvaison, Duckhorn, Miner Family, Pisoni, ZD, Hartley Ostini Hitching Post, Rombauer, Ironstone, and Markham Vineyards.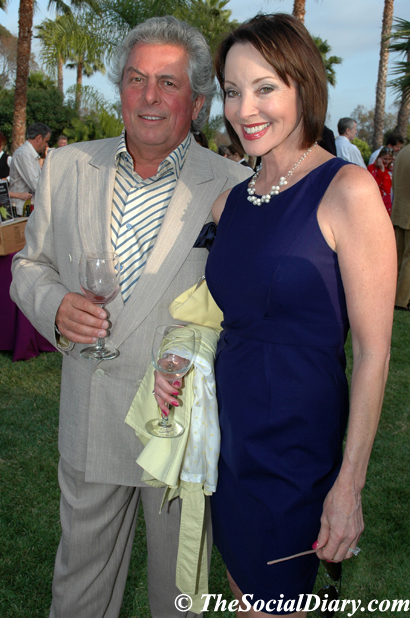 Bertrand and Denise Hug of Mille Fleurs
Cuisine highlights there were mini-lamb chops, and an extraordinary bruschetta by Chef Martin Woesle of Mille Fleurs. He matched slivers of root vegetables with green olives, drizzled by a 'secret' sauce. The juxtaposition combination worked perfectly.
Among the many there supporting Alzheimer's research and care were Debra and Nolan Bellisario, Denise and Bertrand Hug, Tricia Pollette, Barbara Freeman, Audrey Geisel and Alex Butterfield, Erwin Shustak and Candace Morril, Linda Katz, Dee Ammon, Brad Makaiau, Fred Arnold and Jodi Anderson, Jennifer Keslick Bell, Brad Daluiso, and Debby and Hal Jacobs.
Debby did double duty that evening. She came from a La Jolla Playhouse meeting held earlier on.
Big supporter Audrey Geisel, aka Mrs. Seuss to many, did some fun shopping among the silent auction items.
Guest Maggie Watkins joked that she obviously missed the board memo that it was an 'on the lawn' party. She did a great job in her lizard stilettos aerating the Temko's grounds. Instead of a green thumb she rather had a green stiletto!
Alzheimer's Board Chair Gail Levin was there. She was recently honored as a 'Cool Woman' by the Girl Scouts San Diego – Imperial Council for all the work she does for Alzheimer's. Gail was joined by husband Marty Levin, Alzheimer's Association Executive Director Lisa Bruner, and Co-Chairs Ed Campbell and Jim Laslavic.
Founding Chairs for the event were Darlene and Donald Shiley. Honorary Chairs were Rolf Bernirschke and the Legacy Group who are also the headliners for the Alzheimer's annual golf tournament.
The Reagan / Thal Legacy Award went to Coach Frank Broyles. He was the University of Arkansas Athletic Director for almost 50 years. He is now one of the country's most renowned advocates for Alzheimer's disease awareness. He was inspired to support Alzheimer's when his wife was diagnosed with the disease.
Since 2006, Coach Boyles has directed his energies to the national distribution of the Playbook for Alzheimer's Caregivers. Over 600,000 copies have helped families cope with the Alzheimer's disease.
The award by the way, is named after Ronald Reagan and Leon Joel Thal, two individuals whose legacy have greatly impacted the Alzheimer's cause.
Desserts by Extraordinary Desserts, the French Gourmet and Banannie's were later nibbled before guests enjoyed a performance by singer /songwriter Tristan Prettyman.
"The event was a fantastic gathering of locals for a great cause with great food and wine," summed up Denise Hug. Everyone agreed.
Donald and Darlene Shiley were the Presenting Sponsor, Audrey S. Geisel of the Dr. Seuss Fund / San Diego Foundation was the Community Supporter, Wells Fargo the Platinum Sponsor, Web MD Health Foundation the Gold Sponsor, Sunrise Senior Living and Jeff Chasan of the Commercial Reality Advisers the Bright Package Sponsors.
The mission of the Alzheimer's Association is "to eliminate Alzheimer's disease through the advancement of research to provide and enhance care and support for all affected; and to reduce the risk of dementia through the promotion of brain health."
Over 53,000 people in San Diego and Imperial Counties have Alzheimer's. It is the number 4 cause of death in San Diego.
To learn more about the Alzheimer's Association San Diego /Imperial Chapter,
please visit www.sanalz.org

Enjoy the Photos!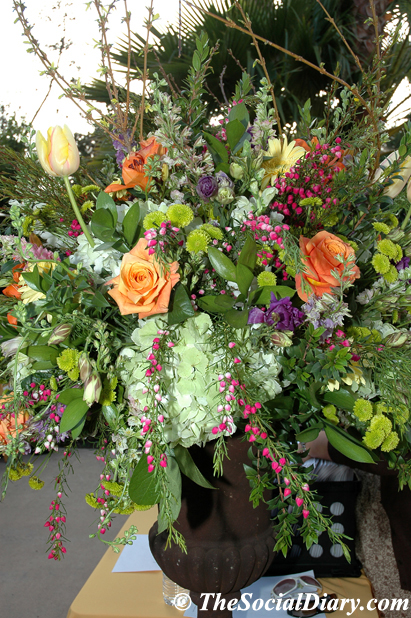 A Beautiful Floral Arrangement
Dee Ammon ** Tricia Pollette
Bob and Maggie Watkins ** Julien Delay and Chef Martin Woesle of Mille Fleurs
Paul Pfingst and his wife ** Erwin Shustak and Candace Morril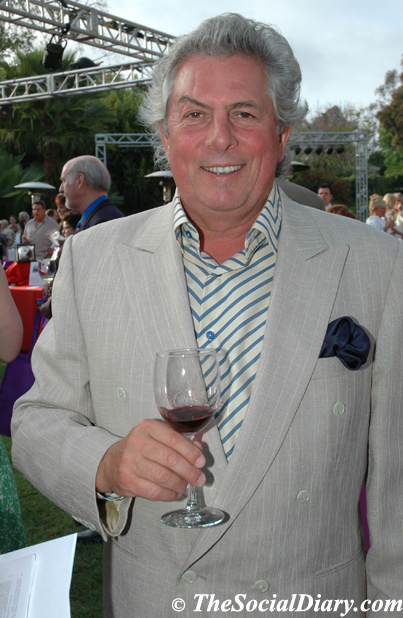 Bertrand Hug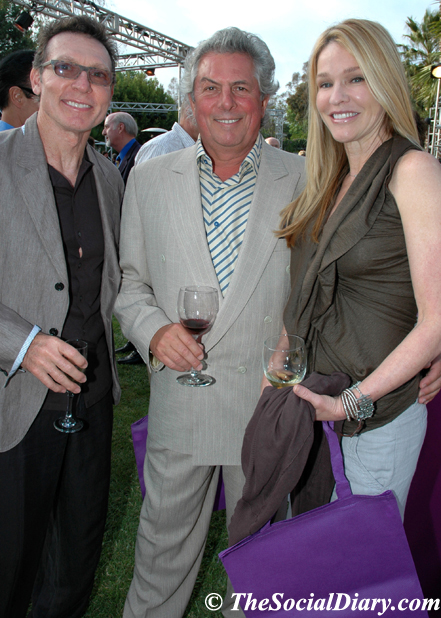 Nolan Bellisario with Bertrand Hug and Debra Bellisario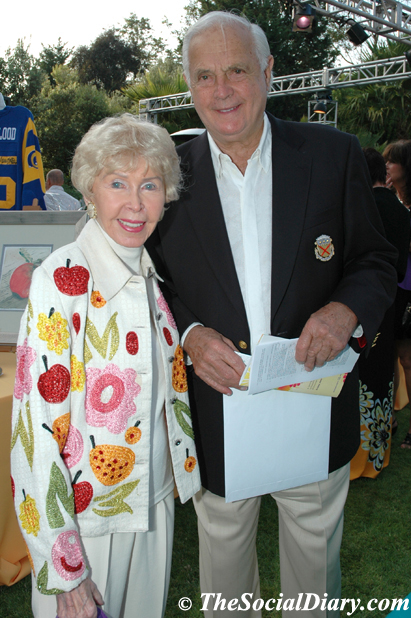 Audrey Geisel and Alex Butterfield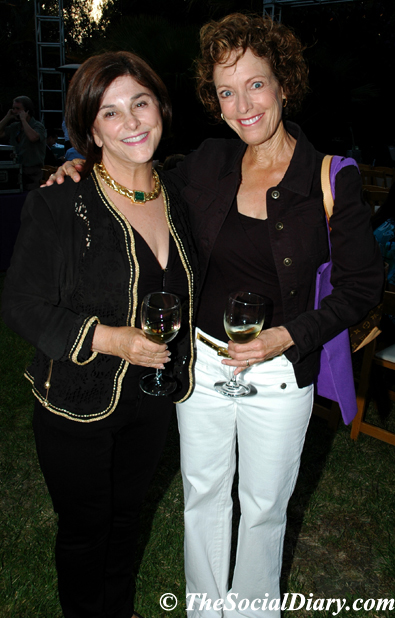 Barbara Freeman with Linda Katz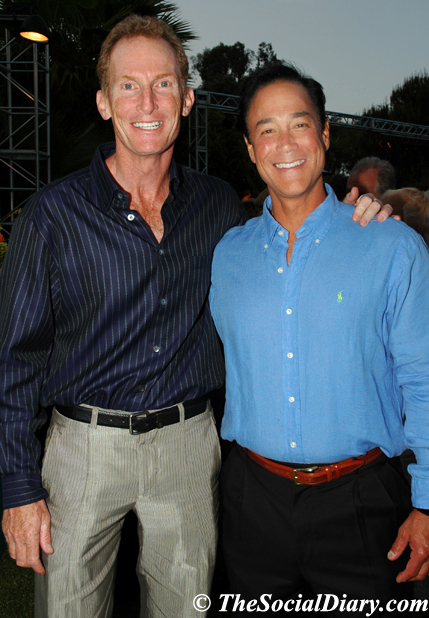 Hal Jacobs with Scott Johnston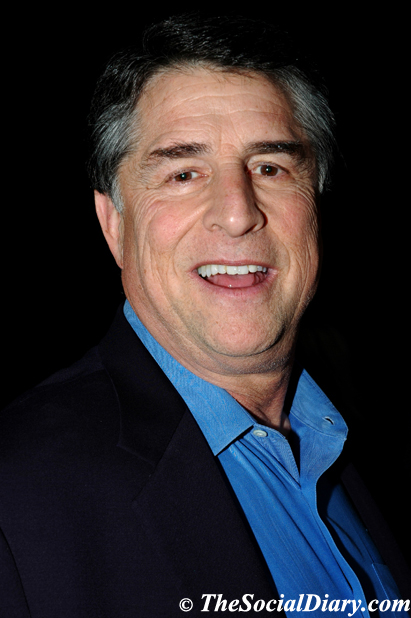 Marty Levin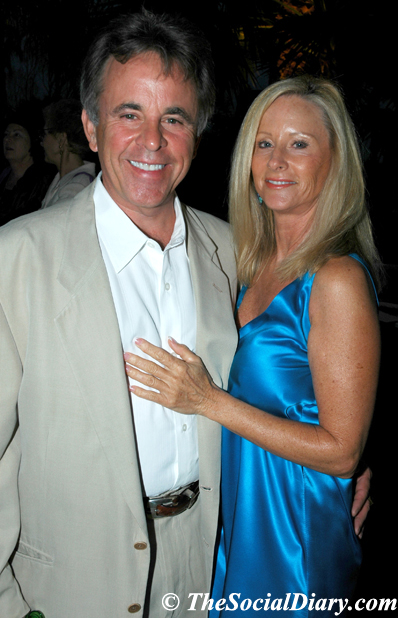 Fred Arnold with Jodi Anderson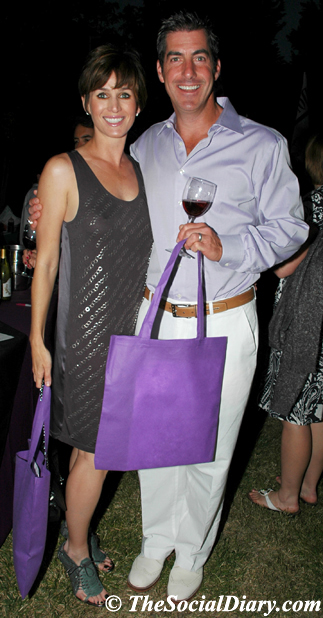 Jennifer Keslik Bell with Brad Daluiso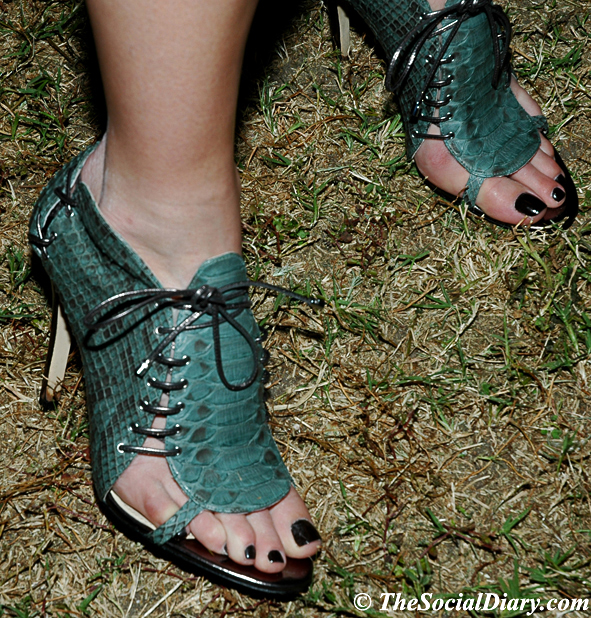 Jennifer Keslik Bell's shoes
Reported by Margo Schwab
The Buzz
NINE SAN DIEGO ARCHITECTS AND DESIGNERS ARE FEATURED AT MUSEUM OF CONTEMPORARY ART SAN DIEGO IN LA JOLLA.......


How cool is this. The Museum of Contemporary Art, San Diego in La Jolla has a blockbuster hit. Opening night last week had about 1,500 very enthused patrons come through looking at the works of Estudio Teddy Cruz, Luce et Studio Architects, Sebastián Mariscal Studio, Public (James Gates and James Brown), Rinehart Herbst (Todd Rinehart and Catherine Herbst), Lloyd Russell, and Jonathan Segal FAIA . The works in seven different project rooms depict the evolution and evaluation of design via models, phtoographs, film and video that present the concept and its dynamic reverberation for the neighborhood.
The Exhibit themed MIX continues through September 6th.... and it is not to be missed!
Ed Masterson not just a polo player.....
Ed has just been selected as one of 12 photographers worldwide featured in the International Magazine Nikon World. Ed is being noted for his fine art photography. He is also renown for being terrific on the bongo drums at home.... So I Love Lucy!
Sperm delivery during a wedding??......
When SDPD's Vanessa and David Reicks got married at their North County ranch, things got a bit funny before the cake cutting. As the newlywed couple were about to cut the cake, some very time sensitive horse stud sperm was delivered for their mare.... cake cutting was delayed, laughs all around.
Best creative invite goes to......
The Globe Gala is gearing up for August 1st and invites are out. And they are clever too. When you open the flap, the cover wedding ring comes off the charmed bracelet hand. Very apropos. The Gala will be hosting the World, yes World Premiere of The First Wives Club....
And San Diego Humane Society has some good news...
The San Diego Humane Society's 2009 Telethon raised more than $273,000! How great is that!
And prevent pet allergies....
Kima's vet friends John and Sue Morizi recommend rinsing paws of your dog or cat before they come inside.... pollen and other allergens are then washed off...helping to prevent your pet from licking the stuff...
Upcoming Events
June 6th - Helen Woodward Animal Center's Spring Fling
Kima, The Athritis Foundation Walk's Dog Honoree and Dog Chair will be making an appearance at The annual Spring Fling gala titled Shangri Paw (an eternal paradise) is Helen Woodward Animal Center's black-tie extravaganza featuring 20 of San Diego's best restaurants, live entertainment, unique libations, amazing auction items for you and your best friend, and dancing till midnight! The 2009 Spring Fling will take place on Saturday, June 6, 2009. More information
June 6th - The Arthritis Foundation Walk.
The Arthritis Walk® is the Arthritis Foundation's annual nationwide event that raises awareness and funds to fight arthritis, the nation's most common cause of disability. It is a tremendous opportunity to help improve the lives of the 46 million men, women and children doctor-diagnosed with arthritis.
And Kima is the Dog Honoree for the walk! So 'Let's Move Together!'
To learn more about arthritis and this walk, please visit
www.arthritis-sandiego.org/walk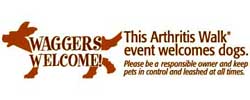 Dogs get Arthritis too!
June 14th - The Fiesta Garden Party for P.A.W.S. or Pets Are Wonderful Support will host its fundraiser for aiding people with financial or disability needs, care for their pets. Animal activist and Emmy Award winning Loretta Swit will be attending the fundraiser. The event will be held on the grounds of an historic 1920's estate adjacent to Balboa Park. Well behaved and leashed dogs are welcome to attend. Kima will be wearing a custom Jordan Art Couture outfit that will be available by live auction. Please visit www.pawssdc.org for more details and tickets.
June 17th - Fashion at the Timken - Guest Speaker Patricia O'Connor, Founder / CEO of Fashion Careers College and Timken Docent. For reservations, please visit www.timkenmuseum.org
June 19th - The Rainforest Alliance postponed to October 30th.
June 20th - RITZ, San Diego Zoo Gala Fundraiser themed Midnight at the Oasis. Lisa Casey and Chris Andrews are the Chairs. For tickets and details please visit www.sandiegozoo.org
July 18th - Patrons of the Prado Gala will be held in Balboa Park. This year the beneficiaries are San Diego Junior Theatre, San Diego Natural History Musuem and Timken Museum of Art. Elisabeth Bergan and Anita Crider will be the Co-Chairs. Visit www.patronsoftheprado.net for details.
July 30th - 'After the Finish Line's' summer fundraiser, A Tribute to the Majesty of Thoroughbreds. This organization rescues and places unwanted former race horses with new loving owners. Please visit www.afterthefinishline.org
August 1st - Old Globe Gala will host its black tie soiree to coincide with the production of the First Wives Club. Please visit www.oldglobe.org for more details.
August 8th - Las Patronas will host its Silk & Spice themed Jewel Ball at the La Jolla Beach & Tennis Club. Jennifer Greenfield is the Chairperson. Please visit www.laspatronas.org for more details.
August 15th - The 'Catch the Royal Wave' will be the theme for the Fur Ball at the San Diego Humane Society. This event welcomes well behaved dogs on leash. For more details about this event, please visit www.sdhumane.org
August 29th - The Art of Fashion at The Timken Museum in collaboration with Fashion Careers College. For reservations, please visit www.timkenmuseum.org

Proud to be partnered with San Diego News Network
________________________________________________________________
Photoshopping and Photography Services
Photos on this website available if it is of you
available by The Social Diary
~ 619-384-7333
email TheSocialDiary.com
_____________________________________________________________________
Email Commentary to be added
email editor@thesocialdiary.com
* Margo Schwab, more formally known as Margaret E. Schwab, has produced, written, interviewed and photographed for various media organizations since 1989. Schwab attended Holton Arms School, La Jolla Country Day School and La Jolla High School. Schwab has a B.A. from Scripps College, spent a business internship with S.A.I.C., Science Applications International Corporation, and earned a Masters of Business degree, M.B.A., from the University of San Diego. Schwab additionally took college courses from Harvard University, and Syracuse University. Schwab volunteers for numerous charity organizations. She also continues to support animal organizations and the prevention of people and animal abuse. Schwab is the editor of The Social Diary.
The Social Diary is pleased to announce new partnerships with the San Diego Humane Society and San Diego News Network.
Warning ** photos, video and writing on this site are the
2009 copyright of The Social Diary, San Diego Social Diary
no reproduction of any part or parts is allowed without written permission by The Social Diary