San Diego Opera Gala 2010
La Romance....
La Bohème!!
(page 1 of 5)
The San Diego Opera opened its 2010 season January 30th, 2010 with the very romantic and very French La Bohème. Formally attired guests first gathered for a champagne reception at the downtown U.S. Grant Hotel.
Among the well dress and tressed crowd were these standouts. Valerie Cooper wore a sleek, beaded Naeem Khan. Valerie and her husband Harry Cooper were the Title Sponsors of the gala.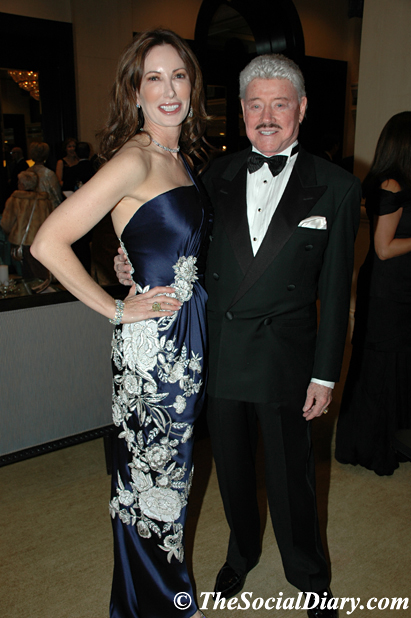 Title Sponsors Valerie and Harry Cooper
Jennifer and Richard Greenfield, Lynda and Richard Kerr, and Jake and Todd Figi were Producer Circle Sponsors of La Bohème. Jennifer chose a purple strapless gown by Naeem Khan. The color went perfectly with her new amethyst drop earrings! An early birthday gift perhaps? Lynda chose an ethereal blue gown by Reem Acra. The color coordinated well with the gala's blue theme.
Lee Clark and Dr. Jerry Pikolysky, and Helen Davis were Producer Circle Artist Sponsors of La Bohème.
More there included Joan Jacobs in a navy blue Catherine Regehr gown, Sarah B. Marsh-Rebelo wore a positively pink and pretty gown by Marisa Baratelli, Noni Senyei chose a subtle gown by French designer Lanvin, Colette Carson Royston was in a very elegant Dior, Ann Campbell wore Tadashi Shoji, and Jordan wore, well Jordan of course!
Sheryl White dazzled in a golden Pamela Roland, Olivia Farrell wore a Catherine Regehr, Karen Cohn wore a patterned and strapless Oscar de la Renta, Jeanne Jones wore a pizzazz-y number by Antonio Marras, and Tanya Brandes had 'the gown of gowns', a Christian Lacroix couture. As Tanya explained it was like wearing a piece of art! So too were the crystal encrusted Louboutin shoes!
The Dow Divas, the San Diego Opera Force des Femmes (female force), once again chaired the event. Dow Diva President Iris Strauss dazzled in Naeem Khan. The complete listing of the Dow Diva Chairs is: Iris Strauss, Rusti Bartell, Barbara Bloom, Tanya Brandes, Lee Clark, Karen Cohn, Valerie Cooper, Olivia Farrell, Alberta Feurzeig, Jake Figi, Dawn Gilman, Lee Goldberg, Jennifer Greenfield, Joan Jacobs, Jeanne Jones, Lynda Kerr, Wanda Levi, Sheila Lipinsky, Mary Lyman, Sarah B. Marsh-Rebelo, Sheila Potiker, Colette Royston, Sheryl White, M. Faye Wilson and Pamela Wygod.
Lee Goldberg was unable to attend but had this to say. "Over the years, under the brilliant direction of Ian Campbell, we have seen the Company grow in so many ways. The San Diego Opera is one of the top ten in this Country. One of the Crown Jewels of San Diego, and one we take great pride in."
Guests Theresa and Harry Hixson didn't miss the gala, they were in it. The Hixsons spent the first part of the gala in hair and makeup, and then on stage as supernumeraries. They are also super supporters of the Opera. After their 'performance,' a quick change, and they joined in the gala fun for dinner and dancing.
The dinner menu was designed by Jeanne Jones ad Executive Chef Mark Kropczynski. Vichyssoise with crispy leek and caviar accent was the starter. It was followed by Tournedos of Beef with Truffle Bordelaise, a Plat du Fromage (cheese plate) and bite sized desserts including Petit Fours and Napoleons.
Atomic Groove provided the dance tunes and Jim Lennox of Pacific Events Production provided the beautiful decorations. Decorations that included 15 foot statues that were Erté -esque. Table decorations included Eiffel Tower replicas. They were compliments of Rusti Bartell.
"It was such an exciting evening in so many ways – La Bohème marked San Diego Opera's 45th Anniversary and the Gala marked the Dow Diva's 5th Anniversary of Chairing this most important Gala event" said San Diego Opera's Artistic Director and General Director Ian Campbell. "We are indebted to the Divas for their dedication, creativity and extraordinary time and effort in ensuring that each San Diego Opera season opens in such elegant style."
"WOW".......Paris has nothing over San Diego when it comes to putting together a world class opera event" remarked Jordan. "From the incredible Dow Diva's to the amazing production itself......loved it!!"
"The Opera Gala was a great smashing success ~ everything was of the best of standard!" remarked Claire Reiss.
More guests there included Natasha Reiss (in a purple velvet Marc Bouwer) with Eric Johnson, David Copley, he underwrote the dinner wines, Bea and Bob Epsten, Andrew Shelton, Tamara Strauss and Todd Frank, Lael and Jay Kovtun, Lynelle and Bill Lynch, Karen and Don Cohn, Sheryl and Harvey White, Sandy Redman and Jeff Mueller, Katherine Kennedy and Robert Horsman, Lee Clark and Jerry Pikolysky, Esther Burnham and Seth Krosner, Elaine and Dave Darwin, Deborah Szekely, Erin and Peter Preuss, Jeffrey and Sheila Lipinsky, Erika and Fred Torri and Joye Blount and Jessie Knight Jr.
Jessie, the new President of SDG&E had this 'electric' comment. "Besides the sheer joy of experiencing the beauty of San Diego Opera, it is so fulfilling to gather with others of like mind that embrace the mission of supporting San Diego's cultural and artistic institutions."
Iris Strauss added this insight. "The opening night gala is the most exciting evening of the year for us, and we look forward to it every year. La Bohème is such a beloved opera, and this year's production was fabulous. Young energetic singers, and the gorgeous singing to Puccini's famous, and romantic score. The Gala was all done to recreate the felling of Paris with Eiffel Tower centerpieces, gorgeous flowers, and beautiful soft colors reminiscent of the Belle Epoque era. Everyone looked so beautiful in their gowns, and it was a wonderful, exciting evening." ...."Lots of dancing til late at night. We stayed out so late, but it was worth it!"
And a lot of people stayed late. The evening was just that much fun.
"An amazing and beautiful evening with the best of San Diego" said Ingrid Miller. "How nice to see the efforts of all who contributed come together supporting San Diego Opera. What a privilege!"
Ida Sandico-Whitaker had this to say. "Just wonderful! Once again, the Dow Divas have raised the bar in support for the arts in San Diego. At Neiman Marcus, the Opera Gala is always one of our favorite annual sponsorships, and we look forward to next season." ....Neiman Marcus provided the take home gifts too!
"Just hearing Piotr Beczala sing Rodolfo was a spine tingling experience----to be followed by an elegantly French Gala dinner in an exquisitely beautiful ballroom --a fabulous evening!!" said Jeanne Jones. Faye Wilson agreed and add this. "San Diego Opera's Gala was all Gs…..Glamour, Glitter and Generosity……..just great!"
Lee Clark and Dr. Jerry Pikolysky had these remarks. "La Belle Epoque or 'beautiful era' describes the 2010 Opera Gala. It was exhilarating listening to tenor Piotr Beczala and soprano Ellie Dehn. You could tell the audience appreciated the artists performances by the constant applause after the arias. The music was passionate and beautiful just as it should be for the opening of San Diego Opera's 2010 season."
"It was a beautiful Opera," said Sheryl White. "Perfectly cast which set the mood for the Gala afterwards. Everyone seemed to be having a wonderful time dancing, visiting and admiring the pretty French atmosphere and those two Erté statues that Jim Lennox brought in were perfectly situated to frame the whole thing. I was very happy for the Opera!"
"San Diego Opera started the season with a sensational production of La Bohème" said Valerie Cooper. Every year it seems the quality of our Opera goes up and this production definitely is in tune with that-performances were magnificent. The party was upbeat and a lot of fun with a beautiful Belle Époque décor created by Jim Lennox and Pacific Events with a lot of input from many Dow Divas. This party brought out the most gorgeous gowns and finery-positively the best dressed celebration. From Oscar de la Renta, Naeem Khan, Pamela Roland, Reem Acra and Christian Lacroix. It truly was a lovely way to start the Opera season!! Many kudos to Ann & Ian Campbell-San Diego has great Opera because of the two of them!!"
'Beautiful music always lifts the soul" concluded Sarah B. Marsh-Rebelo. "This was never more true than Saturday evening, when Piotr Beczala as Rodolfo and Ellie Dehn as Mimi sang Giacomo Puccini's La Bohème. Thank you San Diego Opera for affording the people of San Diego the opportunity to hear Opera at its finest."

Please enjoy the photos.
If you wish to purchase photos, please email your inquiry. No downloading of photos without express written permission by The Social Diary thank you.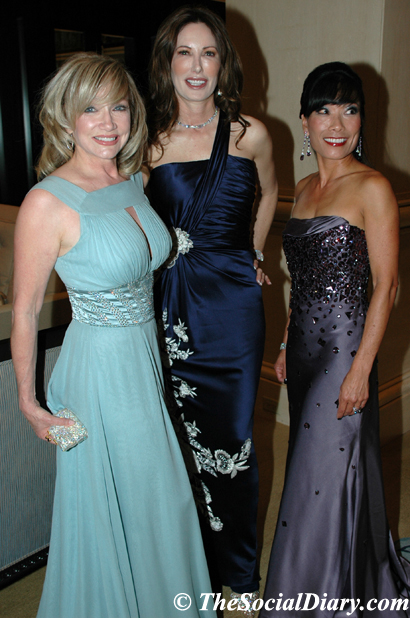 Lynda Kerr with Valerie Cooper and Jennifer Greenfield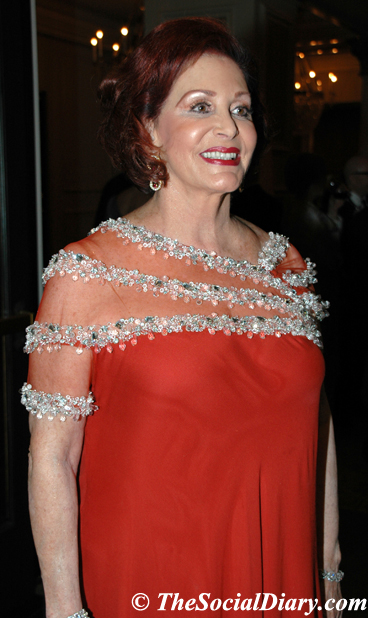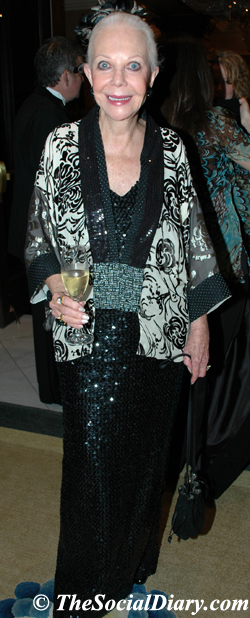 Dow Diva President Iris Strauss ** Jeanne Jones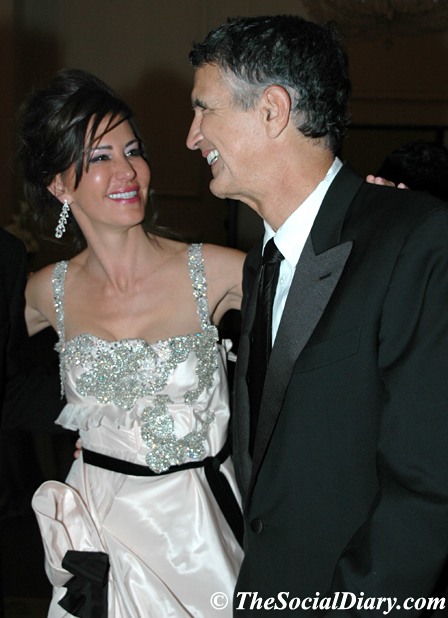 Tanya and Charles Brandes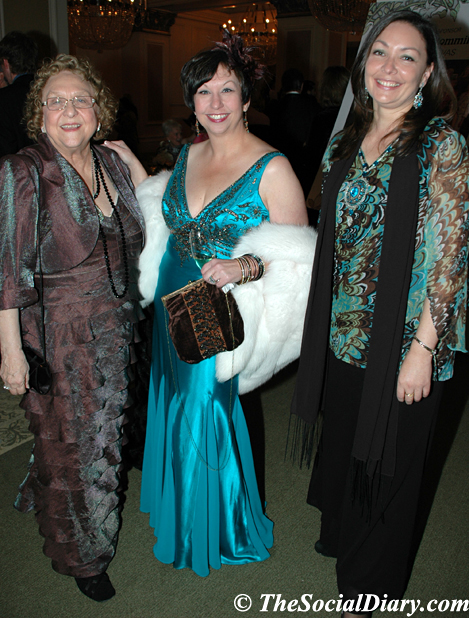 Faye Wilson with her daughter Tara Wilson and Camila Arnold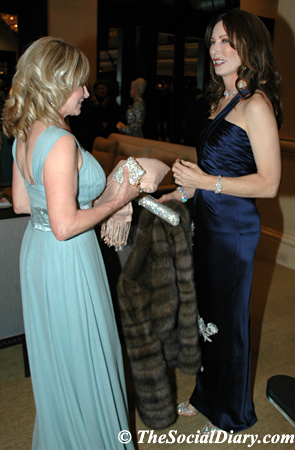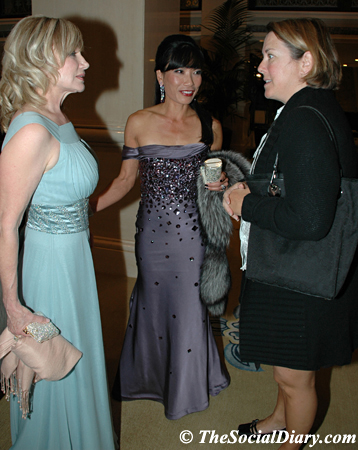 Lynda Kerr and Valerie Cooper ** Lynda Kerr with Jennifer Greenfield and supernumerary Theresa Hixson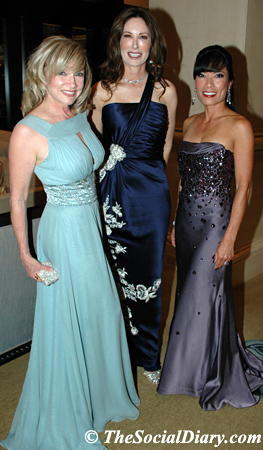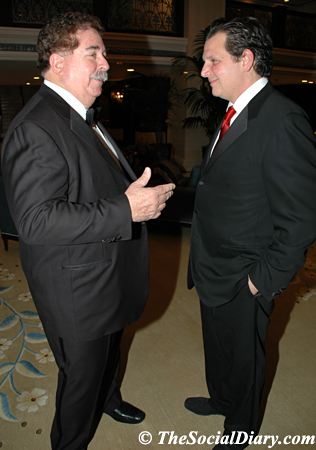 Lynda Kerr with Valerie Cooper and Jennifer Greenfield ** Richard Kerr with Bob Stefanko
advertisement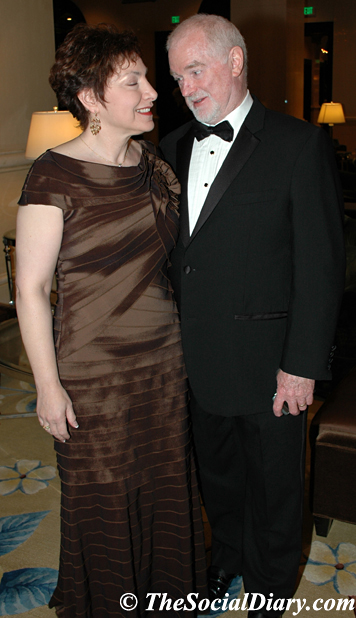 Ann and Ian Campbell **Joye Blount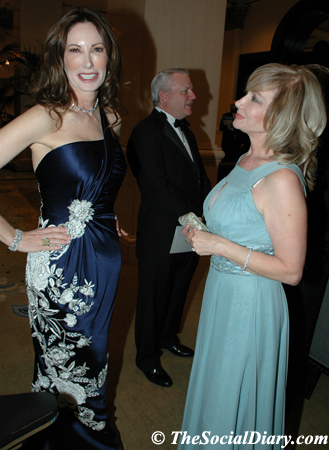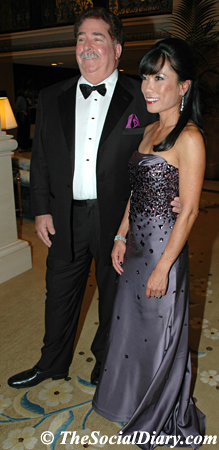 Valerie Cooper with Lynda Kerr ** Richard and Jennifer Greenfield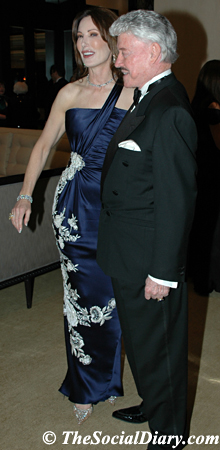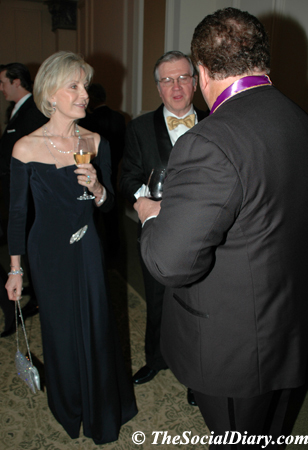 Valerie and Harry Cooper ** Lee Clark and Jerry Pikolysky with Richard Greenfield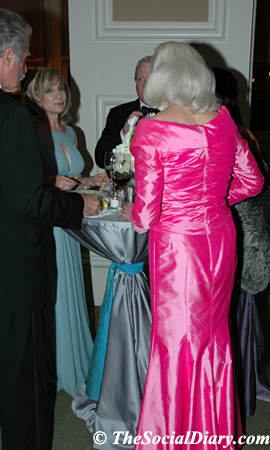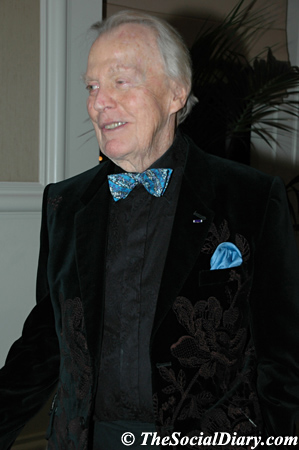 John Rebelo and Sarah B. Marsh-Rebelo with Lynda and Richard Kerr ** Don Breitenberg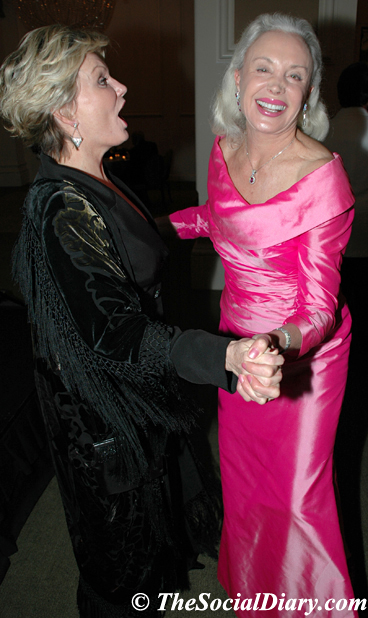 Katherine Kennedy aka KK hitting a high note with Sarah B. Marsh-Rebelo
You are on Opera Gala 2010 page 1
For more photos please click
and for a look at prior San Diego Opera Galas and Events
San Diego Opera Medalists Luncheon 2009
San Diego Opera Medalists Luncheon 2008
Cover Story and Cover Photo of Ann Campbell - Director of Strategic Planning for the San Diego Opera
To learn more about the San Diego Opera season, it's programs for schools and adult, and the Opera's special events, please visit www.sdopera.com

reported by Margo Schwab
The Buzz
The Marine Room on Sunday, January 31st, 2010... high tide breakfast with a visit by Chef Bernard Guillas!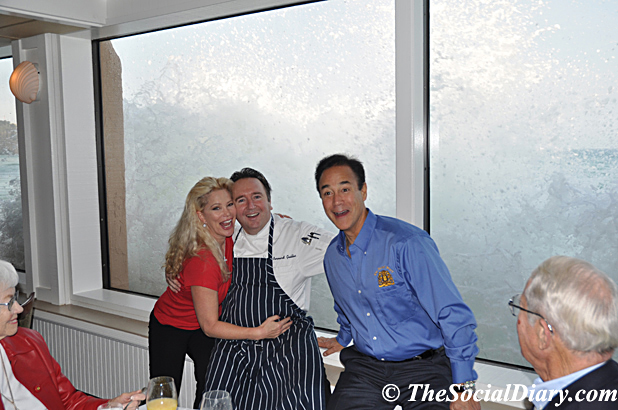 my parents with Scott and myself as the wave hit the window....!!

____________________________________________________________
Photoshopping and Photography Services
Photos on this website available if it is of you
available by The Social Diary
~ 619-384-7333
email TheSocialDiary.com
_______________________________________________________________
Email Commentary to be added
* Margo Schwab, more formally known as Margaret E. Schwab, has produced, written, interviewed and photographed for various media organizations since 1989. Schwab attended Holton Arms School, La Jolla Country Day School and La Jolla High School. Schwab has a B.A. from Scripps College, spent a business internship with S.A.I.C., Science Applications International Corporation, and earned a Masters of Business degree, M.B.A., from the University of San Diego. Schwab additionally took college courses from Harvard University, and Syracuse University. Schwab volunteers for numerous charity organizations. She also continues to support animal organizations and the prevention of people and animal abuse. Schwab is the editor of The Social Diary.
Margo Schwab and Scott Johnston of the Social Diary are pleased to announce partnerships with the San Diego Humane Society.
San Diego's The Social Diary would like to say a special thank you to our advertisers.
Valerie and Harry Cooper supporting the San Diego Opera
Valerie and Harry Cooper supporting The Museum of Contemporary Art San Diego
Judith C. Harris, Blair Harris, and Robert Singer, MD supporting the
Dian Fossey Gorrilla Fund International
Sammy's Woodfired Pizza
Roppongi Restaurant and Sushi Bar
Mosaic Catering
La Jolla Beach & Tennis Club
La Jolla Shores Hotel
The Shores Restaurant
The Marine Room
Dr. Laurie Marker of The Cheetah Conservation Fund
H. Moradi Fine Jewelers on Prospect Street in La Jolla
Pamela Pogue of Juelerie
Kary Favish of the Worth Collection
Diana Cavagnaro of Designer Millinery
Jordan of Jordan Art Couture and Animal Fashions by Jordan
Lizz Russell of The Lizz Russell Collection
Gary Parker of WineSellar & Brasserie
Owner and Chef Pasquale of Cafe Milano
Kevin Smith of Extreme Pizza in La Jolla
Jeremiah Sullivan of Neptunic Sharksuits
Drs. Sue and John Morizi of The Animal Hospital of La Jolla
Eugene Ladopoulos of Mistra Estates Olive Oil
Warning ** photos, video and writing on this site are the
2010 copyright of The Social Diary LLC and its subsidiaries.
no reproduction of any part or parts is allowed without written permission by The Social Diary