~ The Social Diary ~
the on-line magazine covering High Society ..& more
____________________________________________________________
San Diego Opera Gala 2006 - Noche en Espana

February 1st, 2006
by the Social Diary Columnist & Photographer Margo Schwab
January 28th, 2006 was the perfect starry night for the 41st Gala opening of the San Diego Opera. The evening's theme was "Noche en Espana" or Night in Spain. The Opera opener was Gioachino Rossini's comedy, The Barber of Seville..
(Pictured here - Drew Senyei M.D., President, San Diego Opera, Noni Senyei, the Honorable Lorna McKellar, and Chris McKellar)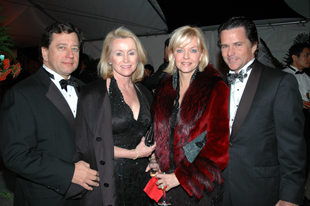 San Diego Opera patrons gathered before the show for the Bravissimo Patron Tent reception. Gitti Javedani from Upstage Design decorated the tent. Event patron Sycuan Resort & Casino catered the affair. The best of wines and libations matched with potato latkes topped with caviar, seared ahi, escargot tartelettes, bountiful bowls of fresh shrimp and bite size desserts of every fashion were served.
(Pictured here are Iris Strauss, outgoing President, San Diego Opera, Matthew Strauss, Rossy Bryan dressed in a Spanish styled custom red gown by Sr. Hurtado, Ingrid Hibben and Victor)
Entrancing foods were whimsically titled with such operatic monikers as: Figaro's Flan, The Phyllo of Seville, The Road to Ravioli, The Barber Cakes, and the Seafood Seville's Tapas Cafe. Meanwhile the Malamana duo performed Flamenco styled music.
Decorating the scene were the guests themselves in fabulous tuxedoes and gowns.

Among the many standouts there were Paul James Baldwin of Switzerland, Baldwin was there with his friends and fellow guests Sally and John Thornton of Thornton Winery, Alexander Grosvenor, Anita Bye of sponsoring Sycuan Resort & Casino with her fiance Steve Matthews (no wedding date…yet), Lorna and Chris McKellar, Craig Grosvenor, Jennifer and Richard Greenfield (Jennifer wore a spectacular one shoulder Carlos Miele red gown), Melissa and Mark Grosvenor, Susan and Ronald Heller, Sheryl and Harvey White, Ingrid Hibben with Victor, Teresa and Harry Hixson, and Kathy and Bill Horn.
And the incredible San Diego Opera duo, Ann and Ian Campbell were there too, of course. Ann as Director of Strategic Planning, and Ian as General Director for the San Diego Opera, have collectively infused more energy, enthusiasm, and top world caliber talent into the San Diego Opera season, year after year.
(Pictured here - Ian Campbell, General Director, San Diego Opera, Ann Campbell, Director of Strategic Planning, San Diego Opera, elegant in a vibrant Victor Costa gown)
More there were Rose Marie and Charles Pipitone, and Lyndy Roda and Greg Collard of Neiman Marcus. NM provided the great patron gifts for the evening, Swarovski crystal opera glasses. More there were Nina and Bob Doede, Katherine and Kevin Faulconer, Kathryn Fishback, Debby and Wain Fishburn, Fred Applegate, Audrey Geisel with Jim Bowers, Lee and Frank Goldberg, Teresa Fishlowitz, Rossy and Graham Bryan, Christopher Cowdray of The Dorchester Hotel, Cynthia Stringfellow with Bill Ruddy, and Rana Sampson and Mayor Jerry Sanders. Everyone wanted a minute of the new Mayor's time and he happily obliged.
During the course of evening conversations it was overheard, that a person's friend had their new 165 foot mega-yacht sink, no insurance. No worries. The gentleman concerned is a multi-billionaire.
Supervisor Pam Slater-Price was there too with her husband Hershell Price. More joining in the elegant evening were Clinton Walters, and Noni and Drew Senyei M.D. Drew is the new President of the San Diego Opera. Drew is also a very successful venture capitalist for Enterprise Partners.
(Pictured here - Lee Goldberg, Jennifer Greenfield with Ann Campbell, Anita Bye)
The Dow Divas chaired the event beautifully. The dynamic group of diva delightful's are: Iris Strauss (the outgoing President of the San Diego Opera), Joan Jacobs, Barbara Bloom, Valerie Cooper, Karen Cohn, Alberta Feurzeig, Roxana Foxx, Dawn Gilman, Lee Goldberg, Jeanne Jones, Charmaine Kaplan, Wanda Kaufman, Sheila Lipinsky, Brenda Marsh-Rebelo, Sheila Potiker, Peggy Preuss, Colette Royston, M. Faye Wilson , Rusti Weiss, Lee Clark, Rusti Weiss, and Pamela Wygod. Yes, that's the same Pamela Wygod you have heard recently about on The Social Diary for supporting ARTS as well.
Bells were rung by the uniformed Spanish gentlemen alerting one and all that it was time to go to the Civic Theatre for the grand opera opening.
(Pictured here - Wanda and Fred Kaufman, Audrey Geisel and Jim Bowers and Brenda Marsh-Rebelo)
And grand it was. Sets, costumes, music, drama, and incredible singing as the San Diego Opera's The Barber of Seville hit all the right notes. Baritone Christopher Maltman as Figaro, tenor Lawrence Brownlee, mezzo-soprano Kirstin Chavez, and bass Ferruccio Furlanetto drew deserved raves and thunderous applause. Superb casting makes The Barber of Seville production, a 'must see' of the season.
The San Diego Symphony accompanied the San Diego Opera and the synergy was perfection.The finale was a theatre of applauding and 'Bravo' cheering guests.
President and CEO of San Diego National Bank Robert Horsman raved "What a glorious and whimsical opera capped off by an elegant and fun filled gala that had plenty of friends, food, and dancing for all til the wee hours."
Susan Ulevitch remarked "The Barber of Seville performance was excellent, I know what I like! The voices were easy to hear, the staging and acting great. Very expressive as this comedy requires. The San Diego Symphony was very good and clear too. The sets ... great." As for the gala guests, Susan added "people were really dressed . including more young people than I usually see."
(Wain and Debby Fishburn, Drew Senyei, M.D., with Ivor Royston, Nina Doede and Karen Cohn)
There were many more accolades too for the San Diego Opera Opening.
Sycuan Resort & Casino Marketing Director Allan Krantz said "If ever an event 'exceeded one's expectations,' it was the San Diego Opera's 2006 Gala. The Bravissimo Tent and the Westgate Dinner were outstanding events but the real crown jewel was the spectacular The Barber of Seville with its music, comedy, costumes and sets! The only word that comes to mind to express my feelings is… WOW!"
And the WOW continued as patron guests continued to the Westgate Hotel for dinner.
(Pictured here - Greg Collard and Lyndy Roda of Neiman Marcus, Anita Bye of Sycuan Resort & Casino with her fiance, Steve Matthews, Rana Sampson with Mayor Jerry Sanders)
San Diego Opera Patron Valerie Cooper describes the dinner festivities well. "The dinner was at the Westgate Hotel and featured seafood paella; there was a beautiful dessert buffet in the Versailles Room. The amazing Jim Lennox of Pacific Events did the décor for the whole party which stayed true to the Spanish theme. The Versailles Room was exquisite with lots and lots of red roses and had an intimate club feeling, it was over the top!! All the beautiful flowers were being delivered to the Sea Crest Retirement Home after the party for others to enjoy. The music of Innovation was upbeat fun and had people staying till 1:00!! It was a great way to start the Opera season."
San Diego Opera Board Member Graham Bryan added "The Dow Diva's really showed their style this year by creating a gala with an intimate feel."
Teresa Hixson agreed."What a WONDERFUL evening on Saturday!! Great and fun opera, beautiful gala, incredible food and sangria, and what about those desserts?!"
(Pictured here - Jeff Dunnigan with Charmaine Kaplan, Iris Strauss, Mayor Jerry Sanders with Scott Johnston, Craig Grosvenor with friend)
(Pictured here - Drew Senyei, M.D., Supervisor Pam Slater-Price, and Ian Campbell, Mayor Jerry Sanders with Iris Strauss)
Please click here to go to San Diego Opera Gala Page 2
........More Parties....New This Week.....Home
* Margo Schwab has produced, written, interviewed and photographed for various media organizations since 1989. Schwab has a B.A. degree from Scripps College and a Masters of Business degree from the University of San Diego. Schwab volunteers for numerous charity organizations. She also continues to lobby for water safety and for family violence mitigation. Schwab is the owner and publisher of The Social Diary.

Warning ** photos, video and writing on this site are the
copyright of the author, The Social Diary, San Diego Social Diary, margomargo.com and Margo Schwab.
no reproduction of any part or parts is allowed without written permission by Margo Schwab