~ The Social Diary ~
~~~~~~~~~~~~~~~~~~~~~~~~~~~~~~~~~~~~~~~~~~~~~~~~~~
Glamour, Gowns and Godunov! - The San Diego Opera Gala 2007

February 1 st, 2007
The Social Diary Columnist & Photographer Margo Schwab
Glamour, gowns, and Godunov! That was the San Diego Opera Gala 2007 on January 27th, 2007. Patron guests gathered first for a tented reception on the concourse downtown. The reception was deliciously sponsored by The Sycuan Resort and Casino. The theme for the evening was The Czar's Winter Ball, and guests came appropriately dressed as such. Furs, opulence, 'theatre live' if you will.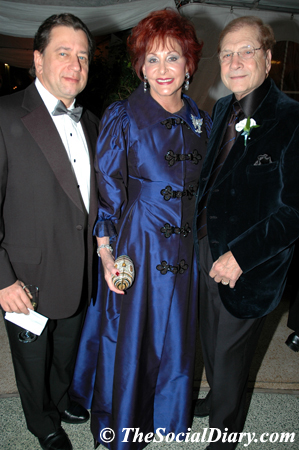 Dr. Drew Senyei with Iris and Matthew Strauss
And the 'Czarina' fashionistas were out in force. Colette Royston wore black velvet Marc Bouwer. Iris Strauss was in an Oscar de la Renta. No surprise there. Iris almost always chooses Oscar. And she wears it well. The midnight blue with black brocaded embellishments and clusters of diamond pins was stunning on her. Pam Slater-Price chose a black Tadashi with an original black crystal necklace she found in Prague. Anita Bye wore a golden silk Naeem Khan gown. Her fur was a favorite of her Grandmother's. Brenda Marsh-Rebello chose a light brown fluttery, Carmen Marc Valvo gown. Valerie Cooper was stunning in a silvery satin gown by British designer Jenny Packham. Ann Campbell looked svelte in an Alberto Mikali. Karen Cohn and Sheryl White both chose Roland Nivelais. Sheryl's shimmered with midnight blue sequins, while Karen's mocha brown strapless gown was trimmed with sable. Russian of course!
Among the mix were San Diego Opera President Drew Senyei and his wife Noni, Iris and Matthew Strauss, Tanya and Charles Brandes, Ronnie Froman and Linden Blue, Rossy and Graham Bryan, Anita Bye and Tony Norton, Kathryn Fishback, Jeanne Jones and Don Breitenberg, Karen and Don Cohn, Sheryl and Harvey White, Gaylene and Klenanthis Xanthopoulos, Margo Schwab and Scott Johnston, Lise Wilson and Steve Strauss, Sally and John Thornton, Judi and Marvin Wolf, Peggy and Peter Preuss, Pam Slater-Price and Hershell Price, Benedicte and Eric Otterson, Joan and Irwin Jacobs, Alberta and Charles Feurzeig, Debby and Wain Fishburn, Rusti Bartell and Nathan Cohen, and of course, Ann and Ian Campbell.
That's Ian Campbell the San Diego Opera's Artistic Director and General Director who has led the San Diego Opera since 1983. And Ian has led the San Diego Opera to worldwide acclaim.
After the convivial reception, it was time for the San Diego Opera's triumphant version of Mussorgsky's original 1869 opera, Boris Godunov. A classic. An opera resplendent with Italian Ferruccio Fulanetto's bass voice, and a superb company of singers.
Ann Campbell, the San Diego Opera's Director of Development had this to say. "The evening continued with the Opera, then Intermission desserts and wines in the tent, and then onward to what was absolutely the most magnificent gala in our history. The Dow Divas Chaired the event and with such style and elegance. Guests had a sumptuous dinner and then danced the night away. It was really magical."
Magical and exquisite as patron Valerie Cooper noted. "The rooms at the Westgate were exquisite with lots of candles and white flowers. A Faberge like egg done in white carnations was the center piece at each table. The tables were also full of beautiful glassware with gold rims. Jim Lennox and the team at Pacific Events used their amazing talents to make it gorgeous. For the food fare there was a stuffed egg with scrambled eggs topped with caviar to start with, and paprika scented stroganoff. And to finish it off one could either have strawberries Romanoff or a Faberge cameo cake. All was delicious and to top it off there was endless Veuve Clicquot champagne which made it over the top. There was a beautiful Stoli vodka bar and lots of dancing to the band Innovation that kept people rocking till way after 12:00. It was a beautiful evening to compliment the opening of the Opera 2007 season."
San Diego Opera President Drew Senyei got right to the point. "Fantastic with first class caviar and great band. Everyone had a ball!" .... A Czar's Winter Ball!
For more information about the San Diego Opera season and its special events, Please visit www.sdopera.com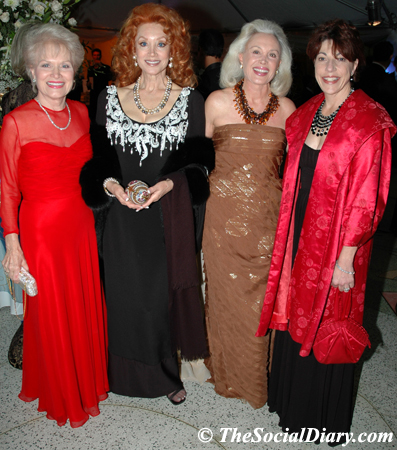 Alberta Feurzeig, Judi Wolf, Brenda Marsh-Rebello and Rana Sampson
Ian Campbell ** Dr. Drew and Noni Senyei ** Burl Stiff with Wanda Kaufman
Valerie Cooper ** Valerie Cooper with Margo Schwab who is wearing a Lauren Schaeffer custom gown ** Scott Johnston in Ascot Shop finery
Guest ** Sheryl White with Lael and Jay Kovtun ** Dr. Drew Senyei and Iris Strauss
Marion Ross and Paul Michael ** Peggy and Peter Preuss
Barbara Kjos ** Guests ** Peggy Preuss
Floral Arrangement at the Reception ** Teresa Hixson ** Blair with Harry and Teresa Hixson
Sheryl White ** Sheryl White with Iris Strauss
Iris Stauss with Pam Slater-Price and Matthew Strauss ** Anita Bye ** Karen Cohn
Jordan ** Barbara Bloom ** Ann Campbell
Lynda Kerr, Jennifer Greenfield, Maree Mossmer ** Karen and Donald Cohn
Kathryn Fishback ** Colette Carson Royston and Jeanne Jones
Lynda Kerr ** Jennifer Greenfield with Paul Michael and Marion Ross ** Teresa Fischlowitz and Joan Henkelman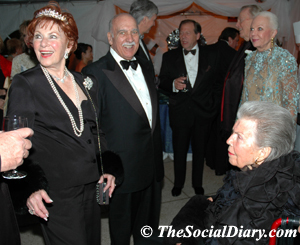 The Party scene with Marion Ross, Paul Michael, Dr. Drew Senyei, Jeanne Jones and Kathryn Fishback
Tanya and Charles Brandes ** Pam Slater-Price with her daughter, Lauren Slater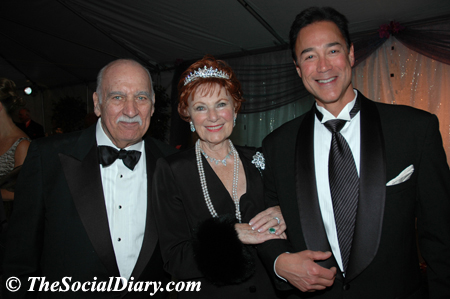 Paul Michael and Marion Ross with Scott Johnston
Guests ** Colette Royston
Wain Fishburn with Charles Brandes and Dr. Drew Senyei ** Scott Johnston with Jeanne Jones
Gaylene and Klenanthis Xanthopoulos ** Dr. Jerry Pikolysky with Helen Davis
The Menus
Reception Menu
Russian Caviar Bar
Traditional blini
crème fraiche topped with sevruga caviar
Caviar Cone
sweet onion sour cream filled cone topped fine egg yolk and golden caviar
Ice Blue Spoon
champagne foam topped with Osetra caviar
Vodka Potato Station
Shredded Yukon Potato Cake
Topped with wild mushrooms, lamb loin & vodka goat cheese
Drunken Mushroom Cap
Filled with sweet potatoes
Fried Red Potato & Sturgeon
Crisp red potato topped with seared sturgeon soaked in vodka
Crudités Section
Wheat Grass full of Carrots
Chilled asparagus topped with a Ice blue aioli
Baby Parsnips Set in Ice
Phyllo wrapped asparagus
Baby grilled zucchini and squash
International and Domestic Cheese's
The Drunken Cheese Plate
Assorted Cheese soaked in cognacs, vodka, and liqueurs
The Blue Plate Special
Assorted firm and creamy blue cheeses
The Cheddar Plate
Assorted Cheddars from around the world
Flat breads, crisp baguettes, and assorted crackers
Tray Passed
Roasted Vegetable Tart
Lobster medallion
With Dijon mustard cream on a toast point
Smoked Salmon Crepe
Carrot Blini topped with port chicken and chive cream cheese
King Crab Meat Tartlet
King crab meat set in a tartlet with pickled red cabbage and sour cream
Dinner Menu
Borscht Martini
Trio of Russian Inspired Appetizers
~ ~
Beef Tenderloin Stroganoff
on
Paprika Scented Noodles
~ ~
Strawberries Romanoff
or
Faberge Cameo Cake
----------
* Margo Schwab has produced, written, interviewed and photographed for various media organizations since 1989. Schwab has a college degree from Scripps College and a Masters of Business degree from the University of San Diego. Schwab volunteers for numerous charity organizations. She also continues to lobby for water safety and for family violence mitigation. Schwab is the owner and publisher of The Social Diary. Margo is currently writing a book based on La Jolla.
back to New this Week.....Margo Schwab Archives...... Home
Warning ** photos, video and writing on this site are the
copyright of The Social Diary, San Diego Social Diary, margomargo.com and Margo Schwab.
no reproduction of any part or parts is allowed without written permission by Margo Schwab