~ The Social Diary ~
~~~~~~~~~~~~~~~~~~~~~~~~~~~~~~~~~~~~~~~~~~~~~~~~~~
Neiman Marcus Hosts New Oscar de la Renta Collections
for San Diego Opera Medallists
Every year Neiman Marcus in San Diego hosts a beautiful bevy of San Diego Opera Medallists. Medallists. are those who devotedly give extraordinary financial gifts to the Opera. As such, Neiman's brings in the very handsome Boaz Mazor, the right hand man of designer Oscar de la Renta.
And with Boaz comes Oscar de la Renta's newest ballroom to resort chic couture collections. And this year's collections feature Oscar's rich, luxe fabrics, perfect detailing, and that incredible wow factor.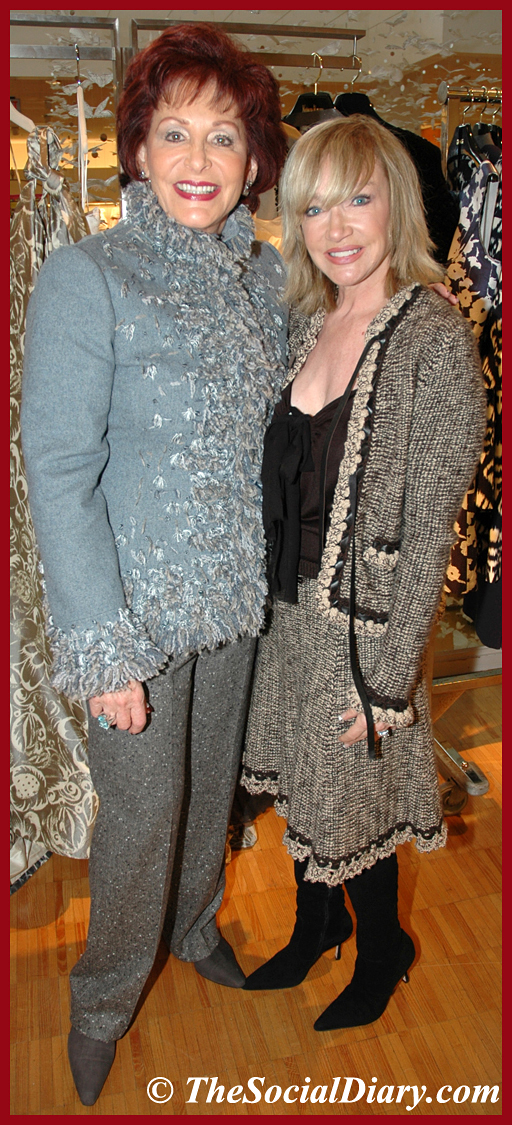 Iris Strauss and Lynda Kerr
Among those enjoying the collections were San Diego Opera's leading patron, Iris Strauss, chic in Oscar de la Renta of course. More fashionably there were Karen Cohn in Oscar de la Renta, Valerie Cooper in Versace with the Versace "it" purse trimmed in chinchilla, Emma Zuckerman in a richly brocaded velvet coat ensemble by Etro, Lynda Kerr in Chanel with zippy back laced suede boots, Jennifer Greenfield in a simple sheath, and Sheryl White in a pretty Chanel suit.
Still more there were Lee Clark in Escada, Jeanne Jones, Alberta Feurzeig, Joan Bowes in a pretty brocade 2/3 coat, Brenda Marsh Rebello in a white trousered suit, Sally B. Thornton in perfect velvet brocade suit and fluffy scarf, and Joan Jacobs.
It's been a pivotal week for Joan. Not only has she just celebrated her birthday, (Happy Birthday Joan!), but Joan is also celebrating recovery from an injury a few months back. And she looks great!
Great too was the lunch and fashion show.
Fashions were modeled during the chic and light lunch of lobster ravioli and fish, and a fruit soufflé. After lunch and the fashion show, Boaz helped the ladies shop. And shop they did. After all, when you give so much to worthy causes like the San Diego Opera, it's fun to look fabulous too! And these gals do.
The San Diego Opera Gala is February 16th.
For more information about the San Diego Opera season and its special events, Please visit www.sdopera.com
enjoy the photos!
Oscar de la Renta's Gala and Resort Collections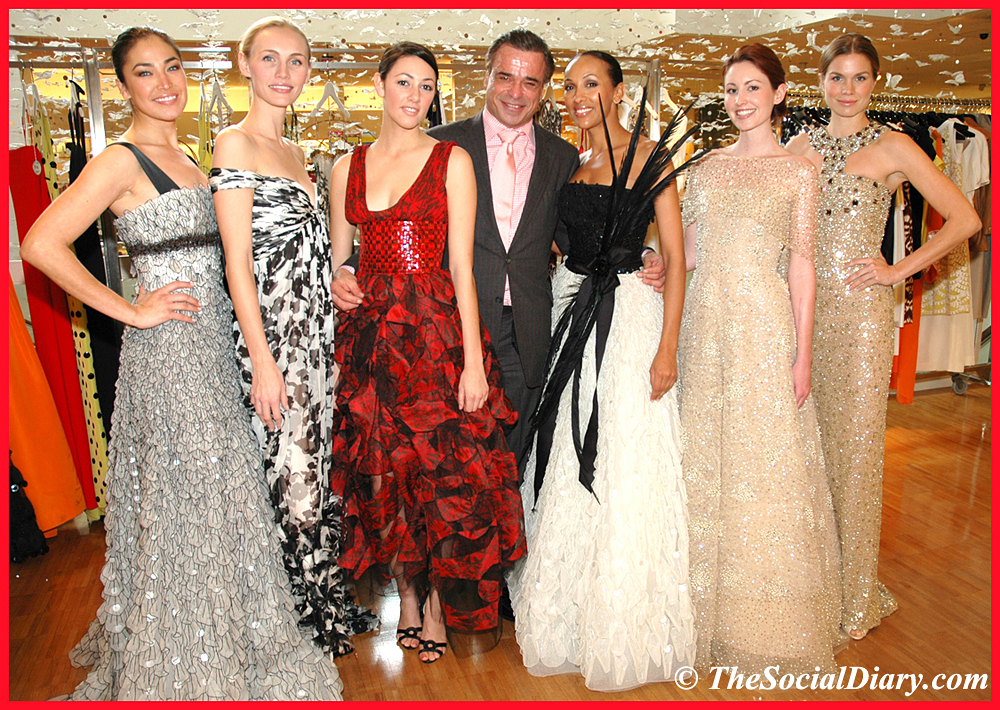 The San Diego Opera Medallists. ....
Jeanne Jones ** Karen Cohn ** Sally B. Thornton and Valerie Cooper ** Judy White and Alberta Feurzeig
Joan Bowes with Carol Karlovich and Alberta Feurzeig ** Jennifer Greenfield with Lynda Kerr ** Valerie Cooper and Lee Clark
Lyndy Carreiro with Jennifer Greenfield ** Lynda Kerr with Maree Mossmer ** Sheryl White with Lynda Kerr and Karen Cohn
reported by Margo Schwab
* Margo Schwab, formally known as Margaret E. Schwab, has produced, written, interviewed and photographed for various media organizations since 1989. Schwab attended Holton Arms School, La Jolla Country Day School and La Jolla High School. Schwab has a B.A. from Scripps College, spenta a business internship with S.A.I.C., Science Applications International Corporation, and earned a Masters of Business degree, M.B.A., from the University of San Diego. Schwab volunteers for numerous charity organizations. She also continues to lobby for water safety and for family violence mitigation. Schwab is the editor of The Social Diary. Margo is currently writing a book based on La Jolla.
Warning ** photos, video and writing on this site are the
copyright of The Social Diary, San Diego Social Diary
no reproduction of any part or parts is allowed without written permission by The Social Diary