~ The Social Diary ~
~~~~~~~~~~~~~~~~~~~~~~~~~~~~~~~~~~~~~~~~~~~~~~~~~~
Purple Reigns for 'San Diego Opera's 'A Royal Rendezvous'
"I believe that this year's Gala Event was the most gorgeous we have ever done. The décor was all so Elizabethan, in keeping with the opera, Maria Stuarda. Jim Lennox of Pacific Events really did a magnificent job. The total evening, dinner, opera and glamorous gala after party was a huge success. Bravo to San Diego Opera!"
- Iris Strauss
The Theme was 'A Royal Rendezvous' for the San Diego Opera's 2008 Gala February 16th, 2008. The setting was the extraordinary U.S. Grant Hotel. The featured opera, Mary, Queen of Scots, was of course at the Civic Theatre. And for such a grand evening, black tie dressed patrons came dressed 'regally.'
Lee Goldberg was theme appropriate in an off the shoulder vintage Bill Blass. The ruffles framing her face and decolletage were a pretty green and red tartan. It went well with her invisibly set ruby necklace.
Speaking of jewelry, there were many standout parures, but one noticeably significant was Colette Royston's pink diamond necklace. It went perfectly with her purple hued Naeem Khan gown.
Others choosing the royal color of purple were Iris Strauss in Elie Saab and diamonds, and Sheryl White in a pretty purple and violet strapless gown by Carlos Miele.
Purple dye in ancient times was gathered from the murex shell. Only royals could wear the color. And for this evening that was fitting. Especially with Iris Strauss', the 'unofficially - official' Patron Queen of the San Diego Opera.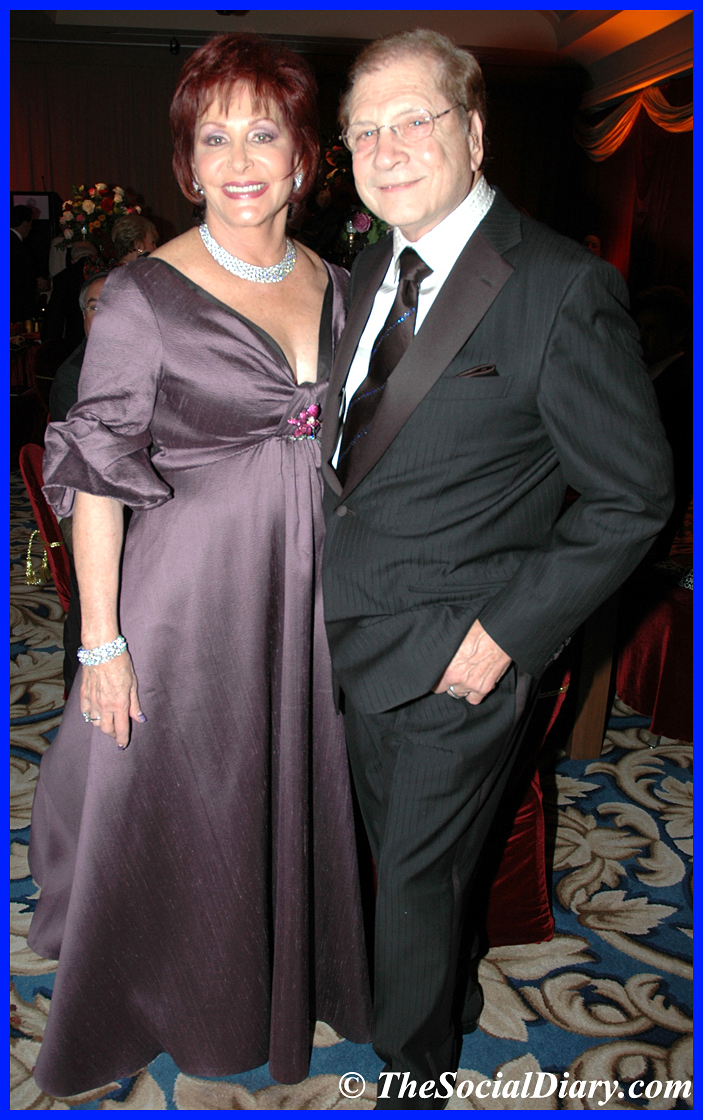 Iris and Matthew Strauss
With Iris, joined by other generous patrons, and the stewardship of Ian Campbell, the San Diego Opera's Artistic Director and General Director, the San Diego Opera has hosted world class operas and opera talent.
And with the 'A Royal Rendezvous' theme in mind, Jim Lennox of Pacific Events decorated the dining ballroom with rich hues of red velvet draping, gold tassels, and over the top candelabras.
After a cocktail reception pervaded by a massive amount of media photo flashes, guests were seated and treated to a dinner worthy of kings.... and queens!
Smoked salmon amuse bouche was followed by a salad of organic grilled vegetables with Boucheon cheese and Hazelnut vinaigrette. The entree was classic prime rib au jus with freshly grated horseradish sauce, Yorkshire pudding and market vegetables. Or there was the choice of Scottish Salmon with sweet onion risotto and vegetables. Desserts delighted. There was a trio of lemon curt tartlet, sticky pudding, and chocolate almond cookie served with select teas and coffees.
Then it was time for the masterful performance of Donizetti's bel canto masterpiece, Mary, Queen of Scots. the Opera production includes international stars Angela Gilbert and Kate Aldrich under the direction of Conductor Edoardo Müller.
After a scintillating opera, gala patrons returned to the U.S. Grant for a grand spectrum of Scottish inspired nibbles of cheeses, and a selection of desserts including miniature Scottish shortbread with clotted cream and strawberries. All the better to continue the evening with dancing to the Innovation Dance Band.
Although Tanya Brandes did not get to try out her newly learned Tango dance moves that she just acquired in Argentina, she and others did have great time dancing to classics.
Among the mix standing out were Lee Clark in Escada Couture and Dr. Jerry Pikolysky in Bijan, Valerie Cooper in a gown by Lebanese designer Jamal Taslaq, Lael Kovtun in vintage Oscar de la Renta, Karen Cohn in a black Carolina Herrera accented with tiny pink bows, Lynda Kerr in a strapless subtly gold accented Carolina Herrera, and Emma Zuckerman in an interesting combination of couture. Emma wore a Monique Lhuillier skirt, with a Chloe top and Moschino sweater.
Rana Sampson, the First Lady of San Diego, chose a vintage gown from her Great Aunt. Brenda Marsh-Rebello chose a beaded Carmen Marc Valvo with South Sea Pearls, Jeanne Jones wore a Zandra Rhodes winged perfection for her slim frame, Jennifer Greenfield wore a red and strapless Oscar de la Renta, Sally B. Thornton went regal in a black velvet coat with gold brocade, John. M. Thornton had bow tie and cummerbund with crystal details from Mister B, and Tanya Brandes wore a custom Roberto Cavalli in green with gold detailing. Her pretty backside caused quite a few extra heartbeats and some very deserved compliments that evening.
And the San Diego Opera Gala was truly regal and grand as noted by Valerie Cooper. "The San Diego Opera outdid itself with a wonderful performance of Mary, Queen of Scots.This performance was the center stage for the Gala this year.The evening started with a pre-dinner at the lovely redone U.S. Grant hotel. Regal is what you can call the gorgeously decorated ballroom with lots of red velvet and masses of gorgeous roses done up by Pacific Events and Jim Lennox. This evening always brings out the most gorgeous gowns and this was not a night to disappoint-beautiful dresses and dazzling jewelry. Then it was on to the Opera for the show. With a replacement soprano who was called at the last minute the performance was grand. This show might need to be called Elizabeth, as Kate Aldrich commanded the stage in voice and regal acting of a true diva like Elizabeth-she is one the who orders 'off with Mary's head.' At the conclusion of the Opera it was back to the U.S. Grant for a dessert buffet, champagne and some dancing. The ballroom had been changed around to provide a dance floor for many of the late night owls who danced the evening away."
And so it was a night of musical and celebratory perfection. Thanks in large part to the 2008 Gala Chairs, the Dow Divas. They are: Wanda Kaufman, Sheila Potiker, Joan Jacobs, Iris Strauss, Karen Cohn, Alberta Feurzeig, Lee Goldberg, Jeanne Jones, Lee Clark, Barbara Bloom, Rusti Bartell, Dawn Gilman, Jennifer Greenfield, Brenda Marsh-Rebello, Jake Figi, Colette Royston, Lynda Kerr, Tanya Brandes, Valerie Cooper, Sheila Lipinsky, M. Faye Wilson, Sheryl White, and Pam Wygod.
Three Cheers to the Dow Divas, the Patrons, and Ann and Ian Campbell for making the San Diego Opera flourish and be highly recognized by the international world of opera!
To learn more about the San Diego Opera season and its special events, Please visit www.sdopera.com
M. Faye Wilson and Lee Goldberg ** Lynda and Richard Kerr ** Lynda Kerr with Jeanne Jones
Maree Mossmer ** Valerie Cooper ** Valerie and Harry Cooper ** Jennifer and Dr. Richard Greenfield
Joan Jacobs and Dr. Richard Greenfield ** Sheryl White ** Sheryl and Harvey White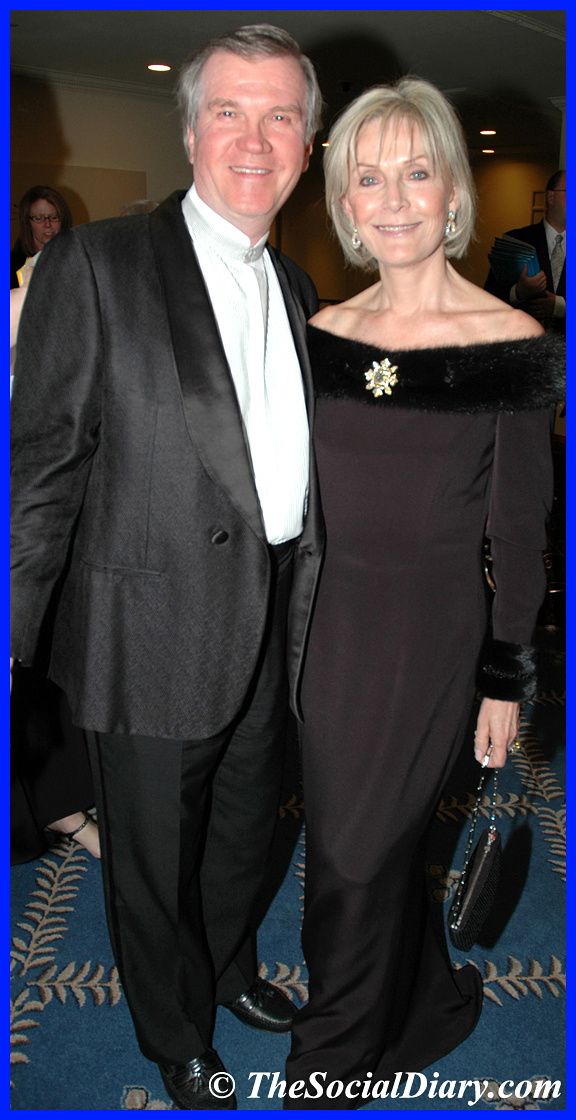 Dr. Jerry Pikolysky and Lee Clark
Tanya Brandes ** Charles and Tanya Brandes ** Tanya Brandes and Jennifer Greenfield
Colette Royston and Iris Strauss ** Colette and Dr. Ivor Royston ** Rana Sampson and Mayor Jerry Sanders
Lee and Frank Goldberg ** John Rebello and Brenda Marsh-Rebello ** Jennifer Greenfield with Lynda Kerr and Maree Mossmer
Hanaa Hensersky with her Uncle, Salah Hassanein ** Rana Sampson and Maggie Watkins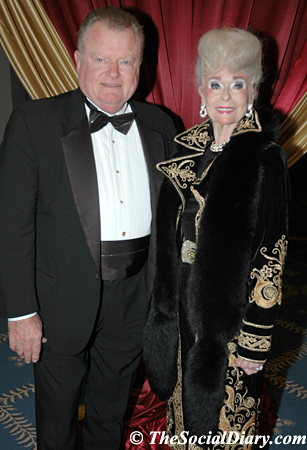 John and Sally B. Thornton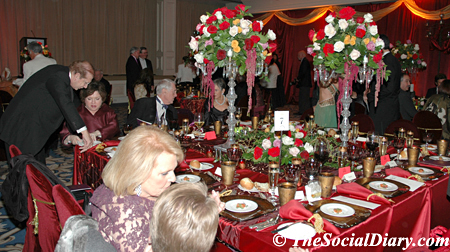 The Resplendent Décor provided by Jim Lennox and Pacific Events
Teresa Hixson ** Karen Cohn ** Emma and Leo Zuckerman
Lael and Jay Kovtun
reported by
Margo Schwab (in Badgley Mischka and Venetian lace wrap) and web maestro Scott Johnston (in Ralph Lauren tuxedo and Ascot Shop tie)
* Margo Schwab, formally known as Margaret E. Schwab, has produced, written, interviewed and photographed for various media organizations since 1989. Schwab attended Holton Arms School, La Jolla Country Day School and La Jolla High School. Schwab has a B.A. from Scripps College, spenta a business internship with S.A.I.C., Science Applications International Corporation, and earned a Masters of Business degree, M.B.A., from the University of San Diego. Schwab volunteers for numerous charity organizations. She also continues to lobby for water safety and for family violence mitigation. Schwab is the editor of The Social Diary. Margo is currently writing a book based on La Jolla.
Warning ** photos, video and writing on this site are the
copyright of The Social Diary, San Diego Social Diary
no reproduction of any part or parts is allowed without written permission by The Social Diary