~ The Social Diary ~
fashionable coverage of charitable causes
The Social Diary is the First and Proud to 'go green' covering charitable events, established in 2000
(note - 2 beautiful, sweet Boxers just arrived to SDHS)
San Diego Humane Society's Mission:
'To promote the humane treatment of animals, to prevent cruelty to animals, and to provide education to enhance the human-animal bond."
~ Cover Photo Featuring 'Ace' & Dianne ~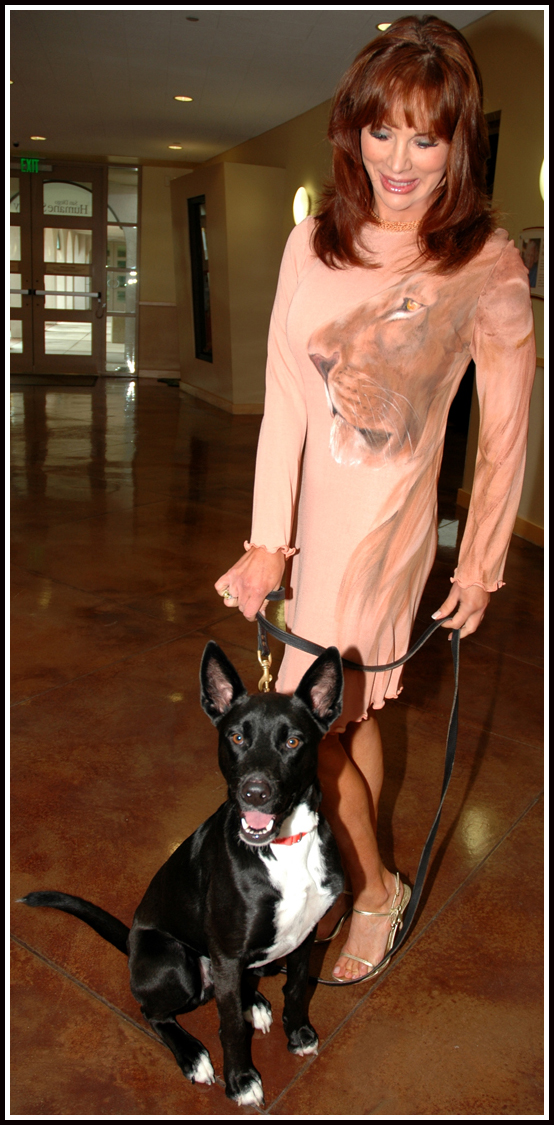 Photo Details
Dianne is modeling a Jordan Hand painted Gown available by appointment (951) 694-3899 Jordanacnp@aol.com

www.Jordanartcouture.com
About Jordan - Jordan is more than a coveted designer, she also supports several African Wildlife Charities. Jordan has actively supported San Diego Zoo's CRES Programs for Conservation Research. "They continue to hand raise and re-release the California Condors as well they have the largest frozen zoo of DNA material of extinct and endangered species. Some day soon the scientists there will be recreating animals that have been lost, a really exciting thing......I also support the Helen Woodward Animal Center. The administrator has been there two years and has implemented some really exciting programs with the goal of changing all "animal shelters" to animal adoption centers with the capability of marketing their animals....not just hoping someone shows up to adopt them. He travels all over the U.S. as well as Canada teaching."
Jordan is 'Mother' currently to 5 rescue dogs. In the past, she has rescued horses and even a cow.
Jordan is looking forward to learning much more about the San Diego Humane Society.

&
Please visit the San Diego Humane Society website at www.sdhumane.org to see the many wonderful animals that are available for adoption, how to volunteer, fostering opportunities, training events and special event news.
_______________________________________________________________________________________________________
~ The Social Diary ~
fashionable coverage of charitable causes
The Social Diary is the First and Proud to 'go green' covering charitable events, established in 2000
The Social Diary's Margo Schwab and Scott Johnston would like to thank Gary Parker and the WineSellar & Brasserie,
Jem Designs for Pooches and People, Kevin Smith and the team at Extreme Pizza in La Jolla, Creature Couture,
& Jeremiah Sullivan of Neptunic Sharksuits, Lizz Russell Purses and Gowns, Mistra Estates Olive Oil, Evolution Home Theatre,
Too Haute to Trot, Gente Bien, San Diego - The Magazine, Luxe Life Magazine of La Jolla, & Mister B European Clothing for the American Man
** photos, video and writing on this site are the
copyright of The Social Diary, San Diego Social Diary
no reproduction of any part or parts is allowed without written permission by The Social Diary