~ The Social Diary ~
~~~~~~~~~~~~~~~~~~~~~~~~~~~~~~~~~~~~~~~~~~~~~~~~~~
Jingle Bell Run/Walk for Arthritis Foundation San Diego Area Chapter

'Oh what fun, it is to run .....!'
by 'Kima the Canine Connoisseur' aka 'The RunAway Bride'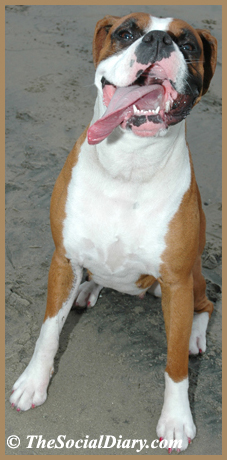 It's Christmas time and I decided to focus on what I can do for others. You know dogs and their 'people pets' get arthritis too. And it hurts big. Hard to tail wag without the proper medicine. Hence, I am reporting on the very important Arthritis Foundation San Diego Area Chapter's super duper Jingle Bell Run/Walk. You know , my nickname is Kima the RunAway Bride, so I certainly know how to run. And better yet, to run for a great cause.
The Jingle Bell event took place at Balboa Park on December 2nd, 2007. There were serious runners and walkers, and then there were us serious fashionistas. We're barking I mean talking a thousand plus! I met a lot of new friends and saw a lot of familiar faces.
My buddy Andrea Muir was there. Her cat VeroniCat sponsored a team. Veronica Braun was there too. She's the big President for the Arthritis people. Other fun 'pet people' there via volunteering, $$ support, and/or run / walking were Bernie Murphy, he's with the Chapter Board of Directors, Kate Capshaw, Bertha Blas, John Cardosa, Diane Gilabert, Sandra Hayhurst, Danny Hernandez, Eric Lodge, Tina Lorimer, Yolanda Salcido, John Trask, Joe Vecchio, Viginia Vargas, CBS News 8's Kathleen Bade, the big 'Girls on the Run Group,' and Cheryl Farhood.
Cheryl is the proud and lucky mother of Ann or Annie Farhood. Ann was diagnosed with arthritis at age 6. At the big age of 10 today, she is not only terrifically cute and charming, but she also is a plethora of wisdom about what it takes to battle the pain of arthritis. Ann has serious arthritis. She knows. And she knows smarts and generosity keep groundbreaking research equating with groundbreaking quality of life.
Quality of life is what The Arthritis Foundation San Diego Area Chapter promulgates through awareness and fundraising efforts such as this.
"This year alone, nearly a million people will be diagnosed with arthritis. These numbers will continue to skyrocket over the next two decades as the population ages. In addition to causing pain, disability and loss of independence, arthritis exacts a hefty financial toll on the country. The Centers for Disease Control and Prevention estimates that arthritis costs the U.S. economy $128 billion annually. Walking is crucial to preventing and managing the nation's leading cause of disability. In fact, the Arthritis Foundation says Americans cannot afford not to get moving. Walking can help achieve and maintain a healthy weight and reduce the risk of arthritis. Losing just 10 pounds relieves 40 pounds of pressure on knees, and losing as little as 11 pounds may reduce joint pain and help prevent knee osteoarthritis."
And at the Jingle Bell event, participants got to jingle their bells and have fun for a very worthy cause. To help the 46 Million people currently affected by arthritis.
To learn more about arthritis and future events, please visit www.arthritis-sandiego.org
Happy Holidays!
&
Please enjoy the photos.
(high resolution photos available by request)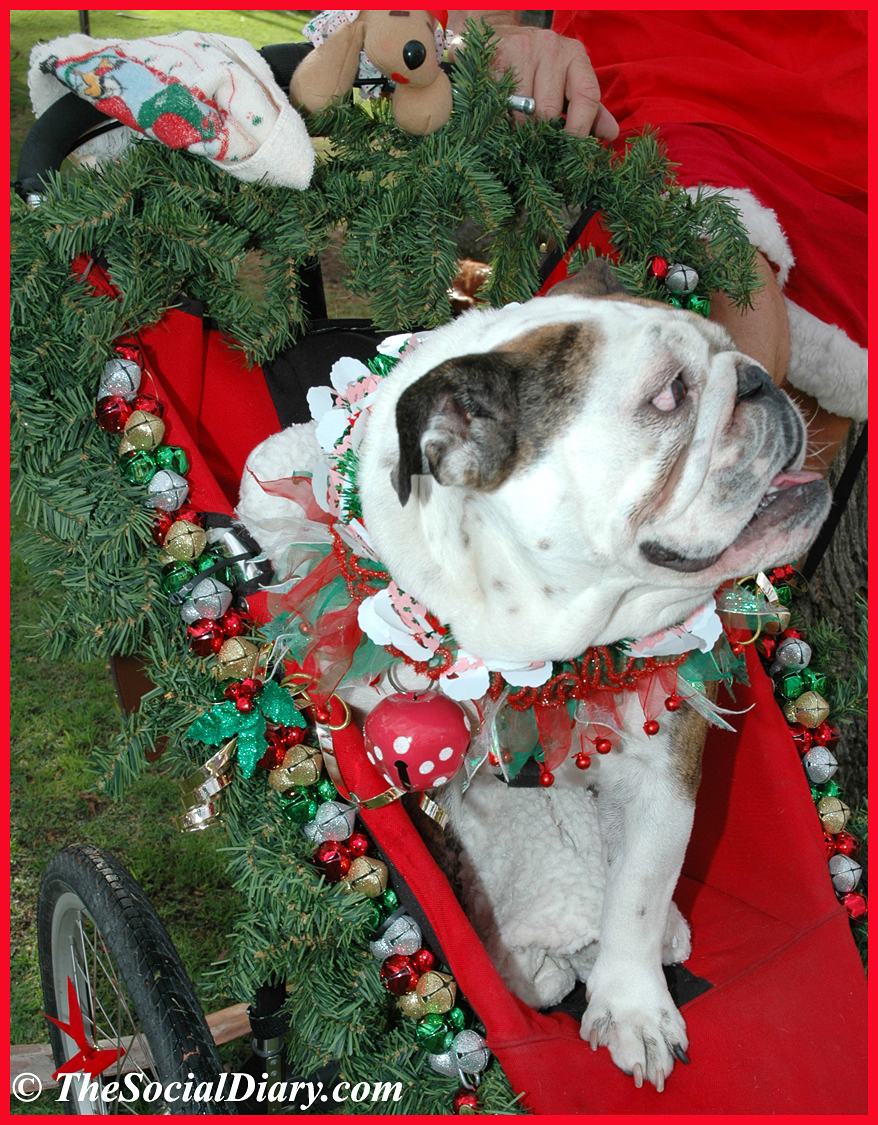 A festive cutie
They're off!
Hurry up Daddy ** let's say hi to this one!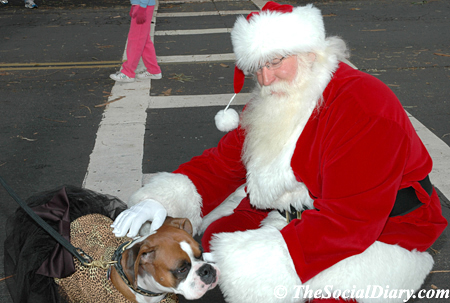 Wow! Santa Claus knew my name!
This is so fun!
Are they canine supermodels?
Ann Farhood ** Runners of all fashion!
How did this guy run in those 'running shoes!? ** Run Spot Run! ** OOps timeout to say hi to this guy!
Serious running fun and serious sniffing.......
...oh you want to play do you??

everybody was kung foo flirting....
Elvis!! ** The two GQ runners ** Rudolph and 'her' team
Cute reindeer ** Mommie and me in a photo with the reindeer ** Veronica Braun and Andrea Muir aka mother of VeroniCat!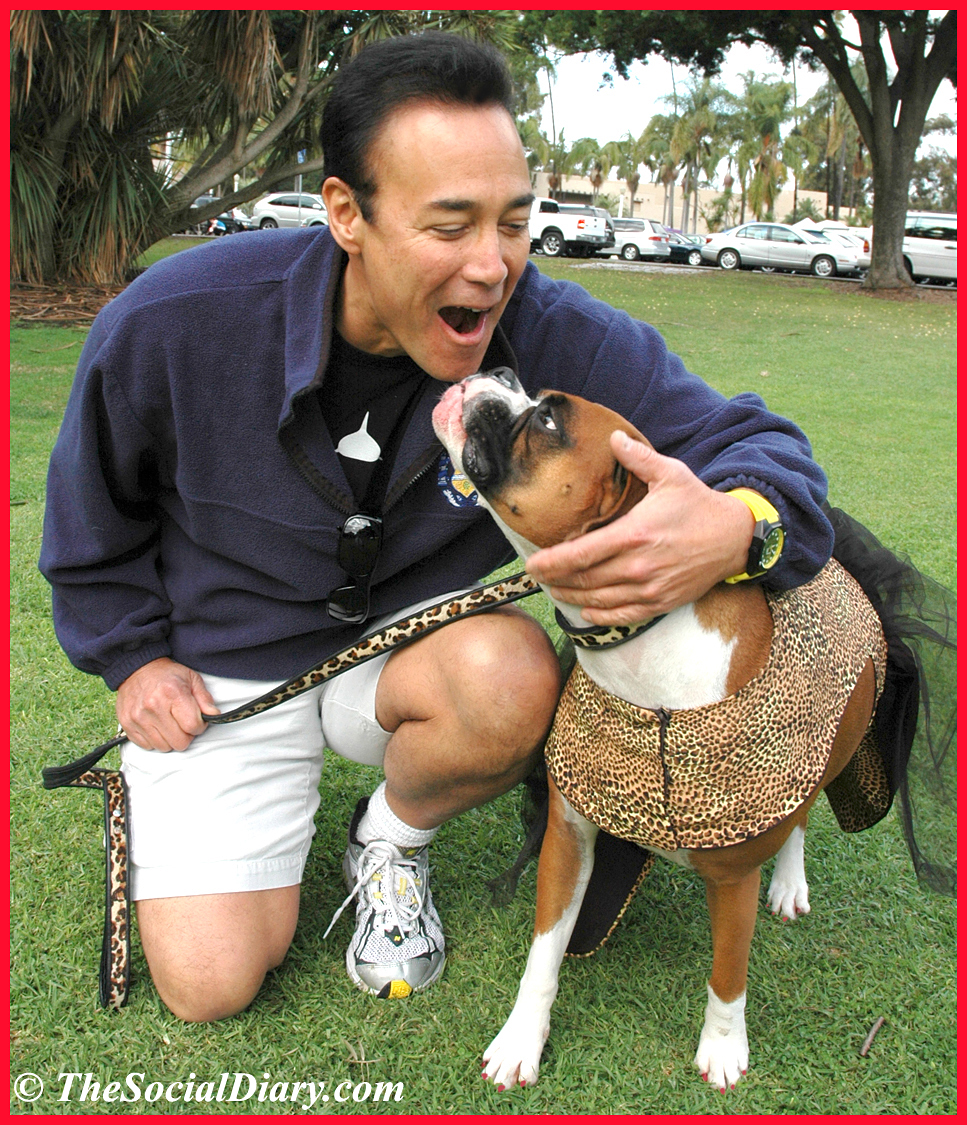 That was so fun Daddy!
This column is dedicated to Roxy the Boxer, who I loved and sponsored from the San Diego Humane Society.
Til next time!
click here for Kima's first column
click here for Kima's second column
click here for Kima's third column
click here for Kima's Halloween
About Kima. Kima is a rescue boxer. Her favorite charities are: the San Diego Humane Society and the Humane Society United States, P.A.W.S., The Arthritis Foundation of San Diego, the San Diego Animal Advocates and the Spay Neuter Action Project, the San Diego Animal Support Foundation, the Helen Woodward Animal Center, Boxer Rescue L.A., Boxer Rescue Orange County, and any event Mommie and Daddy go to so that she can get a matching gown to Mommie's!

Warning ** photos, video and writing on this site are the
copyright of The Social Diary, San Diego Social Diary
no reproduction of any part or parts is allowed without written permission by The Social Diary