~ The Social Diary ~
~~~~~~~~~~~~~~~~~~~~~~~~~~~~~~~~~~~~~~~~~~~~~~~~~~
Donna Marsh Grand Opening in La Jolla
"I was thrilled with the turn out and got so many compliments on the merchandise. We wanted to establish ourselves in the La Jolla community. And knowing that Las Patronas donates to several different charities, we thought that would be a good choice to open with." - owner, Donna Steinback
The evening of January 26th, 2008 rained but it was no ordinary evening in La Jolla. At 7712 Fay Avenue guests arrived for the Grand Opening of the new Donna Marsh boutique. Already culling a lot of fashionista buzz, this evening sealed the deal marking Donna Marsh as the 'go to' place to shop for San Diego's well dressed.
More than 150 'must have' designers are featured including Badgley Mischka, Trina Turk, Tag Jeans, Marc Bower Glamit, and a mind boggling spread of unique jewelry, purses and more.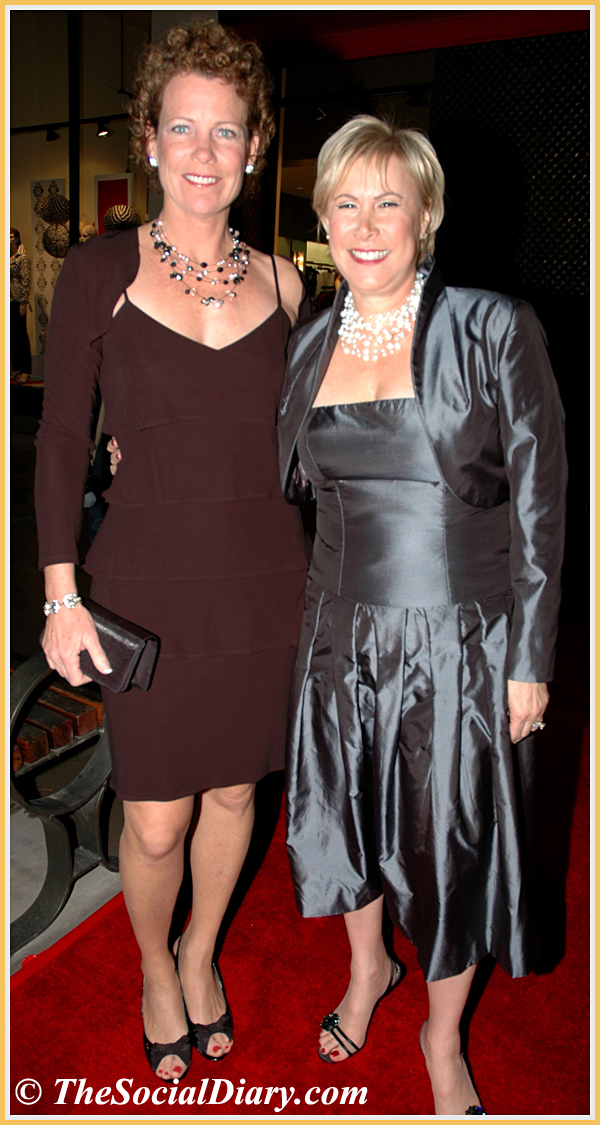 Las Patronas President Barbara Mulligan and Donna Marsh Boutique owner, Donna Steinback
And the well dressed came for more than a fashion show. Owner Donna Steinback tied the event's live auction prizes and shopping to benefit the very worthy Las Patronas organization. Las Patronas are those fabulous hardworking gals with big hearts, who have organized the Jewel Ball for over 60 years to benefit annually selected San Diego organizations.
As Jack Berkman stated, "Donna Marsh is an amazing women's store that, is leading the reinvention of San Diego as a fashion Mecca. This caliber of a store called for a glamorous grand opening fashion event that was not only memorable, but on par with red-carpet openings in Los Angeles and New York." Jack knows. He is king of Berkman PR for a reason. And he's rather the snappy dresser too.
Hot was the fashion show. Wearable clothing with a fashionable edge.
Among those there applauding a great show and evening were Las Patronas President Barbara Mulligan, Jeanne Larson of The Collector Fine Jewelry, Past Las Patronas President Terry Cooper in a new leopard cocktail dress from Donna Marsh of course, Esther Nahama, Carol Karlovich, jewelry designer Loraine Levy and her husband Issac Levy, Taylor Miller of Salt Lake City and La Jolla, Cecilia Post, Lisa Westhem, Andrea Naversen, Maggie and Bob Watkins, he's running for Congress you know, Joyce Clark, a cousin to international model and actress Amber Valletta, Kristi Pieper Rossbacher, hat designer Diana Cavagnaro, Constance Hughes in a fun leopard dress and black stiletto boots with Rick Wildman on her arm, and Dianne York-Goldman.
Dianne loved the event and it's charity purpose. "Donna Marsh did not let the weather stop her. She was able to organize an amazing fashion show, tented, of course, with incredible lighting and the top elite models of San Diego parading down the runway with the beat of the music. The attendance was maximum with people shoulder to shoulder. All enjoying the show, cocktails, food, and this amazing new store in the village of La Jolla with its chic clothing. I was fortunate to bid and win the Eiffel Tower purse like the one Sarah Jessica Parker used in Sex and the City." And Dianne was happy to see her bid money go to charity too!
Rain it did and no one cared.
"The event was spectacular! We had more people than we expected…if you can believe it I think the rain actually helped the attendance at the event. To prepare for the rain we covered the whole event with a tent and made the atmosphere of the fashion show incredible" remarked Jack Berkman.
"Even a few sprinkles couldn't dampen the fun being had by all at the opening of Donna Marsh" said Kristi Pieper Rossbacher.
Donna Marsh Boutique owners Donna and Mark Steinback were thrilled with the opening and more. As Donna told us, "Mark and I were so excited to open Donna Marsh in La Jolla. It is a community we have always loved and are happy to be a part of. Being able to contribute a portion of the proceeds from that day's sales to Las Patronas, an organization that does so much for San Diego, is very rewarding and our way of giving back to a city that has welcomed us with open arms."

Enjoy the photos!
Donna Marsh Boutique in La Jolla
San Diego Police Department's Finest providing extra security ** Lovely appetizers were provided by Executive Chef Miguel Martinez of the Palm Restaurant
Guests ** Jack Berkman with Barbara Mulligan ** Carol Karlovich and Esther Nahama
Mark Steinback ** Diana Cavagnaro ** Taylor Miller ** Diana Cavagnaro with Jack Berkman
Terry Cooper ** Loraine and Issac Levy
Andrea Naversen with Lisa Westhem ** Terry Cooper with Guests ** Donna Steinback with her daughter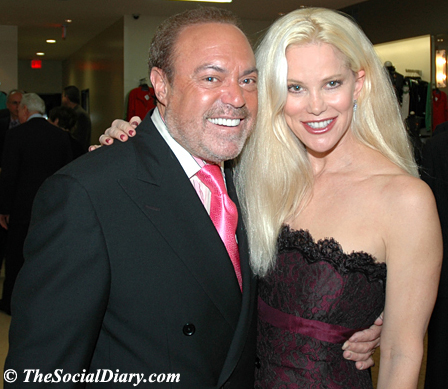 Jack Berkman with Margo Schwab in Badgley Mischka
Joyce Clark ** Joyce Clark with Guests ** Constance Hughes with Rick Wildman
Cecilia Post ** Jeanne Larson
Maggie Watkins with Guest ** Jennifer Roach and Kristi Pieper Rossbacher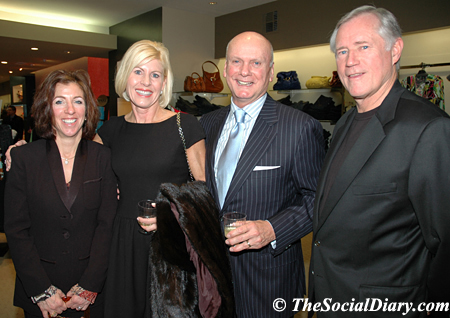 Maggie and Bob Watkins with Guests
Enjoy the Donna Marsh of La Jolla Fashion Show!
For more information about Donna Marsh of La Jolla please visit ( www.donnamarshlajolla.com )

To learn more about Las Patronas and the Jewel Ball please click www.laspatronas.org
reported by Margo Schwab
* Margo Schwab, formally known as Margaret E. Schwab, has produced, written, interviewed and photographed for various media organizations since 1989. Schwab attended Holton Arms School, La Jolla Country Day School and La Jolla High School. Schwab has a B.A. from Scripps College, spenta a business internship with S.A.I.C., Science Applications International Corporation, and earned a Masters of Business degree, M.B.A., from the University of San Diego. Schwab volunteers for numerous charity organizations. She also continues to lobby for water safety and for family violence mitigation. Schwab is the editor of The Social Diary. Margo is currently writing a book based on La Jolla.
Warning ** photos, video and writing on this site are the
copyright of The Social Diary, San Diego Social Diary
no reproduction of any part or parts is allowed without written permission by The Social Diary