~ The Social Diary ~
~~~~~~~~~~~~~~~~~~~~~~~~~~~~~~~~~~~~~~~~~~~~~~~~~~
Mainly Mozart Amadeus Gala 2008
"We are so grateful to Alexe Pearson and Arlene Esgate and their hard-working gala committee, as well as to the Mainly Mozart's professional staff for their great work in making this year's gala such a success. Most of all, I thank our wonderful patrons for their support and dedication to Mainly Mozart."- Mainly Mozart Executive Director, Nancy Laturno Bojanic
On January 19th, 2008, Mainly Mozart celebrated 20 years of presenting world class musicians and programs to the San Diego and Baja California communities. And what better way to do it than hosting a gala at the Hyatt Regency La Jolla. Black tie attired attendees enjoyed a reception featuring Barefoot Wines, a Mojito Bar, select restaurant specialties, a silent auction, followed by a superb dinner 'orchestrated' by Executive Chef Hans Sebelin.
Dinner started with bibb salad in a radicchio cup with candied pistachios, goat cheese, tomatoes and a champagne vinaigrette, followed by a choice of braised beef short ribs with Port wine demi glace, or roasted halibut with lemon cream sauce, or a vegetable strudel. The grand finale was either chocolate decadence cake or lemon custard with whipped cream and berries. Don Caulfield oversaw the dinner.
Tables were resplendent with varying themes from Sally B. Thornton's RED table, to others with musically Mozart themes woven in.
After dinner guests enjoyed performances by the incomparable Harumi Rhodes, Che-Yen Chen and Barry Gold. A magical moment when Mainly Mozart turned into 'Mainly 'Bravos' for the performers.
Patron Lola Green had this to say. "I have heard it said that a good life is made up of special moments that take your breath away. This was one of those moments ....the design tables were beautiful, the recital music wonderful.."

Vice Chairperson Arlene Esgate
Among those there enjoying and hitting all the correct fashionable notes were Mainly Mozart Maestro David Atherton, Inge and Peter Manes, Gallina Epifanova, Lynne and Steve Wheeler, Lola and Walter Green, Ellen and Tim Zinn, Sue and Ron Heller, Reena and Sam Horowitz, Petra and Georg Hochfilizer, Sandra House and Ed Johnson, Judy and Jack White, Carol Karlovich, Joyce Gattas, Carolyn Clark, Esther Nahama, Veryl Mortenson, Ed Warren and Richard Kendrick, Sally B. Thornton in beautiful silks from Asia, Ingrid Hibben and Victor LaMagna, Ricco Antonio, Gina Dronet, Humberto Lopez, Chair Alexandra Pearson, and Arlene and Richard Esgate.
Arlene Esgate was sparkling literally as Vice Chair of the event. Her husband Richard had just done some serious birthday shopping for her while they were in St. Thomas recently. And she wore her birthday presents brilliantly.
Sparkling too are the aims and results of Mainly Mozart to bring the music and life stories of Mozart and other great composers into the lives of school children and adults alike.
Gala Chair Alexe Pearson remarked "it takes a year of work to produce an event like this. We had a marvelous committee and a lot of great people working with us, especially San Diego's designers who put an incredible amount of thought into their creations to interpret our Mozart music theme."
BRAVO!!
Enjoy the photos!
Dr. Donna Marsh with Joni and Dr. Elliot Alpert ** Reinette and Marvin Levine with Reena Horowitz
Lynne and Dr. Steve Wheeler ** Greg and Lynde Kaminsky ** Sally B. Thornton
Teresa Fischlowitz ** Nancy Laturno Bojanic ** Jacquie Casey ** Jeanne Jones and Don Breitenberg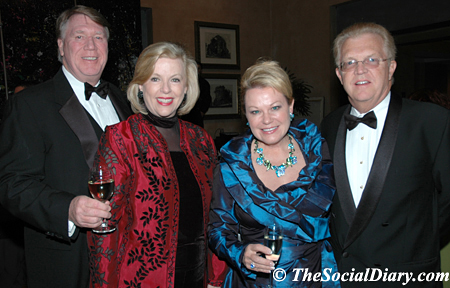 Bob and Mary Jo Wisely with Jacquie and Michael Casey
Teresa Fischlowitz with Alexandra Pearson ** Bridget Naso ** Audrey Geisel with Larry Scott
Cruz and Executive Chef Simon Lynn of Mosaic Catering ** Pascal Courtin ** Walter and Lola Green
Marvin and Reinette Levine ** Preston Turegano ** Nancy Laturno Bojanic
To learn more about Mainly Mozart, please visit www.mainlymozart.org
reported by Margo Schwab
* Margo Schwab, formally known as Margaret E. Schwab, has produced, written, interviewed and photographed for various media organizations since 1989. Schwab attended Holton Arms School, La Jolla Country Day School and La Jolla High School. Schwab has a B.A. from Scripps College, spenta a business internship with S.A.I.C., Science Applications International Corporation, and earned a Masters of Business degree, M.B.A., from the University of San Diego. Schwab volunteers for numerous charity organizations. She also continues to lobby for water safety and for family violence mitigation. Schwab is the editor of The Social Diary. Margo is currently writing a book based on La Jolla.
Warning ** photos, video and writing on this site are the
copyright of The Social Diary, San Diego Social Diary
no reproduction of any part or parts is allowed without written permission by The Social Diary