The Social Diary Salutes José L. Cruz
Chief Executive Officer, San Diego Council on Literacy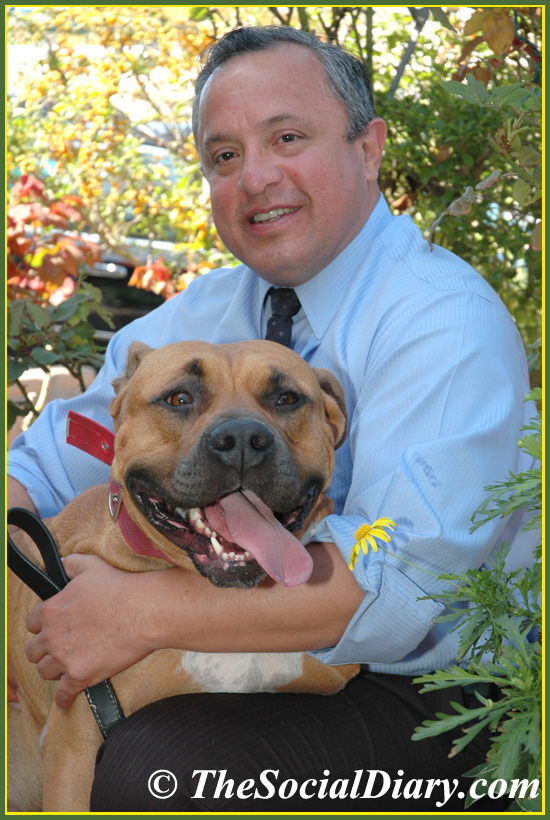 José and Mjöllni (Melnar), that's the Norse name of Thor's hammer and it means...'Crusher' or 'Grinder!' José is the 'Uncle' of Melnar, a very nice Pit Bull. Melnar has 3 legs after an accident with a car. José took care of his medical bills, and Melnar has been a happy and grateful 'hopper' ever since. (Photographed at Barbarella's Restaurant)
Biggest Goal for Literacy: I'd like to see a whole new wave of high school graduates and college graduates from families and schools that don't typically experience educational success. We need to give greater attention to parenting skills, adult literacy,and parent involvement. We have the answers. We just need to apply them on a greater scale. This requires more in the way of community investments.
Favorite Charities: Catholic Charities, International Dyslexia Association, PLAN. Rotary Club. Has been involved in quite a number of their projects around the globe.
José is also a big fan of all literacy programs.
For more information about the San Diego, please click on www.literacysandiego.org
And enjoy reading!!
** photos, video and writing on this site are the
copyright 2009 of The Social Diary, San Diego Social Diary, MargoMargo.com
no reproduction of any part or parts is allowed without written permission by The Social Diary
________________________________________________________________________