Where Pets Are Always In Style.....

~ The Social Diary ~
the on-line magazine covering High Society ..& more
____________________________________________________________
On the "Hot List" - Sally and John Thornton, and Steve Thornton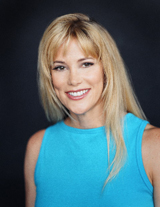 photo credit - Jeremiah Sullivan
July 6th, 2006
The Social Diary Columnist & Photographer Margo Schwab

The Social Diary salutes the Thorntons for the multitude of good deeds they do for the San Diego Community. Their good deed list is formidable and so is the time, money and energy behind it. Sally and John Thornton, along with their son Steve have contributed to so many good causes.
These include the San Diego Opera, UCSD Thornton Hospital, UCSD Cardiovascular Center, the San Diego Leukemia Society, the Epilepsy Foundation of San Diego County, the Old Globe Theatre, the La Jolla Playhouse, San Diego Baykeepers, Museum of Art San Diego, San Diego Symphony, Mama's Kitchen, San Diego Crime Stoppers, the American Heart Association, the Arthritis Foundation, The Contemporary Museum of San Diego, and, well, you get the idea.
Formidable. But yet their philanthropy is done in a genteel low key style. And they get results too. One event that Sally was Honorary Chair of, was last year's Gingerbread City Gala for the Epilepsy Foundation of San Diego County. The event grossed big bucks with an incredible net return. $170,000 of $180,000 dollars raised will go towards the organizations goals which are "prevention and control of epilepsy and its consequences, and to helping families overcome the problems associated with this condition."
And as always, one of the winning gingerbread houses was on display at the Thorntons' very posh and fun private New Year's day party. Guests bring their dogs, lunch on Thornton's Cafe Champagne cuisine and enjoy a day mingling with a who's who collection of people. Sally always kindly reminds guests to have some of the black eyed beans for good luck in the year too.
Good luck it is and smarts. John Thornton's woven an incredible business history leaping Wavetek to the major leagues. John continued his business success with Micom, Mitek and a multitude of other companies.
Sally shows her smarts and generosity by continuously serving on Boards of organizations, Chairing events, and writing a number of books including The Art and Crafts Architects of California, and Daring to Dream. And Sally does so with pizzazz.
The Thorntons are the owners of Thornton Winery in Temecula, with its award winning wine, acclaimed restaurant Cafe Champagne, and fun events venue including the very popular Champagne Jazz series.
Their son, Steve Thornton, worked five years as General Manager at Thornton Winery. Steve is now the President of the winery. He can be frequently found at San Diego charity events pouring the wine himself. Steve is not only following in his parents' philanthropic footsteps, he is doing so with charm. Handsome charm. Steve is easily one of the most eligible bachelors in San Diego.
The Social Diary hereby salutes the Thorntons, Sally, John and Steve for giving back so generously to San Diego and San Diegans..... and the wine is great too!!
pictured here - John and Sally Thornton at the San Diego Opera Gala Opening with Paul James Baldwin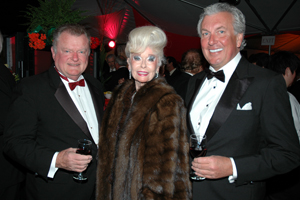 pictured here - Cafe Champagne's Executive Chef Will Greenwood with Steve Thornton and Sally and John Thornton at a Thornton Winery's Jazz Concert in May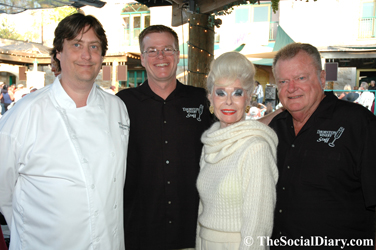 pictured here - John Thornton and Steve Thornton at a Thornton Winery's Jazz Concert in May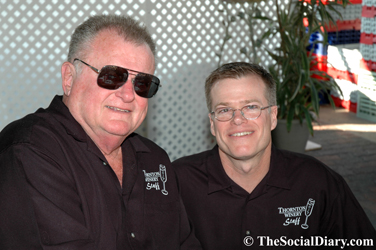 pictured here - Honorary Chairs Sally Thornton with Julie Sarno at the Gold Diggers' annual "Hats Off to San Diego"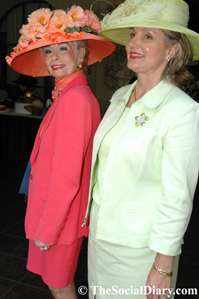 * Margo Schwab has produced, written, interviewed and photographed for various media organizations since 1989. Schwab has a college degree from Scripps College and a Masters of Business degree from the University of San Diego. Schwab volunteers for numerous charity organizations. She also continues to lobby for water safety and for family violence mitigation. Schwab is the owner and publisher of the Social Diary.

back to New this Week.....Margo Schwab Archives...... Home
Warning ** photos, video and writing on this site are the
copyright of the author, The Social Diary, San Diego Social Diary, margomargo.com and Margo Schwab.
no reproduction of any part or parts is allowed without written permission by Margo Schwab