~ The Social Diary ~
the on-line magazine covering High Society ..& more
____________________________________________________________
Symbolic Motor Car Company - The New Beginning

March 28th, 2006
The Social Diary Columnist & Photographer Margo Schwab
If you like cars, really fine cars, it's hard to resist an invitation from Symbolic Motor Car Company to come view their new service, restoration and event support centers in Sorrento Valley. A brilliant sunny California day March 25th, 2006, was the perfect day to view and test drive some incredible automobiles.
For test driving, the 2006 Bentley Continental GT and Continental Flying Spur, the Lamborghini Gallardo SE, the Lotus Elise, and the Rolls-Royce Phantom were available. And test drive and buy guests did.
Others enjoyed viewing very specialized cars like the new Bugatti Veyron, it's a cool $1.2 million and worth every cent. More unique cars there included a 1963 Ferrari 250 GTO. It's one of 33 in the world. Pure racing, pure history. It can purr for you too, for $10 million. A collector's dream car.
(pictured here - Scott Johnston with his new AMG Mercedes, the new Bugatti Veyron)
And there were so many more cars on hand. Driving enthusiasts arrived in style. Jeanne Jones, the famous "Cook It Light" book author, and her husband Don Breitenberg were there. They are looking for a new Rolls Royce. They already have one, but two sometimes really is better than one.
Ray Grimm, a big fan of Lamborghini's, arrived in one his many. The name plate says it all, A DIABLO. Not sure if that is just about the car name, or the fact that Ray is devilishly handsome.
More cars there for the viewing included a Mercedes Gullwing, a Fiat Dino, and a slew of slick new 2006 models. The new models included a Mercedes Maclaren, a Bentley Arnage, Aston Martins, the Lamborghini Gallardo Coupe and Spyder as well as the Murcielago. There was the Lotus Elise and Exige on hand also, the Saleen S7, and the Spyker C8. You get the idea. Pebble Beach Concours South.
And Symbolic is already taking orders for the 2007 Phamtom Convertible, named the Phantom 100EX. Priced roughly in the mid-300's, it's creating quite the buying buzz. Mike Viscuso of the Viscuso Entertainment Group, that includes the On Broadway Event Center, DECO'S, E Street Alley, J.J Steakhouse and so much more, is looking forward to the arrival of his Phantom 100EX next year. Now that's riding in style!
For more information, please visit the showroom at 7440 La Jolla Boulevard in La Jolla, 858-454-1800, or visit Symbolic Motor Car Company.
(pictured here - Symbolic Motor Car Company President Marc Chase with his daughter Kristina, Jeanne Jones and Don Breitenberg)
(picutred here - Olivia Falcone, Dr. Emeka Okwuje with Mike Viscuso)
(pictured here - the metal skeleton of the Phantom, and the finished product)
(pictured here - a gift basket that arrived after one car owner's purchase)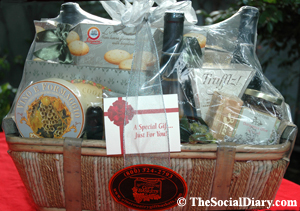 back to New this Week.....Margo Schwab Archives...... Home
Warning ** photos, video and writing on this site are the
copyright of the author, The Social Diary, San Diego Social Diary, margomargo.com and Margo Schwab.
no reproduction of any part or parts is allowed without written permission by Margo Schwab