~ The Social Diary ~
the on-line magazine covering High Society ..& more
____________________________________________________________
Thornton Winery Champagne Jazz Series Kicks Off!

May 27th, 2006
The Social Diary Columnist & Photographer Margo Schwab
It's a recipe for a great afternoon! Mix in world class jazz, award winning Thornton Wine, award winning cuisine from Cafe Champagne's Executive Chef Will Greenwood, and set it all in a spectacular, intimate venue, at the Thornton Winery and voila --- the perfect recipe for fun!
And Hosts Sally and John Thornton, and Steve Thornton encourage guests to have fun and they do.
(pictured here - Chef Will Greenwood, and the Thorntons, Steve Thornton, and Sally and John Thornton of the Thornton Winery)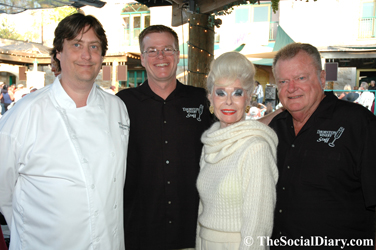 It was easy May 7th to have fun too as Saxophonist Steve Eugene Groove and his band, Euge Groove got started. Groove they did, and it was contagious. Guests got up and danced. Smiles were everywhere.
Many enjoyed courses of a gourmet supper paired with Thornton NV Blanc De Noir, Thornton 2004 Chardonnay and Thornton NV Cuvee de Frontignan.
And with a Summer line up including Hiroshima, Ottmar Liebert, Brian Culbertson, Mindi Abair and Keiko Matusi, Bobby Caldwell, Acoustic Alchemy and David Sanborn, it's no wonder the Thornton Winery is the place to be for the best of Summer Fun!
For more information regarding tickets to these and other special events year long, visit WWW.THORNTONWINE. COM or ring 951-699-3021. See you there!
(pictured here - Scott Johnston, Susan Clifton and Curt Ball)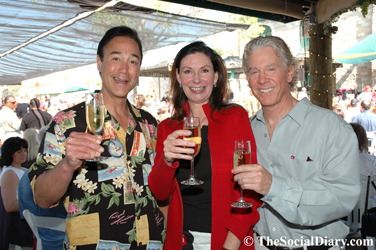 (pictured here - Margo Schwab with John Thornton)
(pictured here - Sally and John Thornton, proprietors of the award winning Thornton Winery and Cafe Champagne restaurant)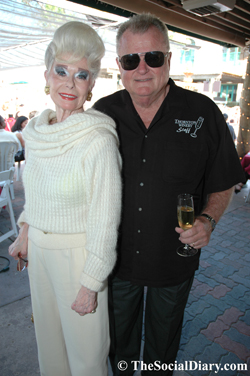 (pictured here - Steve Thornton, President of Thornton Winery)
(pictured here - Steve Eugene Groove playing up close and personal)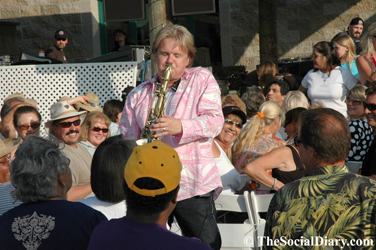 (pictured here - John Thornton and Steve Thornton)
(pictured here - Scott Johnston with Host and Thornton Winery Owner, Sally Thornton)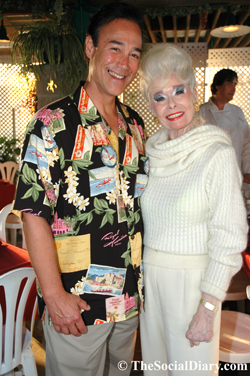 * Margo Schwab has produced, written, interviewed and photographed for various media organizations since 1989. Schwab has an college degree from Scripps College and a Masters of Business degree from the University of San Diego. Schwab volunteers for numerous charity organizations. She also continues to lobby for water safety and for family violence mitigation. Schwab is the owner and publisher of the Social Diary.
back to New this Week.....Margo Schwab Archives.....Parties...... Home
Warning ** photos, video and writing on this site are the
copyright of the author, The Social Diary, San Diego Social Diary, margomargo.com and Margo Schwab.
no reproduction of any part or parts is allowed without written permission by Margo Schwab