~ The Social Diary ~
the on-line magazine covering High Society ..& more
____________________________________________________________
Thom Tullis's Surprise Birthday

June 19th, 2006
The Social Diary Columnist & Photographer Margo Schwab
As Director of the worldwide TravelMed doctor service, Thom Tullis may know lots of things. But he didn't know this one. Thom and his fiance Karina Lion (Liontel Global Partners) weren't really going out to dinner with Evva and Mike Fenison for Thom's birthday. Instead they were walking into a brilliantly orchestrated birthday party at the Fenison's. Organized with precision by Karina.
Those joining in the festivities included Cindy & Tom Warwick, Cathy & Joe Spencer, Margo and Scott Johnston and Susan and Matt Shillingburg.
Once you got past the driveway full of Aston Martins, Porsches and more, fun included a tour of the Fenison's new estate in Point Loma, a delicious meal prepared by private Chef Jessica, a lot of toasts, and a beautiful cake by the University Club.
Everyone should have it so delicious on their birthday!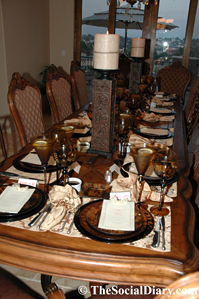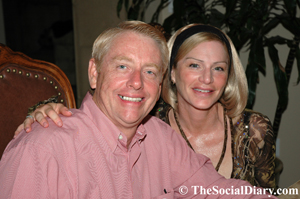 * Margo Schwab has produced, written, interviewed and photographed for various media organizations since 1989. Schwab has an college degree from Scripps College and a Masters of Business degree from the University of San Diego. Schwab volunteers for numerous charity organizations. She also continues to lobby for water safety and for family violence mitigation. Schwab is the owner and publisher of the Social Diary.

back to New this Week.....Margo Schwab Archives...... Home

Warning ** photos, video and writing on this site are the
copyright of the author, The Social Diary, San Diego Social Diary, margomargo.com and Margo Schwab.
no reproduction of any part or parts is allowed without written permission by Margo Schwab