~ The Social Diary ~
the on-line magazine covering High Society ..& more
____________________________________________________________
Comedy For a Cure 2006

April 15th, 2006
The Social Diary Columnist & Photographer Margo Schwab
A dedicated and giving group gathered at The Music Box@Fonda in Hollywood April 2nd, 2006 to support Comedy for a Cure, a cause dedicated to the fight against tuberous sclerosis, or TS. A VIP celebrity reception started this evening with celebrities mingling in with guests and a deluge of media.
Big names there included pretty Teri Hatcher, the award winning star of Desperate Housewives, who also served as Honorary Chairperson. Hatcher was joined by Calista Flockhart, Patricia Heaton and Jane Kaczmarek as hosts. More there joining in the fundraising cause were the event's emcee Billy Bush, Jennifer Love Hewitt, Bill Maher, Honoree Julianne Moore, Jimmy Kimmel, Sarah Silverman, Marissa Jaret Winokor, Bob Saget, Joshua Malina, and Honoree Charlie Koones from Variety Magazine.
The reception was a warm up to some big bidding during the live auction. A pair of paintings donated from renowned artist Colleen Ross went for quite a sum. Teri Hatcher showed her very generous spirit too. She placed the winning bid for snazzy trip to Europe.
Additional funds were raised by Clothes OFF Our Back Foundation which partnered with this event. Through this foundation, celebrities generously donated their handbags, really nice handbags, to further the funds raised.
The evening was a lot of fun for a great cause. TS affects a child in the world every 20 minutes. TS is a genetic disorder that causes tumor growth in the vital organs, ie., the brain, heart, skin, kidneys, eyes and lungs. It can happen at anytime, for no known reason. Health problems that can evolve are heart disease, epilepsy, kidney failure and more. More people suffer from TS than cystic fibrosis, yet it remains lesser known.
Events like Comedy for a Cure are changing that. Great advances are being made in finding a cure for TS due to the generosity of so many people. To learn more about TS, please click CURE TS.
(pictured here - Teri Hatcher and friends including artist Colleen Ross. All photos are courtesy and copyright of Kurt Grubaugh)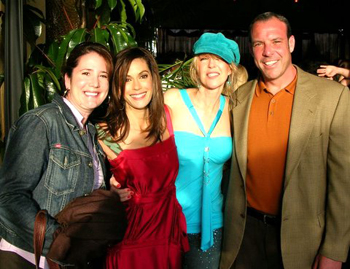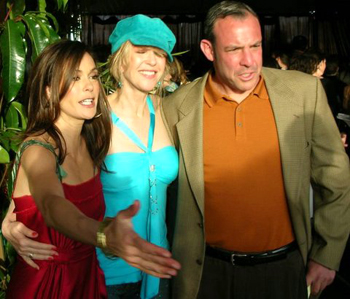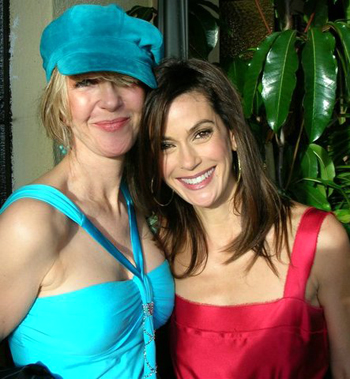 * Margo Schwab has produced, written, interviewed and photographed for various media organizations since 1989. Schwab has an college degree from Scripps College and a Masters of Business degree from the University of San Diego. Schwab volunteers for numerous charity organizations. She also continues to lobby for water safety and for family violence mitigation. Schwab is the owner and publisher of the Social Diary.

back to New this Week.....Margo Schwab Archives...... Home
Warning ** photos, video and writing on this site are the
copyright of the author, The Social Diary, San Diego Social Diary, margomargo.com
and Margo Schwab.
no reproduction of any part or parts is allowed without written permission by Margo Schwab