~ The Social Diary ~
the on-line magazine covering High Society ..& more
____________________________________________________________
FGI San Diego - A Night of Stars!

April 10th, 2006
The Social Diary Columnist & Photographer Margo Schwab
(page 1 of 2 pages)
The Fashion Group International of San Diego, FGI San Diego as it is known, hosted the Tenth Annual Style Awards Gala at the Sheraton San Diego Hotel and Marina April 1st, 2006. The theme, Night of Stars began with cocktails, conversation and more.
One smart and chicly dressed guest didn't miss a beat on the event's date and theme."EXTREMELY EXCITING and FABULOUSLY FASHIONABLE! 'NO FOOLIN!'" said Sally B. Thornton. Sally accessorized her suit with a fun and feathery boa. Color coordinated of course.
KUSI's news anchor and FGI guest celebrity model Aimee Fuller agreed with Sally, and added this."Fashion has never been more fun! What a great job the FGI Group does. San Diego is lucky to have them working in the community."
And the event was lucky to have some very special guests there as well. Headline celebrity designer to the young and the fashionable, Trina Turk, was there with her friend Jonathan. In fact Trina has a lot of "friends." Trina's designs are a favorite of many, including television's Friends star Jennifer Aniston. Ironically Jennifer's current movie, Friends With Money comes out this month.
(photo of Jennifer Anniston - courtesy of Sony Pictures Classics)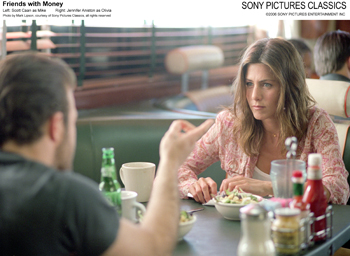 San Diegans receiving special fashion awards included Leonard Simpson of the international Fashion Forward. Leonard is also known as the very popular "Style Guy" for KUSI television. Leonard wore a custom Trina Turk jacket printed in vibrant Indian colors. He took it up a notch though Emeril style. Leonard added some heat by wearing a beautiful turquoise shirt underneath which matched the color of his eyes.
(pictured here - "Marilyn" with Scott Johnston, Brittany with her father and honoree, Leonard Simpson, Jessica and her mother, Mary Johnson)
Others honored this night were Joy Sprink, Regina Kurtz, Rachelle Graefen, Mary Montgomery Johnson, and Karen Rowley, and Andrea Naversen of KUSI.
Community Volunteer awardee Mary Montgomery Johnson had this to say. "What a wonderful event! FGI did a marvelous job of celebrating the success of so many talented and giving people in the fashion industry while also raising funds to fight cancer. It was a joyous evening! I felt very humbled and honored to receive a Style Award for Community Outreach in the company of so many talented, giving people."
(pictured here - designer Fedor, Jonathan, Trina Turk and Diana Cavagnaro, Rod Casey and his wife Karolyn Kovtun)
(pictured here - Sally and John Thornton of Thornton Winery, Dr. Mitchel P. Goldman and Dianne York- Goldman of La Jolla Spa MD, Dianne is wearing a Sue Wong gown, Lee Maturo)
(pictured here - well dressed guests, Lael and Jay Kovtun, Aimee Fuller)
The evening was about more than just fashion and awards though. FGI San Diego helps provide scholarships to students earning degrees in majors leading to careers in the fashion industry. This event also raised important monies for the Ida M. and Cecil H. Green Cancer Center of Scripps Clinic's Division of Hematology/Oncology. The Center's Director, Dr. Alan Saven, noted that over a third of San Diegan cancer patients come to the Green Cancer Center for the critical care they need. Research breakthroughs and more cancer detecting equipment will be funded in part by this event.
Awardees for the fashion scholarships were: Tasha Beckman from Fashion Careers College, Tannia Herroz from the Fashion Institute of Design, and Merchandising and Petra Ostermuenchner from San Diego Mesa College.
(pictured here - Andrea Naversen and Dwight, Scott Johnston with Rod Casey and his wife Karolyn Kovtun)
Dinner started with a limestone bibb lettuce and Belgian endive salad with sliced tomato and creamy tarragon dressing. A delicious Chicken Wellington was served up for the entree with grilled vegetables and a vegan red pepper sauce. A Chocolate dessert martini sweetened the night.
And then it was time for the live auction.
Joe Bauer presided and enticed bidders to go big for charity. Some of the enticements included a "Girls Night Out for 8." This package included a luxe spa night for eight at the #1 rated medical spa in America, La Jolla Spa MD. Facials, DYG Mineral Makeup, skin analysis, gentlewaves photomodulations and more went to one lucky bidder and her girlfriends. Another popular auction item was an African photo safari to Zululand. One week of animal filled adventure!
Priceless though were the faces of the cancer survivor models during the fashion show. Prettily made up for the show in DYG Mineral Makeup were Priscilla Allen, Sherry Bittner-Brown, Eve Hager, Shelia Rosen, Susan Shofner and Margaret Vaughan. Their smiles said it all as they walked up and down the runway.
(pictured here - Aimee Fuller and Pat Brown with top hatted gents)
(pictured here - Nicole Miller designs)
The cancer thrivers will soon followed by more models and fashions. Trina Turk of course was included. She showed her animal print and khaki designs. Perfect for that African safari mentioned above.
More fashions on the runway included Nicole Miller, Betsy Johnson, swimwear sensations from Brigitte Couture, Eurochild, Holly Lauren, The Gentlemen's Tux Club, Tosca, Chara Designs and Fedor. Fedor gives couture a new glamorous edge with luxe fabrics cut and stitched to perfection.
There was fabulous singing during the show including great vocals from Chrissy Burns, Andria Elam, Khara Rice and 10 year old scene stealer, Frances Florendo. Someone sign this 'young Sinatra' to a recording deal fast!
The entire evening was truly a Night of Stars.
(pictured here - Brigitte Couture swimwear and the designer Brigitte)
Dianne York-Goldman had this to say. "The FGI Gala was a smashing success! Each year, the caliber of award winners grows more and more impressive. I was so proud to see friends, such as Andrea Naversen and Leonard Simpson receive their Style Awards. Andrea's acceptance speech for her media award was just as eloquent as those you see during the Oscars! The evening's hostess, Sandra Maas looked divine in her melon colored gown. The fashion show was very entertaining and enjoyed by ALL in attendance. This is an event not to be missed and one that benefits a wonderful cause!" .... fyi, Dianne and her husband Dr. Mitchel P. Goldman generously provided the medical 'spa-licious' goody bags too!
"Style Awards..."Night of Stars" is proof that Fashion is alive and well in San Diego," summed it up Diana Cavagnaro.
This FGI event had a plethora of ingredients that meshed well, all due to the skillful organization of the Chairs and Event Committee. Among them were pretty Co-Chairs Connie Conard and Gretchen Bergman. Gretchen produced and choreographed the fashion show segment as well. Also helping out immensely were Diana Cavagnaro, she owns Designer Millinery aka www.aheadproductions.com, Peggy Matthews, Sherry Bittner Brown, and oh so many more. All contribute towards the future of fashion, and a future without cancer.
For more FGI 2006 photos click HERE
Links to FGI and Scripps Clinic
* Margo Schwab has produced, written, interviewed and photographed for various media organizations since 1989. Schwab has an college degree from Scripps College and a Masters of Business degree from the University of San Diego. Schwab volunteers for numerous charity organizations. She also continues to lobby for water safety and for family violence mitigation. Schwab is the owner and publisher of the Social Diary.

back to New this Week.....Margo Schwab Archives...... Home
Warning ** photos, video and writing on this site are the
copyright of the author, The Social Diary, San Diego Social Diary, margomargo.com and Margo Schwab.
no reproduction of any part or parts is allowed without written permission by Margo Schwab