Scorpion Bay Surfing and Fishing Club

Private, Picturesque ......Scorpion Bay Hotel available! ..., founded by Fred Borrelli
~~~~~~~~~~~~~~~~~~~~~~~~~~~~~~~~
~ The Social Diary ~
all photos and content are the strict copyright of TheSocialDiary.com
no downloading!!
photos are available for purchase if it is of you!
~~~~~~~~~~~~~~~~~~~~~~~~~~~~~~~~~~
Red Rose Society Members Luncheon at Neiman Marcus
"The people we help through the Red Rose Society could one day be ourselves," - Red Rose Society Founder, Jeanne Jones.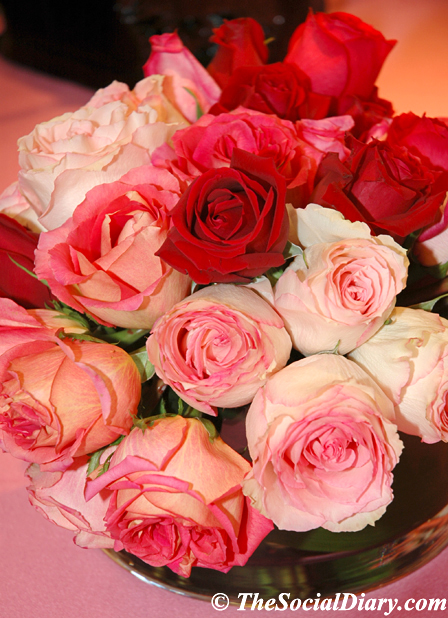 The Rose Centerpieces on the Luncheon Tables
The Red Rose Society held a members and new members luncheon February 18th, 2009 at the Neiman Marcus in fashionable Fashion Valley. Among the mix fashionably and appropriately in red, were Red Rose Society Founder Jeanne Jones.
With Jeanne at the helm, "The American Red Cross's Red Rose Society is dedicated to helping San Diego and Imperial Counties become America's most prepared communities. The mission of the Red Rose Society is to work in partnership with the Red Cross and support the local chapter by advocating preparedness, increasing community awareness of the Red Cross, and fundraising."
And the Red Rose Society raises big funds for emergency response vans.... Nearly 12 so far. A terrific accomplishment.
Among those there and dedicated to helping others in need were Anita Bye, Kathryn Fishback (she couldn't make the event but she was there in spirit), Jordan of Jordan Art Couture, jewelry designer Reena Horowitz, Ellen Zinn, Jeanne Jones and Don Breitenberg, Elisabeth Bergan, Sally B. Thornton, Reinette Levine, Vicky Holly, Heidi Gutierrez, Joyce Gattas, Lyndy Carreiro, April Bolduc, Mary Ann Ginnow, and Sherry Kline.
New members include Debbie Turner, Karen Fox, and Taylor Miller.
Taylor was inspired to join by meeting Jeanne Jones just the week before. The conversation was ten minutes and joining was a done deal. Jeanne's just that kind of smart dynamo to get people involved and to get things done!
And the luncheon had its fun mission too. Lafayette 148, fun, colorful and wearable fashions were informally modeled. Decidedly decadent clutches and satchels from Valentino, Lauren Merkin, and Manolo Blahnik shoes and more were mixed in.
Lunch was delicious and light. Grilled white fish was the entree. I won't confess to dessert!
Oh and the day, February 18th, is forever decreed by the Mayor Jerry Sanders as Jeanne Jones Day! And deservedly so.
Chris Marek, Director, Development and Communications for the American Red Cross San Diego/ Imperial Counties Chapter summed up the day and it's cause thusly. "The Red Rose Society and Jeanne Jones continue to help us preserve the San Diego/Imperial Counties Red Cross Chapter's mission despite the tough economic climate. Having Mayor Sanders proclaim February 18, 2009 as Jeanne Jones Day was befitting of Jeanne's tireless dedication."
To learn more about the American Red Cross San Diego/ Imperial counties Chapter and future Red Rose Society events, please visit, www.sdarc.org
The SDARC Vision: To become America's most prepared community.
This month, the American Red Cross celebrates Red Cross Month. The San Diego/Imperial Counties Chapter of the Red Cross would like to invite you to become a part of a life-changing experience by making a donation or volunteering at your local Red Cross chapter. To learn more about the Chapter and how you can help, please visit www.sdarc.org or www.PrepareSanDiego.org, or ring at 858-309-1200.

Please enjoy the photos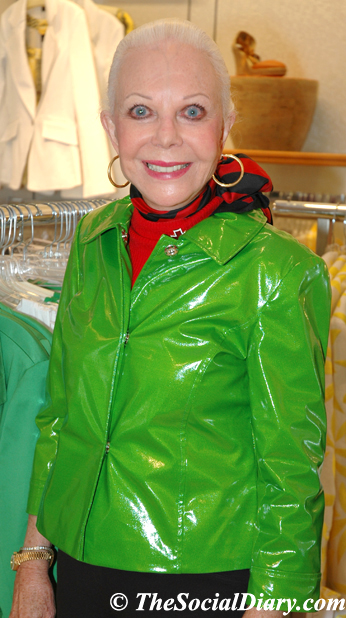 The Red Rose Society Founder, Jeanne Jones (in a green Lafayette 148 jacket)
Kay Wagner with Jordan ** Dixie Unruh with Dottie Stanley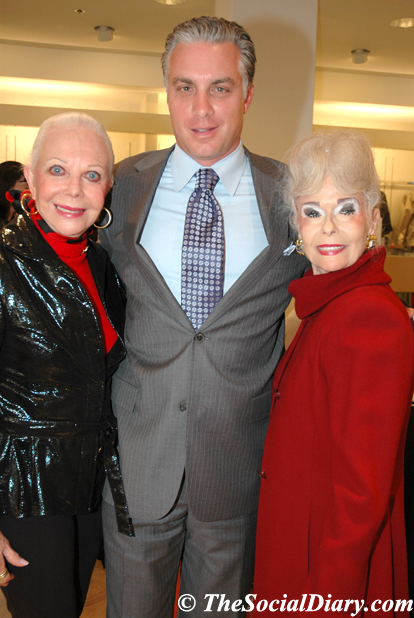 Jeanne Jones with Chris Marek and Sally B. Thornton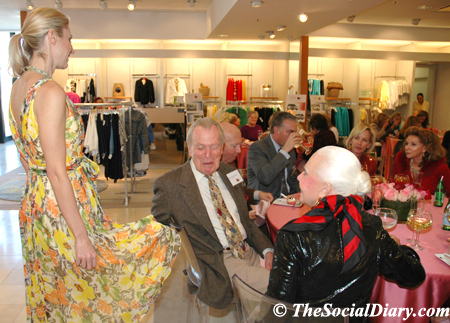 A model, with Don Breitenberg and Jeanne Jones looking on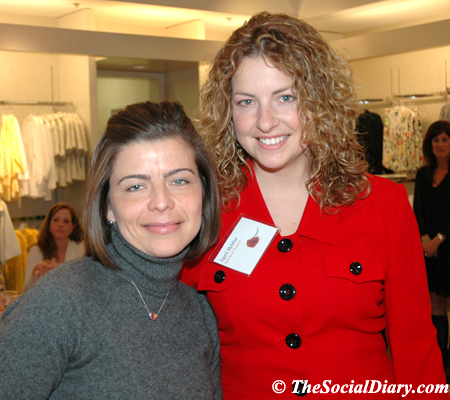 Beatriz Palomino-Young and April Bolduc representing Red Rose Society Sponsor, Sempra Energy Foundation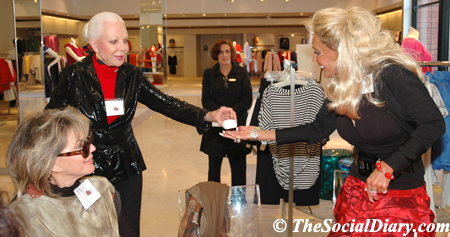 Jeanne Jones giving new member Taylor Miller a Red Rose Society pin
Karen Fox ** Taylor Miller
Joseph Craver with April Bolduc and Beatriz Palomino-Young ** Don Breitenberg admiring the Mayor Jerry Sanders decree of Jeanne Jones Day, February 18th
Bob Stefanko with Jeanne Jones ** Don Breitenberg helping deliver a Lafayette 148 top to his wife Jeanne Jones in the dressing room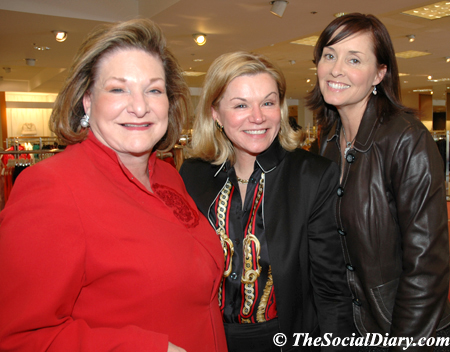 Ellen Zinn with Elisabeth Bergan and Anita Bye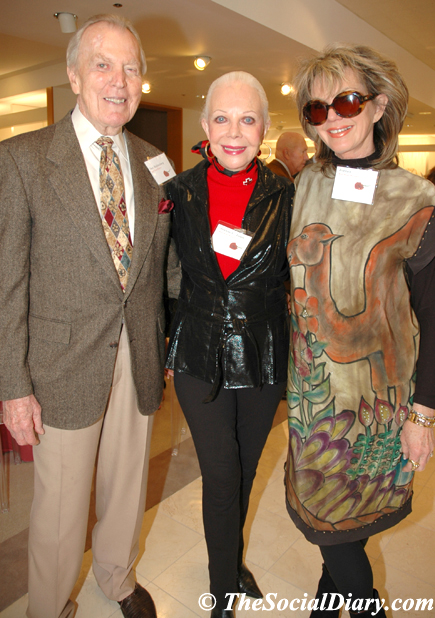 Don Breitenberg and Jeanne Jones with Jordans, Jordan is wearing her hand painted whimsical camel design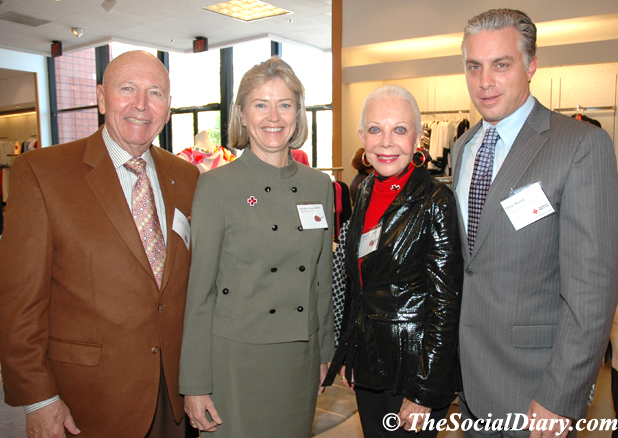 Joseph Craver with Marilyn Creson Brown, Jeanne Jones, and Chris Marek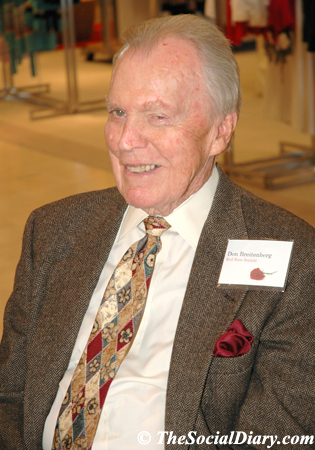 Don Breitenberg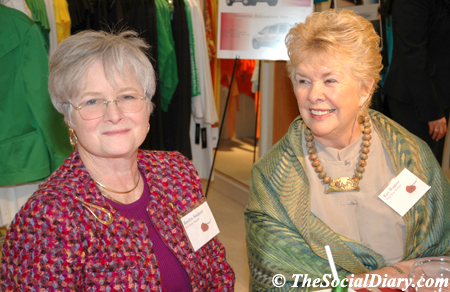 Reatha Neubert with Kay Wagner
Don Breitenberg and Jeanne Jones with Jordan ** Reena Horowitz with Taylor Miller
Carol Karlovich with Mary Walker ** Ellen Zinn
Enjoy the Lafayette 148 Fashion!
And for a fashionable look back to a 2007 Red Rose Society event click here
The Buzz
The $7,000 Shoe!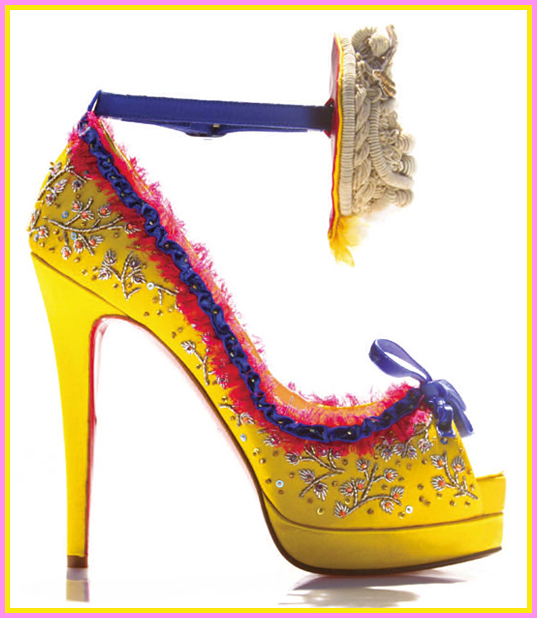 Thought you read it wrong didn't you? Christian Louboutin, the 'it' shoe designer for some chic feet, has designed a limited 36 pairs of this shoe for $7,000 minus 5 bucks. Basically works of art, these shoes come in yellow, blue and pink versions. You also get a special box and they come signed by Monsieur Louboutin. Christian Louboutin made his only West Coast appearance at South Coast Plaza...and he was quite a hit. He was also feted at a private dinner the night before.
Can't you just see the insurance agent asking "you want to insure a pair of shoes??"
............
There were some wild cats seen up in Beverly Hills last week. Moi, Jordan, Jeanne Jones, Barbara Poulos, Heather. We were all wearing cheetah painted coats by Jordan to make a stir for Laurie Marker's upcoming May fundraiser for cheetah conservation. The wow factor was matched equally by the fun factor. And dining at The Ivy was great too!
...........Speaking of The Ivy, ran into the boys from Splash News there. They were hot on fellow diner Fergie. That's newlywed Fergie to you and me, the gal that sang at the famous Brandes Halloween Ball.
.... and speaking of scary non-Halloween material......
Handsome Scott Johnston is considering going diving with the sharks and Neptunic founder Jeremiah Sullivan. Jeremiah will be filming in the Bahamas for an upcoming special by the BBC.... at least the steel mesh shark suit is proven so Scott won't become sushi!
Upcoming Events
March 21st - The UCSD Sulpizio FAmily Cardiovascular Center will be hosting their 12th Annual Heart of San Diego Gala honoring Gene and Hannah Step. For more information please contact Tanya Schwaefer at 619-543-3258.
March 23rd - The High Heals Foundation( to benefit the Ovarian Cancer Society)
This foundation was formed in loving memory of Stefanie Strauss, by her sister Tamara Alter. Tamara is an international jewelry designer who has designed special jewelry just for this cause. To learn more about The High Heals Foundation, please call 619-985-0542.
May 16th - A Cheetah fundraiser with Laurie Marker. Please visit www.cheetah.org for details.
Have a great week!
Reported by Margo Schwab
__________________________________________________________________
Photoshopping and Photography Services
Photos on this website available if it is of you
available by The Social Diary
~ 619-384-7333
email TheSocialDiary.com
_____________________________________________________________________
Email Commentary to be added
email editor@thesocialdiary.com
* Margo Schwab, more formally known as Margaret E. Schwab, has produced, written, interviewed and photographed for various media organizations since 1989. Schwab attended Holton Arms School, La Jolla Country Day School and La Jolla High School. Schwab has a B.A. from Scripps College, spent a business internship with S.A.I.C., Science Applications International Corporation, and earned a Masters of Business degree, M.B.A., from the University of San Diego. Schwab additionally took college courses from Harvard University, and Syracuse University. Schwab volunteers for numerous charity organizations. She also continues to support animal organizations and the prevention of people and animal abuse. Schwab is the editor of The Social Diary.
Warning ** photos, video and writing on this site are the
copyright of The Social Diary, San Diego Social Diary
no reproduction of any part or parts is allowed without written permission by The Social Diary