~ The Social Diary ~
~~~~~~~~~~~~~~~~~~~~~~~~~~~~~~~~~~~~~~~~~~~~~~~~~~
The Red Rose Society Fashionable Luncheon 2007
HANDSOME LEONARD SIMPSON'S
"RUNWAY ARTISTRY",
DAZZLED OUR, "ELEGANT ELITE",
GATHERING OF "GORGEOUS GALS"!
EVERYTHING, CAME UP, RO$E$
FOR THE AMERICAN RED CRO$$'
"RED RO$E $OCIETY",
BEAUTIFUL FASHION SHOW EXTRAORDINAIRE!
THE U.S. GRANT DELIGHTED PALETTES
WITH TASTY MORSELS!
WHAT A LOVELY LUNCH!
YUMMMMM!!!
IT WAS FUNNNNN!!!
SALLY B. THORNTON
HONORARY CHAIRMAN
The Red Rose Society fashion show and luncheon was held December 7th, 2007 at the U.S. Grant Hotel. The event benefited the American Red Cross San Diego/Imperial Counties Chapter Local Disaster Relief Fund. The Red Rose Society was founded by Jeanne Jones, and for this year's event Sally B. Thornton served as Honorary Chair. And Sally did it well.
Incredible silent auction prizes enticed well dressed patrons during the cocktail hour. Just in time for holiday shopping too! Lizz Russell's scrumptious purses were a big draw. So were items from the Face Factory, Haute Culture, Sammy's Woodfired Pizza, and then there was the very collectible Barbie Doll collection.
And there were a lot Barbie perfect fashion plates among the mix. Andrea Naversen went 'patently' red with her raincoat, Valerie Cooper chose leather, Reena Horowitz wore a brilliant red suit, and Jeanne Jones chose festive red too.
The luncheon was rather Jeanne Jones healthy too. A native California roasted white corn soup was accompanied by artisan breads, a pear and walnut salad with grilled chicken breast, and a bit wicked crème brûlée tart with raspberry coulis.
Lunch followed by a zippy fashion show by Leonard Simpson replete with a playful 'fake snowball' fight. One model had a near bulls eye with this reporter.
All in fun, but with a serious foundation.
"The American Red Cross Red Rose Society is dedicated to helping San Diego and Imperial Counties become America's most prepared communities. The mission of the Red Rose Society is to work in partnership with the Red Cross and support the local chapter by advocating preparedness, increasing community awareness of the Red Cross, and fundraising."
"The people we help through the Red Rose Society could one day be ourselves," says Red Rose Society Founder Jeanne Jones.
The Red Rose Society has a strong membership base including Iris and Matthew Strauss, Lise Wilson and Steve Strauss, Judy and Jack White, the Union Tribune's Editor in Chief Karin Winner, Robert Armstrong, Barbara Bry, Amy Butterfileld, Anita Bye, Kathryn Fishback, the Union Tribune's owner David Copley, Audrey Geisel, Lee Goldberg, Jordan, Elizabeth and William Zongker, Rana Sampson and Mayor Jerry Sanders, Valerie Cooper, Reena Horowitz, Ellen Zinn, Elaine Lipinsky, Sheila Lipinsky, Sue Maddox, Pam Palisoul, Cathryn Ramirez, Gerry and Hugh Wolff, Jeanne Jones and Don Breitenberg, Gordon Hattersley, Mike Maddox, and Sally B. Thornton.
To learn more about the American Red Cross San Diego/ Imperial counties Chapter and future Red Rose Society events, please visit, www.sdarc.org

Please enjoy the photos.
(high resolution photos available by request)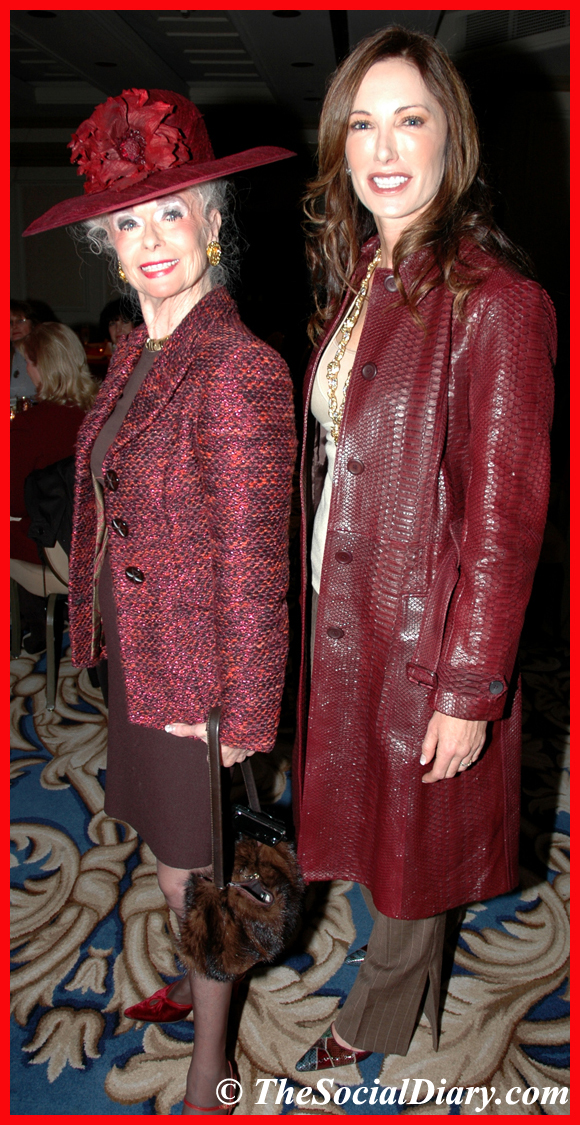 Honorary Chairman Sally B. Thornton and Valerie Cooper
Marie Chemali with Merle Lotherington, Cristull Hull and Joan Bowes Andrea Naversen ** Martha Dennis and David Nelson
Valerie Cooper ** Karin Winner and Martha Dennis
Kathy West and Bill Mennish ** Singer Julia Garlington with Leonard Simpson and a model ** Christopher and the boys ** Jeanne Jones
Afife Bayolan ** Wanda Kaufman and Richard Levi ** Merle Lotherington and Cristull Hull
Highlights of the Fashion Forward Show!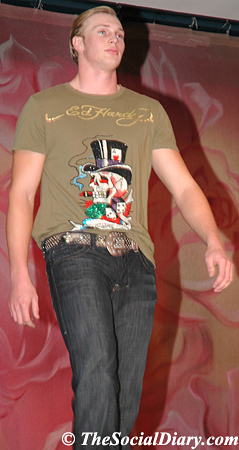 reported by Margo Schwab
* Margo Schwab, formally known as Margaret E. Schwab, has produced, written, interviewed and photographed for various media organizations since 1989. Schwab attended Holton Arms School, La Jolla Country Day School and La Jolla High School. Schwab has a B.A. from Scripps College and a Masters of Business degree, M.B.A., from the University of San Diego. Schwab volunteers for numerous charity organizations. She also continues to lobby for water safety and for family violence mitigation. Schwab is the editor of The Social Diary. Margo is currently writing a book based on La Jolla.
Warning ** photos, video and writing on this site are the
copyright of The Social Diary, San Diego Social Diary
no reproduction of any part or parts is allowed without written permission by The Social Diary