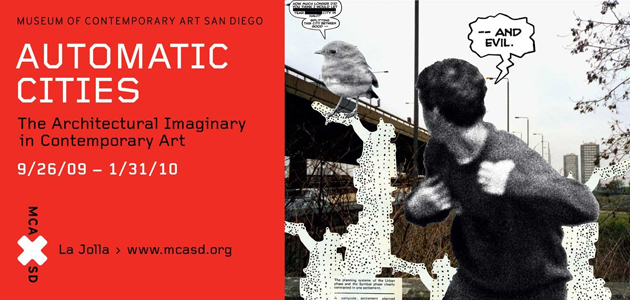 Club Monte Carlo 2009
Rocks MCASD
(page 1)

There are parties, and then there are parties that will be talked about in the years to come. This year's Club Monte Carlo Gala at the Museum of Contemporary Art San Diego in La Jolla was that and more.
Hundreds of 'Club chic' dressed guests arrived to the bouncer lined velvet rope September 12th, 2009.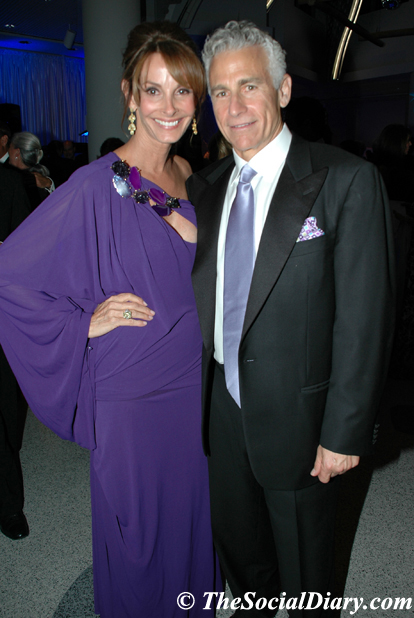 Club Monte Carlo Chairs Nancy and Matt Browar
The reception in the night club featured champagne, caviar, tuna tartare in mini-cones, MCASD Martinis, silent auction shopping, and large white sofas to lounge on. Lounge especially if you were wearing sky high stilettos which were rather de rigueur that night!
Among the many 'club chic' sorts there was Jeanne Jones in black sequined leggings (on her very long and slim legs), and black top cinched by a Judith Leiber belt. Atop Jeanne's head was a feathery creation.
Also there was Rocio Bernal Flynn wearing black YSL shoes, Alice and Olivia dress, Chanel purse with a girl's best friend, Van Cleef & Arpels jewelry; Valerie Cooper in a sexy and shimmery fringe number from Alexander McQueen with some edgy metal spike studded Louboutin stilettos; Harry Cooper in a slick Versace jacket with beaded Versace shirt, the beading looked like a black tie, and Versace shoes; Scott Johnston in Q by Adbul Hamidi tassel and silk embellished jacket; kind of Liberace meets Versace; Carolyn Farris in Zandra Rhodes; Jake Figi in a dress by Barron Duquette and stilettos by Rene Caovilla; and Todd Figi in a slick jacket that was custom made in Hong Kong.
For dinner at the Dining Lounge guests enjoyed an eco-sustainable dinner by Waters Fine Catering, aerial acrobatic dancers on hoops and silks by Aerial Revolution, and hot dancing was provided by The Savvy Dolls and Sweet Feet and D'Noi. DJ Wreckred made the place rock!
More there enjoying the evening fashionably were Charles Brandes in a pearl buttoned shirt from Venice accentuating his suit; his wife Tanya Brandes in a short silver fringe dress by Roberto Cavalli; Iris Strauss in a very pretty black Oscar de la Renta dress accented with a broach; Colette Royston in Marchesa with Rene Caovilla stilettos, oan Jacobs in a very beautiful and shimmery Oscar de la Renta suit; Karen Cohn in a pink sequined one shouldered Naeem Khan; Muffy Walker in colorful Versace and Valentino shoes, Sheryl White in a sleek Pamela Rolland with sequined booties by Gucci, Blair Harris rocked the later after party in dressy black shorts attire and fringed Gucci boots (from mom Judith Harris's closet!); and Nancy Browar went club elegant in a gown by Gucci.
Nancy and husband Matt Browar were chairs of the event. And the compliments poured their way.
"What could be more contemporary than elegant, edgy, and energetic," said MCASD's David C. Copley Director Hugh Davies. "Nancy and Matt Brower's Club Monte Carlo was inspired."
"Great crowd, beautiful people and a different atmosphere. The night was just lovely and fun!" added Iris Strauss. Her husband Matt loved it too!
"What a fabulous evening" exclaimed Jeanne Jones "If Nancy and Matt Browar aren't already in the Club business they have missed their calling. Club Monte Carlo was the ultimate in an upscale Club--stylish decor, intimate spaces, outrageous entertainment and truly delicious food. When they open their next venue we want to be on the mailing list!"
After dinner, guests and the later party guests went to the Club, the 'gaming' tables, the dessert buffet laden with bite size treats, and the downstairs Buddha Lounge.
And the Buddha Lounge was quite the hit. Reserved banks of sofas, a DJ, and that sexy girl bathing in a bathtub of rose petals. Yes you read it right. 'Rose' might have been the most photographed person of the evening.
Among those enjoying the lounge scene were MCASD patrons David Copley, Valerie and Harry Cooper, Tanya and Charles Brandes, Robin and Gerry Parsky, and Jake and Todd Figi.
More there 'in the house' included David Guss with twins Susanne Lodl and Sabine Lodl; Susanne is his girlfriend, Jeanne Jones and husband Don Breitenberg, Don wore a beautifully embroidered velvet jacket, Debby and Hal Jacobs, Jeanne Lawrence in from NYC, Melissa and Michael Bartell, Rusti Bartell and Steve, Karen and Don Cohn, Sheryl and Harvey White, Lee Clark and Jerry Pikolysky, Sharon and Sami Ladeki. Marsi and Eric Gardiner, Hanna and Gleiberman, Marleigh and Alan Gleicher, Stacy and Paul Jacobs, Joan and Irwin Jacobs, Patsy and David Marino, Lynda Forsha and Hugh Davies, Rocio and Michael Flynn, Karen Fox and Harvey Ruben, Muffy Walker and John Reed, he just got back from a triathlon, Laleh and Alex Roudi, Rick Woods, Sally and John Thornton, May and Dr. Emad Zawaideh, Sheri (in great crystal studded Louboutin's) and Stuart Jamieson, and Baltic Boy Andrew Shelton.
Andrew had on a Versace shirt with jacket, and some rather perfect Billionaire Boys Club velvet slipons... !! Very smooth!
Rocio Bernal Flynn had this insight."There were so many pretty dresses, just for the fashion show Club Monte Carlo was worth attending. We stayed pretty late, the after-party was so much fun. Definitely Monte Carlo is one of the best parties throughout the year!"
Valerie Cooper had this to say. "If you were not at Club Monte Carlo you missed one over the top fun party at MCASD. Nancy & Matt Browar really are to be commended for putting together an amazing festive night. Everything was superbly executed by Pacific Events-big kudos go to Darrin & Natalie. The staff at the Museum made sure the night went on without a hitch. Dinner was delicious in the most beautiful setting and then one walked into the Museum that had been completely transformed and the flowers were breathtaking. This was truly a rocking party."
Nancy Browar concluded this. "We wanted to put a fresh spin on a yearly gala and do our best to raise funds for MCASD while entertaining our generous supporters for the evening."
And they did!
Please enjoy the photos.
If you wish to purchase photos, please email your inquiry. No downloading of photos without express written permission by The Social Diary thank you.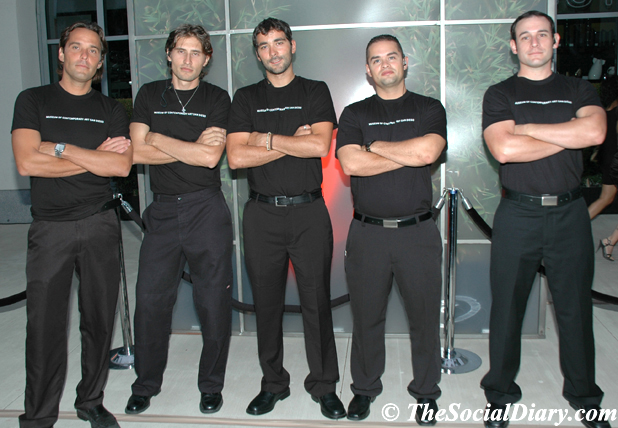 The Bouncers... you needed to get past them to get through the 'Velvet Rope!'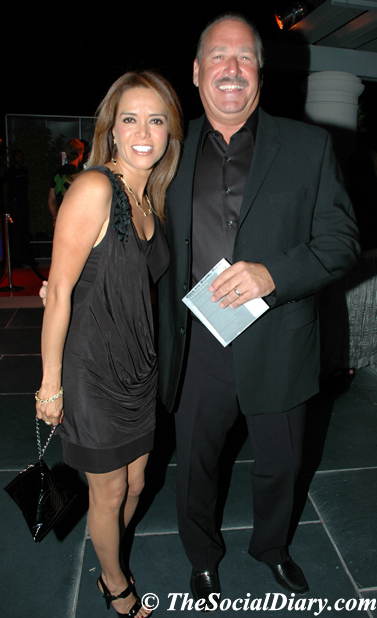 Rocio and Mike Flynn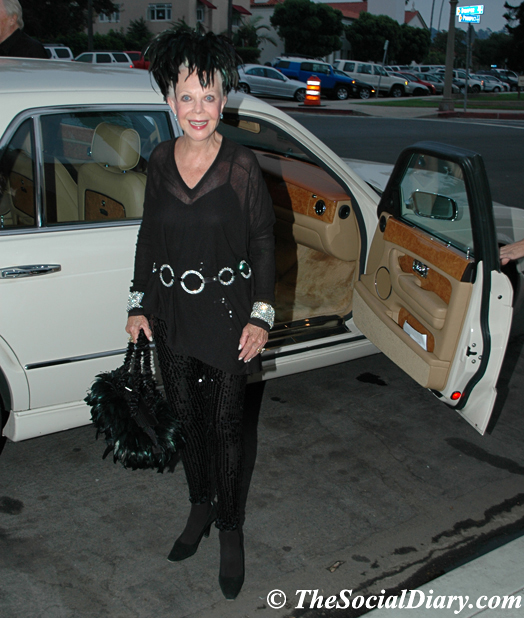 Jeanne Jones making a sparkling entrance!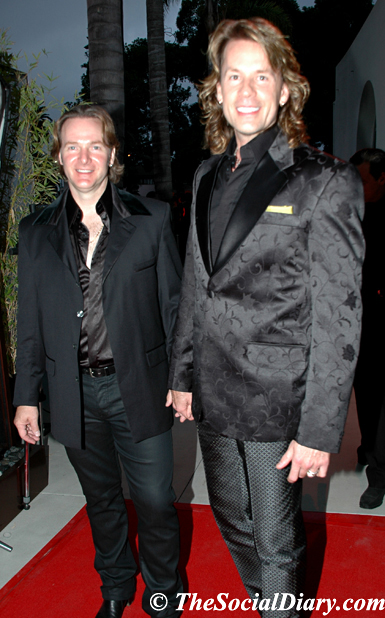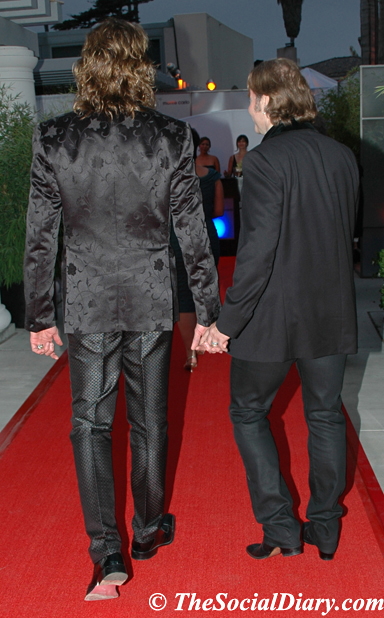 Rex and Steve Romande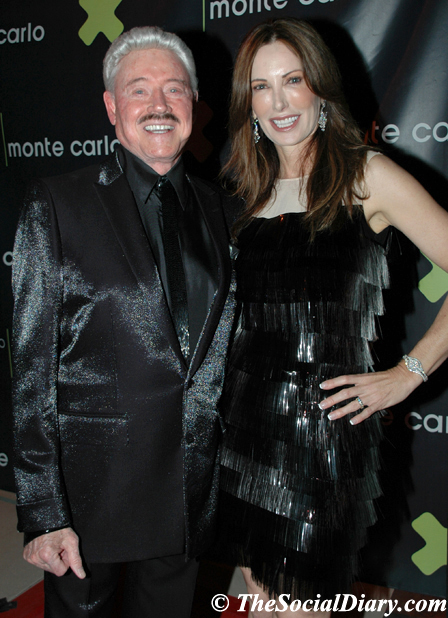 Harry and Valerie Cooper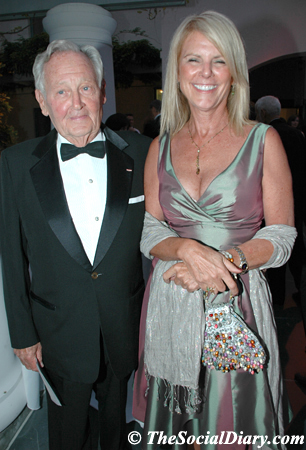 Max Gurney and Anne Wallace ** Jeanna Yoo of MCASD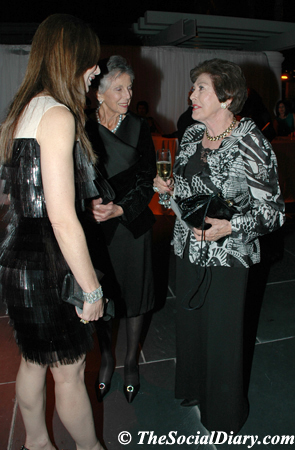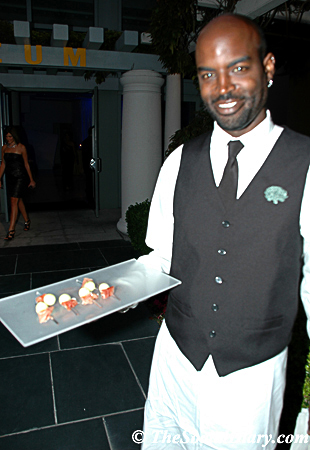 Valerie Cooper with Pauline Foster and Barbara Bloom ** Waters Fine Catering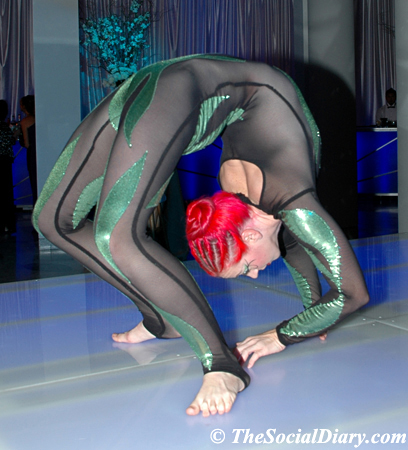 This was just part way through the bending and twisting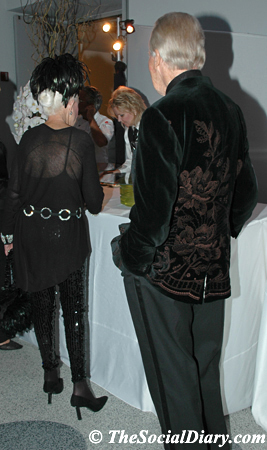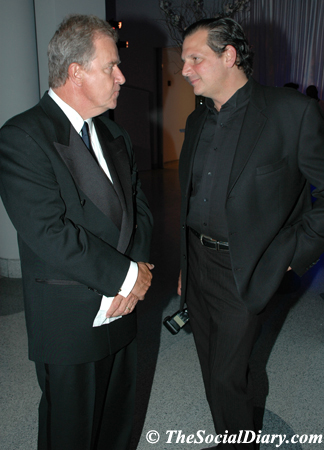 Jeanne Jones and Don Breitenberg checking out the libations ** Hugh Davies with Bob Stefanko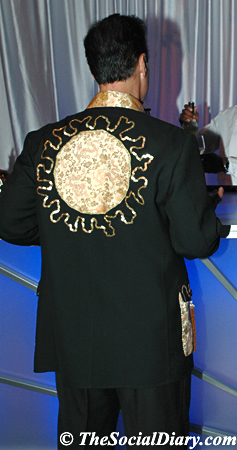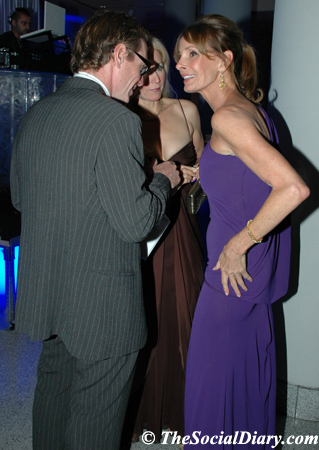 Scott Johnston ** Nancy Browar with friends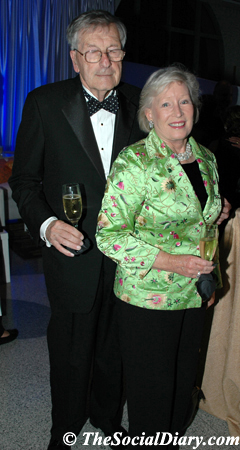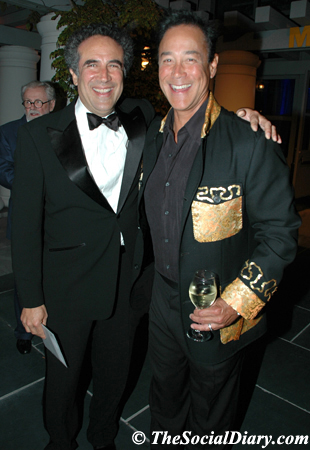 Leanne MacDougall and Don Dalessio ** David Guss with Scott Johnston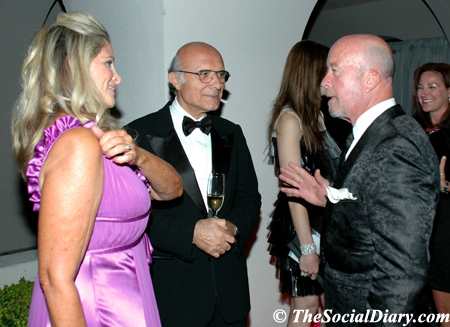 Sharon and Sami Ladeki with 'Bruce Willis' aka Todd Figi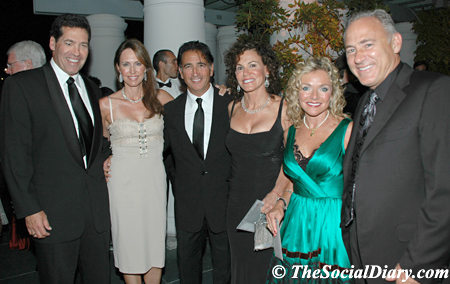 Alan and Marleigh Gleicher, Marsi and Eric Gardiner with guests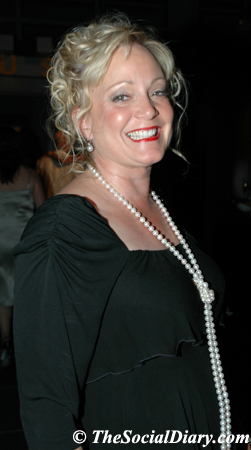 Lise Wilson ** Valerie Cooper with Colette Royston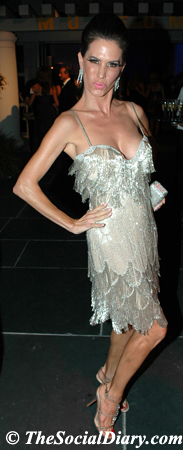 Tanya Brandes posing for the paparazzi!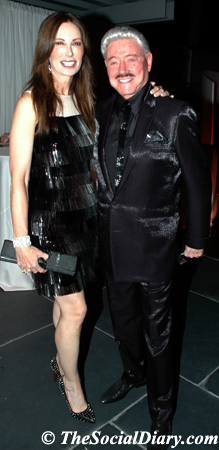 Valerie and Harry Cooper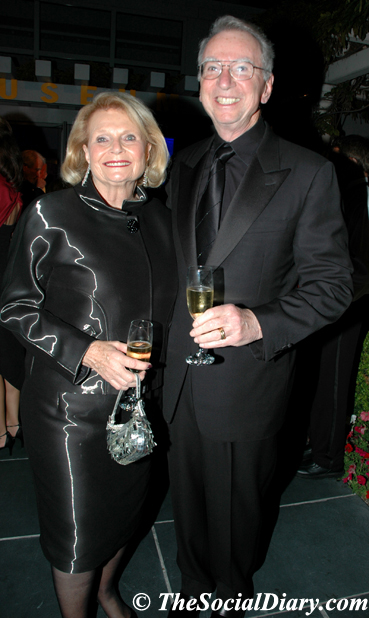 Joan and Irwin Jacobs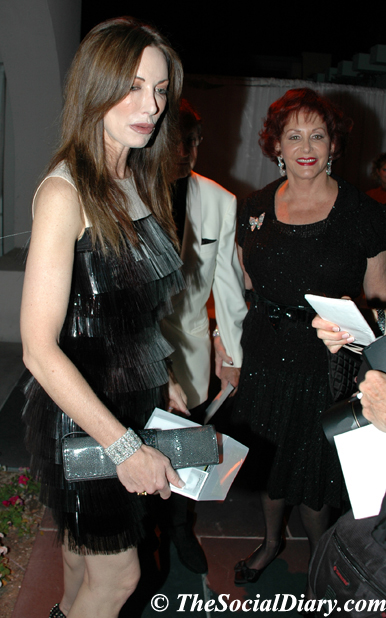 Valerie Cooper admiring a friend's outfit with Iris Strauss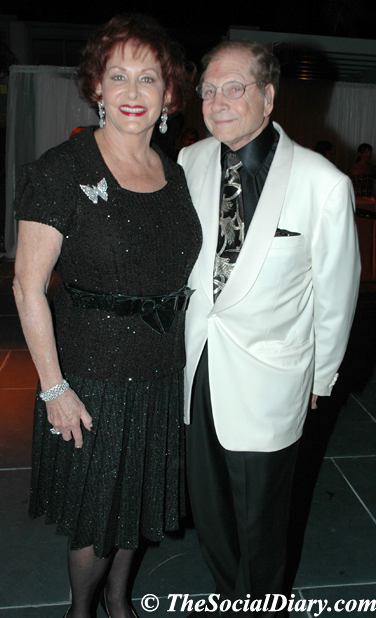 Iris and Matthew Strauss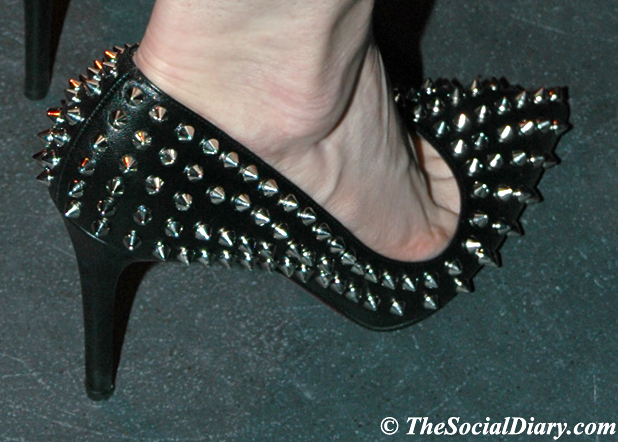 Valerie Cooper's killer stiletto Louboutin's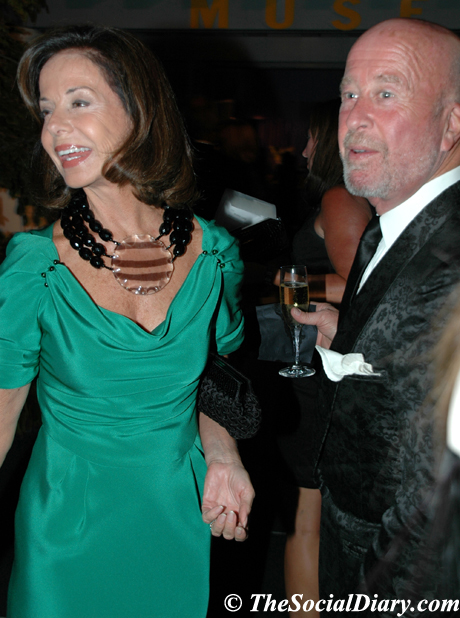 Robin Parsky with Todd Figi
& a look to past galas
To learn more about the Museum Contemporary Art San Diego, its exhibitions, educational programs and more, visit www.mcasd.org
reported by Margo Schwab and Scott Johnston
....who were very happy to win the Matuse wetsuits at the silent auction!
The Buzz
Jeanne Lawrence in from NYC via China reflected that Club Monte Carlo was not only fun... but it was really nice to see so many healthy looking people...I guess NYC takes slim to ultra slim levels....
The buzz on the upcoming Globe Production of Sammy is strong... and if you see the video clip you'll understand why everyone is scrambling to get seats.....see you there!
Upcoming Events
September 17th - The Costume Council of the San Diego Historical Society will be hosting a one-of-a-kind event in Balboa Park to showcase select San Diegan's couture finds. The Social Diary is pleased to be a part of this showcase. And it's only $69.95! For more information about this event, please visit www.sandiegohistory.org
September 17th - The San Diego Police Historical Association will host a Legends Behind the Badge gala & awards evening at the U.S. Grant. San Diego Police Department's Chief of Police William Lansdowne will serve as Honorary Chair with Ramin Portemeyer serving as Co-Chair. Please ring McFarlane Productions at 619-233-5008 for ticket information.
September 24th - The Country Friends will present the 54th annual "Art of Fashion" Runway Show at The Inn at Rancho Santa Fe. Proceeds from the luncheon, fashion show, boutique shopping and wine tasting will benefit Voices for Children, which provides court advocates for children in foster care. Couture fashions presented will be provided by South Coast Plaza. For ticket information, please contact The Country Friends at 858/756-1192, Ext. 4 or via email at events@thecountryfriends.org.
September 14th - Crime Stoppers Golf Tournament.
October 16th - The Rainforest Alliance will host its gala.
October 17th - Sundt Memorial Fundraiser.
October 22nd - The Walden Family Services will host their 6th Annual wine D'Vine event. Please visit www.waldenfamily.org for more details.
November 7th - The Golden Hangers / FCC benefit for Make-A-Wish and San Diego Variety Children's Network.

____________________________________________________________
Photoshopping and Photography Services
Photos on this website available if it is of you
available by The Social Diary
~ 619-384-7333
email TheSocialDiary.com
_______________________________________________________________
Email Commentary to be added
email editor@thesocialdiary.com
Thanks for good picture at Monte Carlo Night. - Max Gurney, FINS, Hon. Consul Monaco, ret.

"I had a great time making new connections while rolling dice for charity. The action at the craps table outdoors was particularly exciting. Congratulations to all! I look forward to next year." - Jose Cruz
* Margo Schwab, more formally known as Margaret E. Schwab, has produced, written, interviewed and photographed for various media organizations since 1989. Schwab attended Holton Arms School, La Jolla Country Day School and La Jolla High School. Schwab has a B.A. from Scripps College, spent a business internship with S.A.I.C., Science Applications International Corporation, and earned a Masters of Business degree, M.B.A., from the University of San Diego. Schwab additionally took college courses from Harvard University, and Syracuse University. Schwab volunteers for numerous charity organizations. She also continues to support animal organizations and the prevention of people and animal abuse. Schwab is the editor of The Social Diary.
The Social Diary is pleased to announce new partnerships with the San Diego Humane Society and San Diego News Network.
The Social Diary would like to say a special thank you to our advertisers.
H. Moradi Jewelers on Prospect Street in La Jolla
San Diego Opera
The Museum of Contemporary Art San Diego
Judith C. Harris, Blair Harris, and Robert Singer, MD supporting the
Dian Fossey Gorrilla Fund International
Dr. Laurie Marker of The Cheetah Conservation Fund
Pat O'Connor of Fashion Careers College
Pamela Pogue of Juelerie
Kary Favish of the Worth Collection
Diana Cavagnaro of Designer Millinery
Jacqueline and Matt Rimel of Rimel's Rotisserie, Zenbu Sushi and Restaurant, & Home Grown Meats
Jordan of Jordan Art Couture
Lizz Russell of The Lizz Russell Collection
Gary Parker of WineSellar & Brasserie
Chef Pasquale of Cafe Milano
Alex Gonzalez of Mercedes Benz of San Diego
Diane Bousquin of Holistic Traditions
Kevin Smith of Extreme Pizza in La Jolla
Jeremiah Sullivan of Neptunic Sharksuits
Drs. Sue and John Morizi of The Animal Hospital of La Jolla
Jemima Garcia Dutra of Dutra Designs
Eugene Ladopoulos of Mistra Estates Olive Oil
Warning ** photos, video and writing on this site are the
2009 copyright of The Social Diary LLC and its subsidiaries.
no reproduction of any part or parts is allowed without written permission by The Social Diary