~ The Social Diary ~
~~~~~~~~~~~~~~~~~~~~~~~~~~~~~~~~~~~~~~~~~~~~~~~~~~
'Monte Carlo in Casablanca'
"Here's looking at you kid "
September 14th, 2007
by The Social Diary Reporter & Photographer Margo Schwab
The theme was 'Monte Carlo in Casablanca' at the Museum of Contemporary Art San Diego's annual gala September 8th, 2007.
"It was great!" said Joan Jacobs. And more of San Diego's who's who thought so too..
Mayor Jerry Sanders' newly appointed Arts and Culture Liaison for San Diego Iris Lynn Strauss readily agreed. "I thought Monte Carlo was one of the most beautiful we have had. The cocktail period up front was very elegant, and the dinner and the orchestra were great. Ambience was nostalgic and fun, and made for a special evening."
Valerie Cooper added this. "It was a gorgeous alfresco evening in La Jolla to enjoy the Monte Carlo Gala at the Museum of Contemporary Art San Diego. This party always has the most gorgeously dressed ladies in town, all the finery was out for this event. True fashion works of art in beyond doubt the most beautiful location for any museum. It was a rocking event that kept going strong into the early hours."
The evening started with caviar, champagne and wickedly perfect bites of perfection like perfectly accented goat cheese wrapped in summer squash. Robert Armstrong of the Hyatt Regency La Jolla was the caterer of course.
Guests mingled and admired at 'Rick's Place' with piano ivories being played in the background.
Todd and Jake Figi with Co-Chairs Gail and George Knox ** Lynda Forsha with Dr. Hugh Davies
Among the pretty mix were Iris Strauss in an off the shoulder Vicky Tiel, Maree Mossmer in strapless Valentino, Jennifer Greenfield in Alberta Ferretti, Lynda Kerr in Elie Saab, Lise Wilson in a pretty print strapless, Jake Figi in simple black with silvery straps, Jeanne Jones in black Jean Paul Gaultier, Karen Cohn in a very 'in' bold polka dot print by Oscar de la Renta, and Valerie Cooper in a daring backless Roberto Cavalli with a major Bvalgari parure inspired by the Peacock Throne era.
More fashionista fun there were Emma Zuckerman in a clever combination of Roberto Cavalli and Chanel, Sheryl White in Naeem Kahn gown which subtly revealed her very long stems, and Blair Harris in a sophisticated short dress by Gucci and some of her mother Judith Harris's noteworthy South Sea Pearls.
Chairperson Gail Knox dazzled everyone with her smile and welcoming grace alongside her Co-Chair and husband, George Knox. They were helped in greeting guests by Lynda Forsha and Hugh Davies. Hugh, the museum's David C. Copley Director, appropriately wore a Moroccan fez hat for the evening.
And the evening continued from cocktail hour at 'The Blue Parrot Club' with silent auction intrigues, to 'Dinner at Rick's' featuring dining and dancing under the stars. The quote of the evening was emphatically 'play it again Sam."
'Late Night at Rick's' brought additional energetic revelers for more dancing. That's dancing that was a bit wilder than the dinner dancing. Patrons enjoyed Sundae Bar makings and desserts from The French Gourmet, gambling, and yes, more dancing!
Jennifer Greenfield observed "If possible, this year's Monte Carlo was even more fun than last year's!" Jeanne Jones agreed. "Casablanca was one of the best Monte Carlos ever--and a fabulous dinner in Rick's Place!" Maree Mossmer added this. "We look forward to the MOCA's Monte Carlo party every year! Once again, it was creative, unexpected and fabulous fun! The Moroccan ambiance of 'Rick's Place' was perfectly created with the spicy color decor and the yummy exotic dinner."
And Lisa Casey had this to say. "Another wonderful event supporting the Museum of Contemporary Art!" The Casablanca theme was fun and many people participated wearing the theme-attire. The music flowed beautifully during the dinner hour. When the gaming portion of the evening began, the music inside got a little louder and a little more rousing, to spur the crowd on to enjoy the after dinner games and desserts." The fun one and only Pat Whalen remarked "there was something for everyone, everyone looked like they had a great time."
Gamblers yes, but the evening was a sure bet for fun.
The David C. Copley Director for the Museum of Contemporary Art San Diego, Dr. Hugh Davies, was very pleased. "It was personally very gratifying that a 'Night in Monte Carlo' has now reached the continent of my birth. I loved seeing the white dinner jackets and the Moroccan inspired dresses and your Snood was the best."
Thank you Hugh and thank you to all of the patrons who help support the museum's outreach, exhibition procurement, and educational programs. To learn more about the museum's upcoming events, visiting hours and more, please click on:
Please enjoy the photos!
(high resolution photos available by request)
Valerie Cooper ** Jake Figi with Gail Knox ** Donald and Karen Cohn
Wain Fishburn with Iris Lynn Strauss ** Steve Strauss with Paul Jacobs
Harry and Valerie Cooper ** Debby Jacobs ** Matthew Strauss with Hugh Davies
Richard and Lynda Kerr ** Lise Wilson and Steve Strauss ** Lynda Forsha
Jane Rice ** Dr. Mitchel P. Goldman and Dianne York-Goldman ** Debby Jacobs with Margo Schwab in Badgley Mischka and Hugh Davies noted Bond Street snood from London
Lynda Kerr ** Blair Harris with Enrique Limon ** Karen Cohn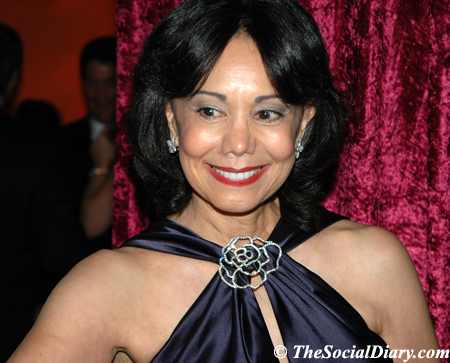 Gail 'knockout' Knox
Maree Mossmer with Jennifer Greenfield ** Chris and Liz McCullah ** Wain Fishburn
Colette Stefanko ** Guests with Judy Slatter and Benito Villanueva ** Emma Zuckerman
Lisa and David Casey ** Brigit de la Vega with Elaine Robbs ** Sharon Ladeki
Jake Figi with Jeanne Jones ** Margo Schwab with Lynda Kerr ** Lee Clark with Sheryl White
Scott Johnston with Elaine Robbs and Kelly Hooker ** The popular caviar server
Lee Goldberg with Sheryl White and Sheila Potiker ** Harry and Valerie Cooper
Guests ** Rex Romande
Gail Knox and Jose Tasende listening to Casablanca music
* Margo Schwab has produced, written, interviewed and photographed for various media organizations since 1989. Schwab attended Holton Arms School, La Jolla Country Day School and La Jolla High School. Schwab has a B.A. from Scripps College and a Masters of Business degree, M.B.A., from the University of San Diego. Schwab volunteers for numerous charity organizations. She also continues to lobby for water safety and for family violence mitigation. Schwab is the editor of The Social Diary. Margo is currently writing a book based on La Jolla.
Warning ** photos, video and writing on this site are the
copyright of The Social Diary, San Diego Social Diary
no reproduction of any part or parts is allowed without written permission by The Social Diary