Scorpion Bay Hotel, Private, Picturesque ........VIP and Club Memberships Available >>> Scorpion Bay Hotel
an international destination for World Class Surfing, Fishing and Families
founded by Fred Borrelli
~~~~~~~~~~~~~~~~~~~~~~~~~~~~~~~~~~~~~~~~~~~~~~~~~~~~~~~~~~~~~~~~~~~~~~~~~~~~~~~
~ The Social Diary ~
all photos and content are the strict copyright of TheSocialDiary.com
photos are available for purchase
~~~~~~~~~~~~~~~~~~~~~~~~~~~~~~~~~~~~~~~~~~~~~~~~~~~~~~~~~~~~~~~~~~~~~~~~~~~~~~~~~~~~~~~~
MCASD's Monte Carlo Gala Does the Big 'D' that's Dallas....Texan Big!!
'Big D was BIG in every way, big fun, big attendance, big variety of amusements and big money raised to support our art programs.'
- Dr. Hugh M. Davies
The David C. Copley Director
Museum of Contemporary Art San Diego
And the fashion flair was big too at the 32nd Annual Monte Carlo Gala on September 6th, 2008 at the Museum's location in La Jolla.
Guests arrived with big hair, big glam. Among the fashionable posse of 'Dallas Darlings' were Co-Chair Laurie Mitchell in a strapless green sheath by Oscar de la Renta, Carolyn Ferris in Zandra Rhodes, and Jake Figi in a flared and short black dress by Alice + Olivia. Jake wore 'kicka$$' boots too that sparkled. They were by Roberto Cavalli.
Museum of Contemporary Art San Diego's David C. Copley Director Dr. Hugh M. Davies and his wife Lynda Forsha,
with Jake Figi, and Museum of Contemporary Art San Diego Board President Todd Figi
Blair Harris arrived in big teased hair and a short and chic L'Wren Scott dress. By the by, L'Wren Scott is not just known as coveted designer, but as Mick Jagger's paramour too.
Judith Harris wore a beautiful caftan by Badgley Mischka. Might come in handy for exotic travels.
Tanya Brandes wore a form hugging Herve Leger with a new Grisogono de Genève turquoise and diamond necklace. That's new and one of a kind. The necklace was made to match Tanya's earrings.
Noni Senyei wore a shimmery J. Mendel and Jeanne Jones wore gold as in all gold with gold cowboy boots, gold stockings and a gold dress by David Hayes. Only Jeanne's earrings were slightly different.They were miniature Chanel perfume bottles, made by the real Chanel. Jeanne's 'hairdo by Dadoo' was real too. Double teased to new heights.
Beauty Sheri Jamieson wore a ruby bead necklace and frankly after that her outfit was a blur.
Sheryl White wore a gold beaded Naeem Khan with a bit of a V-Cut, all kept alluring just right by double sided tape. Karen Cohn wore a short Oscar de la Renta, while Iris Strauss wore a flowing and feminine Oscar de la Renta white top with a contrasting black Oscar skirt.
As big modern art supporters and collectors, this event is close to Iris and husband Matthew's hearts. "Matthew and I always love the Monte Carlo Ball and we look forward to it every year. This year was so much fun! The decor was gorgeous, and the people were wonderful, either down home Texas dress, or very elegant Texas ball dress. It made it a great party for everyone."
More gals there included Dianne York-Goldman in a strapless Jiki, and Debby Jacobs in a short Marchesa dress.
The Jacobs family was there in near full attendance with Debby and her husband Hal, Stacy and Paul Jacobs, and Joan and Irwin Jacobs all present and 'Qualcomm' accounted for.
Gentleman cowboys were quite a few sporting cowboy hats, cowboy boots, and bolo ties. Among the 'oil tycoons and 'cattle barons' were Co-Chair Brent Woods, Scott Johnston, Matthew Strauss, Charles Brandes, and Hugh Davies aka J.R. Ewing. Todd Figi wore a show stopping cow skin motif jacket. And David Copley had it just right with his gold Gucci shoes. David got them in Beverly Hills.
Guests for the Lone Star Ball portion of the evening started with caviar and appetizers, amidst a Pacific Event's designed Lone Star ice sculpture and a very tall oil derrick. The evening continued with dining under the stars by the Strauss's 'Hammering Man' statue. The dinner menu by Waters Fine Catering started with 'Staking Your Claim' butter lettuce salad, continued with 'Hitting a Gusher' braised beef with sweet potato and Yukon Gold puree and farmer's market vegetables, and 'Striking It Rich' individual pecan tartlets with mascarpone and Valrona chocolate drizzle.
Co-Chairs Brent Woods and Laurie Mitchell ** Blair Harris and Judith Harris
Nitro Express provided the Texas infused dance music. And dance people did. Jake Figi and Sheryl White looked quite at home leading off a crowd of line dancers. Drew Senyei was spotted doing some pretty fancy stepping too.
As the party danced on, people eventually started to mix into the 9:30 crowd arriving for Debbie's Disco back in the museum. Gambling, a 'big steaks' Texan Hold Em match, and plenty of fancy desserts and drinks were awaiting. So was the mechanical bull.
And the bull had no mercy. Co-Chair Brent Woods went flying after 30 seconds. And guests are still trying to figure out how Tanya Brandes managed the bull in that Herve Leger dress. Maybe it's a sign that Brandes Investments is going 'bullish' for MCASD's future.
A lot of fun equaled a lot fundraising for the Museum of Contemporary Art San Diego's many art programs and exhibitions.
Texan sized MCASD Gala thanks go to David C. Copley, Carolyn P. Farris, Jake and J. Todd Figi, Maryanne and Irwin Pfister, Laurie Mitchell and Brent V. Woods, Barbara Bloom, Marsha and Bill Chandler, Karen and Donald Cohn, Joan and Irwin Jacobs, Sheila Potiker, and Iris and Matthew Strauss, all for their tycoon sized generosity.
Enjoy the Photos!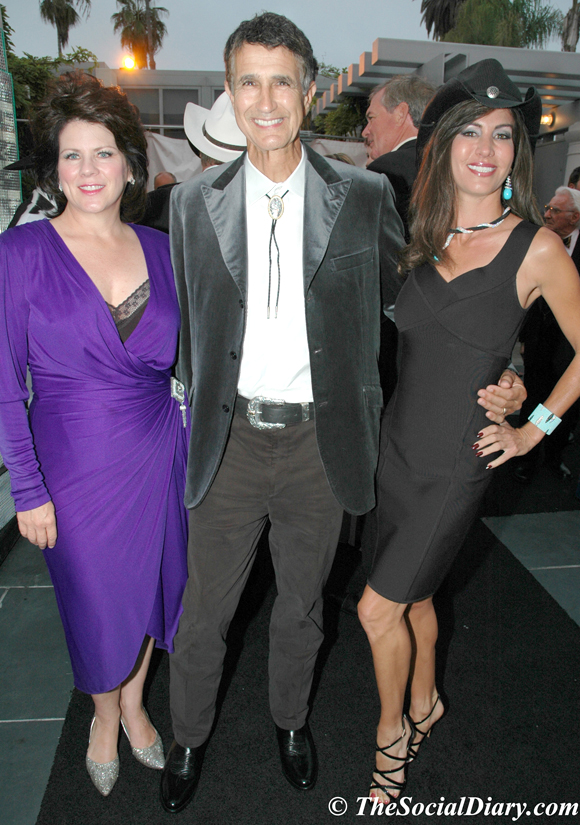 Lynda Forsha with Charles and Tanya Brandes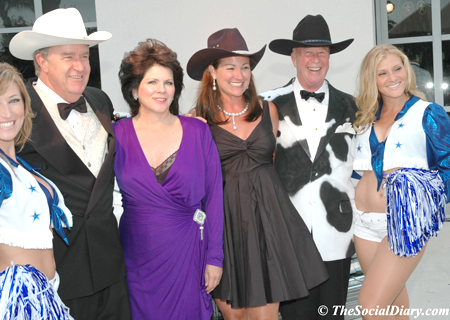 'Dallas' Cheerleaders with Hugh Davies and Lynda Forsha and with Jake and Todd Figi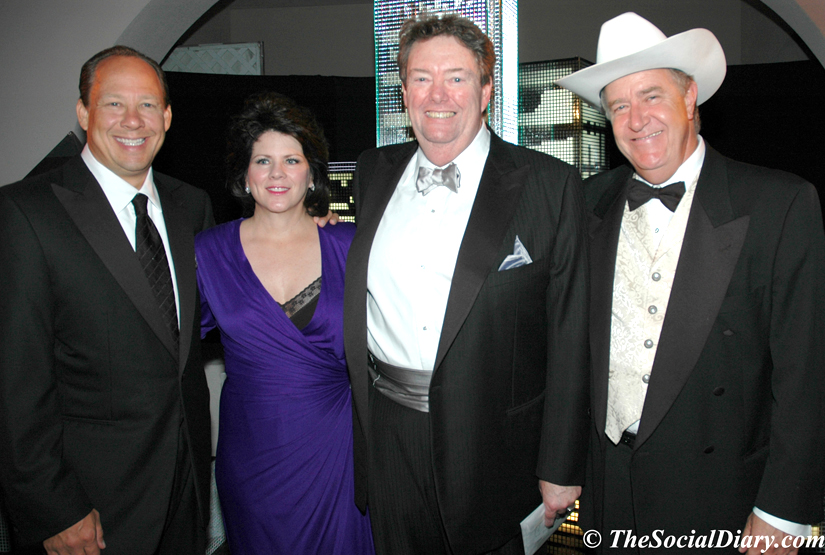 Andrew Shelton with Lynda Forsha, David Copley and Hugh Davies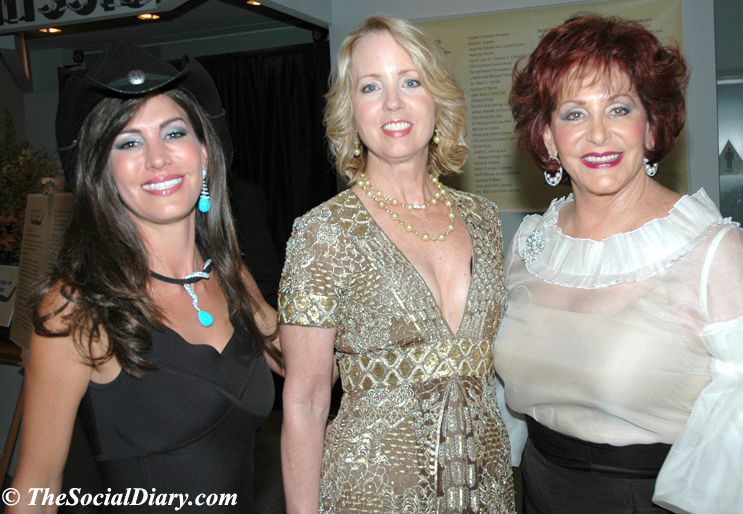 Tanya Brandes with Sheryl White and Iris Strauss
Cowboy Statue ** Jose Tasende ** Guest ** Dawn Davidson
Lynda Forsha with the San Diego Union Tribune's Burl Stiff ** Chris and Liz McCullah ** Jane Rice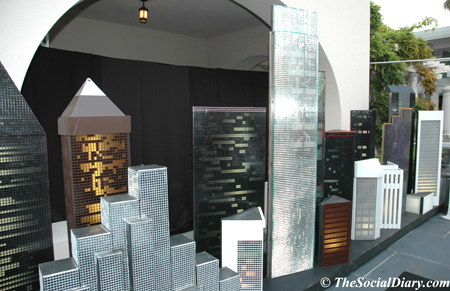 The Dallas Skyline
Karen Cohn ** Robin and Gerry Parsky ** Don Breitenberg and Jeanne Jones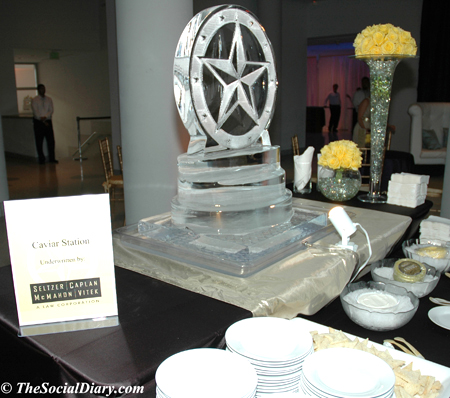 The Lone Star Ball Caviar Buffet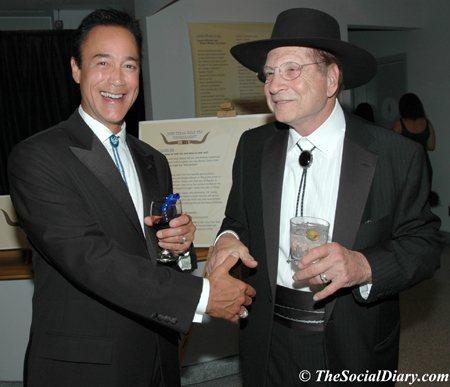 Scott Johnston striking a 'rich deal' with Matthew Stauss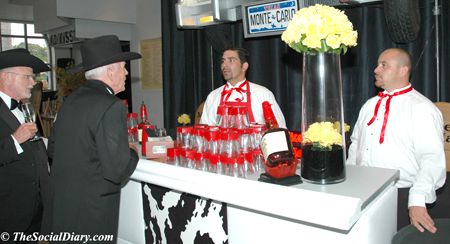 The Fancy Cowboy Bar
Guest ** Guest with Dianne York-Goldman ** Guest with Max Gurney
Kathryn Colachis ** Laura Linden with Dr. Mitchell P. Goldman ** Leonard and Betty Kornreich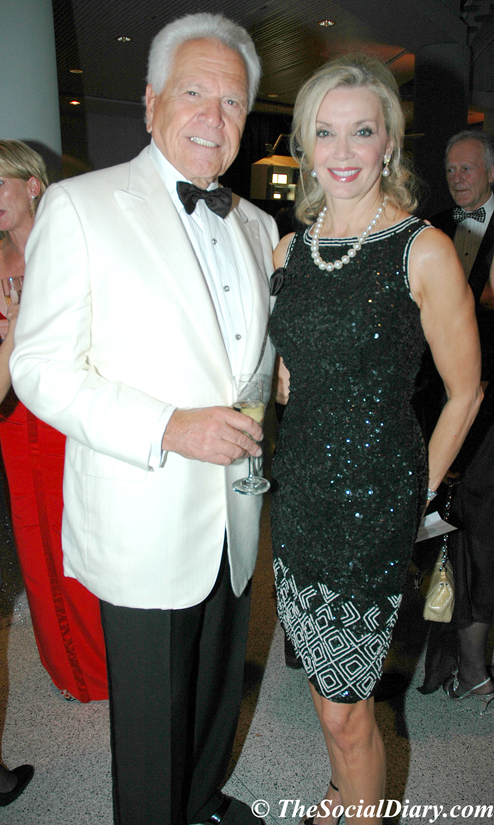 Donald and Karen Cohn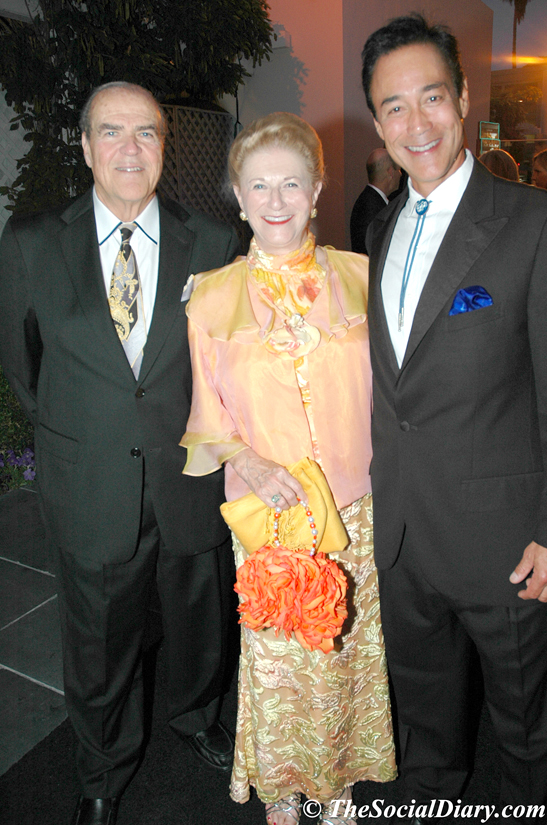 Jack and Judy White with Scott Johnston
Guest with Chaps and a Transparently Lacy Backside** Lynda Forsha with Tanya Brandes
Mrs. Barbara Ann Ferris with Bob Morris ** Debby Jacobs with Margo Schwab ** Jeanne Jones with Judith Harris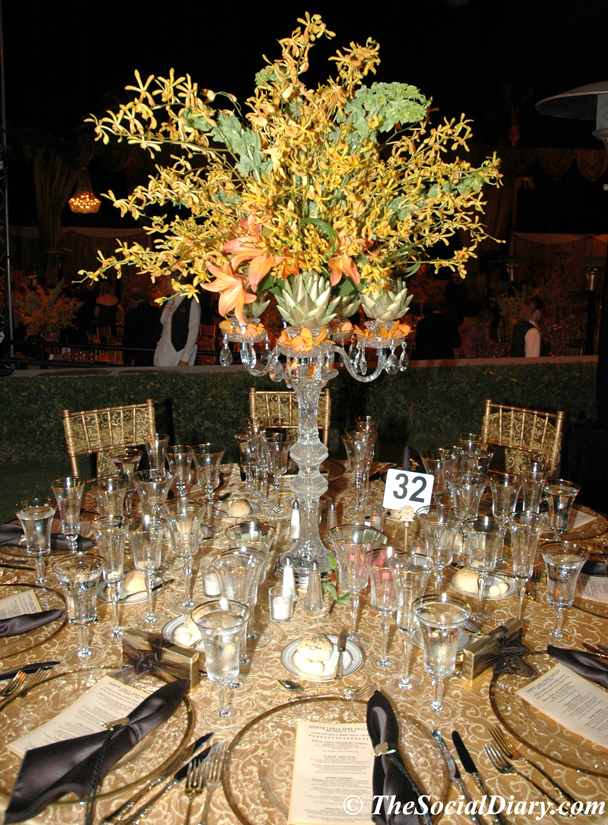 The Table Setting with Floral Arrangement including Artichokes
Patsy Marino and Jake Figi ** Noni Senyei
Tanya Brandes with Sheryl White ** Andrew Shelton with Lynda Forsha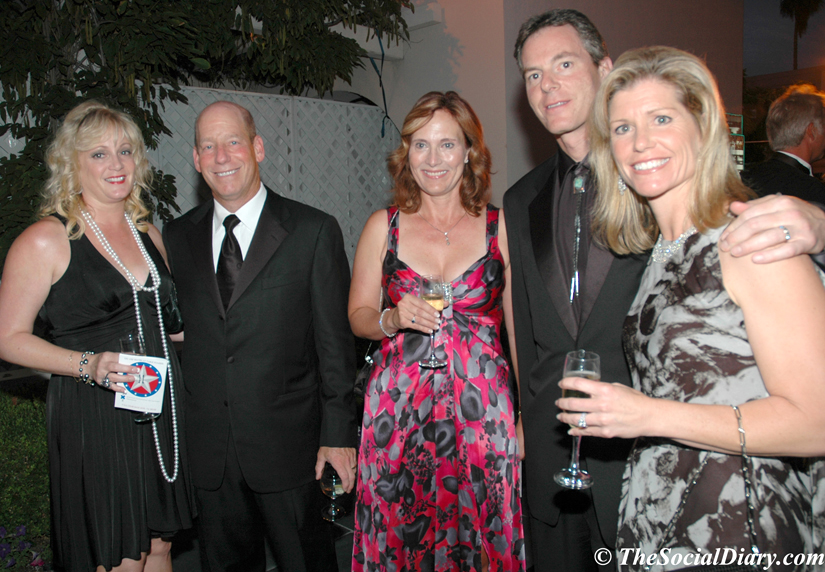 Lisa Wilson and Steve Strauss, Guest, and Paul and Stacy Jacobs
Hal and Debby Jacobs ** Leonard Simpson with Michala Lawrence ** Guest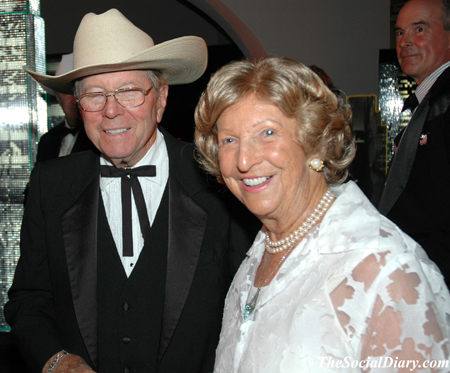 David Copley ** Golden Jeanne Jones getting an admiring look from David Copley ** Blair Harris and Judith Harris
Blair Harris and Brandon Pimentel ** Jeanne Jones and Sheri Jamieson
Scott Peters with Scott Johnston ** Scott Peters and Lynn Gorguze
Jeanne Jones Gold Boots ** Jeanne Jones Chanel Parfum Earrings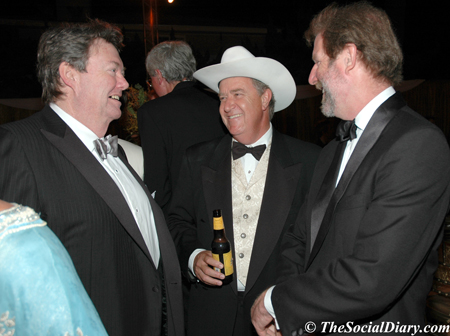 David Copley, with Hugh Davies, and John Wilson, the New Director of The Timken Museum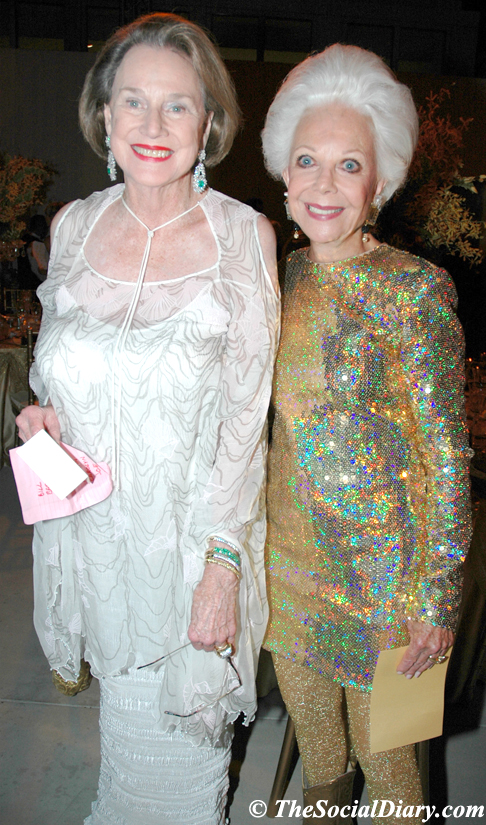 Carolyn P. Farris with Jeanne Jones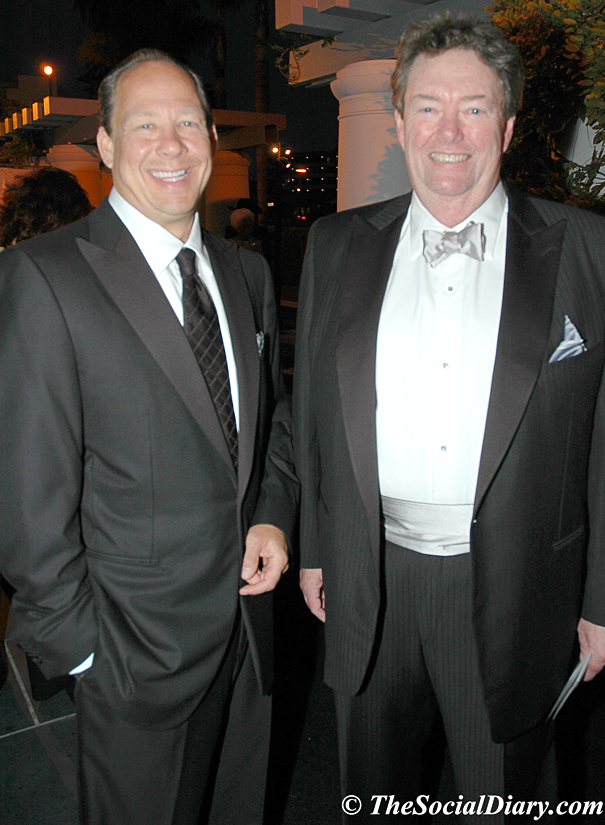 Andrew Shelton with David Copley
Robin and Gerry Parsky ** Margo Schwab and David Copley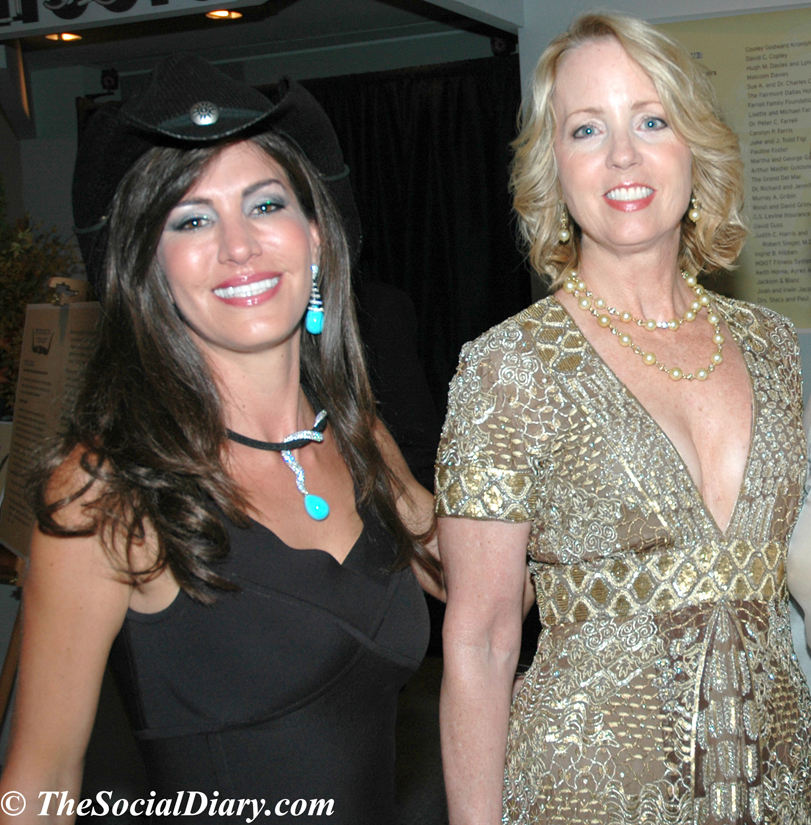 Tanya Brandes with Sheryl White
Laurie Mitchell with Sheryl White, Jake Figi and Karen Cohn ** Jake Figi's boots were made for dancing! ** Brent Woods and Laurie Mitchell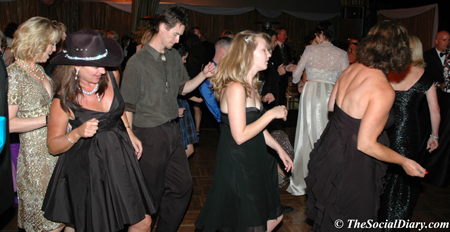 Line Dancing
Sheryl White and Jake Figi ** Guests ** Jake Figi and Sheryl White
Todd Figi with Laurie Mitchell, Sheryl White, Jake Figi and Karen Cohn
Rick Woods with Jake Figi ** Guest ** Guest with Rick Woods
Brent Woods Riding the Bull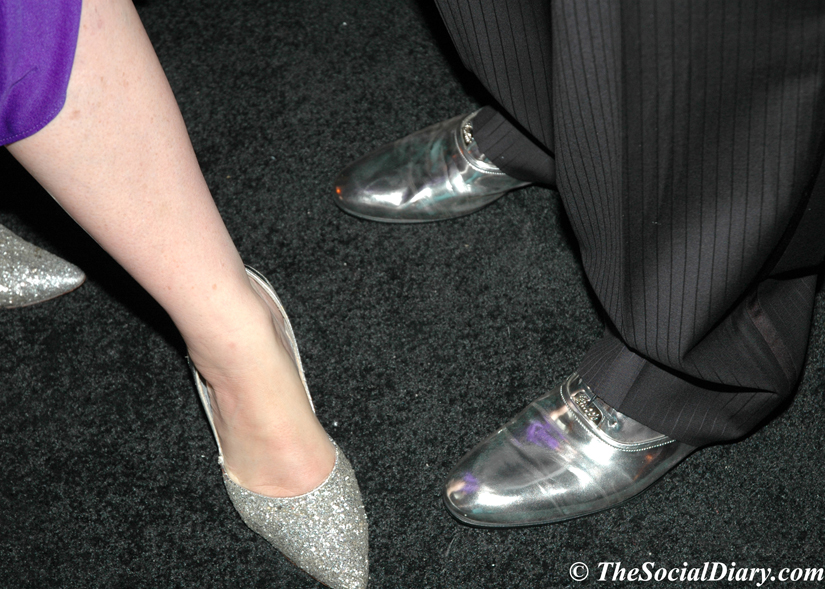 Sparkles with Gucci
Y'all check out MCASD and its exciting upcoming events too >>> www.mcasd.org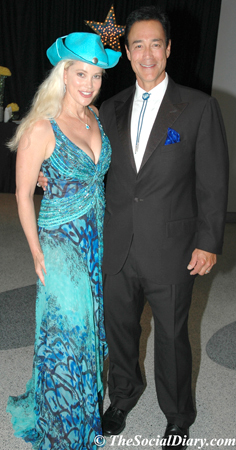 reported by Margo Schwab in a Alberto Makali gown, Scala Western Wear Cowboy Hat, and some purty party jewelry. Scott Johnston is wearing a 'Polo with Bolo,' a Polo Tuxedo with a family bolo tie and guns embroidered on his socks. Yee Haw!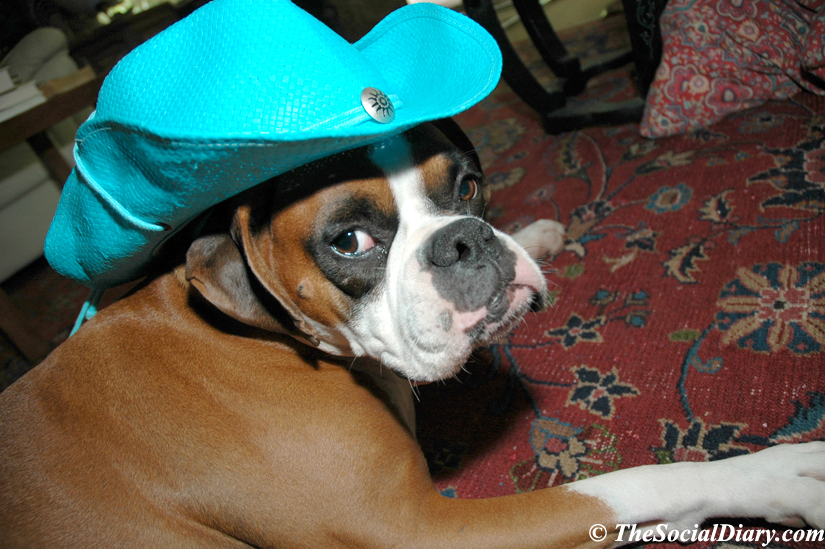 'I'll Get You J.R.!!! ** XOXO Kima
Email Commentary to be added
"No party is complete without you so thanks for blessing us with your presence and looking so great in your cowgirl clothes. ....One of the few good decisions I made last night was to avoid the mechanical bull. I lasted an hour in the Texas Hold 'Em tournament even though Brent had put a sizable bounty on me = JR Ewing. The guy who knocked me out got Padres tickets and parking pass and his image on the web site for a year. Humbling if not humiliating for JR. .....It was the first time I've ever worn cowboy boots and now have great sympathy for all you ladies who teeter from event to event. My feet even hurt sitting down" - Dr. Hugh M. Davies, The David C. Copley Director, Museum of Contemporary Art San Diego
"You looked glamorous yourself. in HOT turquoise! " - Jeanne Jones
"Gotta love the big hair!" - Andrea Muir
"It's wonderful that you cover these events all of the time!!!!!!!!!!!!!!!!!!!! Wow , you took a lot of photos!!!!!!!!!!!" - Sheryl White
"Charlie and chopper started howling at the last picture of Kima...they now have a new pinnup for their room." - Richard Kerr, proud father of two boxers
"T"his looked like great fun." - Virgina Monday
"Thanks for sending me the info attached to your email. Looked like quite the event." - John Smaha
"I even think I saw J.R. and Sue Ellen in there! Love Kima's hat!!!" - Pamela Bertsch
"Beautiful pictures, as usual! The best one was Kima in the cowboy hat!" - Hershell Price
"BEAUTIFUL...BEAUTIFUL...BEAUTIFUL!" - Ralph Castro and Majorie Silva
"I enjoy seeing the pictures of these charity events. Oh, those Chanel earrings Jeanne Jones was wearing were to die for." - Kathleen Martini
"Monte Carlo-looked like a great party!!" - Valerie Cooper
"The BEST." - Jack Berkman
* Margo Schwab, more formally known as Margaret E. Schwab, has produced, written, interviewed and photographed for various media organizations since 1989. Schwab attended Holton Arms School, La Jolla Country Day School and La Jolla High School. Schwab has a B.A. from Scripps College, spent a business internship with S.A.I.C., Science Applications International Corporation, and earned a Masters of Business degree, M.B.A., from the University of San Diego. Schwab volunteers for numerous charity organizations. She also continues to support animal organizations and the prevention of people and animal abuse. Schwab is the editor of The Social Diary.
Warning ** photos, video and writing on this site are the
copyright of The Social Diary, San Diego Social Diary
no reproduction of any part or parts is allowed without written permission by The Social Diary