Where pets are always in style
____________________________________________________
~ The Social Diary ~
The Ezine Covering the World of High Society ..& more
The Social Diary is the parent company of the San Diego Social Diary
____________________________________________________________
Shopping With Children - Be Aware Of Shopping Cart Dangers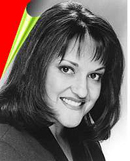 by The Social Diary Safety Educator Columnist Monica Zech
Column #17, August 14th, 2006
The need for safety is all around us! Supervision continues to be key in preventing most of the preventable injuries involving children. Yet another hazard to be very aware of - is the danger of small children, even babies, falling out of shopping carts. A fall, even at that height can be serious. Falling onto a hard store floor can result in injuries to the head and neck, and other fractures.
According to the American Academy of Pediatrics more than 24-thousand U.S. children were treated for shopping cart related injuries during 2005. Over 20-thousand of these injuries involved children under the age of 5. In a call to San Diego's Children's Hospital officials say "falling from a shopping cart" is a frequent cause of injury of children brought into their emergency room.
As a mom, I had the luxury of a mother who could baby sit my daughter while I shopped. That would be my first suggestion in preventing many of these injuries - get a babysitter when you plan to do a lot of shopping. This will also prevent the situation of a crying, cranky child because they are tired of shopping or hungry. (Also a number one complaint of annoyance by other shoppers.) But, if you don't have a babysitter to rely on - here are the hazards children face.
Most of the injuries seen occur while children are not strapped in and fall while "standing" in carts. Also the fact that many shopping carts have a high center of gravity and are prone to tipping over. Apparently this has been a problem for over 30 years, but was finally addressed in 2004. Some stores have reduced the problem by providing carts with plastic mini-cars or trucks attached to the front of the cart, allowing children to ride closer to the ground.
Here are the warnings:
" Children should not be left unattended in a cart
" Children should not be allowed to "stand" up in shopping carts
" Children should not be allowed to ride in the basket area of the cart
" Children should not be allowed to ride or hang onto the front or sides of the cart
" Utilize the small seatbelts found in the seating area of the cart - but don't allow the child to lean out of the cart which could cause the cart to tip over.
" NEVER leave them alone in the car to run a quick errand - they can suffocate from the heat or be kidnapped
The best tip:
" Leave your child at home with a sitter,
But, if you must take the child with you, to keep them occupied & quiet
" Brings some books with pictures for the child to look at
" Bring your own snacks and spill proof beverages in case they get hungry
Know that doctors and engineers are actually working on ways to lower the seat where the child sits and move it closer to the bottom of the basket and reduce that high center of gravity and the possibility of tipping over. If you love them - keep a loving eye on them!
Happy & safe shopping - Monica Zech - Safety Educator
(editor's note - Some stores and shopper services offer shopping and delivery services. The time saved and the cost of babysitting services saved may be worth your while)

* Monica Zech is the Public Information Officer and Safety Educator for the City of El Cajon and for El Cajon Police and Fire Departments. For safety tips please visit El Cajon Fire.com In community work, Zech is the President on the board for the Trauma Research Education Foundation-TREF and a board member with Communities Against Substance Abuse-CASA. In March, Monica received the County's 2005 Individual Health Champion Award for her safety lectures in the community and throughout the county. Email mzech@ci.el-cajon.ca.us and visit Zech's Web Site ,or Monica Zech at (619) 441-1737.
back to New this Week.......Monica Zech's Columns....... Home
Featured on Discovery Channel's ... Shark Week - 'Dangerous Jobs That Bite Harder!'
____________________________________________________________
click on the OS feet to learn why this is the smart sandal choice of Doctors
& The Social Diary ..... "they're healthy chic for the feet" raves Margo Schwab

________________________________________________________
Warning ** photos, video and writing on this site are the
copyright of the author, The Social Diary, San Diego Social Diary, margomargo.com and Margo Schwab.
no reproduction of any part or parts is allowed without written permission by Margo Schwab