Where Pets Are Always In Style.....

~ The Social Diary ~
the on-line magazine covering High Society ..& more
____________________________________________________________
June 2006, Offering #67 - Introduction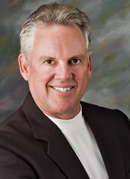 by The Social Diary Wine Expert Columnist Gary Parker
My first selection for this month's Gary Parker Collection is from a young winemaker who has recently settled in the San Luis Obispo area to hone his craft. Russell From, beginning with the vintage of 2001, has been making small quantities of highly regarded wines for his label, Herman Story.
Next up is the 2001 Argiano Brunello di Montalcino, a dynamic Brunello from a fabulous producer during an outstanding vintage year. It is powerful and rich, much different from Brunello's of old, and I am sure you will find it very much to your liking.

2004 Herman Story Grenache, Larner Vineyard
For you lovers of big, ripe, luscious fruit in your wines, Herman Story is your home run. Carving a path with the vigor and assertiveness of youth, Russel From is producing Syrah and Grenache to the tune of a few hundred cases of each.
Even in its short history, the winery has been achieving high ratings from the likes or Robert Parker, who rated his 2003 Grenache Larner Vineyard 91 points. I am cetain the 2004 will either meet or exceed the accolades of the 2003, but we will have to wait and see.
It is indeed pleasure as well as a special treat to receive these wines for our Gary Parker Collection wine club, and I hope you appreciate them as much as I do.

2001 Argiano, Brunello di Montaclino
Since the 16th century, the cellars at Argiano have been keeping Brunello di Montalcino's in a peaceful, perfect place for their storing and aging. The castle itself is quite remarkable, and I suggest you go to this web site and check it out. http://www.castellitoscani.com/argiano.htm
This estate was once owned by Cinzano, better known as producers of Vermouth. It is a decent sized affair, with over 30 hectares planted up as vineyards. In 1991 it was purchased by Countess Noemi Marone Cinzano, who was quick to employ Giacomo Tachis as consultant, and Sebastiano Rosa (once of Tenuta San Guido, and nephew to that estate's owner Marchese Incisa della Rochetta, who was responsible for the planting of vines at Sassicaia in 1944) as winery supervisor.
Since that time this has become one of the most reliable estates in Montalcino, frequently turning out exciting wines.
Details of June's Gary Parker Collection following.....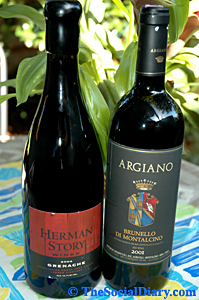 2004 Herman Story Grenache, Larner Vineyard

Growing Region: San Luis Obispo, Ca.
Varietal Blend ……………… 100% Grenache
Alcohol Level 14.8%
Fermentation ……………… French Oak
Winery Price $35.00
Case Price $28.04
Notes: 91Point rating by Robert Parker (no relation)
"An amazing example of a varietal even more fickle than Pinot Noir is the 2003 Grenache Larner Vineyard. Its extraordinary!. This full-bodied, broad-shouldered, sensational Grenache is bursting with fruit, glycerin, and concentration"
Appearance: Great packaging, but please be careful when cutting the plastic cap. Dark red hues with a touch of crimson on the edges. Black at the center, and has significant viscosity.
Nose: A crush of boysenberry and blackberry with other dark red fruits, including black cherry. Vanilla oak and black pepper give a youthful and fresh fragrance, and it still shows long term promise
Texture: There is a slightly angular touch to the rich and very full palate feel. Distinctive fruit essence is countered by a touch of heat that is slightly enhanced by the blood orange/red citric acid. It is indeed, very intriguing.
Flavor: A boat load of flavors come forward, even though the wine seems to be waiting to open up. Actually, it reminds me of an old fashioned cola or Dr. Pepper in some ways. Also, look for chocolate, cherry, vanilla with hints of herb and mint, rosemary, mulberry and eucalyptus. Really quite a showing for a young wine!
Serving Suggestions:
This wine definitely has the ability to go many years, but it is approachable and enjoyable now. I would be challenging myself to not drink all the bottles in my collection before their time. 5-10 years in the cellar is my best guess, but why wait?
2001 Argiano, Brunello di Montalcino

Growing Region: Montalcino, Italy.
Varietal Blend ……………… 100% Sangiovese
Alcohol Level 14%
Fermentation ………………4 years in barrel and bottle before release.
Winery Price $64.00
Case Price $52.69
Notes: Wines from the 2001 Brunello di Montalcino vintage were handed out 90-99 point ratings like popcorn from the critics from The Wine Spectator and The Wine Advocate. . Spice, fruit, structure, color, balance, complexity, everything one could want in a vintage, this Argiano has everything to offer!
Appearance: Classic Brunello di Montalcino label, with black and gold letters, coat of arms, DOCC tag over the top. The color is intense, with deep ruby-black-purple hues that are pretty and reflect light wonderfully.
Nose: The fragrance is quite complex, elegant (yet somewhat rustic as well), and features a nutty, chestnut/pine-nut/vanilla scent that is contemplative. Notes of vanilla, dusty earth, mushrooms and wood surround the blackberry fruit. Nuance of rose petal also joins in.
Texture: Very smooth and elegant texture, the wine has a delightful weight and very good concentration. Sort of a power and elegance thing. There is some silk and creamy feel in the middle, and it is slightly astringent on the finish.
Flavor: This is a very young tasting, ripe, approachable, modern style Brunello di Montalcino. They are usually backwards and no fun at this early stage. Sweet plum and fruit notes are welcoming, with some hints of licorice, anise and fresh dark berries supporting. Nice notes of truffle and earth . . . like having a piece of Tuscany in your glass!
Serving Suggestions: We are looking for about 15 years in the cellar to bring this wine to its fullest potential. I strongly urge you to order an additional 3-6 bottles to keep in your cellar for the ages. You will not regret it!
* Gary Parker is the Principal, Founder, Chairman and CEO of The WineSellar Group. From a background of culinary arts, architecture and art, Gary opened The WineSellar & Brasserie in 1988 with a pioneering concept of combining a fine wine shop, a state of the art wine storage facility, and a highly regarded French restaurant named The Brasserie, all under one roof. With its top rated Zagat level cuisine, and Gary Parker's hand picked wine list of 2,500 classic wines, The WineSellar & Brasserie garnered instant notoriety. The wine list has won The Wine Spectator Grand Award (one of the best 100 wine lists in the world) every year since 1988. Gary subsequently created The WineSellar Club and www.winesellar.com, an Internet wine auction site. Gary is recognized as a leading authority in fine wine, and is active as a spokesperson, appraiser, auctioneer and panelist in the industry.
(editor's note - Gary is a former principal owner of Laurel Restaurant & Bar. Gary established Laurel in 1995, which he sold in February 2005).
back to New this Week.......Gary Parker Archives..........Home
Warning ** photos, video and writing on this site are the
copyright of the author, The Social Diary, San Diego Social Diary, margomargo.com and Margo Schwab.
no reproduction of any part or parts is allowed without written permission by Margo Schwab
In reviewing the tasting notes for the two wines, it looks like the "Notes" part of the Herman Story Grenache are those of the other wine. Everything else looks great . . . Here's how it should read, font is times new roman 12 point
GP
Notes:
91Point rating by Robert Parker (no relation)
"An amazing example of a varietal even more fickle than Pinot Noir is the 2003 Grenache Larner Vineyard. Its extraordinary!. This full-bodied, broad-shouldered, sensational Grenache is bursting with fruit, glycerin, and concentration"