~ The Social Diary ~
~~~~~~~~~~~~~~~~~~~~~~~~~~~~~~~~~~~~~~~~~~~~~~~~~~
Kids Korps USA Gala 2007
'An Era of Elegance'
(high resolution photos available by request )
The evening was themed 'An Era of Elegance.' And it was. Kids Korps USA VIP Guests arrived to the beautifully restored U.S. Grant Hotel on March 24th, 2007 for a gala evening of fun, all for a great cause.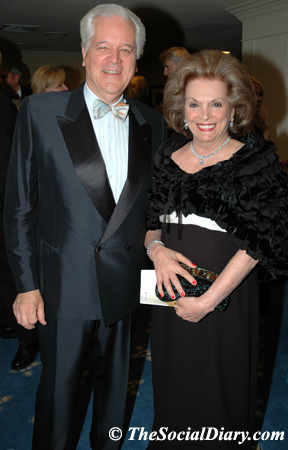 Event Chairs Bill and Connie McNally
Kids Korps USA was created by Joani Wafer and Dawn Lehman in 1995 with the mission of "Building Leaders for Life Through Youth Volunteerism." And since that year, Kids Korps has grown steadily to nearly 20,000 Kids Korps youth and family volunteers.
And with that spirit in mind, steadfast Kids Korps USA supporter and the event's Master of Ceremonies, Larry King came. Larry, fresh from a significant surgery the week before, wouldn't miss an interview for his show Larry King Live, nor this event.
Larry King was joined by the evening's special guest, actress Suzanne Somers. Suzanne wouldn't miss helping out this good cause either. Suzanne and Larry added the proper pinch of glitz to the glamorous crowd of Kids Korps supporters.
Among the standouts were Maggie Bobileff in a Jiki gown with Swarovski crystals that she and husband Gary picked up in Palm Beach. Beverly Morgan of South Coast Plaza wore a multi-colored Sue Wong gown, Andrea Naversen chose strapless black with crystal accent, and Event Chairperson Connie McNally chose an off the shoulder black ruffled topped gown paired with pretty diamond necklace and earrings. Tiffany Mahoney chose a vibratnt yellow gown and Anne Meridian chose the perfect black dress. Suzanne Somers, pretty herself in a strapless pastel pink gown, gave another guest quite the compliment.
And there were more there fashionably with Kids Korps on their minds.
Kim Pavel may have worn a silver Le Bel Age gown by Valerie, but she had only golden comments about Kids Korps USA. "I love this organization as it instills volunteerism for life." And regarding this particular event. "A wonderful cause and fun events can go hand and hand. The Kids Korps Gala was the pinnacle of both. The Teen National Youth Leadership Board was honored. Two honorees, PJ Woolley and Patrick Wafer, didn't know what they were getting into at five years old. Both volunteered in the very first Kids Korps' first project thirteen years ago. Since then, Kids Korps volunteers have contributed over 560,000 volunteer hours. Larry King's jokes and Suzanne Somers' singing entertained the generous supporters of Kids Korps USA."
And the event was fun. There was Larry King's keen sense of humor and Suzanne's incredible voice.
Gary Bobileff put it succinctly. "Great cause supported by great people."
The evening just had that great NRG.... literally. NRG was the terrific dance band that got everyone on the dance floor.
Among the many watching or joining in the dancing were Corporate Event Chairs Karen and Stuart Tanz, Gala Chairs Collette and Bob Stefanko, Gala coordinating chairs Stephanie Kourie and Tiffany Mahoney with their respective husbands, and Event Chairs Connie and Bill McNally.
More NRG and support came from Kathy and Nick Connor, the Sycuan Band of the Kumeyaay Nation, Patty Applegate, the Larsen Foundation, Cindy and Larry Bloch, Suzy Westphal, Joani and Chuck Wafer, Sharon and David Wax, Dawn and Charlie Lehman, and numerous volunteers.
Because after all, Kids Korps USA is about teaching the traditions of volunteering.
Please enjoy the photos.
Event Volunteers with Yorkie puppies for auction ** Tiffany and Jim Mahoney
Tiffany and Jim Mahoney ** Tiffany Mahoney
Guest with Suzy Westphal ** Andrea Naversen
Joani Wafer with Dawn Lehman ** Collette Stefanko with Tiffany Mahoney and Stephanie Kourie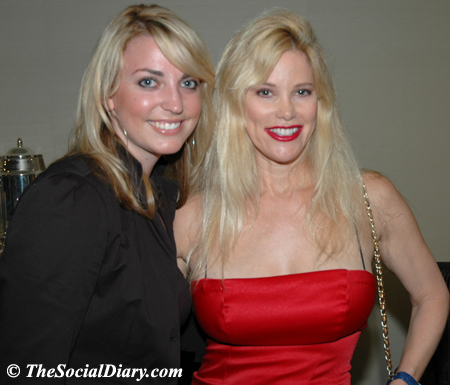 Cassie Kovacevich with Margo Schwab, in a Somsi original
Patty Kovacevich with her daughter Cassie Kovacevich ** Marie Daniels ** Gary Mills and Beverly Morgan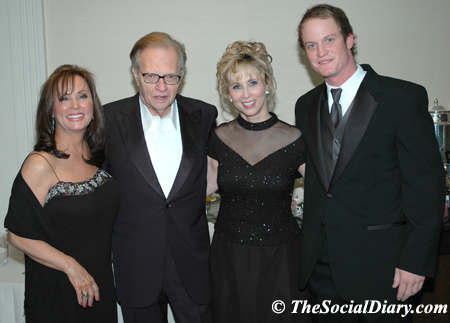 Joani Wafer with Larry King, Dawn Lehman and VIP Guest
Burl Stiff with Kathy Connor ** Kathy and Nick Connor
Marie Daniel and friend ** ** Maggie Bobileff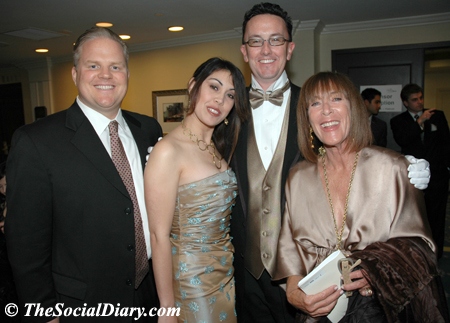 Guests with Marie Daniels, Brian Hawkins in center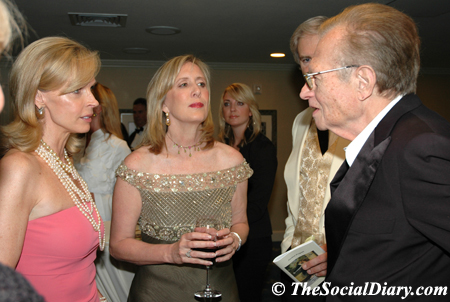 Kathy Connor with Wendy Walker and Larry King
Stephanie Kourie ** Chip Harrison and Kim Pavel, with Karen and Stuart Tanz ** Kim Pavel
Kim Pavel and Chip Harrison ** Volunteers
Guests ** Joani Wafer with Kathy Connor
Guests ** Suzanne Somers
Stuart Tanz with Suzanne Somers ** Suzanne Somers ** Beverly Morgan
Suzanne Somers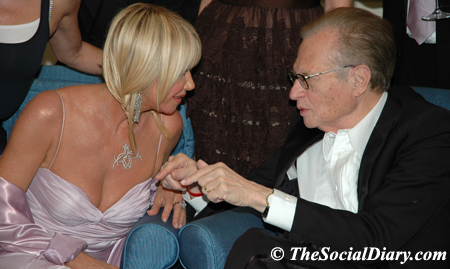 Suzanne Somers with Larry King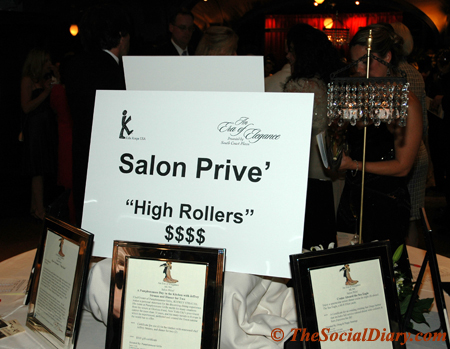 One of the enticing Auction Tables
Anita Bye with Tony Norton ** Maggie and Gary Bobileff
* Margo Schwab has produced, written, interviewed and photographed for various media organizations since 1989. Schwab has a B.A. from Scripps College and a Masters of Business degree, M.B.A., from the University of San Diego. Schwab volunteers for numerous charity organizations. She also continues to lobby for water safety and for family violence mitigation. Schwab is the editor of The Social Diary. Margo is currently writing a book based on La Jolla.
back to New this Week.....Margo Schwab Archives...... Home
Warning ** photos, video and writing on this site are the
copyright of The Social Diary, San Diego Social Diary, margomargo.com and Margo Schwab.
no reproduction of any part or parts is allowed without written permission by Margo Schwab