Where pets are always in style
____________________________________________________
~ The Social Diary ~
The Ezine Covering the World of High Society ..& more
_____________________________________________________________________________
The Jewel Ball's 'Club 6-oh' Hot, Hip & Happening!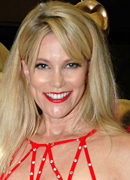 August 25th, 2006
The Social Diary Columnist & Photographer Margo Schwab
Page 1
(please note there are 2 pages of Jewel Ball coverage and photos)
Cool, hip, happening, and vibrant with color. This was not your ordinary Jewel Ball, this was Club 6-oh, celebrating 60 years of giving back to the San Diego community. And it was HOT! In fact it was so hot that celebs Paris Hilton and Nicky Hilton (cutouts) VIP'd straight in. So did the VIP of the VIP guests. Through the alley way entrance, the ultra-glam were ushered through the slew of paparazzi by very muscular doormen. The La Jolla Beach & Tennis Club was definitely transformed for the night.
And on to the party guests went. First to the cocktail party with colorful martinis, champagne, a seafood bar and sushi. For backdrop poolside were shimmying club dancers and a DJ spinning the latest of club music. They were shaking it up on the pool bridge. Some attendees lounged poolside on the cushioned seating, others mingled.
Vicky Eddy, the President of Las Patronas, the organizational group behind The Jewel Ball, put it succinctly. "60 years of Las Patronas called for a historic Jewel Ball...and thanks to Wendy Segall (the Event Chair), our members, and our many generous friends....never has 60 been so deliciously hip! Club 6-oh! definitely put the sizzle in sixty!"
Sizzle it did. The people watching was outstanding. Jennifer Greenfield stood out in an animal print by Dolce and Gabbana. Valerie and Harry Cooper collectively wore the best of Versace. And wore it well they did. Valerie was in a strapless teal number. Harry's white Versace jacket with gold detailing caught many a favorable comment.... and some jealous ribbing!
And young one did feel as you walked the red carpet getting your photo snapped by the hired paparazzi upon entering this club. We actually felt like we were in an alley in New York City entering the La Jolla Beach & Tennis Club. In fact, one of the paparazzi became so overwhelmed with us, that a 'police officer' came out-of-know where and handcuffed him, frisked him, and took him off to jail right in front of our eyes.
It was indeed a really fun spectacular event. All evening during the cocktail and mingle, the paparazzi approached us with their pen to pad writing our stories, and getting our photos. They kept calling us Demi Moore and Bruce Willis, and asked us if we were really back together and hopefully we would stay together.
They told me how much they enjoyed me in the "Charlie's Angels" movie. It was a real kick! Hats off to the Las Patronas and their creative skills!"
Tahnee McKellar wore a couture gown by her talented son Designer Stefan McKellar. The gown's detailing of gold perfected Tahnee's look and garnered quite the praise.
Dianne Bashor wore a form fitting lace number. And so did Chairperson Wendy Segall. Wendy's was vintage Chanel.
Jo Bobbie MacConnell, was there as a sponsor and longtime Charter member of Las Patronas. Her kindness does not stop there. Jo Bobbie gave one of her vintage Oscar de la Renta frocks to good friend Anne Halsey-Smith. Jeanne Jones wore vibrant Pucci, Noni and Dr. Drew Senyei accented with cool cat shades.
And the accolades of guests continue. " I thought the ball was a blast.Wow...what a night and all for a wonderful cause!" said Jeanne Larson.
Valerie Cooper added "It was a sensational party and the Las Patronas gals outdid themselves again. So many exquisitely dressed ladies. With Jacquie Foster leading the music and the show, if you were not there, you missed one of the best parties of the year!
Lisa Casey had this to say. "Wonderful people helping wonderful causes. The love and effort that go into putting up and taking down each decoration for the Jewel Ball is reflected in the 50 women of Las Patronas who pull the event together each year. This year's event, "Club 6-0," was a fun and funky tribute to the 60 years that Las Patronas has served nonprofit organizations with their contributions throughout San Diego"
Lisa had fun too in her Italian couture dress by Hollywould. She wasn't the only one as many a guest popped up on the raised dance boxes dotted throughout the dance floor. Even Council President Scott Peters couldn't resist, albeit briefly.
It was just impossible to ignore the dance vibe and show put on by the outstanding Wayne Foster Orchestra. Tempting too was the delicious Hyatt La Jolla catered menu served atop an unusual and fun grassy mat. Maine Lobster and Ahi roulade for a starter, Filet in Perigourdine sauce, wilted spinach, tri colored vegetable timable for a main course, followed by a naughty but very nice chocolate mocha cake. Tantalizing and terrific!
And there many more there enjoying a great evening, Sarah and David Burton, Carolyn and Arthur Hooper, Jeannie and Jeffrey Carlstead, Peter Caruso, the engaged Joyce Parrish and Craig Grosvenor, Lorna and Chris McKellar, Joby and Kyle Bakken, Noni and John Barbey, Dianne and Jim Bashor, Emma and Leo Zuckerman, Ted Waitt, Tiffany and Shawn Worst, Gudrun Wagener, Iris and Matthew Strauss, Colette and Ivor Royston, Cory Segall, Morgan Segall, and Stu Segall, husband of Chairperson Wendy Segall. FYI, Stu's Stu Segall Productions was a big help on set design for Club 6-oh.
More there supporting the community and having a heck of a good time doing it were Marty and David Pendarvis, Lynn Gorguze with her husband Scott Peters, Marilyn and Greg Noonan, Lyndy Roda, Susan and Fred Oliver, Tahnee McKellar and Joerg Kruse, newlyweds Cara and Marc Miller, Kelli and Vahid Moradi, Elaine and Tom Murphy, Teresa and Harry Hixson, Gina and Rob Hixson, Sue and Lyle Kalish, Desiree and Fred Kellogg, Wendy Kellogg and Dave, Tricia and Bill Kellogg, Judy and Dick Freeman, Lee and Frank Goldberg, Sally and Steve Schreiner, Guylin and Scott Cummins, Vicky and Chris Eddy, Barbara and Dick Enberg, and two very hardworking, and pretty Co-Chairs, Alison Figi and Kathryn Stephens.
It's a lot of work by the Las Patronas ladies for a lot of great causes. Since 1946 Las Patronas through today, the Jewel Ball has raised over $11 million for over 1,000 San Diego County charities.
Some of the beneficiaries of Club 6-oh proceeds are:
The American Red Cross ~ San Diego/Imperial Counties Chapter
The Brother Benno Foundation, The Museum of Contemporary Art San Diego, Partnerships With Industry, San Diego Center for Children, The San Diego Repertory Theatre, The San Diego Symphony Association, The Scripps Clinic Department of Hematology and Oncology,The Senior Gleaners of San Diego County
and special grants to: The mission of Alpha Project for the Homeless, Walden Family Services, and The Whittier Institute for Diabetes!
Great applause to all of those who support The Jewel Ball and a special thank you to Peter Caruso for hosting The Social Diary at his table!
Please enjoy the 2 pages of photos!

pictured here - Dr. Drew and Noni Senyei, "Nicky and Paris Hilton" with Scott Johnston, Chairperson Wendy Segall on the right with friend
pictured here - Muscle'd Security at the alley entrance to Club 6-oh, the pool, the bridge, the DJ and dancers.
pictured here - Claudia Johnson of ExclamationsGifts.com with LP President Vicky Eddy, Kristi Pieper-Rossbacher, Jennifer Greenfield.
pictured here - Don Breitenberg and Jeanne Jones poolside in the VIP seating.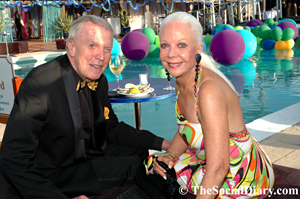 pictured here - Scott Johnston with Stu Segall, Desiree and Fred Kellogg, waitress with colorful Club 6-oh martini's.
pictured here - Stu and Wendy Segall, Chris Eddy, Bill and Jeanne Larson.
pictured here - Sally Schreiner and Sally Lawrence, Steve and Sally Schreiner, Royce and John Campbell.
pictured here - John and Toni Bloomberg, Terry Cooper with friends.
pictured here - Terry Cooper with friends, Pam and Jerry Cesak with Royce and John Campbell, Tahnee McKellar.
pictured here - Joerg Kruse with his wife Tahnee McKellar, Joerg Kruse, Tahnee McKellar and Designer Stefan McKellar, guest with Jo Bobbie McConnell
pictured here - The entrance to the dinner club area of Club 6-Oh!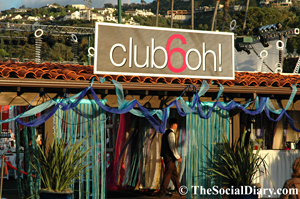 Click Here for More Jewel Ball Photos - Continue to Page 2
* Margo Schwab has produced, written, interviewed and photographed for various media organizations since 1989. Schwab has a college degree from Scripps College and a Masters of Business degree from the University of San Diego. Schwab volunteers for numerous charity organizations. She also continues to lobby for water safety and for family violence mitigation. Schwab is the owner and publisher of the Social Diary.
back to New this Week.....Margo Schwab Archives...... Home
Featured on Discovery Channel's ... Shark Week - 'Dangerous Jobs That Bite Harder!'
____________________________________________________________
click on the OS feet to learn why this is the smart sandal choice of Doctors
& The Social Diary ..... "they're healthy chic for the feet" raves Margo Schwab

___________________________________________________________
Warning ** photos, video and writing on this site are the
copyright of the author, The Social Diary, San Diego Social Diary, margomargo.com and Margo Schwab.
no reproduction of any part or parts is allowed without written permission by Margo Schwab