www.arthritis-sandiego.org/walk
Kima on Facebook! & Kima's Fan Page
_______________________________________________________________________________________________________________________

all photos and content are the strict copyright 2009 of TheSocialDiary.com
no downloading!! photos are available for purchase if it is of you!
Celebrity Chefs Turn Up Heat for Moores UCSD Cancer Center Gala
Things heated up May 16, 2009 for the Moores UCSD Cancer Center Gala held at the Sheraton San Diego Hotel and Marina. And it was for a great cause. Funds raised at this event went to implementing new discoveries for the better care of cancer patients.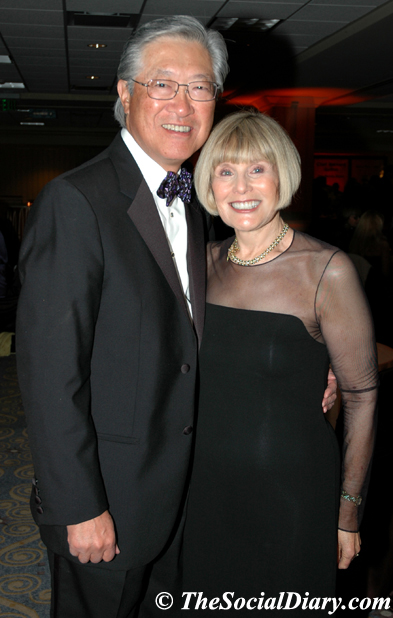 Co-Chairs Jeffrey and Carol Chang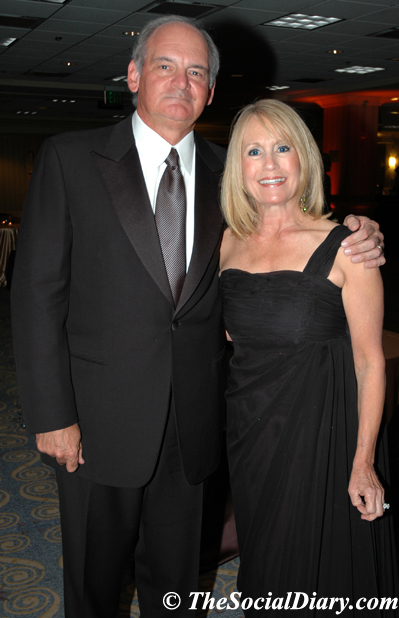 Co-Chairs Rudy and Carla Rehm
What a way to do it too. The 28th Annual Chefs Cook Gala started off with local and national talents offering their culinary talents for the reception. Eleven great chefs including Jean Michel Diot of Tapenade, and Jeff Jackson of A.R. Valentien paired their hors d'oeuvres with over the top wines. One such delightful sampling was the King Oyster Mushroom Bisque with a 2007 Russian River Valley Chardonnay at Chef Bernard Guillas of The Marine Room's table.
More chefs there included Nathan Coulon from the Quarter Kitchen at the Ivy Hotel, Thomas Broder of Broder's Cucina Italiana, Billy Boyle of Suite and Tender, Paul Ferzacca of La Tour Restaurant & ZaccaZa!, Chris Mirguet of Albert's Restaurant, Thierry Rautureau of Rover's Restaurant, Eric Tanaka of Dahlia Lounge, and Jason Wilson of Crush.
"This is such a fun event!" said Georgia and Blair Sadler. "Every year we say the food and wine pairings can't possibly get more exciting, and then every year, we're amazed to be wrong again! We're already having food fantasies as we anticipate next year's Gala!"
No one is late for this black tie event and no one dresses less than their best.
UCSD Chancellor Marye Anne Fox broke out with a little glamour wearing a nicely draped dress cinched at the waist with a chic scarf.
She was joined by other fashion notables. Jeanne Jones wore a one shoulder cut on the bias gown by Jordan. The shade was a pretty blue to match her eyes. Lee Goldberg wore a beautiful number by Chetta B., Lael Kovtun wore a handprinted textile gown by Zandra Rhodes, Caroline Nierenberg wore a beaded Carlos Miele, Sheryl White wore an Elie Saab with strategically placed lace insets, Dixie Unruh wore feathery red couture by Jordan, Micki Olin wore a shorter silk dress by BCBG, Karen Cohn wore a vibrant couture dress by Zac Posen, and co-chair Carol Chang wore a black Donna Karan with sheer sleeves.
Carol was joined by fellow co-chair Carla Rehm, who was wearing a timeless Victor Costa. They were joined by their respective husbands and co-chairs, Jeffrey Chang and Rudy Rehm.
Rudy was quick to point out that he was wearing a Canali suit by the way. A detail he did not mention is that he is also the President of the Cancer Center Advisory Board.
"I think it is important that San Diegans realize that they have access to a highly regarded certified comprehensive cancer center right here in their own backyard," said Rudy. "To be sure Director Dr. Dennis Carson and his high powered professional team at Moores Cancer Center UCSD are widely recognized for their focus on research that supports the development of treatments that will extend lives while the search for the cure continues.
Without question, the prognosis for cancer patients has improved in the last 20-30 years. The death rate has dropped. Indeed, while the prevention of cancer is still the challenge, how to treat it if prevention has failed drives the effort at Moores. "
Guests continued the evening with a Chef Steve Black dinner. Perfection that included roasted eggplant and herbed chevre terrine, a chipotle gazpacho shooter, filet mignon with Portobello and porcini duxelle, and a trio of desserts that included a chocolate pear caramel mousse cake. Fancy names for fabulous food!
There were stories of lives saved through the cancer center, and there was the cheering announcement that $1.5 million new dollars plus $200,000 from that evening were going to the cancer center.
The happy news brought a lot of cheering and later dancing to the popular Society Beat.
More among the mix enjoying the festivities and fundraising were restaurant columnist David Nelson, Jacqueline and Matt Rimel of Rimel's Rotisserie and Zenbu Sushi, Rachel de la Vega, Conrad Prebys and Debbie Turner, Cindy and Tim Wollaeger, Jeanie and Jeff Carlstead, newlyweds Olivia and Peter Farrell of ResMed, Anni and Arthur Lipper, Rebecca Moores, yes the Moores UCSD Cancer Center is named after her, Anne Otterson, Benedicte and Eric Otterson, Belle and Paul Reed, Stephanie and Bill Tribolet, and Claire Reiss.
"As always, the Celebrities Cook for Cancer was a stellar culinary event," said Jeanne Jones. "In fact, the Celebrity Chefs tasting portion of the event seemed to flow even more smoothly than usual."
"This was truly a special evening, said Carol Chang. "We had 11 incredible chefs of whom 5 were from around the country: from the midwest (Minnesota) to the mountains of Vail and to the northwest (Seattle) - along with six fabulous local chefs and the food was just better than ever.
The real highlight for me, however, was that this year we really focused on the miracles that occur every day at Moores: we told stories about real patient successes including recognizing a pancreatic cancer survivor who was in the audience - so wonderful! It really was an evening of "food for the mind, body and spirit!"
By the way it was Carol and Jeffrey Chang's 17th wedding anniversary that night. Carol said they planned the event to coincide with their special day. For them it was a great way to celebrate health and happiness with a few hundred of their friends. Cheers!
To learn more about the Moores UCSD Cancer Center, visit www.cancer.ucsd.edu.
Karen Cohn ** Harvey and Sheryl White
David Nelson with Sylvie Diot of Tapenade ** UT Social Columnist Burl Stiff with Jeanne Jones
Jeanne Jones with Matt Rimel ** Lee Goldberg with Don Breitenberg ** Leslie Armstrong
Dr. Karen Gordon with Patricia Lo ** Dr. David Brenner
Sheryl White with Olivia Farrell ** Caroline Nierenberg with Micki Olin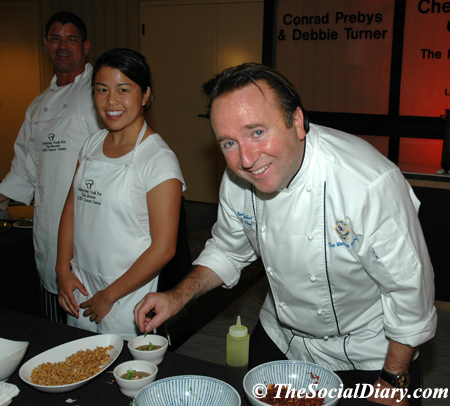 Chef Bernard Guillas of The Marine Room putting on the finishing touches for his Mushroom Bisque
Jay and Lael Kovtun ** Dixie and Ken Unruh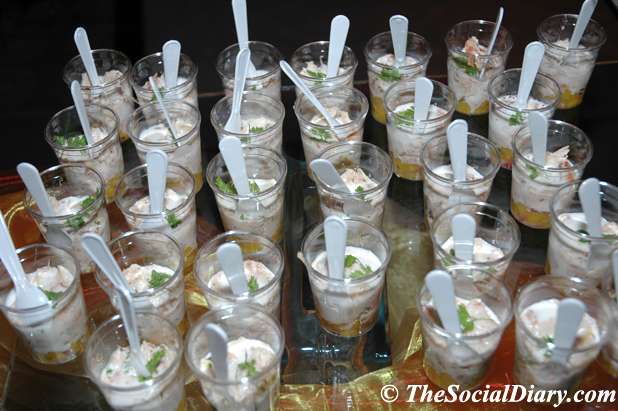 Crab with an emulsion of lime and coconut from Tapenade
A floral centerpiece ** Peter Farrell modeling Sheryl White's swarovski covered cupcake purse
Claire Reiss ** Jeanne Jones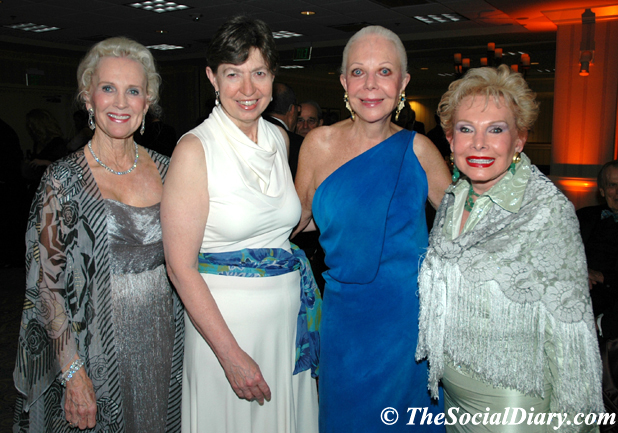 Lael Kovtun with Chancellor Marye Anne Fox, Jeanne Jones and Lee Goldberg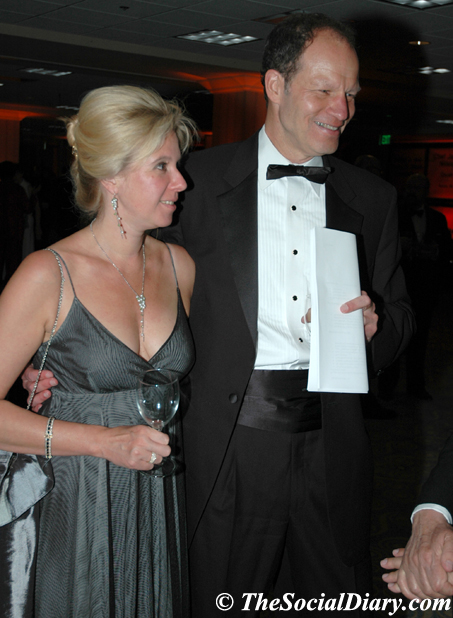 Tatiana Kisseleva with Dr. David Brenner, UCSD Vice Chancellor Health Sciences, Dean School of Medicine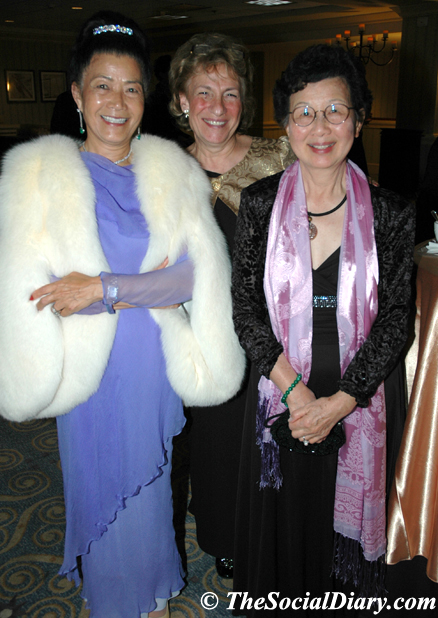 Claire Reiss with Georgette Nicolaou and Kuang-Chung Chin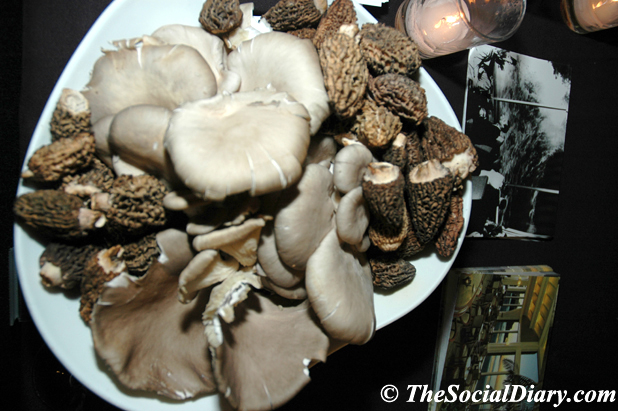 The mushrooms used in Chef Bernard Guillas's Mushroom Bisque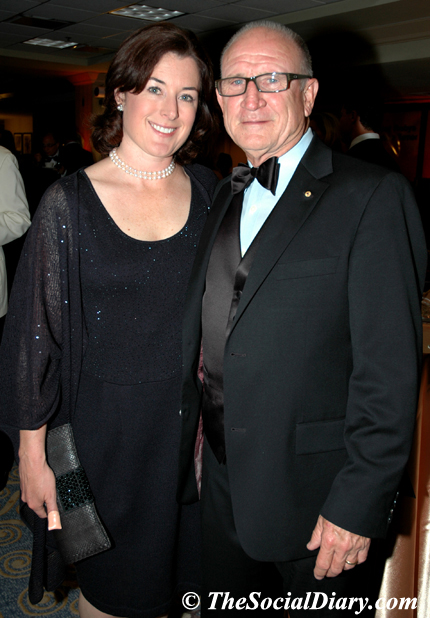 Olivia and Peter Farrell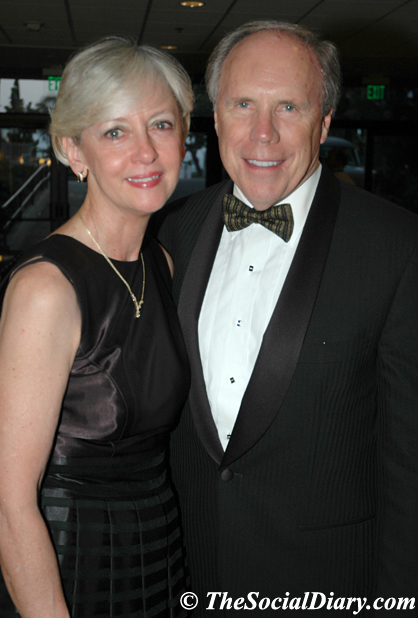 Georgia and Blair Sadler
A reception floral centerpiece of orchids
To view previous Moores UCSD Cancer Center events, please click on the following links:
reported by Margo Schwab
The Buzz
Some very feisty ladies and a few cheating men are coming to town.....
The Old Globe has announced the cast for the world premiere, Broadway-bound musical, The First Wives Club. The cast features Broadway veterans Karen Ziemba (Contact, Curtains) as "Annie," Adriane Lenox (Doubt; Kiss Me, Kate) as "Elyse," Barbara Walsh (Company, Hairspray) as "Brenda," John Dossett (Gypsy) as "Aaron," Kevyn Morrow (Dreamgirls) as "Bill," Brad Oscar (The Producers) as "Morty," Sara Chase as "Trophy Wife," Sam Harris (The Life) as "Duane," Ari Lerner and Austyn Myers alternating as "Jason," with Michelle
Aravena, Mark Campbell, Thursday Farrar, Jenifer Foote, Bob Gaynor, Matthew LaBanca, Victoria
Matlock, Hayley Podschun, Martin Samuel and Richard Waits as the Ensemble.
The production will run in the Old Globe Theatre July 15 –
August 23, 2009,

for Tickets to the First Wives Club—The Musical contact the Globe Box
Office at (619) 23-GLOBE or online at www.TheOldGlobe.org.
First Wives Club will be produced on Broadway by Paul Lambert
meanwhile at the Globe....
The Old Globe's acclaimed "Classics Up Close" series continues with Arthur Miller's The Price. A protective wife watches as her husband, a policeman nearing retirement, and his brother, a successful brain surgeon, face the truth about themselves when they meet to sell their late father's possessions. Starring Dominic Chianese, Andy Prosky, James Sutorius and Leisa Mather. Playing in The Old Globe Arena Stage at James S. Copley Auditorium in the San Diego Museum of Art, May 9 – June 14.
followed by......
From the co-creator and Executive Producer of the hit HBO series "Big Love" comes Cornelia, an epic slice of history – welcome to Alabama, 1970, recently-divorced beauty queen Cornelia Folsom has her eye set on Governor George Wallace, and will do anything to be the next first lady of Alabama. But this is the South, and there's more than hanky-panky going on in this sweeping, provocative tale of sex, power, and bare-knuckled American politics. Starring Robert Foxworth, Melinda Page Hamilton and Beth Grant. For Mature Audiences. Playing in The Old Globe Theatre May 16 – June 21.
and those Vista Hill 'Dolls' Went Barbie all the Way.......
Vista Hill presented its 18th Annual Spring Fashion Show April 29th and it was 'Barbie-rific!'
The Theme was Barbie, 50 and Fabulous... and it was fabulous. The Barbie dolls Barbie Spinazzola and Barbara Brown co-chaired...
Vista Hill supporter Sally B. Thornton had this to say.
"Hey there, 'Barbie' girl!"
Barbie Spinazzola, that is!!
Your excellence was everywhere.
You had the perfect touch.
Fabulous Fashions, thrilled & delighted…!
Simply Scrumptious!
Thanks to the Manchester Grand Hyatt.
Vista Hill's on a roll!
Stay tuned…"
Stay tuned we will. Events like this raise monies and support for Vista Hills programs that are integral to the purpose of putting families on the healthy path.
Jewelry designer Pamela Pogue was thrilled to contribute a spectacular necklace to the cause.
"A fashionable event that beautifully honored and supported recovering families in need. This important cause continues to provide quality programs for children, adults and families resulting in ongoing success stories. Great attendance! Fabulous fashion show! Congratulations Vista Hill on your endeavors and successes!"
and is this the coolest bridge .....
The Longest StressRibbon Bridge in the World opened May15th, 2009
The Lake Hodges Bicycle/Pedestrian Bridge provides an important connection between Escondido and San Diego.
And it's not just beautiful, it is a landmark structure to peacefully view by walking or bicycling, some of San Diego's remaining wildlife habitat. For more information, details on how they built the bridge, and wildlife you may view, please visit
www.sdrp.org
"The bridge took ten years of planning, funding and construction that seemed interminable. But when I look at it today I know it was worth the effort because the community has gained a rare asset; a public improvement that not only expands recreational opportunities but also serves as a dramatic and beautiful sculptural element for all to enjoy." - Dick Bobertz, Executive Director of the San Dieguito River Park Joint Powers Authority
and on a serious note....
We would like to salute the life of Lisa Bols. We met her a few years back at a Monte Carlo gala. We were impressed by her warmth. Since then, she and husband J.D. have attended numerous events, the La Jolla Playhouse, Ronald McDonald House Charities, and countless others. In the face of cancer, Lisa never strayed from being a positive and bright light on the social circuit.
Even as things turned worse, Lisa and J.D. planned a cancer fundraising event for Scripps Hospital which was held last week. There were a lot of cheers to Lisa, who battled the good battle, and whose spirit lives on.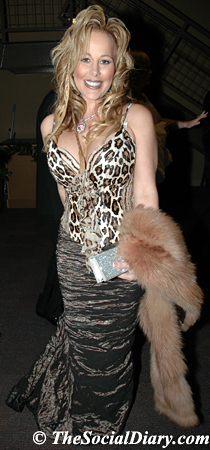 Upcoming Events
June 6th - Helen Woodward Animal Center's Spring Fling
The annual Spring Fling gala titled Shangri Paw (an eternal paradise) is Helen Woodward Animal Center's black-tie extravaganza featuring 20 of San Diego's best restaurants, live entertainment, unique libations, amazing auction items for you and your best friend, and dancing till midnight! The 2009 Spring Fling will take place on Saturday, June 6, 2009. Kima will be there too as Dog Honoree for the Arthritis Foundation Walk.... More information first on the Helen Woodward event..... More information
June 6th - The Arthritis Foundation Walk.
The Arthritis Walk® is the Arthritis Foundation's annual nationwide event that raises awareness and funds to fight arthritis, the nation's most common cause of disability. It is a tremendous opportunity to help improve the lives of the 46 million men, women and children doctor-diagnosed with arthritis.
And Kima is the Dog Honoree for the walk! So 'Let's Move Together!'
To learn more about arthritis and this walk, please visit
www.arthritis-sandiego.org/walk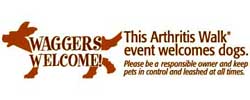 Dogs get Arthritis too!
June 14th - The Fiesta Garden Party for P.A.W.S. or Pets Are Wonderful Support will host its fundraiser for aiding people with financial or disability needs, care for their pets. Animal activist and Emmy Award winning Loretta Swit will be attending the fundraiser. The event will be held on the grounds of an historic 1920's estate adjacent to Balboa Park. Well behaved and leashed dogs are welcome to attend. Kima will be wearing a custom Jordan Art Couture outfit that will be available by live auction. Please visit www.pawssdc.org for more details and tickets.
Save the Date
June 17th - Fashion at the Timken - Guest Speaker Patricia O'Connor, Founder / CEO of Fashion Careers College and Timken Docent. For reservations, please visit www.timkenmuseum.org
June 19th - The Rainforest Alliance promises a wildly fun night of fundraising.
June 20th - RITZ, San Diego Zoo Gala Fundraiser themed Midnight at the Oasis. Lisa Casey and Chris Andrews are the Chairs. For tickets and details please visit www.sandiegozoo.org
July 30th - 'After the Finish Line's' summer fundraiser, A Tribute to the Majesty of Thoroughbreds
August 1st - Old Globe Gala will host its black tie soiree to coincide with the production of the First Wives Club.
August 8th - Las Patronas will host its Silk & Spice themed Jewel Ball at the La Jolla Beach & Tennis Club
August 15th - The 'Catch the Royal Wave' will be the theme for the Fur Ball at the San Diego Humane Society.
August 29th - The Art of Fashion at The Timken Museum in collaboration with Fashion Careers College. For reservations, please visit www.timkenmuseum.org

Proud to be partnered with San Diego News Network
________________________________________________________________
Photoshopping and Photography Services
Photos on this website available if it is of you
available by The Social Diary
~ 619-384-7333
email TheSocialDiary.com
_____________________________________________________________________
Email Commentary to be added
email editor@thesocialdiary.com
Great coverage - made me want to attend all over again. - Carol Chang
The Cancer Center Gala was one of the most beautiful events of this season! - Lee Goldberg
As for the event --short speeches, no live auction, delicious food. It was a perfect evening (but we missed the dog!) - Jay Kovtun
Thank you...very nice & appreciated. - Rudolph Rehm

* Margo Schwab, more formally known as Margaret E. Schwab, has produced, written, interviewed and photographed for various media organizations since 1989. Schwab attended Holton Arms School, La Jolla Country Day School and La Jolla High School. Schwab has a B.A. from Scripps College, spent a business internship with S.A.I.C., Science Applications International Corporation, and earned a Masters of Business degree, M.B.A., from the University of San Diego. Schwab additionally took college courses from Harvard University, and Syracuse University. Schwab volunteers for numerous charity organizations. She also continues to support animal organizations and the prevention of people and animal abuse. Schwab is the editor of The Social Diary.
The Social Diary is pleased to announce new partnerships with the San Diego Humane Society and San Diego News Network.
Warning ** photos, video and writing on this site are the
2009 copyright of The Social Diary, San Diego Social Diary
no reproduction of any part or parts is allowed without written permission by The Social Diary