~ The Social Diary ~
~~~~~~~~~~~~~~~~~~~~~~~~~~~~~~~~~~~~~~~~~~~~~~~~~~
The 14th Annual Moores UCSD Cancer Center Luau and Longboard Invitational
"A Day When Surfing for a Cure is the Motto"

August 21st, 2007
by The Social Diary Reporter & Photographer Margo Schwab
It was a beautiful summer day by Scripps Pier in La Jolla, a perfect day to support and 'surf for a cure." And on August 19th, 800 plus guests did just that as they gathered for the 14th Annual Moores UCSD Cancer Center Luau and Longboard Invitational. Collectively, over $2 million has been raised for the cancer center's research and educational purposes.
And it was a day of fun raising more money for the cause. Surf legends Rabbit Kekai. Surfing Hall of Famer L.J. Richards Jock Sutherland, Debbie Beacham, Robert August, Mike Doyle, Linda Benson, Shaun Tomson, Peter Townend, Henry Ford, Carl Ekstrom, Jericho Poppler, Skip Frye, Woody Ekstrom, John Peck, Joyce Hoffman, David Nuuihwa were among those lending a little star quality to the event.
Event Chairs Paul Grayson and Craig Knox
1982 World Surf Champ Debbie Melville, now Debbie Beacham has this to say. "I love this event because it raises the bar on fun fundraiser's. The Surfing legends surf alongside the elite of the bio-tech community and interact with the surf-teams and the public. We also had a great time surfing together in the expression session. It's all about enjoying the surf and the company of so many elite surfers all in one place. It's quite extraordinary in that regard. The UCSD Cancer Foundation is at the forefront of cancer research and it is a perfect match that La Jolla can host such a fun and unique event"
Unique it is. A beautiful setting in La Jolla, annually draws surfers, scientists, social sorts, and supporters.
Co-Chair Paul Grayson said this."The Luau and Longboard Invitational is one of the most successful surfing fundraisers because it brings out the aloha spirit of the community. We thank the community for being a part of this unique event as we 'surf for a cure.' From our title sponsor Genentech, to the businesses who sponsor teams or donate auction items, to all of our volunteers and participants, the Luau shows that only together do we have a chance of beating cancer."
Paul's Co-Chair Craig Knox concurred. "The Luau and Longboard Invitational was created to support San Diego's very own Moores UCSD Cancer Center, a top treatment facility which combines advanced cancer research and patient care. Over the past years, we have been able to contribute over two million dollars to finding better ways to prevent and fight cancer."
And supporting cancer research can be fun. "Another great day for a terrific event. We had it all -----------sun, waves, gorgeous boards, good food and drink, but most of all enthusiastic and extremely generous supporters …….and I won a fabulous gift offered by the incomparable French Gourmet, it doesn't get much better" remarked Patty Hambleton. Patty should know. She is a '12 year proud' survivor of cancer.
Andrew Spurgin, the Executive Director and Chef of Waters Fine Catering has been involved with the event for years. "The luau is one of my favorite events of the year. Talk about a harmonic convergence: great cause, great people, and a great party! I so enjoy working with the Luau Team. Also, this year Waters went 100 percent biodegradable with our disposable-ware, and that's a good thing for our planet!"
Good for the appetites was Chef Andrew's incredible luau buffet which included reversed Ahi Tuna Rolls, inside out no less, Mahi Mahi Thai style with yellow curry and Tamarind, Hunan Tofu, Trinidanian chicken Pelau, and Braised Pork with Black Beans Lime Juice and Chili, and then there were the desserts. There were mini haystacks of fresh coconut, macadamia chocolate chunk cookies, chocolate cakes cinnamon Genoise, Italian Pana Cotta topped with a papaya gelee, and mini rum raisin cupcakes.
That wasn't the only rum around. There were popular rum drink concoctions served at the bar. And the Polynesian theme didn't stop there. Fantastic hula dancers performed, and the aloha spirit pervaded.
Event Co-Founder and Past Event Chair John Otterson had these remarks. The Luau & Longboard Invitational is a special event for La Jolla – it marks a wonderful day of Aloha in support of the Moores UCSD Cancer Center's ongoing battle against cancer. We are fortunate to have such a world-class event in La Jolla! As always, the Luau & Longboard Invitational was great fun! It was wonderful to see the local business community mix it up with renown surfing legends in the tournament as well as at the Luau. This world-class event has become an icon for all of San Diego, not just the surfing community. And as it happens for such a good cause, Finding the Cure by the Moores UCSD Cancer Center, only adds to the Aloha of the day."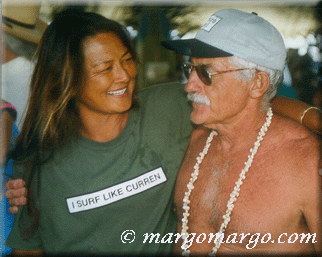 Rell Sunn 'Queen of Makaha' with Pat Curren, copyright of The Social Diary and margomargo.com
Aloha is the spirit for which the Rell Sunn "Queen of Makaha" Award is given each year. Rell Sunn, the award's inspiration, was more than a surfer, and more than a person who battled breast cancer for almost two decades. She lived with grace, and the aloha spirit of giving. In fact Rell described that giving spirit simply. "You give and you give and you give … and give from here (the heart), until you have nothing else to give." And she did until her 15 year battle with breast cancer took her.
John Otterson's father Bill Otterson was a recipient of the Rell Sunn Queen of Makaha Award. Other honorees have been Georgia Sadler, Dr. David Tarin, Dani Grady, Charles Gorder Sr., Dr. Mark Renneker, Dr. J. Craig Venter, Alex Szekely, Jon Greif, and now, Dr. Linda Olson.
Dr. Olson is recognized for her commitment to the battle against cancer and serving the community. Dr. Olson is recognized for her distinguished career in radiology and medical imaging. She is particularly noted for her work as a Director of UCSD"s Breast Imaging Center. For this Dr. Olson received the 2007 Rell Sunn "Queen of Makaha" Award ..... and a lot of applause.
And the day drew other raves too.
"Living surf legends, lively Polynesian entertainment, lucscious spread, plus a gorgeous San Diego afternoon - all of it came together, and how! To benefit the fight against cancer and recognize survivors at UCSD's Luau and Longboard Invitational - besides, I got a refresher course in longboard/shortboard pros and cons!" Yolanda S. Walther-Meade enthusiastically stated.
Bruce Steel was happy to be a part of the day too with his family. "We were thrilled to attend this year's event. Many thanks to Ambit Biosciences for inviting me to join their team. It was truly a memorable day as we were able to enjoy fun surf with many of the sport's great legends, the spectacular luau and auction, and support the UCSD Cancer Center - one of the world's preeminent cancer research institutions - all right in our own backyard!"
And that was the spirit that supporters exuded. Among the many guests were Nancy and Fred Borrelli, awards presenters Bettina Borrelli and Ciera Tabb, Artist John Van Hamersveld and Alida Post, Murray Palmer, Yvette Monteleone and Sam Iacobellis, the Saikhon family, the Szekely Family, the Director of the Moores Cancer Center Dennis Carson, MD, Stephanie and John Hoffman, UCSD Chancellor Marye Anne Fox, Cecelia and Santiago Aguerre of Liquid Tribe, Janet and Clyde Ostler, and 2006 Event Chair, Paul Cleary.
Nancy Borrelli, who is part of three generations supporting the luau from the start, concluded with this. "What a great family day. Thanks to the legions who surf each wave to find a cure for cancer, and the sponsors who help put the event on. I believe everyone has lost a love one to this painful disease. We all need to help."
Among the sponsors joining Title Sponsor Genentech in surfing for a cure were Wells Fargo Wealth Management Group, The Saikhon Family, Qualcomm, the Waitt Family Foundation, The Walton Family Foundation, W.P. Carey Foundation and Scripps Institution of Oceanography. By the way, Scripps won the first place title.
About the Moores UCSD Cancer Center:
"Founded in 1979, UCSD Cancer Center was renamed the Rebecca and John Moores UCSD Cancer Center in honor of the Moores' leadership gift to the Center. The Center is one of just 39 in the United States to hold a National Cancer Institute (NCI) designation as a Comprehensive Cancer Center. As such, it ranks among the top centers in the nation conducting basic and clinical cancer research, providing advanced patient care and serving the community through outreach and education programs. The center's mission is to translate promising scientific discoveries into new and better options for the prevention, diagnosis and treatment of cancer, and the amelioration of pain. For more information, visit http://cancer.ucsd.edu."
Please enjoy the photos.
(high resolution photos available by request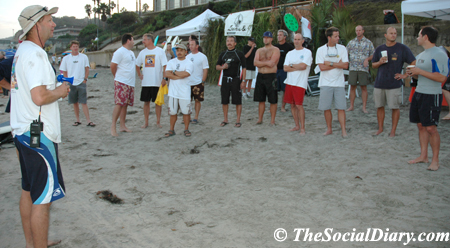 Sam Iacobellis explaining the surf etiquette and emphasis on 'surfing for a cure'!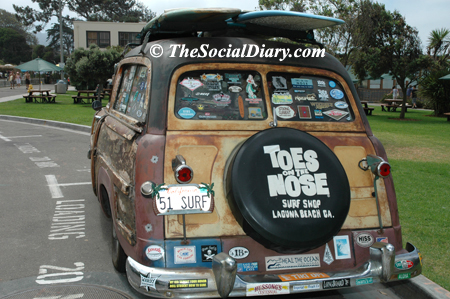 Jericho Poppler-Bartlow ** Rabbit Kekai and L.J. Richards
Enrique and Patty Hambleton ** Sheila Walsh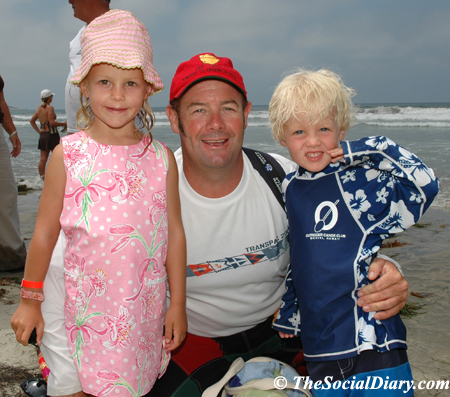 Event Co-Founder and Past Chair, John Otterson with Bella and William
John Peck ** Guest
Cecelia and Santiago Aguerre ** Bettina Borrelli and Ciera Tabb ** The original surf Gidget, Kathy Zuckerman with Pete Townend or P.T.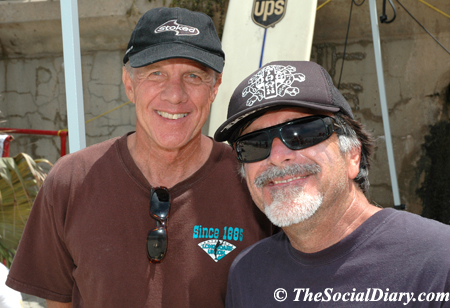 Guest with Chris Ahrens
Some of many surfboards ** Jake Ostler
Terry Krazewski with her daughter Kara ** Teen Beauty Pageant Young Ladies
George Granger with friend Christy Walton ** The Paul Strauch's ** Elaine Robbs
Past Chair Ben Wood ** Yolanda S. Walther Meade ** Janet and Clyde Ostler
Movie Producers Bruce Brown with his son Dana Brown ** Bruce Brown, Dana Brown and John Johnson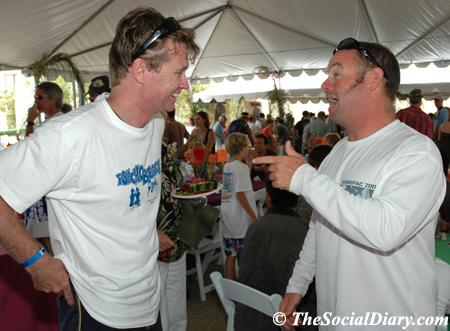 Step Into Liquid and High Water Producer/ Director Dana Brown chatting with John Otterson
Bruce Brown with his daughter Nancy Brown ** Polynesian Dancers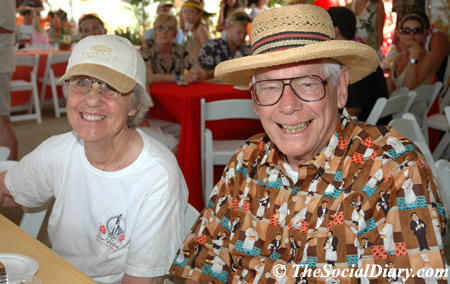 Lollie and Bill Nelson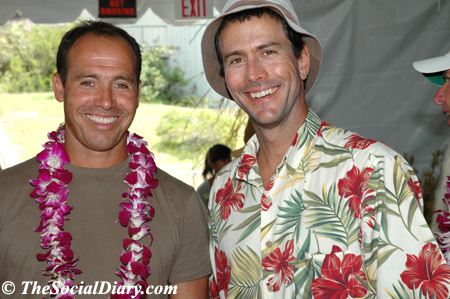 Santiago Aguerre and Bruce Steel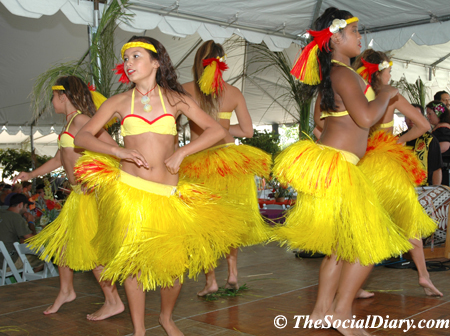 Polynesian Dancers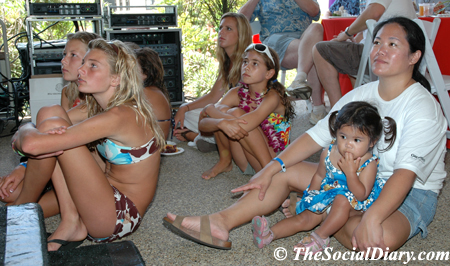 Guests
Polynesian Dancer ** Guests
Polynesian Dancers ** Artist John Van Hamersveld
John Johnson with John Van Hamersveld ** Patrick Mower and Anitra Wirtz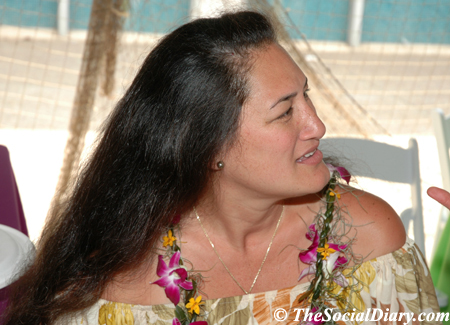 Jan Sunn-Carreira, daughter of Rell Sunn
Jean and Bruce Steel with daughter Kathleen ** Carol Saikhon ** Dora Saikhon and Diane Szekely
The Saikhon Girls: Nancy Borreli, Carol Saikhon, Mother Dora Saikhon, and Diane Szekely ** Artist John Van Hamersveld with Nancy Borrelli
Leslie Armstrong with Sam ** the Paul Strauch's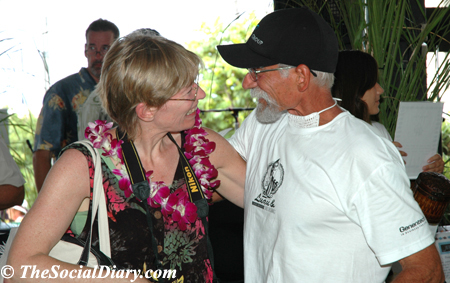 Guest with Special Cancer Survivor
Yvette Monteleone ** Leslie Armstrong with 'the twins' ** Officer Scott Johnston
Rusty Preisendorfer with his family, Avalon and wife Angie ** Tyler and Indie Callaway
Past Event Chair Sam Iacobellis ** Joyce Hoffman and friend
Joyce Hoffman with Linda Benson and Guest
Guests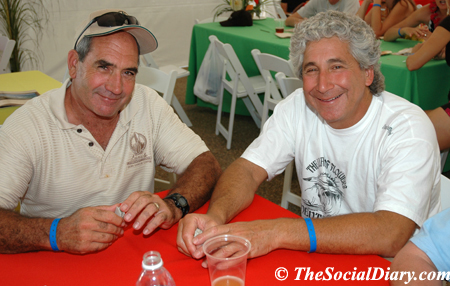 J.R. Riha with past Event Chair, Fred Borrelli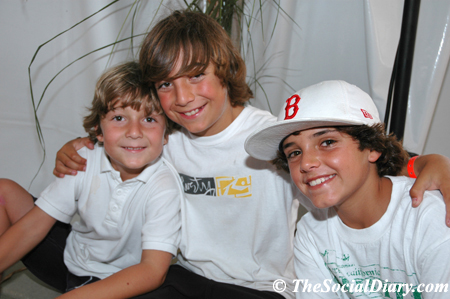 Los Tres Amigos de Olas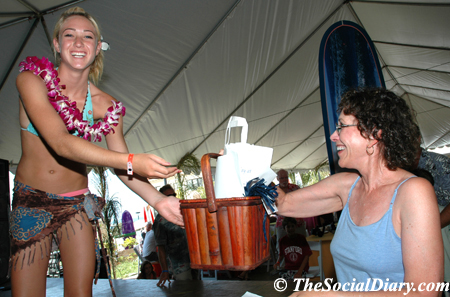 Ciera Tabb presenting an auction prize to Patty Hambleton
Steve Walden with Greg Smith and Greg's son, and the Walden / Chang auction board ** Steve Judd
Bella Otterson ** Murray Palmer with John Otterson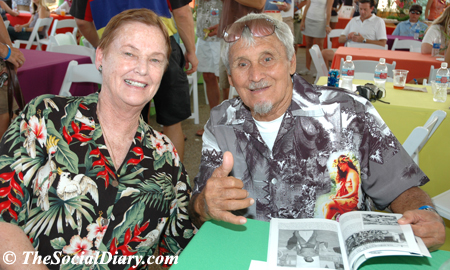 Lynn and Rabbit Kekai
Past Event Chairs Murray Palmer and Steve Blank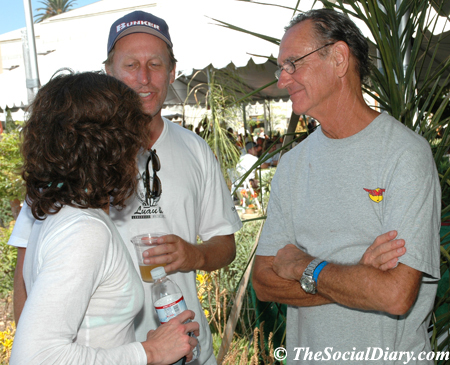 Robert August of Endless Summer Movie fame, and Step Into Liquid fame
Monique Bosic with Lisa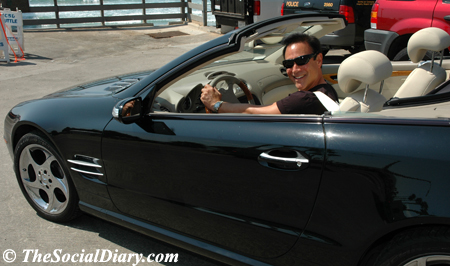 Scott Johnston arriving for photo pick up!
* Margo Schwab has produced, written, interviewed and photographed for various media organizations since 1989. Schwab attended Holton Arms School, La Jolla Country Day School and La Jolla High School. Schwab has a B.A. from Scripps College and a Masters of Business degree, M.B.A., from the University of San Diego. Schwab volunteers for numerous charity organizations. She also continues to lobby for water safety and for family violence mitigation. Schwab is the editor of The Social Diary. Margo is currently writing a book based on La Jolla.
Warning ** photos, video and writing on this site are the
copyright of The Social Diary, San Diego Social Diary
no reproduction of any part or parts is allowed without written permission by The Social Diary