(Copyright 2011 The Social Diary LLC All rights reserved.)
(This material may not be published, broadcast, rewritten or redistributed)
Best of 2010
Page 1 ... You are on Best of 2010 Page 2
La Jolla Playhouse Honors the Jacobs' Family
The La Jolla Playhouse took a delightful new path for its annual Gala. Instead of a Dracula theme like one year, the 80's another and more, the March 27th, 2010 event honored alumni artists and friends of the Playhouse. And when you think La Jolla Playhouse, it's hard to not think of the tremendous support by Joan and Irwin Jacobs, and their family.
As such Joan and Irwin Jacobs were honored along with their family. A lot of family. Including grand-daughter Sara who flew in from faraway Ghana, Africa. It was a terrific surprise for her grand-parents.
Also there were Debby Jacobs and Deni Jacobs, the pretty duo were the gala chairs, and their respective husbands Hal Jacobs and Jeff Jacobs. They were joined by Stacy and Paul Jacobs, Jerri-Ann and Gary Jacobs, Adam Jacobs, Beth Jacobs, Mara Jacobs, Conner Jacobs and Lindsey Jacobs.
Among the other special guests there and or honored in absentia were actor Lou Diamond Phillips, he did the opening performance, Jefferson Mays, Susan Hilferty, Neil Patrick Harris, Charlayne Woodward, and a nostalgic favorite, Des McAnuff, the former Artistic Director for the La Jolla Playhouse whose stewardship brought in over 300 awards for the Playhouse. These include the four Tony Award winning Jersey Boys, the Tony Award winning Billy Crystal's 700 Sundays, and the seven Tony Awards winning big River. Des, also the La Jolla Playhouse Director Emeritus, is a member of the Red Dirt Band which performed for the gala. They are known as the 'officially, unofficial band of the La Jolla Playhouse.'
Be advised strictly no downloading, publishing, broadcasting, printing, or copying of photos or content. Please email purchase requests of photos you are in.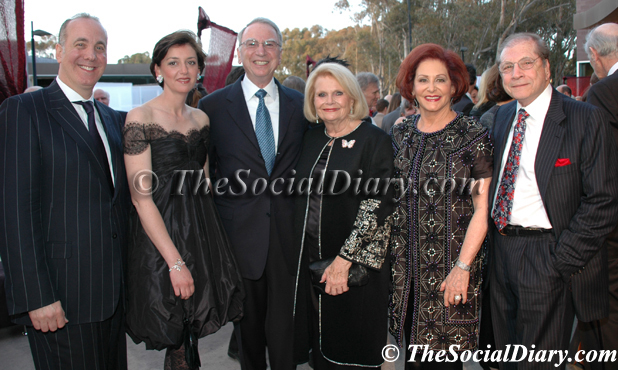 Brent and Sara Nestor with La Jolla Playhouse Honorees Irwin and Joan Jacobs, and Iris and Matthew Strauss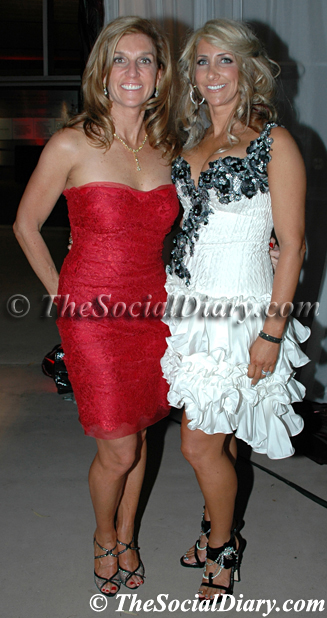 Co-Chairs Debby Jacobs and Deni Jacobs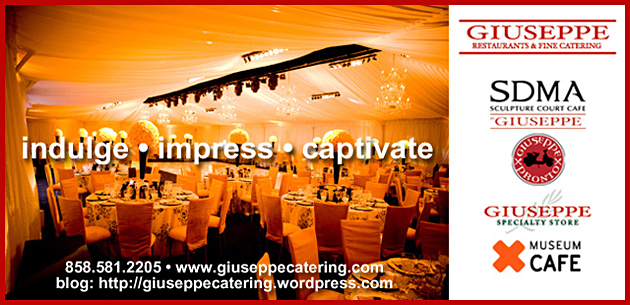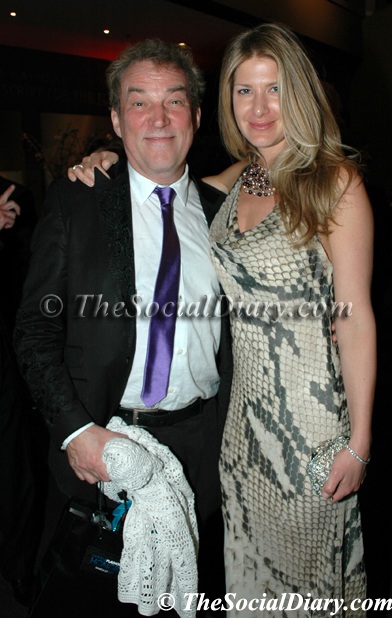 Above and below Tony Award winning Des McAnuff and Bryna McCann
For More click on La Jolla Playhouse Gala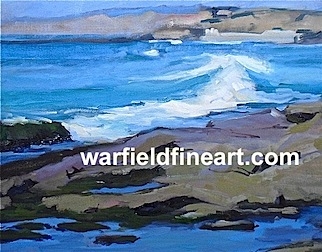 Style Awards 2010 Honors Burl Stiff
The Fashion Group International held its 10th Annual Style Awards March 26th, 2010 at the Westin Gaslamp Quarter.
Among the many in attendance were 'Friends of Burl Stiff' Jeanne Jones and Don Breitenberg, Sheri and Stuart Jamieson, David Copley, Judith Harris and Colette and Ivor Royston. Burl was a deserved honoree that night not only for all of his coverage of society events, but also for his fashionable flavor he added to his UT columns. He also has been known to do some rather beautiful design work himself, one of which was worn by patron Jeanne Jones.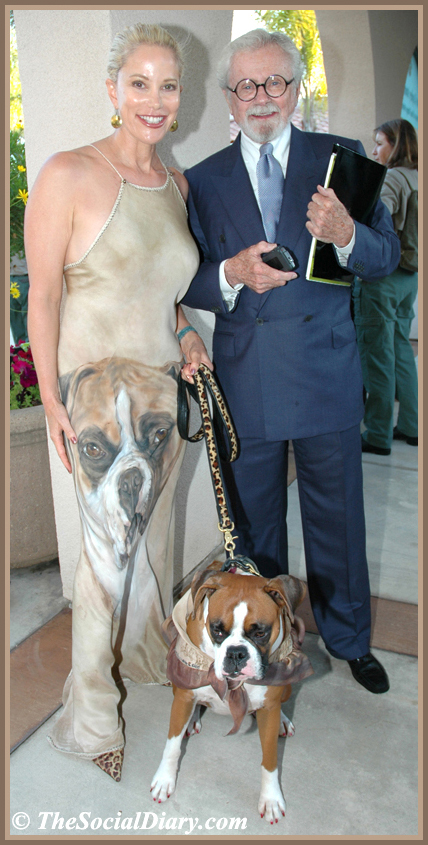 Margo Schwab wearing Kima by Jordan with Burl Stiff and the real Kima at a prior event
For more click on FGI Style Awards
'Timken Museum Visited by 'Rembrandt!'
On April 15th, 2010 the Timken Museum kicked off an extraordinary exhibition of 14 prints by Rembrandt Van Rijn loaned by Karen and Bob Hoehn.
The evening started with cocktails and unique viewing of the 14 Rembrandt prints on exhibit. 'Christ Preaching (Le Petite Tombe) of about 1652, Christ at Emmaus of 1654, and two of his greatest prints, the Ecce Homo of 1655 and the Three Crosses of about 1660' are noted by the Timken Museum as being some of the most well known by Rembrandt.
Aside from record breaking attendance, there have been a series of special evenings in conjunction with the exhibition. One a thousand dollar a plated 'Dinner with Rembrandt, special guest lectures such as the one with Sir Christopher White, he's the former director of the Ashmolean Museum in Oxford, and on this particular evening themed Art in the Evening, a conversation between Bob Hoehn, collector and art connoisseur, and John Wilson, the Timken's executive director.
"This evening's event was exceptional" said Gary Meads who is also Board President at the Timken. "To personally view Rembrandt's work of any kind in San Diego is a rarity. In fact, the Timken is the only San Diego museum fortunate enough to have a Rembrandt painting in its permanent collection. But to experience this collection of extraordinary Rembrandt prints and hear first hand from the collector, Bob Hoehn, was a special treat."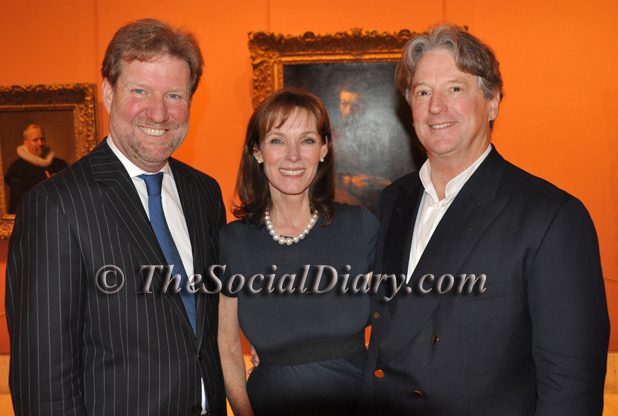 Director of the Timken Museum of Art John Wilson with Karen and Bob Hoehn
For more click Timken / Rembrandt
To be continued.....
Page 1 ... You are on Best of 2010 Page 2
Social Diary Magazine Home Page
reported by Margo Schwab
photoshopped by Scott Johnston
Please join us for fun informative updates on Twitter and Facebook

Email Commentary to be added
email TheSocialDiary.com
* Margo Schwab, MBA, more formally known as Margaret E. Schwab, has produced, written, interviewed and photographed for various media organizations since 1989. Schwab attended Holton Arms School, La Jolla Country Day School and La Jolla High School. Schwab has a B.A. from Scripps College, spent a business internship with S.A.I.C., Science Applications International Corporation, and earned a Masters of Business degree, M.B.A., from the University of San Diego by way of Claremont Graduate School . Schwab additionally took college courses from Harvard University, and Syracuse University. Schwab volunteers for numerous charity organizations. She also continues to support animal organizations and the prevention of people and animal abuse. Schwab is the editor and co-owner of The Social Diary.
Margo Schwab and Scott Johnston of The Social Diary Magazine are pleased to announce a partnerships with the Arthritis Foundation of San Diego County, their dog Kima is the Arthritis Dog honoree for the 3rd year, the San Diego Humane Society and SD METRO Magazine. They have also partnered with Country Friends and the San Diego American Heart Association.
Margo Schwab and Scott Johnston are both members of the La Jolla Beach & Tennis Club (Margo Schwab since 1974) and both are now members of the University Club and its worldwide ClubCorp Compass Society. Margo Schwab and Scott Johnston are Police Press credentialed by the Chief of Police, William Lansdowne.
Social Diary Magazine would like to say a special thank you to our advertisers.
The San Diego Opera
The Museum of Contemporary Art San Diego
Giuseppe Restaurants and Fine Catering
The University Club and ClubCorp
Warfield Fine Art
Papalulu's Catering & Restaurant in La Jolla Shores
Maggie B Clothing at Rancho Santa Fe Plaza
Nancy's Nails on Pearl Street in La Jolla - for nails and reflexology!
H. Moradi Fine Jewelers on Prospect Street in La Jolla, now 2 locations!
Jordan Art Couture and Animal Fashions by Jordan
WineSellar & Brasserie
Cafe Milano on Pearl Street in La Jolla
Extreme Pizza in La Jolla
Neptunic Sharksuits
The Animal Hospital of La Jolla
Eugene Ladopoulos of Mistra Estates Olive Oil
Warning ** photos, video and writing on this site are the
2011 copyright, all rights reserved, of The Social Diary LLC and its subsidiaries including San Diego Diario Sociales - Su Conexión Con la Sociedad, no reproduction of any part or parts is allowed without written permission by The Social Diary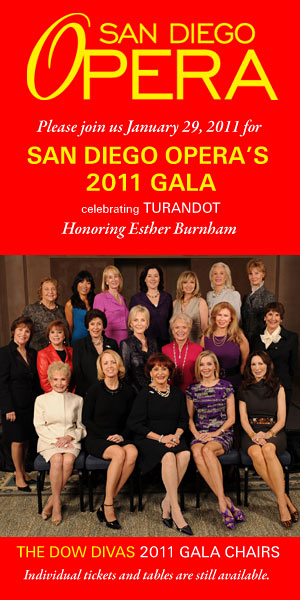 SPECIALS EVERY DAY - Open 7am-3pm!
A Social Diary fave - The Mediterranean Bagel with Feta and Basil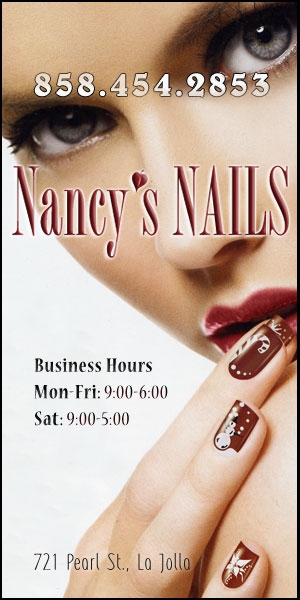 REFLEXOLOGY SPECIALISTS TOO
Click Ad above for Special Promotions!!
WineSellar & Brasserie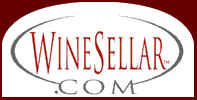 858-450-9557
Restaurant, Gary Parker's Wine Club,
Wine Store and
~ Wednesday & Saturday wine tasting's ~
XXXXCheck out Gary Parker's Pick... X...XXXXXXXa 2007 Clos de la Roche, Grand XXXXXXXXCru for $54 WineSellar Club XXXXPrice,this Pinot Noir is STELLAR!
_________________________
For Advertising, please
your inquiry.
Ask about you can support your favorite organization!
_________________________
Kayden

Breed: Pit Bull (mix)
Age: 4 years
Sex: Male
Adoption Fee: $105

This special guy came in as a stray and has won over the hearts of countless staff members and volunteers. He is truly a precious and loving soul. He will do well in a variety of homes, but due to his size, a home with children over 12 years and older is recommended.
SpaSAN DIEGO HUMANE SOCIETY & SPCA
GAINES STREET CAMPUS
5500 GAINES STREET
SAN DIEGO, CA 92110
(619) 299-7012
www.sdhumane.org rky
with other dogs or cats.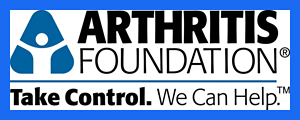 Kima would like to thank her supporters, who helped raise over $130,000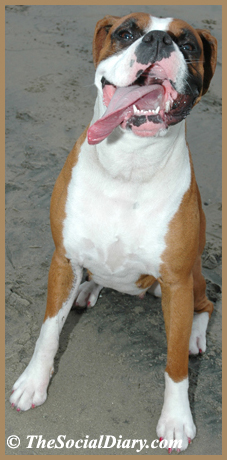 'The Social Diary is a delight to partner with!
As a result of their contributions to our organization, our 2009 Arthritis Walk event revenue increased by 50%!! I am very much looking forward to our continued partnership.'
- Andrea Muir, 2009 Development Director, Arthritis Foundation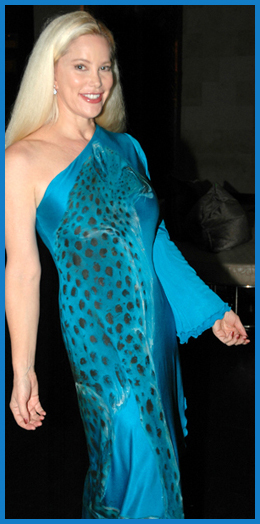 909-534-1495
Where the locals dine
for Homemade Pastas, Raviolis, and Sauces
Cafe Milano
711 Pearl St, La Jolla
858- 454-3806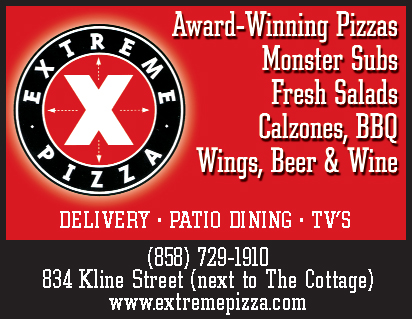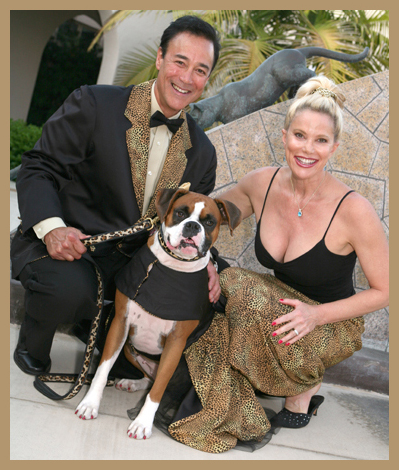 Scott Johnston, Margo Schwab and Kima!
Photoshopping & Photography Services
available by The Social Diary
~ 619-384-7333
email TheSocialDiary.com