San Diego Social Diary LLC All rights reserved 2011 (This material may not be published, broadcast, rewritten or redistributed)
Eclat Culinary Experience
Excellence Delivered
Catering Available
619-708-1933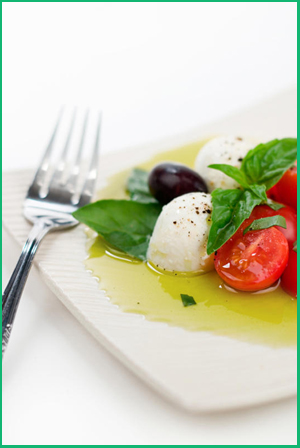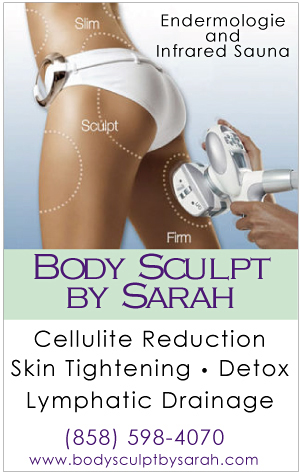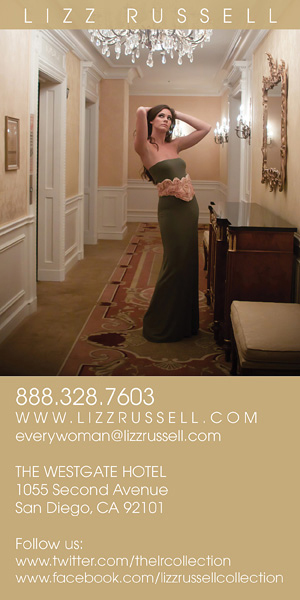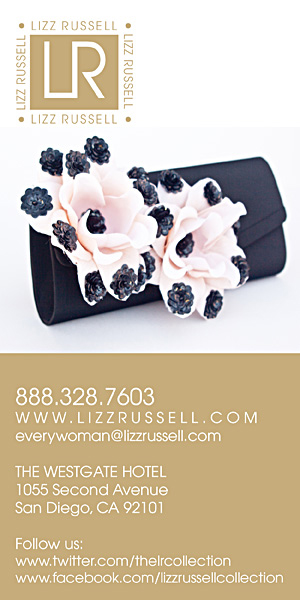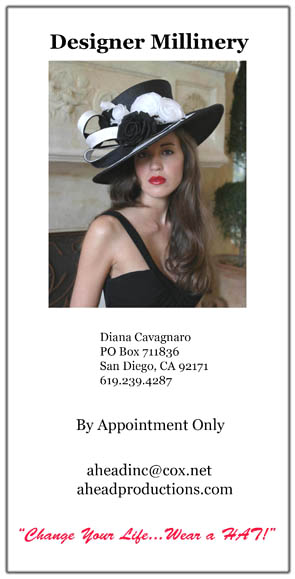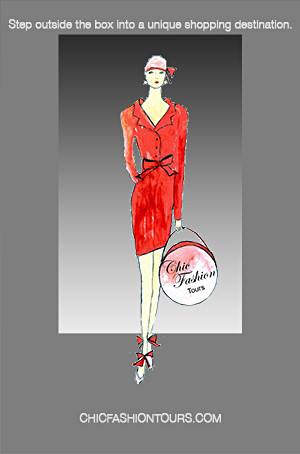 ________________________
Security Consultation
Services by Scott Johnston
SDPD Offcr. (Ret.)
619-384-7333
_______________________
SPECIALS EVERY DAY - Open 7am-3pm!
Homemade, Delicious Food
& Papalulu's will be open soon for dinner!!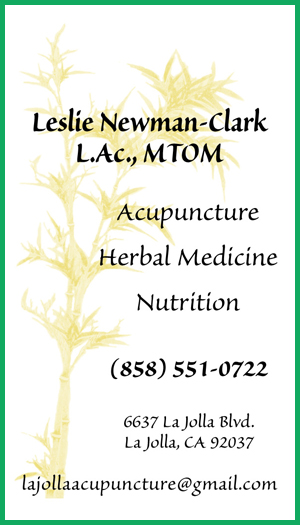 ..... Pain Relief!
WineSellar & Brasserie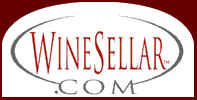 858-450-9557
Restaurant, Gary Parker's Wine Club,
Wine Store and
~ Wednesday & Saturday wine tasting's ~
XXXXCheck out Gary Parker's Pick... X...XXXXXXXa 2007 Clos de la Roche, Grand XXXXXXXXCru for $54 WineSellar Club XXXXPrice,this Pinot Noir is STELLAR!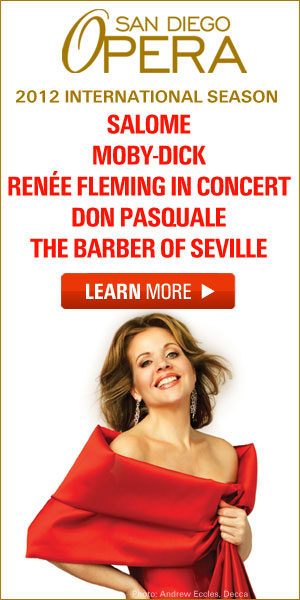 _________________________
For Advertising, please
your inquiry.
Ask about you can support your favorite organization!
_________________________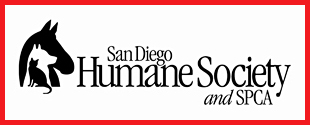 Tiger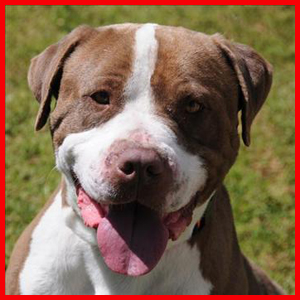 Breed: Pit Bull Terrier (mix)
Color: Brown/White
Age: 5 years
Sex: Male
Weight: 70 pounds
Adoption Fee: $180

Tiger is an adorable, 5-year-old Pit Bull mix with a big heart! He absolutely loves spending time with his people friends and can be very affectionate. Tiger is mellow and easy-going, yet loves to play with his squeaky toys and go for long walks too. This handsome guy is a social butterfly and he gets along great with cats and other dogs. Tiger is very smart and loves to learn. He takes treats gently from your hand. Tiger's housetrained and also is thrilled to go for car rides.
Tiger will do well in a variety of homes, but a home with older children is recommended. Tiger would do great in a home with other dogs! His adoption fee is $180 and includes his current vaccinations, permanent microchip identification, certificate for a free veterinary exam, and more!
SpaSAN DIEGO HUMANE SOCIETY & SPCA
GAINES STREET CAMPUS
5500 GAINES STREET
SAN DIEGO, CA 92110
(619) 299-7012
www.sdhumane.org rky
with other dogs or cats.

Where the locals dine
for Homemade Pastas, Raviolis, and Sauces
Cafe Milano
711 Pearl St, La Jolla
858- 454-3806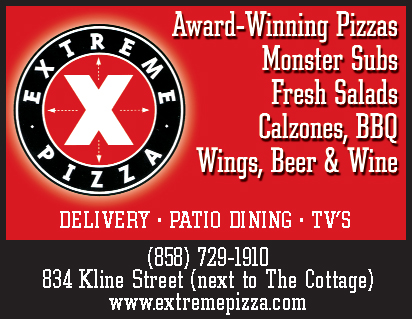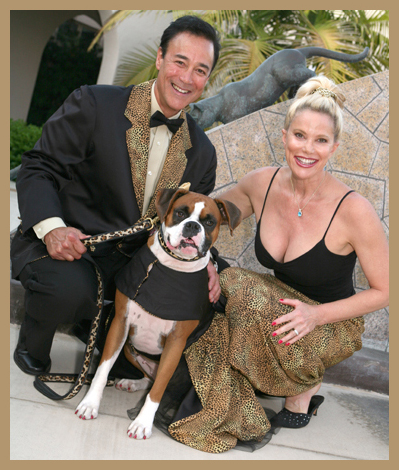 Scott Johnston, Margo Schwab and Kima!
USO Gala 2011
with Special Guest Heroes and Special Celebrity Guest Pamela Anderson
(You are on USO 2011 Page 1 of 2 ... to continue to USO Page 2 .....Home)
It was a Star Spangled Salute to your Military as the USO in San Diego celebrated 70 years of the USO's mission: "to enhance the quality of life of the U.S. Armed Forces personnel and their families worldwide and to create a cooperative relationship between U.S. military communities and involved or supporting civilian communities."
Guests arrived at the Sheraton San Diego Hotel & Marina in red, white and blue spirit for the 70th annual Stars and Stripes Ball for the April 9th, 2011 event.
(A prior VIP patron event at the La Jolla ocean front home of Diane and Roy Bell had helped rev up the spirit in preparation for this gala.)
VIP guests at this event first enjoyed a private champagne reception with celebrity actress / producer, USO and animal supporter Pamela Anderson.
Pamela was a 'trooper' greeting and posing with every guest. She was thrilled to be asked to go visit the troops this December in Afghanistan. She accepted. Pamela is that dedicated to helping the troops.
The event continued with a silent auction and a great emceeing job by Roger Hedgecock at dinner. Social Diary Magazine's Scott Johnston was noted by Roger Hedgecock as a distinguished Purple Heart recipient for the San Diego Police Department.
And there were a half dozen more heroes noted for their exceptional valor. SDM and the ballroom full of attendees applauds them and their families and friends who support them.
Among the many there were Chair Charlotte Jacobs and Co-Chair Fern Wayne Murphy, Virginia and Arthur Foster, Pat and Bob Whalen ( Bob Whalen was instrumental with the Pershing II missile), and Col. Robert Modrzejewski, USMC (Ret.), he is one of the very few who have earned the Medal of Honor, having been presented his Medal of Honor by President Lyndon B. Johnson in a White House ceremony on March 12, 1968.
More there included Karen and Dale Miller (Karen Chaired the event last year), Mary and Col. Bob Porter, Judith Jarcho and Marc Tarasuck, Rachel Grosvenor, USO Board of Directors President and CEO John Dooley, Tom Garcia, Margo Washburn and Captain Robair Mohrhardt, Jerfrey Moorad, and Susan and Matt Shillingburg.
The invocation was led by Commander Axtell Lee of the 11th Marine Expeditionary Unit Camp Pendleton, the Pledge of Allegiance was led by Col. Robert Modrzejewski, USMC (Ret.), the presentation of awards went to C. Neil Ash, CAPT Jack Ensch, USN (ret.), the San Diego Padres and the San Diego County Regional Airport Authority.
Musical selections were provided by Mr. Dave Keefer, The liberty Bells and CDR Abe Thompson.
The evening ended appropriately enough with dancing to 'The Heroes.'
p.s. - The Social Diary's Margo Schwab and Scott Johnston were pleased to once again donate to this event.
Be advised strictly no downloading, publishing, broadcasting, printing, or copying of photos or content. Please email purchase requests of photos you are in.
Enjoy the Photos!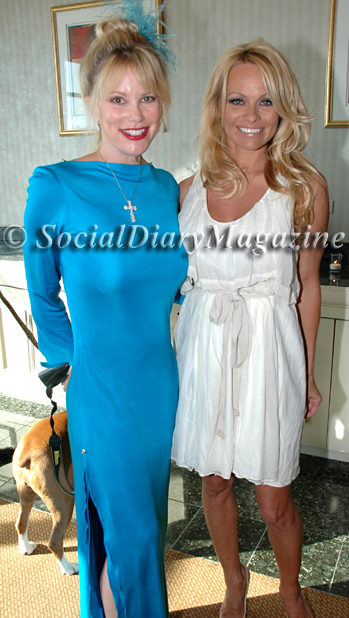 Margo Schwab with Pamela Anderson at the USO Gala 2011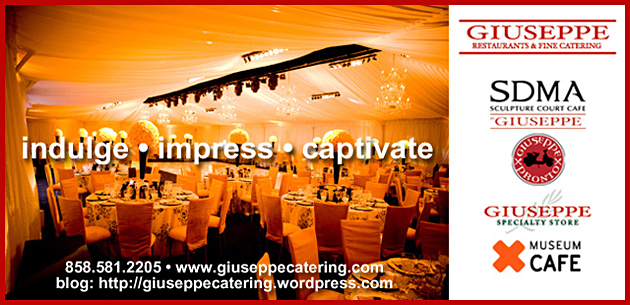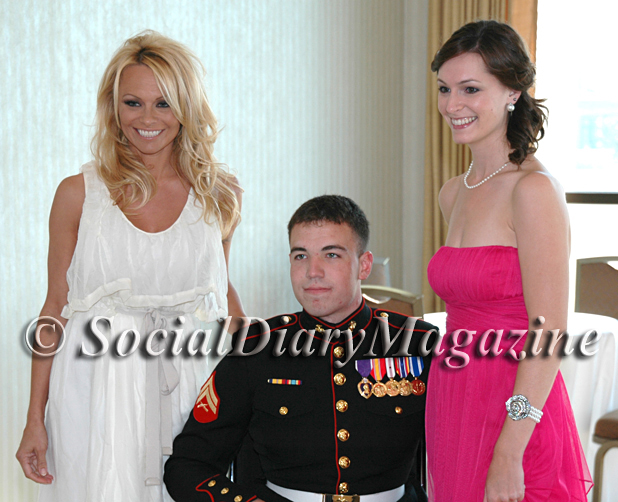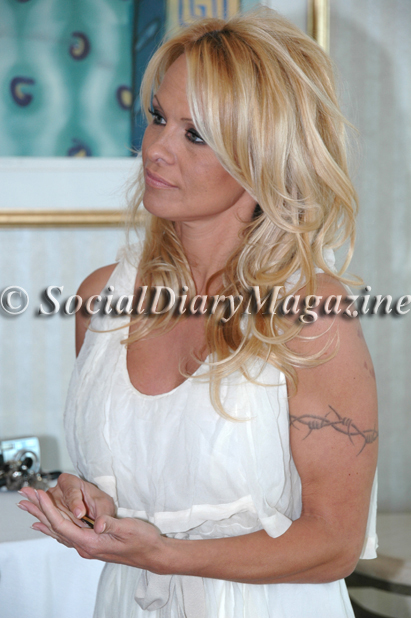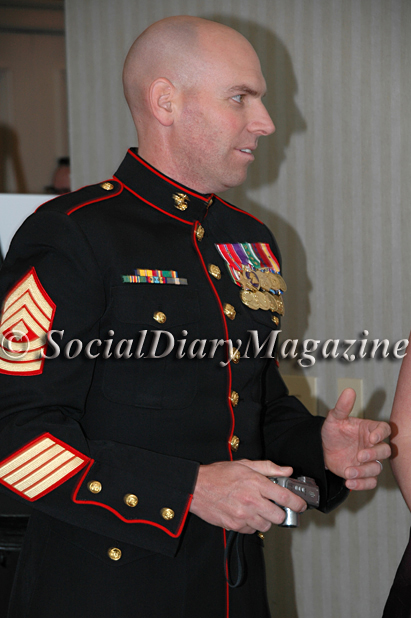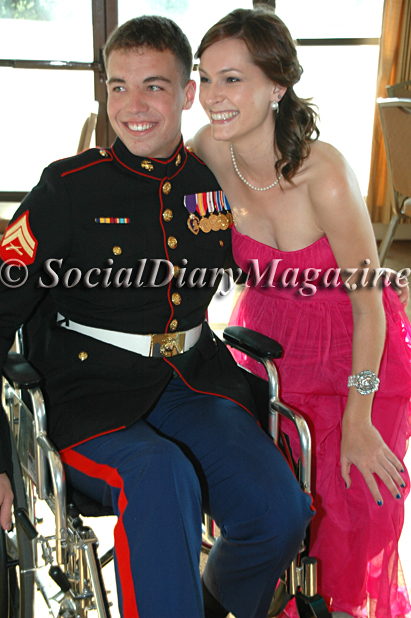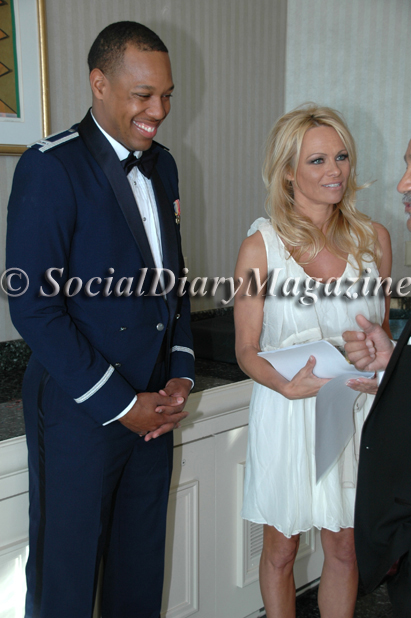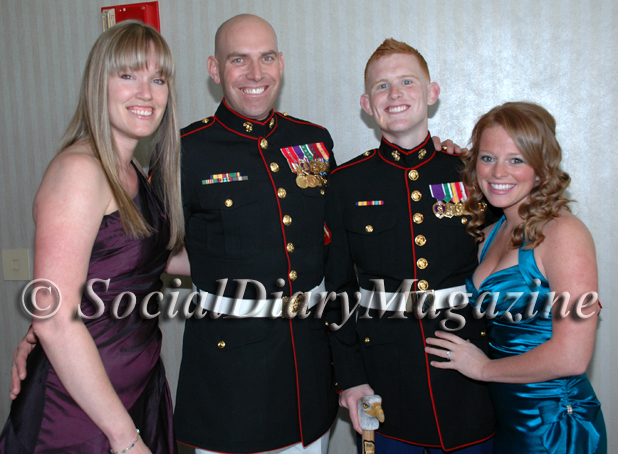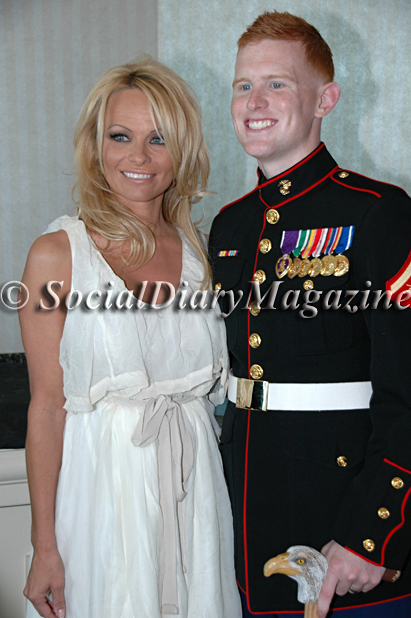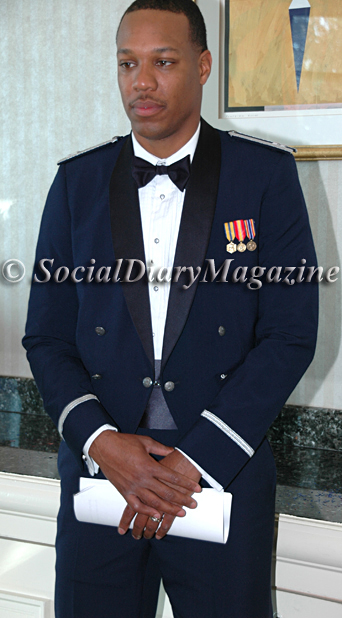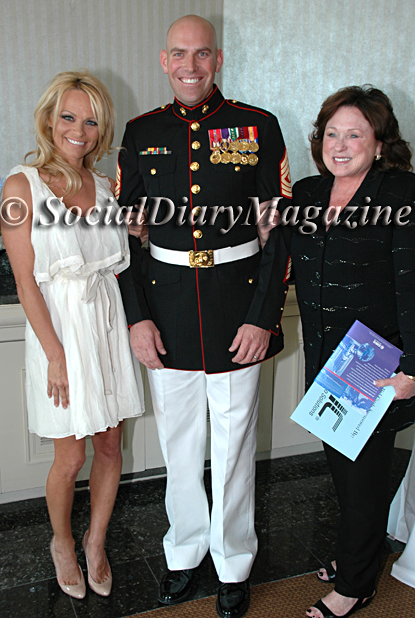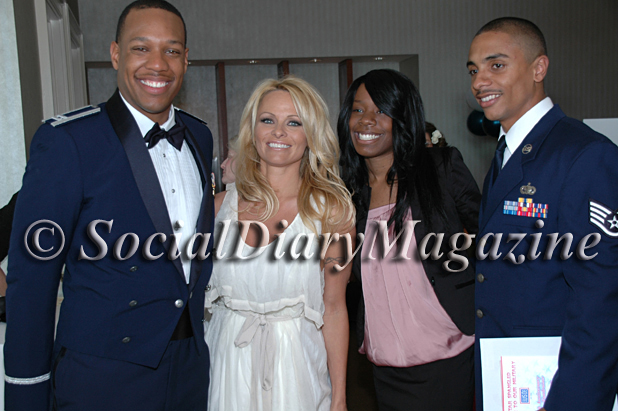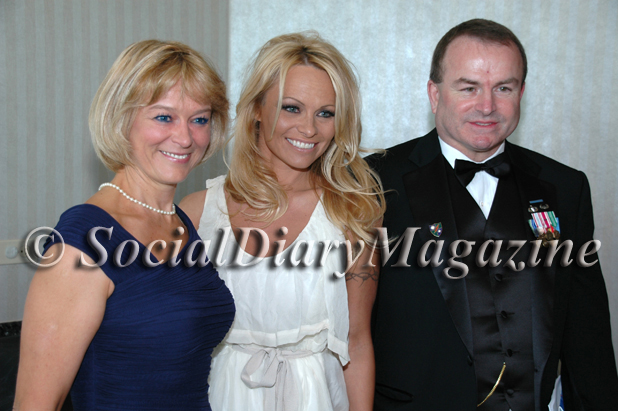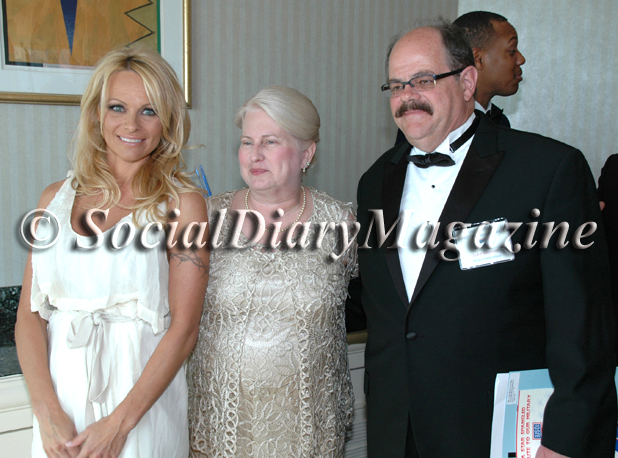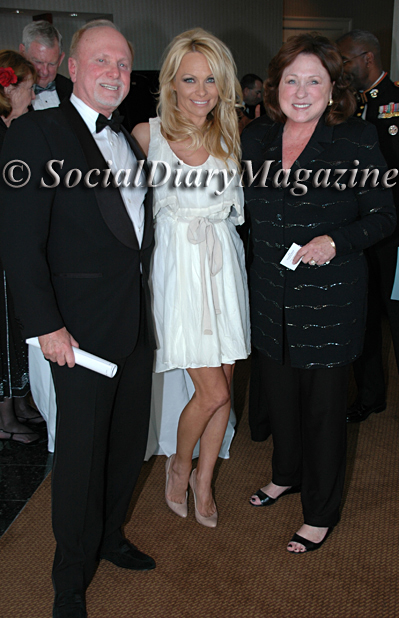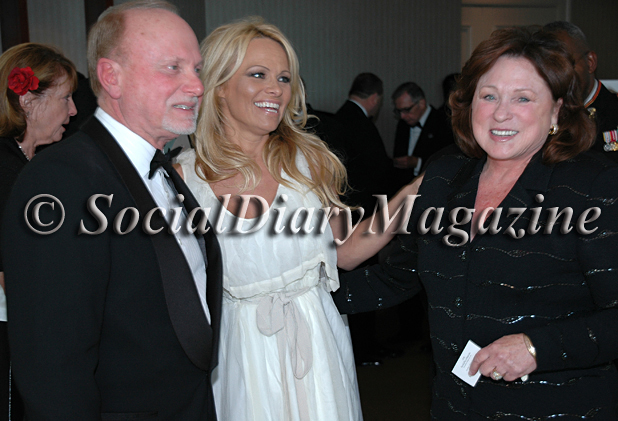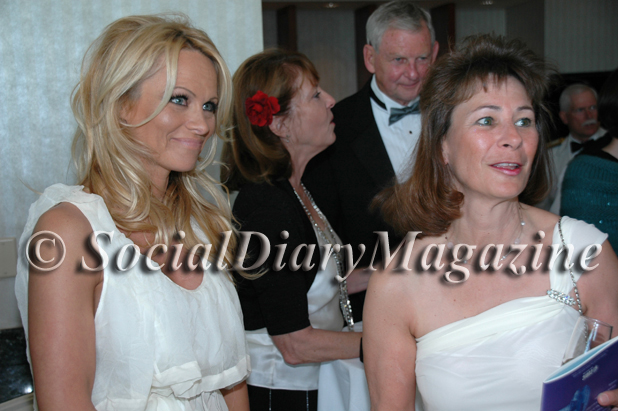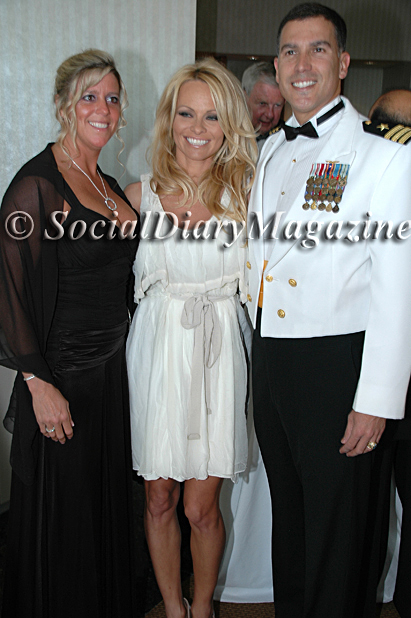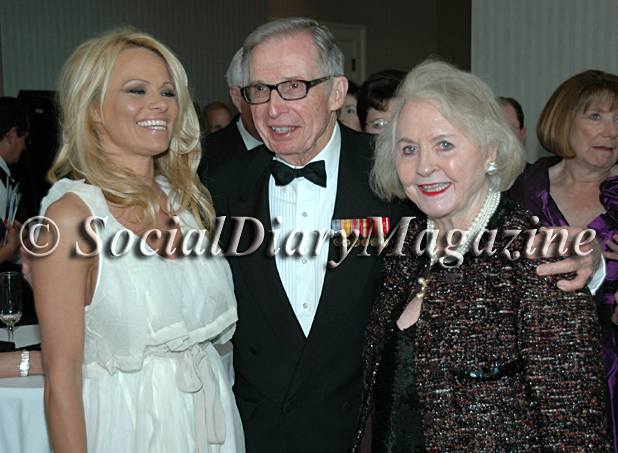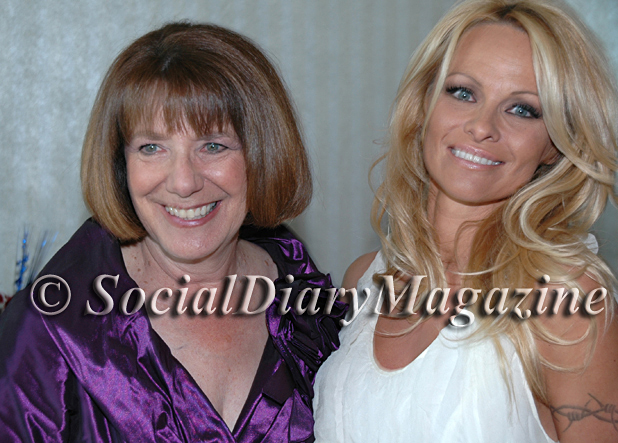 Congresswoman Susan Davis with Pamela Anderson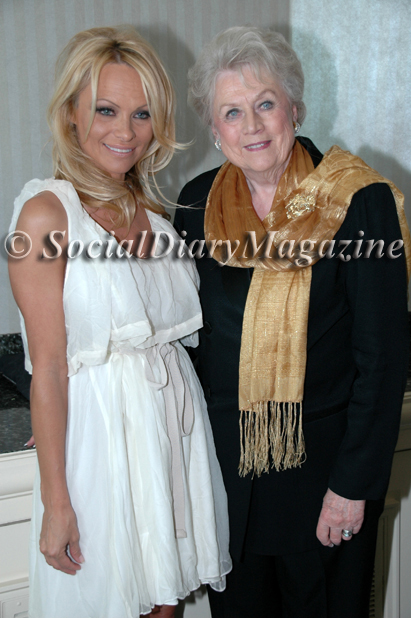 Pamela Anderson with Event Co-Chair Fern Murphy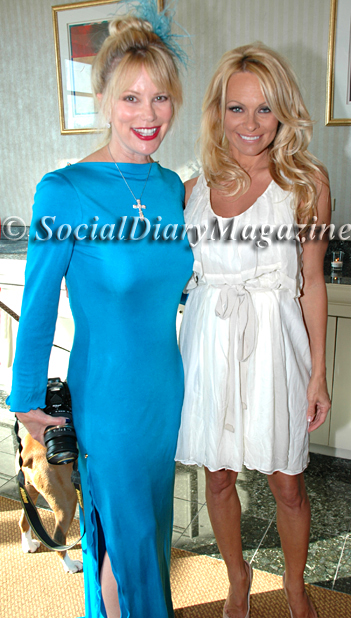 Above and Below, Margo Schwab with Pamela Anderson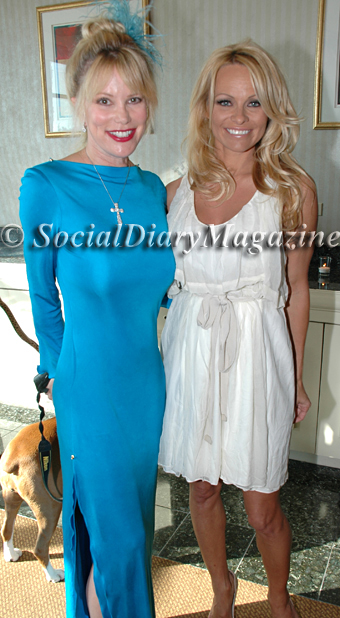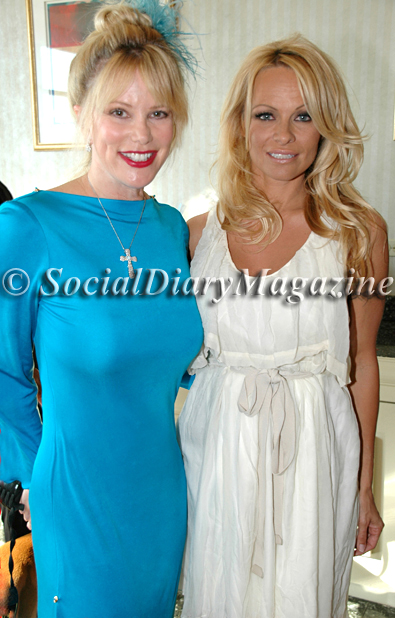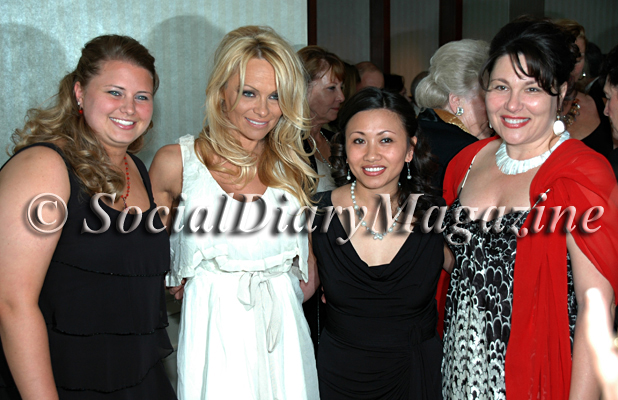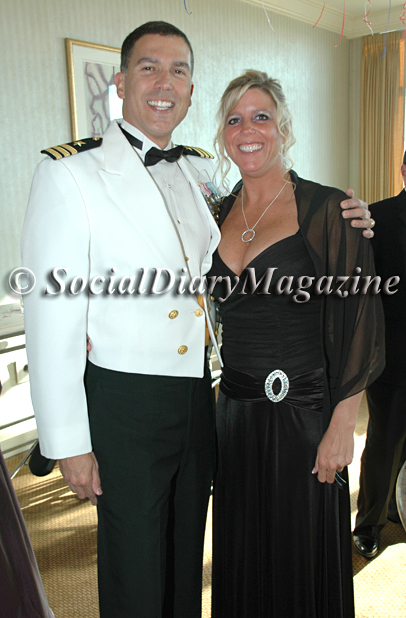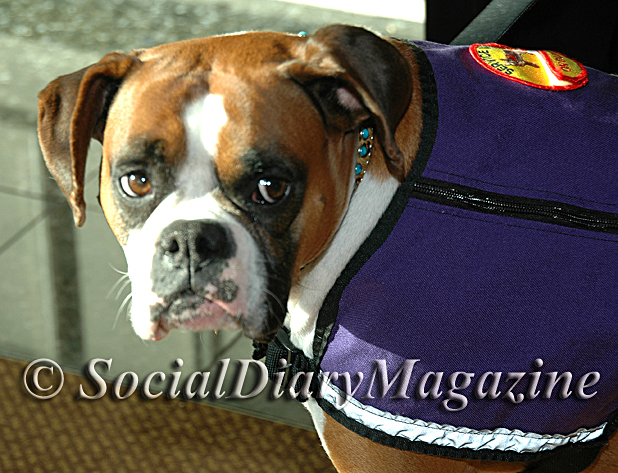 Kima the Service Dog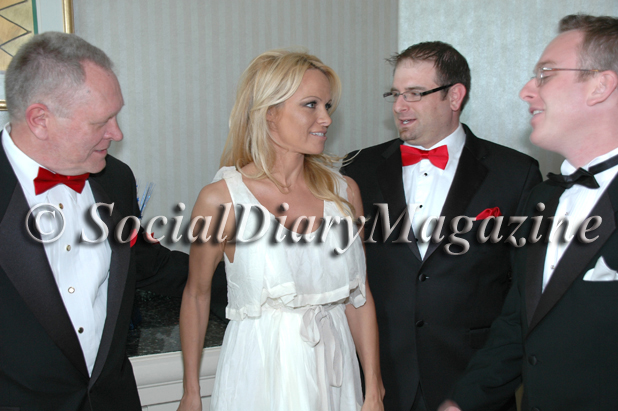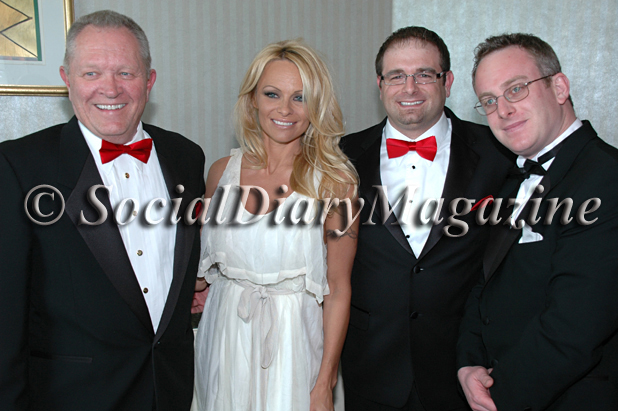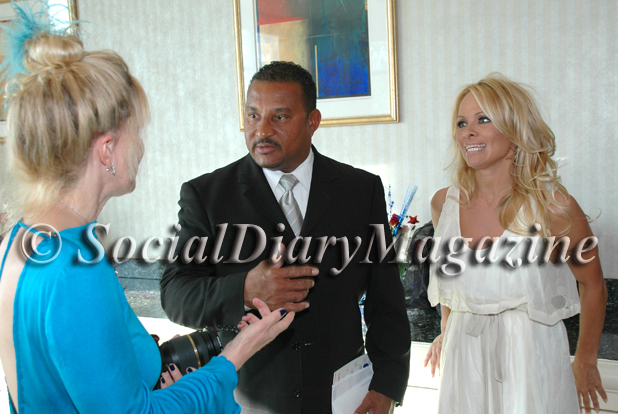 Margo Schwab with Errol, and Pam Anderson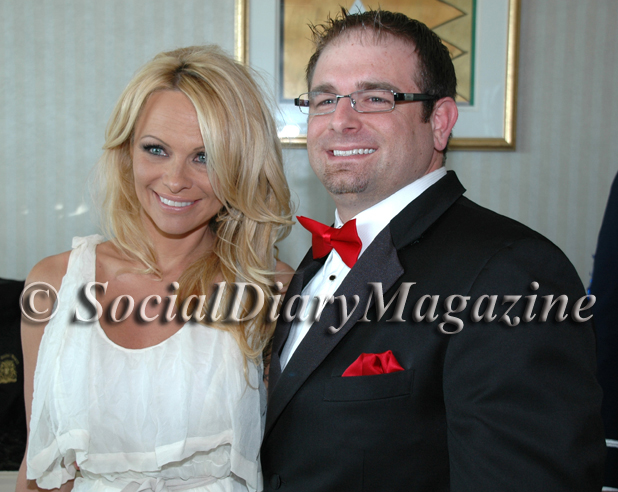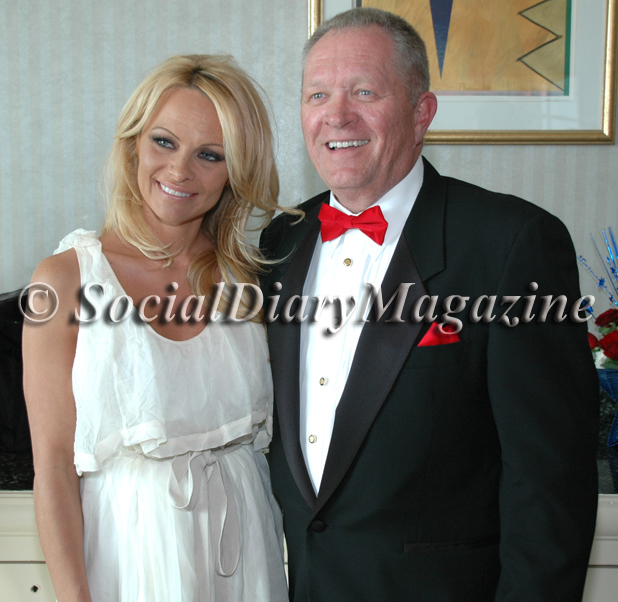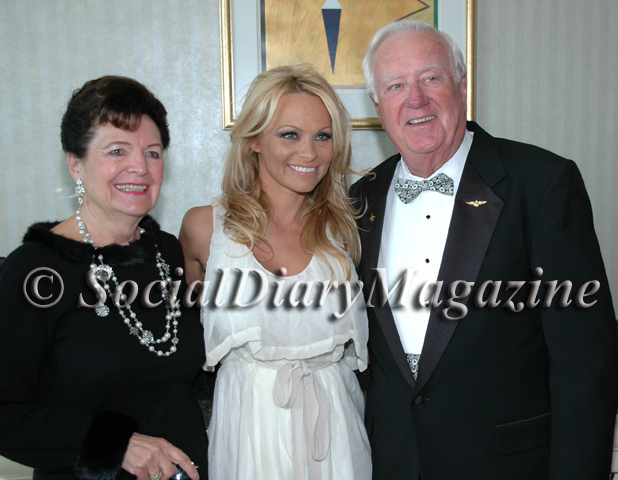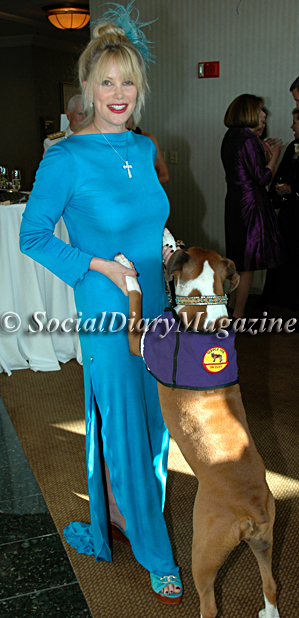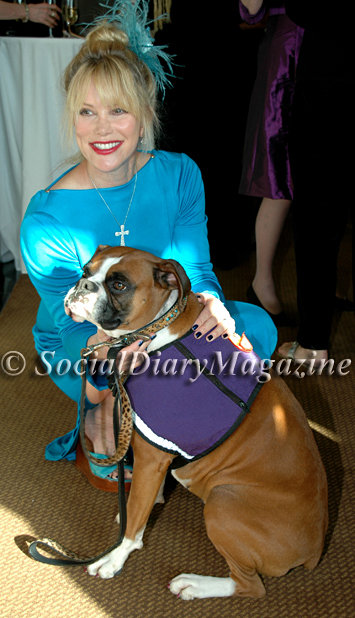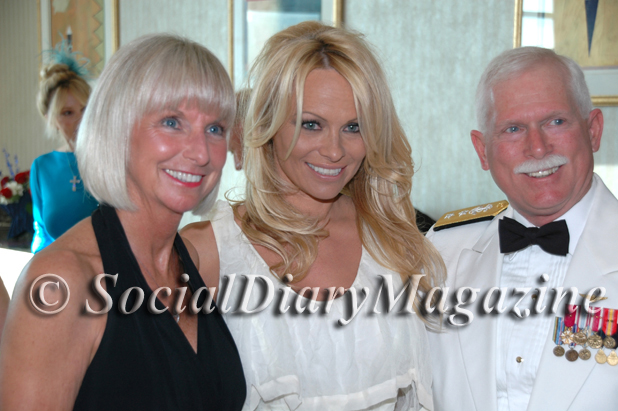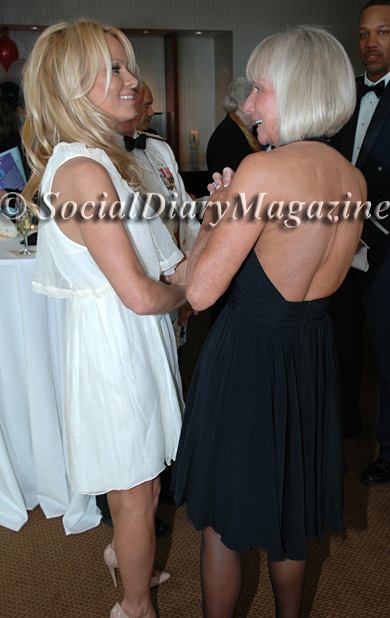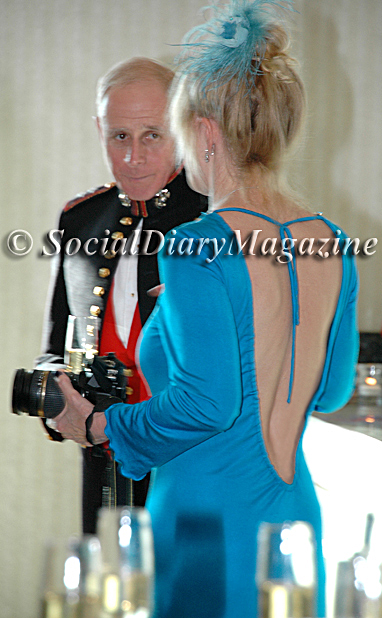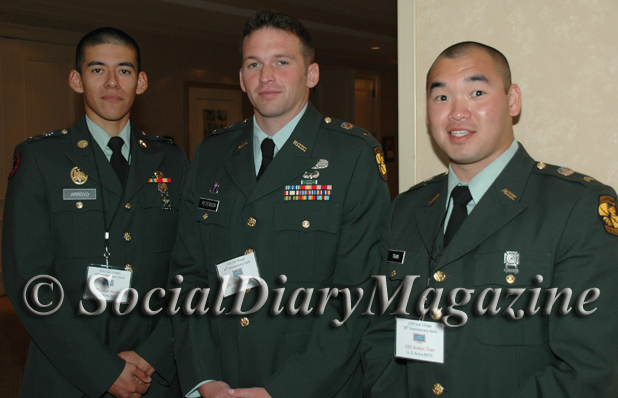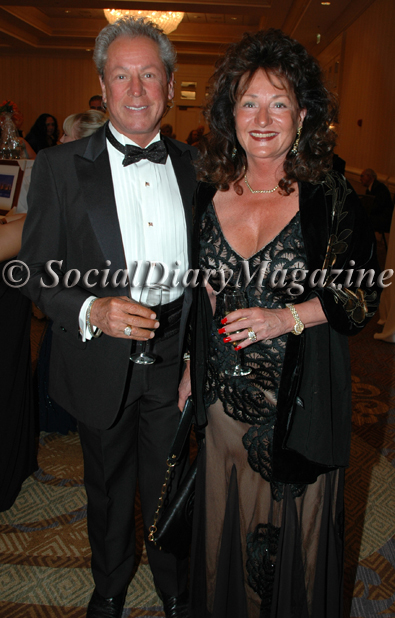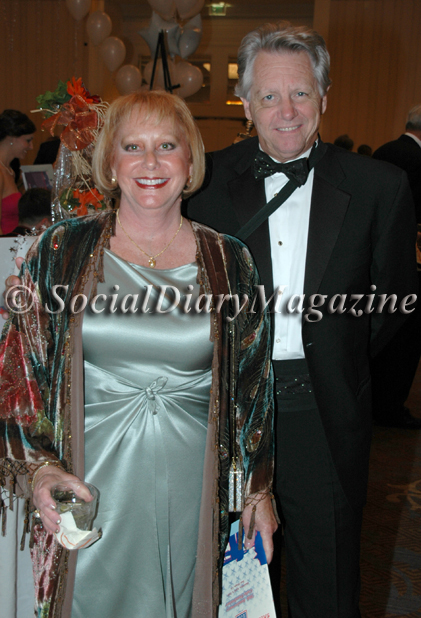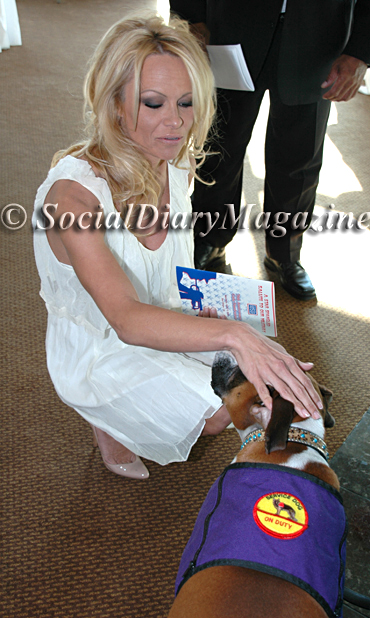 Pam Andersen loving Kima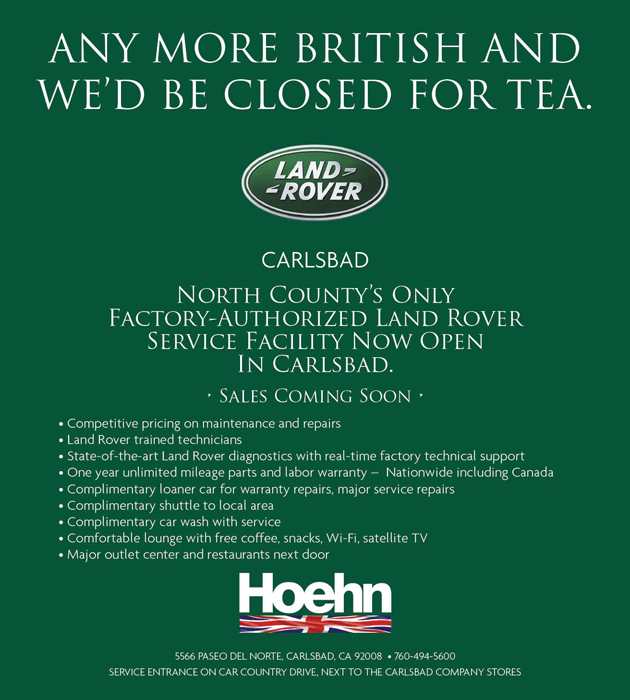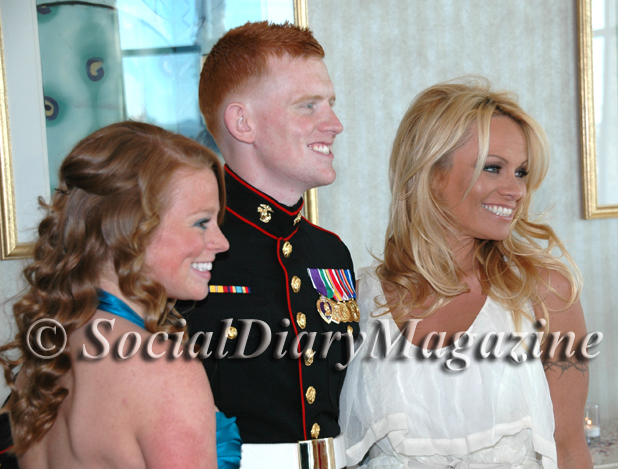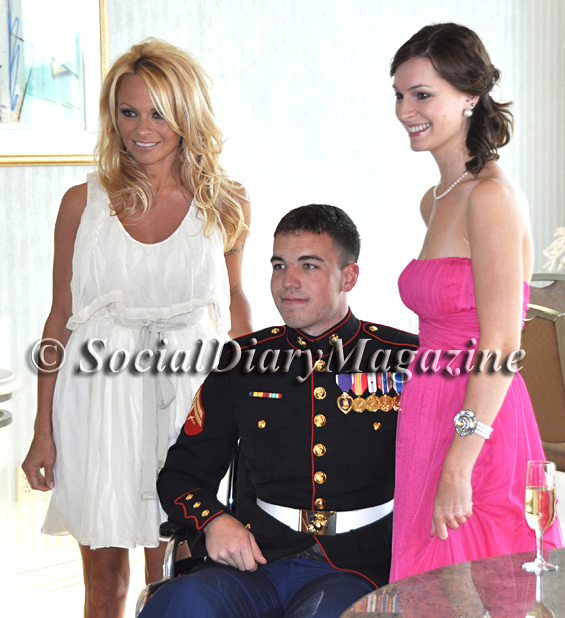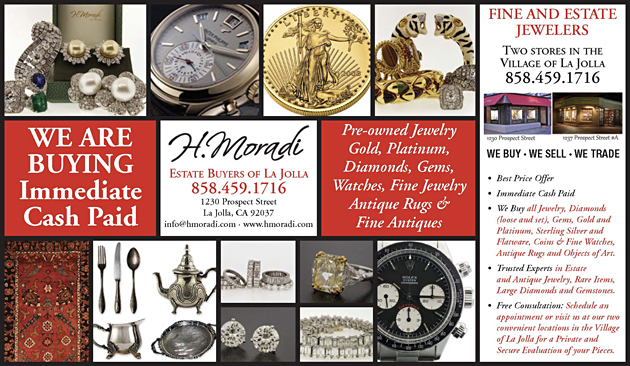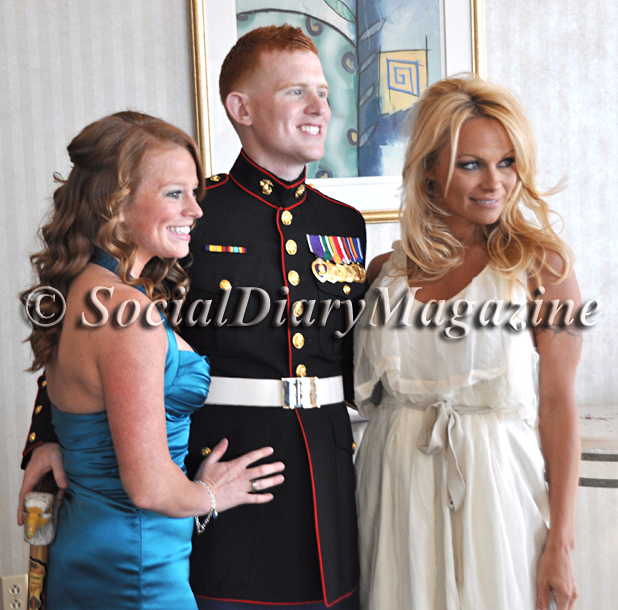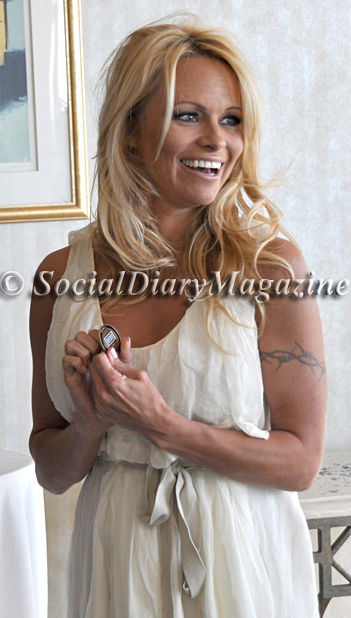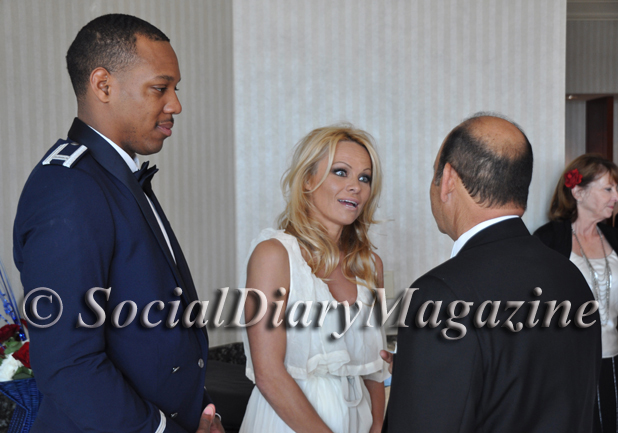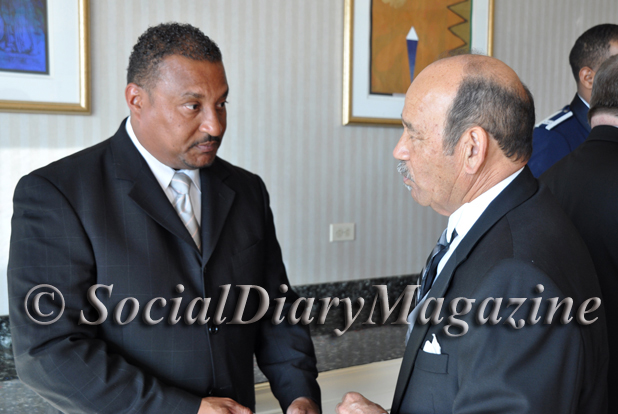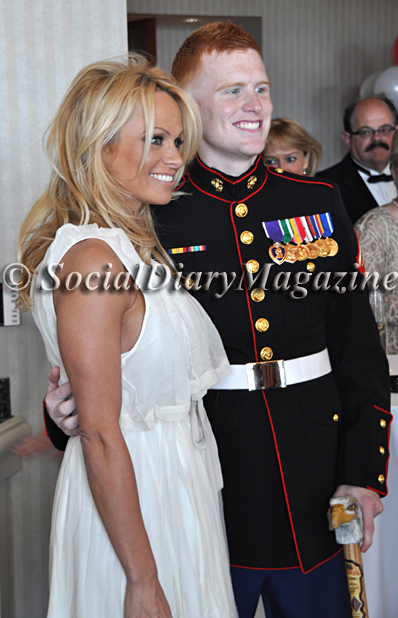 You are on USO 2011 Page 1 ... continuew to USO Page 2 .....Home
And for a look back
reported and photographed by Margo Schwab
web technical support by Scott Johnston
Please join us for fun informative updates on Twitter and Facebook

The Town Gossip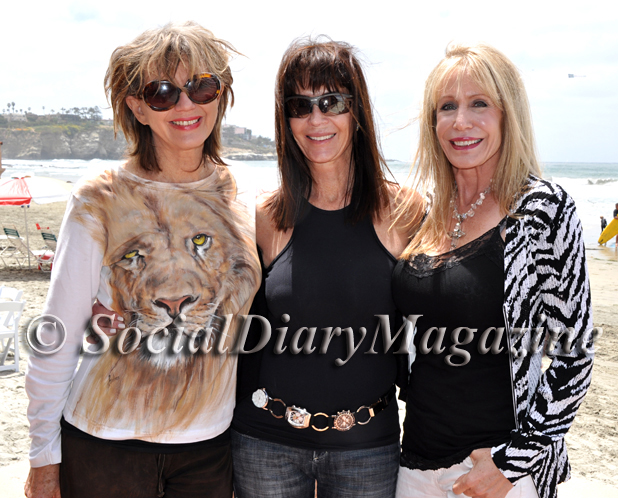 Animal supporters Jordan of Animal Fashions by Jordan with Pamela Turner and Barbara Poulos at the La Jolla Beach & Tennis Club after a delicious birthday lunch with Margo Schwab....
Just in time for race season.... Horse t shirts by Animal Fashions by Jordan are brand new and available.
And Happy Birthday to Brent Woods who celebrated by playing 50 holes of golf with his buddies. ....and a big celebration the following evening!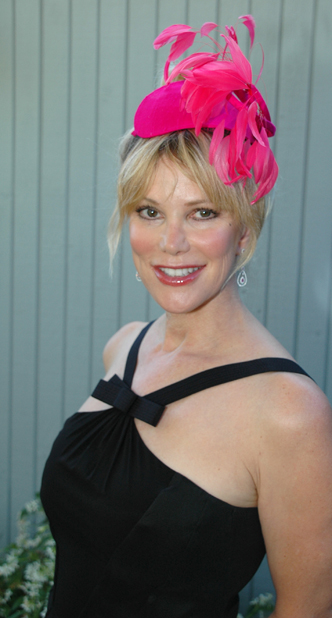 Outfit for San Diego County Medical Services White Coat Gala with my new Diana Cavagnaro fascinator.
...............
Rick Kirchhoff played 127 holes making him this year's Ironman Award Winner at Rancho Bernardo Inn Golf Resort and Spa to benefit Big Brothers Big Sisters of San Diego County. The goal was 100 holes..... Bravo for going the extra holes!
Email Commentary to be added
email TheSocialDiary.com
* Margo Schwab, MBA, more formally known as Margaret E. Schwab, has produced, written, interviewed and photographed for various media organizations since 1989. Schwab attended Holton Arms School, La Jolla Country Day School and La Jolla High School. Schwab has a B.A. from Scripps College, spent a business internship with S.A.I.C., Science Applications International Corporation, and earned a Masters of Business degree, M.B.A., from the University of San Diego by way of Claremont Graduate School . Schwab additionally took college courses from Harvard University, and Syracuse University. Schwab volunteers for numerous charity organizations. She also continues to support animal organizations and the prevention of people and animal abuse. Schwab is the editor and co-owner of The Social Diary.
Margo Schwab and Scott Johnston of The Social Diary Magazine are pleased to announce a partnerships with the San Diego Humane Society and SD METRO Magazine. They have also partnered with Country Friends and the San Diego American Heart Association and the Arthritis Foundation.
Margo Schwab and Scott Johnston are both members of the La Jolla Beach & Tennis Club (Margo Schwab since 1974) and both are now members of the University Club and its worldwide ClubCorp Compass Society. Margo Schwab and Scott Johnston are Police Press credentialed by the Chief of Police, William Lansdowne.
San Diego's The Social Diary would like to say a special thank you to our advertisers.
Eclat Catering by Athanasia Ampelas - Home Delivery Availabe Too
Hoehn Motors Land Rover
Lizz Russell Couture Designed Gowns and Purses
Diana Cavagnaro's Designer Millinery
Jordan's Art Couture
San Diego Center for Children - March 12th. 2011 Gala
Designer Millinery by Diana Cavagnaro
Juelerie by Pamela Pogue
The Museum of Contemporary Art San Diego
Giuseppe Restaurants and Fine Catering
The University Club Atop Symphony Towers and ClubCorp
Leslie Newman Clark - La Jolla Acupuncture
Maggie B fashion and style in Rancho Santa Fe Plaza
Papalulu's Restaurant and Catering in La Jolla Shores
Nancy's Nails on Pearl Street in La Jolla
H. Moradi Fine Jewelers on Prospect Street in La Jolla, now 2 locations!
San Diego Opera
WineSellar & Brasserie - featuring the Gary Parker Wine Club
Cafe Milano on Pearl Street La Jolla
Extreme Pizza in La Jolla
Neptunic Sharksuits
The Animal Hospital of La Jolla
Eugene Ladopoulos of Mistra Estates Olive Oil
Warning ** photos, video and writing on this site are the
2011 copyright, all rights reserved, of The Social Diary LLC and its subsidiaries including San Diego Diario Sociales - Su Conexión Con la Sociedad, no reproduction of any part or parts is allowed without written permission by Social Diary Magazine