~ The Social Diary ~
~~~~~~~~~~~~~~~~~~~~~~~~~~~~~~~~~~~~~~~~~~~~~~~~~~
USO Stars and Stripes Ball 2007 Rallies in Support

July 12th , 2007
The Social Diary Columnist & Photographer Margo Schwab
(high resolution photos available by request )
The United Sates Service Organizations or USO's mission "is to enhance the quality of life of the U.S. Armed Forces personnel and their families worldwide and to create a cooperative relationship between U.S. military communities and involved or supporting civilian communities.
And so it was that the USO Stars and Stripes Ball took place May 19th, 2007 at the San Diego Sheraton Harbor Hotel & Marina.
Event Chairperson Debbie Case remarked "The show of support from San Diego for our military and the local USO was overwhelming.
Among the guests there were RDML Michael Bachmann, USN and Iris Bachmann, Betty and Jim Brayshay, Kathleen and Ned Buoymaster, Gail and Tony Damico, Mindy and Nathan Fletcher, Carey Cooper and Bill Van De Weghe, Joyce and Craig Grosvenor, Rachael Grosvenor, Nicolas Grosvenor, and Mary and Bob Porter.
Bob Porter remarked "I am sure they met their financial objectives as they had one bid for $20,000 for an American Flag flown by a combat unit in Iraq."
More there included Barbara and Bill McColl, Frank McGrath, Bob and RDML Christine Hunter, Betty and Leonard Kornreich, Debbie O'Connor and Col. Christopher O'Connor, Dottie and David Stanley, Ronne Froman and Linden Blue, and quite a few from more than one Farrell family.
There was Benjamin Farrell, Maxwell Farrell, Darlene and Ted Farrell, Deborah and Thomas Farrell, another Thomas Farrell, and Susan Farrell.
That's Susan Farrell the President and CEO of the USO Council San Diego. Susan explained the importance of the USO and fundraising events like these.
"Our mission is to 'enhance the quality of life of U.S. Armed Forces personnel and their families worldwide and to create a cooperative relationship between the military and civilian community.' What many people don't realize is that the USO – now celebrating 66 years – is a civilian organization which gets no government funding. The San Diego USO raises its entire budget – and all the money is spent right here in San Diego, to provide events and programs for local personnel and their families.
The Stars and Stripes Ball is one of our key fundraiser's, and helps us to provide a variety of USO programs and services – from the free weekly Tuesday Night Dinners that give military families and singles alike a night out in a relaxing environment at the Downtown USO, to the Neil Ash Airport USO, which is often the first San Diego experience for military and dependents coming to a new duty station. Our centers offer email access to keep in touch with families and friends, library facilities, movies and – perhaps most important – a touch of home in a stress-free atmosphere. We're open every day, 365-days a year.
Our military personnel have always been willing to give much to their country, but in recent times they are being asked to give even more. Many are on their second or third deployment to Iraq. With the help of our wonderful volunteers, the San Diego USO is able to be there for them.
For many military personnel, the USO's programs and services are the closest thing they have to home when they're away from those they know and love. Through support from the community – such as the fabulous turnout at the Stars and Stripes Ball – we're able to continue and expand on those services."
And with the help of incredible support, expansion of those services will continue to happen.
Thanks in part to terrific people like June and Neil Ash who have been big supporters of the USO and the Neil Ash Airport Center. A place where travelers can rest or find resourceful information.
June Ash was honored, and so was Rachael Grosvenor.
More cheers that evening went to the USS Halsey active-duty sailors who served as volunteers for the evening.
This was one great fundraising evening helping the USO in its support of the military, "Until Every One Comes Home." $250,000 net in fact!
God Bless Our Military and those who support them.
To learn more, please visit www.usosandiego.org
Enjoy the photos!
Larry Case and Event Chairperson Debbie Case ** Guest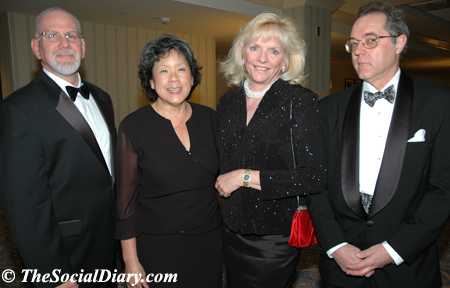 Susan Farrell with Guests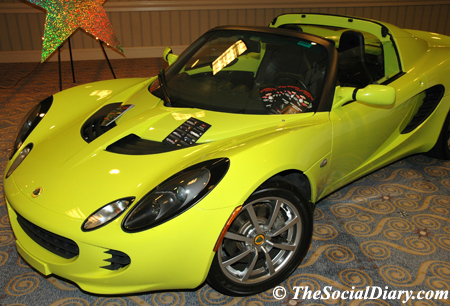 Not a Humvee!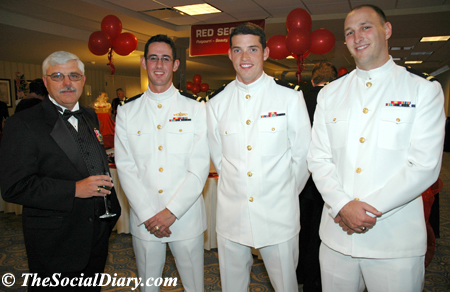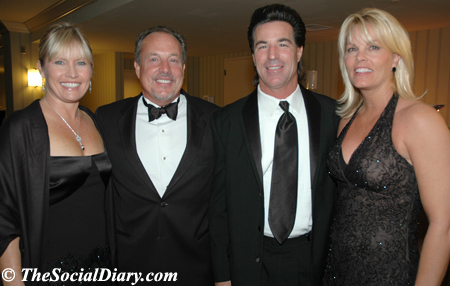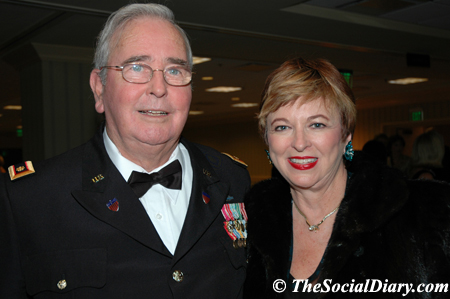 Dave and Dottie Stanley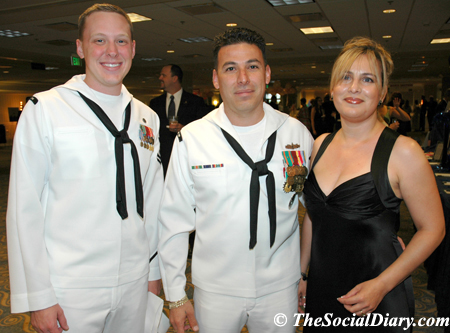 Guests ** Kathleen and Ned Buoymaster
* Margo Schwab has produced, written, interviewed and photographed for various media organizations since 1989. Schwab attended Holton Arms School, La Jolla Country Day School and La Jolla High School. Schwab has a B.A. from Scripps College and a Masters of Business degree, M.B.A., from the University of San Diego. Schwab volunteers for numerous charity organizations. She also continues to lobby for water safety and for family violence mitigation. Schwab is the editor of The Social Diary. Margo is currently writing a book based on La Jolla.
Warning ** photos, video and writing on this site are the
copyright of The Social Diary, San Diego Social Diary, margomargo.com and Margo Schwab.
no reproduction of any part or parts is allowed without written permission by Margo Schwab