Where Pets Are Always In Style.....

~ The Social Diary ~
the on-line magazine covering High Society ..& more
____________________________________________________________
The San Diego Zoo Celebrates RITZ 2006

June 30th, 2006
by The Social Diary Columnist & Photographer Margo Schwab
The San Diego Zoo drew well dressed pachyderm, aka elephant pals, as the RITZ, that's Rendez-Vous In The Zoo, got under way June 17th, 2006. The attire was black tie or animal inspired. Chairwoman Carol Chang and her husband Dr. Jeffrey Chang, took the very elegant route in Armani couture. Designer Jordan was among the best animal attired in one of her own hand painted silk creations. Jordan was joined by a legion of Jordan design fans including Jeanne Jones. Susan Clifton clutched an inspiring lion head purse. Marilyn Boesky sizzled in Missoni. Valerie Cooper looked simple and elegant in an Alexander McQueen mid-length Grecian inspired frock. Valerie's dress was accented by a leopard print belt and scarf. Harry Cooper was smartly dressed as always in Versace.
Meanwhile, the other best dressed crowd, the animals, looked on with amusement.
Joan Embry was on hand during the cocktail hour to help educate guests on cheetah facts, Madagascar Lemur facts and more. Joan, is who is an animal expert, is a long time friend of the San Diego Zoo and so many important animal organizations.
Among the fun revelers was Dianne York-Goldman, striking in a strapless Dolce and Gabbana animal print gown. Dianne later remarked, "this year's Rendezvous at the Zoo was an event unlike any other! This incredible party under the stars at our own famed San Diego Zoo was enhanced by the amazing cuisine, wines, and entertainment for the evening. The zoo is an integral piece of San Diego's rich culture and it was a pleasure to help raise funds for its continued growth and development."
More there enjoying the party were Co-Chair Sue Rafee with Rick Barrett, Kathryn Murphy with Lance Peto, Diane and Jim Bashor, Charlotte Hogue & Dr. Phillip Rand, Brenda and John Rebelo, Zandra Rhodes and Salah Hassanein, Katherine Kennedy and Robert Horsman of San Diego National Bank, Sook and Ron Hansen, Cindy and Roger Hedgecock, Barbara and Neil Kjos, Marilyn and Doug Sawyer, Hermeen and Sam Scharaga, and Dixie and Ken Unruh.
Cocktail hour definitely is always fun .... and tasty. Dr. Jeffrey Chang confided he found the best access to the mini-lamb chops. It was the grill at the far end of the party venue. There was no line there. Smart man. He's also an authority on fertility matters.
Many others raved about the lamb chops too. And the sushi, and the crab cakes.... you get the idea. And it wasn't even supper time yet!
And supper was superb as always with a menu created by the Sheraton San Diego Hotel & Marina's Executive Chef Steve Black. A salad of arugula and radicchio salad with raspberries, dried figs, candied walnuts, shaved asiago drizzled with an orange champagne dressing started the dinner. Salad was followed by a filet mignon seared with herbs and splashed with madeira sauce, with side dishes of a broccoli potato puree, oyster mushrooms with baby carrots and more. Following suit with the party's theme "Pachyderms in Paradise," the dessert of lemon mascarpone and apricots in a chocolate cup were accompanied by a marzipan elephant.
Dancing soon followed to The Society Beat. Many guests stayed until past one in the morning.
This is the 23rd year for the RITZ gala. Significant funds have been raised through these events to benefit the animals' environment. This year's gala is expected to raise over $450,000 for the 'Pachyderms in Paradise.' To learn more about the Zoo please visit www.sandiegozoo.org .
pictured here - Charlotte Hogue & Dr. Phillip Rand, Kathryn Murhpy with Lance Peto and Sook Hansen
pictured here - Dianne York-Goldman and Dr. Mitchel P, Goldman of La Jolla Spa MD, Jeanne Jones with Dianne York-Goldman
pictured here - John Rebelo and Brenda Marsh-Rebelo, newlyweds Bruce Biddick with his bride Christy Fletcher
pictured here - Kathryn Murphy and Lance Peto, Sook and Ron Hansen, Scott Johnston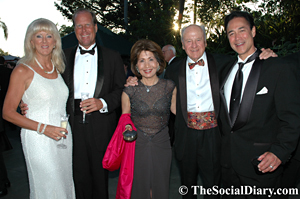 pictured here - Event Co-Chair Sue Rafee and Rick Barrett, Dr. Jeffrey Chang and Event Chair Carol Chang, Robert Horsman
pictured here - Marilyn and Roger Boesky, a cute unidentified safari couple
pictured here - Designer Jordan, Katherine Kennedy, Jeanne Jones and friend, Katherine Kennedy and friend Harry Cooper
pictured here - Valerie Cooper with Coop and Patti Cooprider, Valerie and Harry Cooper
pictured here - Scott Johnston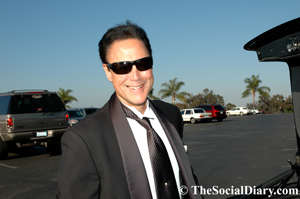 back to New this Week.....Margo Schwab Archives...... Home
* Margo Schwab has produced, written, interviewed and photographed for various media organizations since 1989. Schwab has a college degree from Scripps College and a Masters of Business degree from the University of San Diego. Schwab volunteers for numerous charity organizations. She also continues to lobby for water safety and for family violence mitigation. Schwab is the owner and publisher of the Social Diary.

Warning ** photos, video and writing on this site are the
copyright of the author, The Social Diary, San Diego Social Diary, margomargo.com and Margo Schwab.
no reproduction of any part or parts is allowed without written permission by Margo Schwab