~ The Social Diary ~
~~~~~~~~~~~~~~~~~~~~~~~~~~~~~~~~~~~~~~~~~~~~~~~~~~
A Look Back at the Great Events of 2006 -
Tanya and Charles Brandes Host Patrons of the Prado

January 20th, 2007
The Social Diary Columnist & Photographer Margo Schwab
On a very perfect Summer evening August 27th, 2006, Patrons of the Prado members Lola Green and Susan Kazmarek-Biddick brilliantly chaired a special Patrons of the Prado member reception at the home of Tanya and Charles Brandes. I use the term 'home' somewhat tongue in cheek. The Brandes estate is 30 plus gated acres, and the home, designed by Architect Norm Applebaum, is over 50,000 square feet. No kidding!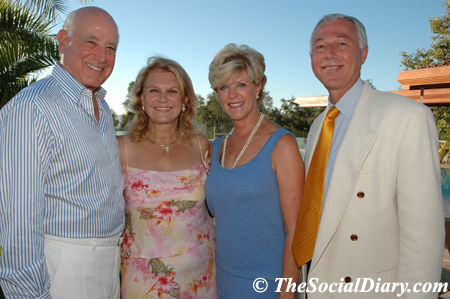 Walter Green, Co-Chairs Lola Green and Susan Kazmarek-Biddick, and Craig Biddick
And the home is magnificent. Taking in idyllic viewscapes, it borders on the pristine open space of the San Dieguito River Park. Pure tranquility. Norm Applebaum took Prado patrons on a home tour. Patrons were enamored by the indoor/outdoor pools of priceless koi, large entertainment spaces, and a master bedroom suite with huge walk-in closets organized with precision and beautiful clothing.
After all, this is the home of San Diego's new "it" couple. Tanya and Charles were married just months before at their home. Elton John, the Elton John, performed at their wedding. Elton's red piano is on display in the guest wing living room. That's the wing with several adjoining bedroom suites.
Among the fun set there that day who have contributed so much towards Balboa Park's museums were Jeanne Jones and Don Breitenberg, Valerie and Harry Cooper, Nancy Gold and Colin Seid, Sook and Ron Hansen, Barbara Brown, Betty and Leonard Kornreich, and of course the incredible Chairs of the event with their spouses, Susan Kazmarek-Biddick and Craig Biddick, and Lola and Walter Green.
Guests enjoyed exquisite Pamplemousse Grille catering and the architect tour. The tour also included the Brandes's subterranean garage filled with some one of a kind cars. Ferraris in particular. Like a 2003 Ferrari 360 Challenge Stradale, also Ducatti motorcycles and an Italian mini-car with wicker seats that the Brandes's have flown into fun destinations like the South of France, Italy, etc when they travel.
Just so you don't think this is all about frilly frou frou, the Brandes's have been quite generous to open their estate for events such as this. In his day job, Charles Brandes, as head of Brandes Investment Partners manages over $95 billion. Yes that's 95 billion dollars! He also serves on the boards of the Salk Institute for Biological Studies, and the Whittier Institute for Diabetic Research. And Tanya and Charles have been very supportive of numerous San Diego Charities including the aforementioned, and the La Jolla Music Society, the San Diego Symphony, the Helen Woodward Center, the United Cerebral Palsy Association of San Diego, the Museum of Contemporary Art San Diego, the San Diego Museum of Art and of course the Patrons of the Prado.
Three cheers to the Brandes's, Lola Green and Susan Kazmarek-Biddick, and the Patrons of the Prado members for all of their hard work and support to keep Balboa Park Museum's the shining examples that they are!
For a look back at the 2006 Gala please click Casablanca at the Prado 2006

Prado VIP Guests ** Tanya Brandes with Sook Hansen
Tanya Brandes with Jeanne Jones and Don Breitenberg ** Colin Seid and Nancy Gold
Lola Green with Charles and Tanya Brandes, and Susan Kazmarek-Biddick ** Leonard and Betty Kornreich
Prado VIP Guests ** Harry and Valerie Cooper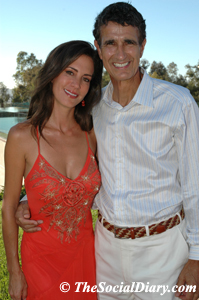 Newlyweds, and terrific hosts, Tanya and Charles Brandes
Walter and Lola Green
Susan Kazmarek-Biddick and Craig Biddick
Barbara Brown and Valerie Cooper ** Architect Norm Applebaum
* Margo Schwab has produced, written, interviewed and photographed for various media organizations since 1989. Schwab has a college degree from Scripps College and a Masters of Business degree from the University of San Diego. Schwab volunteers for numerous charity organizations. She also continues to lobby for water safety and for family violence mitigation. Schwab is the owner and publisher of The Social Diary. Margo is currently writing a book based on La Jolla.
back to New this Week.....Margo Schwab Archives...... Home
Warning ** photos, video and writing on this site are the
copyright of The Social Diary, San Diego Social Diary, margomargo.com and Margo Schwab.
no reproduction of any part or parts is allowed without written permission by Margo Schwab