Leave it to restaurant genius Sami Ladeki to find a brilliant "Thoroughbred Worthy" way to launch a restaurant and give back to the community at the same time. Sami's new restaurant, Blackhorse Grille, was the beautiful venue May 22nd, 2005 for helping the United Pegasus Foundation, raise funds for horse rescues. In particular, Pegasus rescues and rehabilitates horses from Premarin abuses.
Please visit www.unitedpegasus.com to learn more about ways you can help rescue horses from abuse!
Please visit the Genesis Awards 2005 to see why the United Pegasus was recognized for rescuing horses.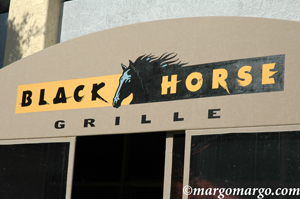 Blackhorse Grille is located at 3702 Via de la Valle in Del Mar, by the San Diego Polo Club. Blackhorse Grille is open at 11:30 for lunch and 4 daily for dinner. Free Valet Parking. Scrumptious fresh, regional cuisine by Executive Chef Ryan Johnston, a talented Chef who graduated from the prestigious Culinary Institute of America. Prices are moderate, the menu is inspiring and inviting for all ages!
Special thank you's to Blackhorse Grille, Sante's Ristorante, Roppongi's Restaurant & Sushi Bar, Fresh Restaurant, Sammy's Woodfired Pizza, Nine-Ten Restaurant, George's At The Cove, Hawes Home Builders, Youthful Essence, La Jolla Cosmetic Surgery Centre, artist Colleen Ross, La Jolla SpaMD, Winsor Pilates, The Marine Room, Scalini's Restaurant & Polo Bar, Sbicca's Bistro, Regions Restaurant, The Genesis Awards 2005, Casa Malibu, The Beverly Hills Hotel, Symbolic Motor Car Company, Bowers Jewelers, ChasaRae Custom Designs!