" Who's Hot "J
January 12th - The "who's hot" list continues with someone who is the epitome of New York and International chic. It is Gigi Mortimer of the "Mortimer, Mortimer's," related to Averill Harriman. (Harriman was a giant in banking, railroads, he founded Sun Valley, he was an Ambassador to Russia and Britain, as well as the Governor of New York). Gigi, as a Mortimer, is also related to a history of Whitney's, Vanderbilt's, Churchill's and such. She can be found at the chic-est of parties from NYC, to the Hampton's in summer to Sun Valley in winter. And Gigi doesn't just wear couture to the parties, she inspires it. She has long been the muse for Vera Wang. And at 5'8", lithe and leggy, and a natural beauty, it's easy to see why. Gigi has also been a designer for Ralph Lauren Accessories, and has contemplated her own sports' related designs.
She is a favorite of Town and Country Magazine, W Magazine and any other fashion magazine and news show about. Frequently adorned in couture, vintage and new, she is one of the most photographed society women around. A party at Tory Burch's, Cartier, de Grisgono Boutique, the Whitney Museum, The Rainforest Alliance, the NYU Child Study Center, you name it, she supports it. But Gigi doesn't just mix in with the likes of Muffie Potter-Aston, Valesca Guerrand-Hermes, Emilia Fanful, the DuPonts and Princess Yasmin Khan..... she stands out!
And she does it with self-effacing grace. A mother of 3 beautiful boys, Gigi has stepped back from the limelight to have more time with her family. In the past, when her eldest enjoyed a surf lesson so much, she joined in and has been hooked every since. A regular Gidget from NYC meets West Coast waves.
the Social Diary salutes Gigi Mortimer for her devotion to so many causes, but most of all her devotion to her family, and she does so eloquently and with grace.
December 30th, 2005 - The "hot list" continues with a couple who is perennially fun, smart and inspiring. They are Juliet and Michael Holleran. Michael Holleran made his millions the old fashioned way, he earned them. Holleran is the lead marketing genius behind MBNA, the huge company behind every credit card, branded company's like the NFL, and a whole lot more in financial services. He also sings and plays the guitar. Juliet Holleran is a "drop dead" gorgeous fitness beauty. When she is not on the cover of Maxim, or starring in film, she's busy in her other pursuits of singing (she has a stellar voice), and being the best Mom. Juliet also designs clothing and promotes entertainment talent.
The Holleran's support a variety of San Diego school programs as well as the Helen Woodward Animal Center. They also support a good part of the San Diego event industry. When they throw a party, it's big. A couple hundred of people big, with Veuve Clicquot at the minimum being poured. For Michael's surprise party a few years back, Juliet not only organized 600 guests at their Rancho Santa Fe mansion, she greeted him with keys to a new Rolls Royce!
SDSD salutes Juliet and Michael Holleran for their kindness, smarts and generosity!
Juliet Holleran Video, and Juliet and Michael Holleran are pictured here at 2 different wedding events.
December 27th, 2005 - The 'who's hot' list includes a couple who are 20 years strong. Valerie and Harry Cooper or the Halerie's, as they are affectionately now known, have had a long devotion to supporting San Diego causes. The Museum of Contemporary Art San Diego, The Jewel Ball, the UCSD Cardiovascular Ball, American Friends of Zandra Rhodes Textile Museum, the San Diego Museum of Art, the Rebecca and John Moores UCSD Cancer Center.... you get the idea. And they support and chair these and many other events with grace.
One of San Diego's prime 'givers and shakers', this couple has led an interesting life. Harry, the Versace wearing half of the Halerie's, made his fortune through computer education programs, formerly owning the Sports Arena ie the IPay Arena, and building and owning the Torrey Villas. Valerie, always a fashion plate in Oscar de la Renta, Marc Bower and more, lives part of her life at committee meetings, chairing events solo, sometimes as Halerie. The other part of her life is practicing and competing in equestrian events,and she wins, and traveling with Harry.
The Halerie's are quite fond of Aspen, in season, Europe, and an occasional, elegant, hut foray in Tahiti and such.
To Valerie and Harry Cooper, aka the Halerie's, SDSD salutes your kindness and your contribution to San Diego's many organizations.
The Halerie's, Harry and Valerie Cooper.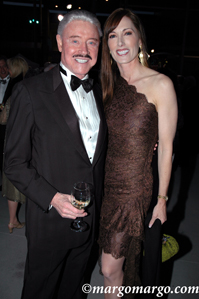 December 26th, 2005 - The 'who's hot' list is big in San Diego. It's not just about what you have, it's what you do with it. At the top of the SDSD list is David Copley. He's powerful as Publisher of the Copley News Empire, he's rich as in Forbes rich. But what's interesting is Copley's compassion and generosity. It is not obligatoire for someone in his position to give back to the community, yet he does. San Diego Hospice, the Museum of Contemporary Art San Diego, La Jolla Playhouse are 3 of the many organizations that Copley has given generously to over the years.
Spin to June, 2005. Copley received a necessary heart transplant. The confirmed buzz is that Copley is saying thank you for the gift of life quietly, but in a big way. Rumour has it that Sharp Hospital's planned expansion has everything to do with one greatful patient in particular.
To David Copley, SDSD salutes your generosity and compassion.
David Copley is pictured here with his good friend Judith Harris.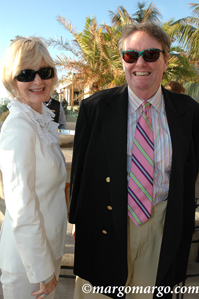 The contents of this page and this site are the 2006 copyright of the San Diego Social Diary and Margo Schwab. Written permission by Margo Schwab is required to republish or copy any part of this site.