~ The Social Diary ~
the on-line magazine covering High Society ..& more
____________________________________________________________
Fabulous Forties themed Taste the Decade

April 17th, 2006
The Social Diary Columnist & Photographer Margo Schwab
The Annual Taste the Decade fundraiser for the American Lung Association of San Diego and Imperial Counties got swingin' with their Fabulous Forties themed event April 9th, 2006. Guests gathered at the historic Naval Training Center in Point Loma for an afternoon of nonpareil entertainment and food.
Guests were greeted by dapper volunteers, the music of the Moonlight Serenade Orchestra and the beautiful voices of the one and only Violettes. Tempting sights were the polished to a shine 40's Cadillacs on display.... and the very tempting auction prizes.
Enjoyed too were the incredible foods and wines on hand. Chalk Hill Winery was quite popular and so was Orfila Winery. Stone Brewing Company provided their award winning suds. The food was extraordinary. Chef and Owner Stephen Window of Roppoingi cooked up his tasty mini-lamb chops with crunchy straw potatoes. Chef and Owner Mathew Zappoli of La Jolla's Fresh served up sublimely delicious crab cakes. Ristorante Piatti had their delicious lemon raviolis. The Fish Market/Top of the Market's head Sushi Chef Teiji Ohkawa served up "dai ichi," or "da kine" in Hawaiian terms, fresh sushi.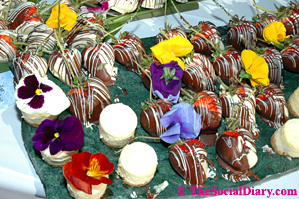 More contributing deliciously to the fight against lung disease were Chef Ryan Johnston of Blackhorse Grille, Chef Michael Concepcion of The Brigantine, Chef/Owner Stefano Ceresoli of Caffe Bella Italia, and James Phillips of Pamplemousse Grille to name a few.
This fundraiser ran smooth as a Cole Porter song, and Fred Astaire's dance steps. And it was all thanks to committee headed up by Event Chair Tim Bacino, Chairman Colin Young, President and CEO Janie Davis, Susan Christopher, Bob Goggin, Jennifer Goman, Carolyn Showley, Craig Nelson, Thom Hiatt, and LuAnn McSwiggen.
Big sponsors included MedImmune, Astec Power, The Ken Blanchard Companies, PacifiCare, ERM, APEX Contracting and Restoration, Procopio, La Jolla Institute for Molecular Medicine, Barney and Barney, and the Corky McMillin Companies.
The formidable sponsors and committee team helped guide the American Lung Association towards its mission: "Improving life. One breath at a time," ...."preventing lung disease and promoting lung health."
To learn more about how the American Lung Association of San Diego and Imperial Counties, this event, future events, and how you can be involved, please visit www.lungsandiego.org .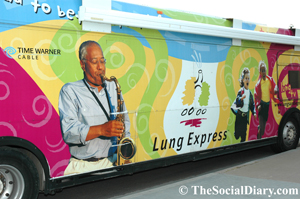 * Margo Schwab has produced, written, interviewed and photographed for various media organizations since 1989. Schwab has an college degree from Scripps College and a Masters of Business degree from the University of San Diego. Schwab volunteers for numerous charity organizations. She also continues to lobby for water safety and for family violence mitigation. Schwab is the owner and publisher of the Social Diary.

back to New this Week.....Margo Schwab Archives...... Home
Warning ** photos, video and writing on this site are the
copyright of the author, The Social Diary, San Diego Social Diary, margomargo.com and Margo Schwab.
no reproduction of any part or parts is allowed without written permission by Margo Schwab