Where Pets Are Always In Style.....

~ The Social Diary ~
the on-line magazine covering High Society ..& more
____________________________________________________________
News from the Old Continent - Floyd Landis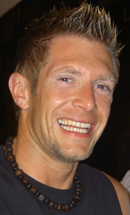 July 23rd, 2006
The Social Diary Swiss Columnist Laurent Kramer
Year 2006 is busy in great sports events on the Old continent. We first had the Olympic Winter Games in Torino/Italy, then the soccer World Cup in Germany, Roland Garros tennis tournament and today was the last day of the Tour de France. This amazing three weeks race was won by Floyd Landis, an American pro carrying the colors of a Swiss Team, Phonak Hearing System.
I don't know if some of you are interested in bicycle races, but Floyd Landis, for whom year 2006 is THE year, lives in San Diego ! This year, he won the Tour of Georgia, the Tour of California, Paris-Nice/France and he just won the Tour de France a few hours ago. If you want to know some more about this American hero, check his web site www.floydlandis.com.
We usually say " A train can hide another ". This time it would be more accurate to say " An American can hide another ," refering to Lance Armstrong, seven times winner of the Tour de France. Floyd Landis was a lieutenant for three years for Lance Armstrong in a US Cycling Team, US Postal Service (2002-2004).
Following the race on TV and watching the end of each stage on the last week, it was quiet a thrill as so many things happened. These included our hero wasting 8 minutes a few days before arrival on the Chaps-Elysées, losing the Yellow jersey and the next day fighting alone for about 130 kilometers ending the stage at 1 minute from the Yellow jersey carrier Oscar Pereiro and finally taking the lead on the " against the clock " stage one day away from the Sacre.
I hope San Diegans will give a warm welcom to Floyd Landis, as much as we, Swiss sport lovers, thank him for making this victory possible to this team, with the help of all his teammates !
editor's note - Look for Laurent to be in San Diego hopefully this August!
_______________________________________________________________
* Laurent A. Kramer is a Swiss citizen and resident, who loves San Diego, loves to ride the waves on his longboard, and loves the California spirit. And of course Kramer loves to ski in winter!
Laurent's father, Dan Kramer is a photo artist. You can see Dan Kramer's work on www.photobistro.com
back to New this Week.......Laurent Archives....... Home
Warning ** photos, video and writing on this site are the
copyright of the author, The Social Diary, San Diego Social Diary, margomargo.com and Margo Schwab.
no reproduction of any part or parts is allowed without written permission by Margo Schwab