Helen Davis .... Surprise Magnifique!
The invite said 'Surprise Birthday Party' for Helen Davis. What might be an even bigger surprise is that it was to celebrate Helen's 96th birthday. Yes that's 96! There's something very youthful in that Hungarian DNA, because Helen just does not look her age. Runs in the family.
So when Jerry and Lee Clark, Helen's daughter and son-in-law, invited guests to come and celebrate in casual attire, that had to be taken in context too. More like 'casual chic couture!'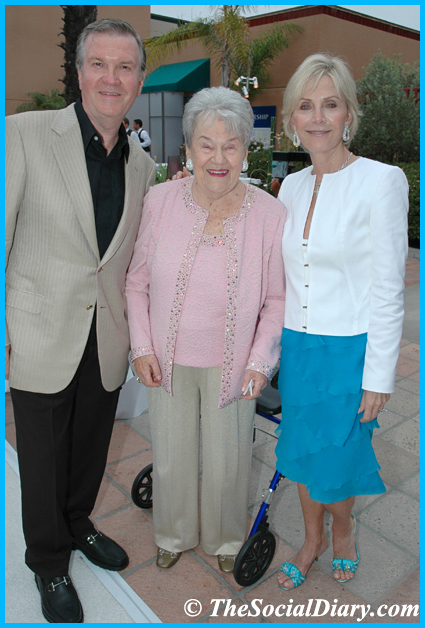 Dr. Jerry Pikolysky with Helen Davis and Lee Clark
Among the casual chic gathering at La Jolla's Birch Aquarium were Sheryl White in 'casual' Missoni. Marilyn Boesky chose Missoni too. Karen Cohn wore Michael Kors, Theresa Bujdoso wore Versace head to toe, and Jennifer Greenfield wore a trim dress by Dolce & Gabbana.
The hostest with chic mostest wore Versace with 'casual carat' accessories.That would be Lee Clark of course!
So how did Lee pull the surprise off. Apparently her Pasadena Playhouse training days came in very handy to keep the secret from her mother..
Now the details of how she did it.
Lee told her her mother that she was chairing an International SeaKeeper's Society event. Not a stretch. Lee and Jerry are founding members of the society which has embraced Monaco and his Serene Royal Highness Prince Albert of Monaco as it's sea partners.
Back to the party.
And so the party unfolded with quite a few "Helen, Happy Birthday's" said at the greeting line. Between that, the Helen's Cafe signage and Club 96 signage, Helen discovered it was really her party.
And well thought out party it was.
There was a psychic by the fish aquariums. She was very popular. Music by the group Keenan Kanahele by the tide pool display overlooking the Pacific Ocean. And there was the photo booth that everyone happily visited. Guests posed for a series of photos and chose a few that would go into a commemorative album for Helen.
Among the guests enjoying the birthday cheer were Lisa and David Casey, Royce and John Campbell, Tahnee McKellar and Joerg Kruse, Lee and Frank Goldberg, Anne Fomon, Margaret and Nevins McBride, Lorna and Chris McKellar, Barbara Bloom, Judy and Jack White, Emma and Leo Zuckerman, Jennifer and Dr. Richard Greenfield, Elaine Robbs and Kelly Hooker, Sheryl and Harvey White, Karen and Don Cohn, Melissa and Mark Grosvenor, and Trisha and Bill Kellogg.
More there included Sheila and Jeff Potiker, Hermeen Scharaga, Rusti Bartell, Melissa and Michael Bartell, Collette and Bob Stefanko, Amy Baldwin, Sharon and Sami Ladeki, Diane Clarke and Dan Moore, and Ross Clark. Ross is in real estate now but I think it could safely be said he has been a private physical trainer in years past for just about all the finely tuned physiques in town.
Family there included Darcie and Patrick Garvey, Cheryl and Bob Miller, Theresa and Brian Bujdoso, Michael Stephen in from Colorado, and Karen and Norm Davis.
Guests sipped Perrier Jouet and other libations. There was a pomegranate martini bar too. The martinis were cooled down through a '96' ice sculpture and the glass rims were dipped in sugar. Appetizers served up included mini Chesapeake Bay Blue Crab Cakes with Smoked Chipolte Aioli and San Danielle Prosciutto wrapped asparagus and Gorgonzola Mousse.
Later buffet dinner stations also by Giuseppe Ciuffa provided quite the international fare and flare. Among the delectable's was the Gourmet Slider Station with Natural Prime Beef, a Latin Affair Station with among other tasty things, Mango and Smoked Gouda Quesadilla with Avocado and Carmelized Onions.....and then there was the Euro Bistro Station with among other things Warm Artichoke-Spinach Souggle served with Toasted Crostini, The Italian Job Station, The Ice Cream Bar..... and then the very fun Mini-Donuts. They were freshly made. Those were scooped up by the bag!
The night capped off with cappuccino's, expresso's and a whole lot of dancing to DJ Mike Hogan.
The whole event was coordinated by Jim Lennox of Pacific Events to make Lee Clark's vision happen. And it did!
That included one Happy Birthday Girl named Helen Davis. Word is the celebration continued the rest of the weekend over BBQ's at the La Jolla Beach and Tennis Club.... but we know the celebration goes on each and every day!
Party Comments:
"What a nice party Lee had for her Mom. Could you believe Helen's skin? I hope my skin looks that good in my 90's, heck now would be nice! I ate waaaaay too many donuts, but they were small so maybe the calories didn't really count! I also had my fortune told, I was told I have nothing to worry about…… It was a lot of fun!" - Sheryl White
"It was loads of fun having my future read at Helen's party next to all the tanks of fish. The Birch Aquarium is such an amazing location anytime but it felt especially unique to be in the aquarium after hours. I was having my tarot cards read while the fish were peering at me. Lee arranged a lovely celebration for her mother's big day." - Karen Cohn
fyi - Helen's favorite San Diego organization list would definitely include the San Diego Opera. She and her daughter Lee have been major supporters for years!
The entrance with Scott Johnston, Jim Lennox and Alfonso ** Lee Clark greeting Jennifer Greenfield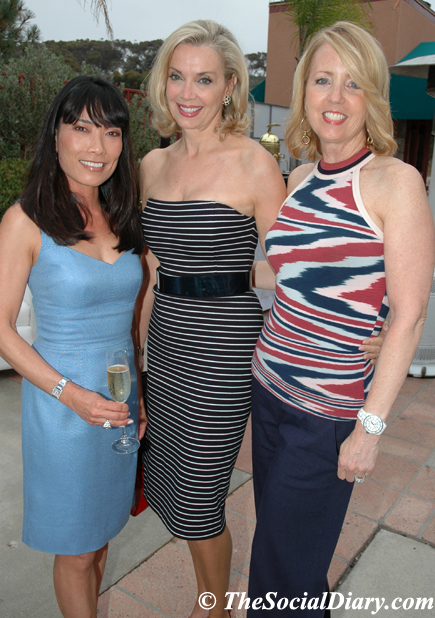 Jennifer Greenfield with Karen Cohn and Sheryl White
Bill Kellogg with David and Lisa Casey ** Helen Davis greeting Mark and Melissa Grosvenor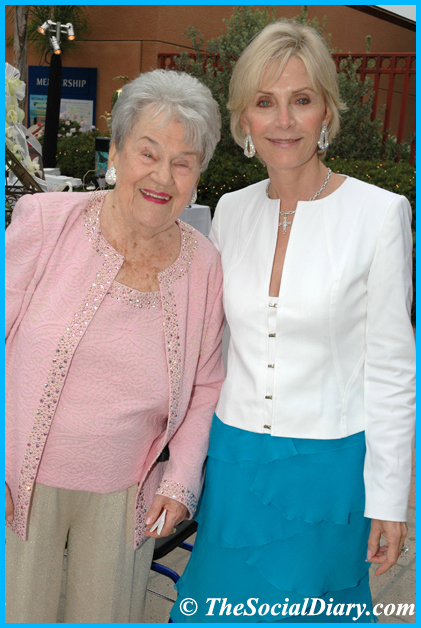 Helen Davis with her daughter Lee Clark
Michael and Melissa Bartell ** the Brett Missell's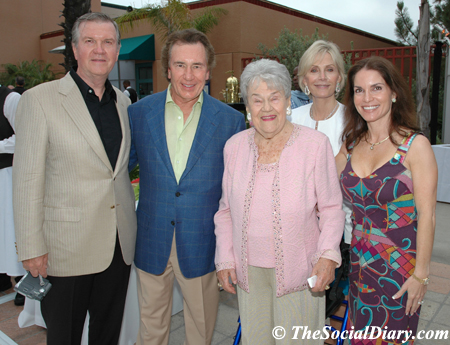 Dr. Jerry Pikolysky with Mark Grosvenor, Helen Davis, Lee Clark and Melissa Grosvenor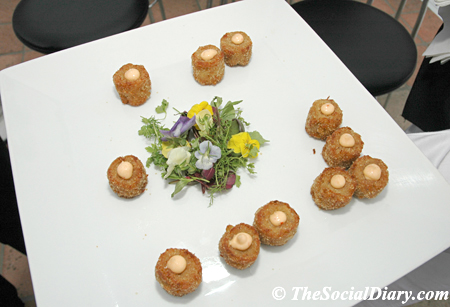 Those Mini Crab Cakes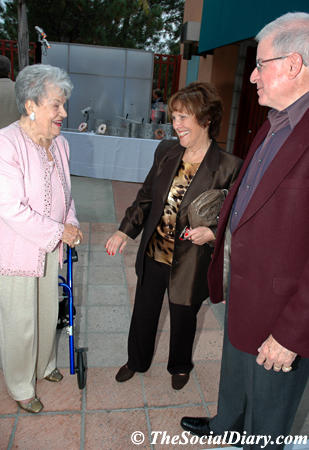 Helen Davis with Sheila and Jeff Lipinsky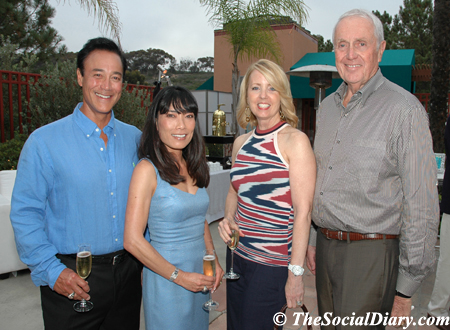 Scott Johnston with Jennifer Greenfield and Sheryl and Harvey White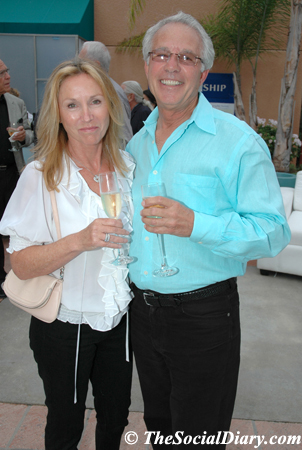 Elaine Robb and Kelly Hooker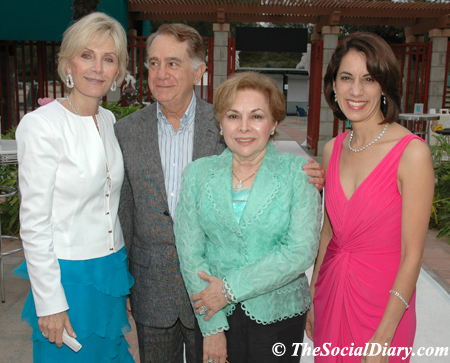 Lee Clark with Goli and Goli's family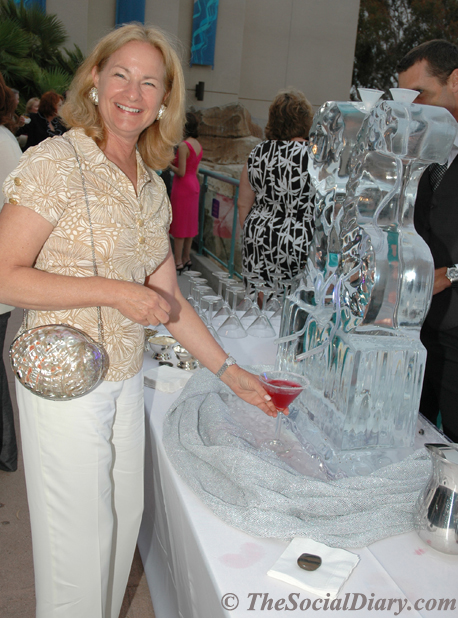 Susan McClellan getting a Pomegranate Martini
Virginia Monday with Scott Johnston ** Margo Schwab with Helen Davis
Scott Johnston with Helen Davis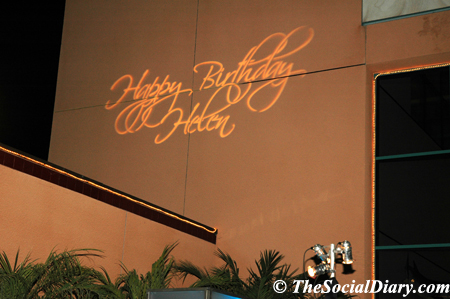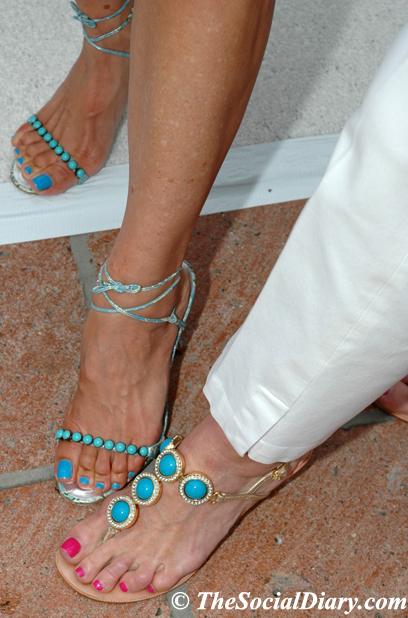 Chic Sandals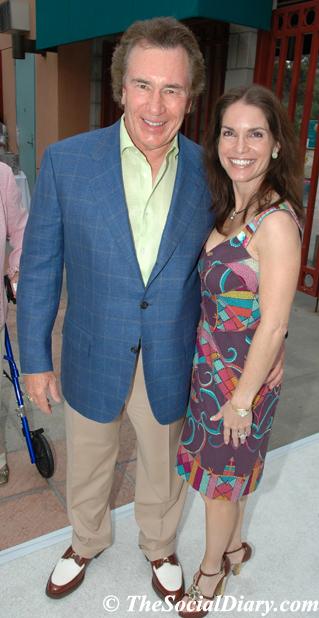 Mark and Melissa Grosvenor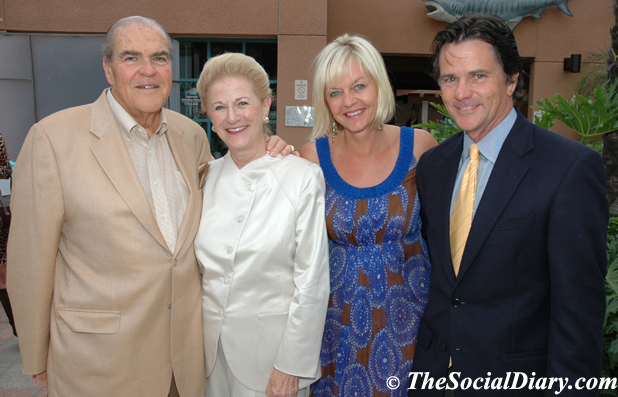 Jack and Judy White with Lorna and Chris McKellar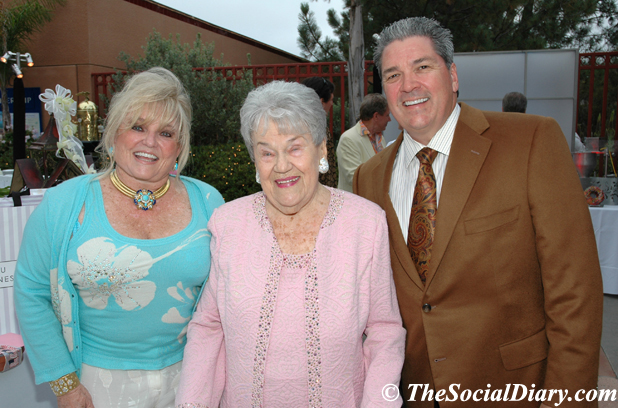 Diane Clarke with Helen Davis and Dan Moore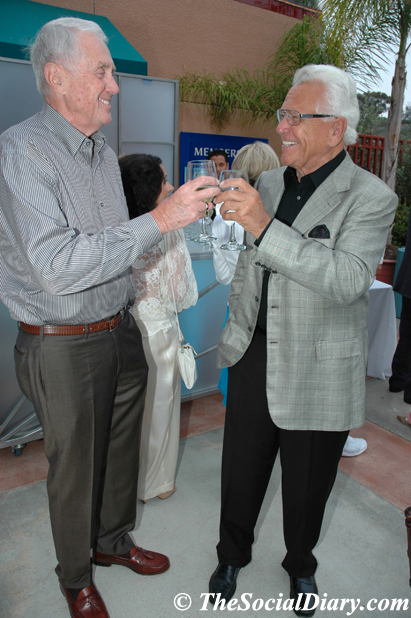 Harvey White toasting with Don Cohn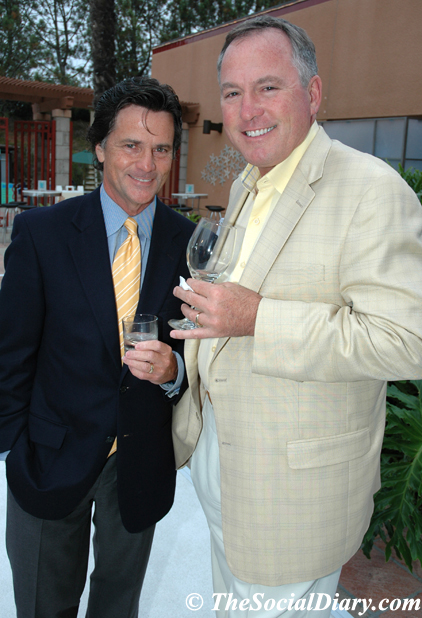 Chris McKellar with John Campbell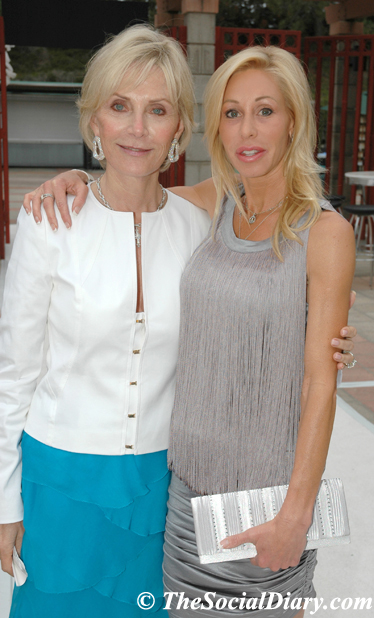 Lee Clark with Amy Baldwin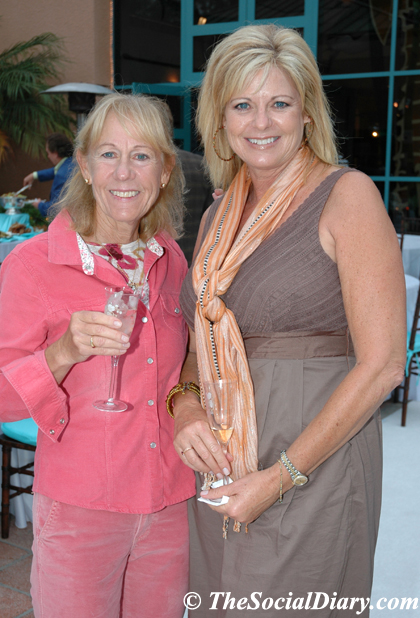 Trisha Kellogg with Royce Campbell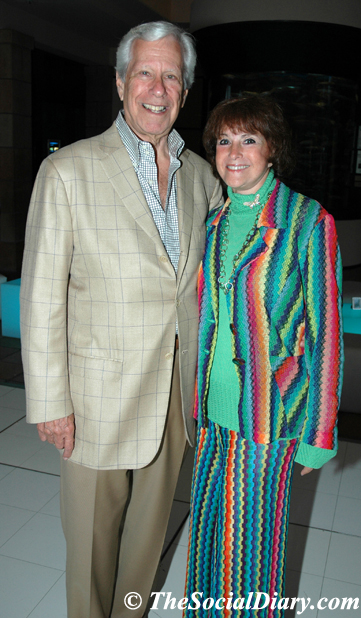 Roger and Marilyn Boesky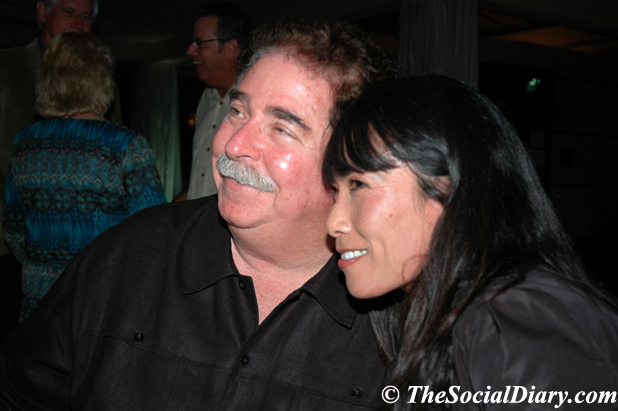 Richard and Jennifer Greenfield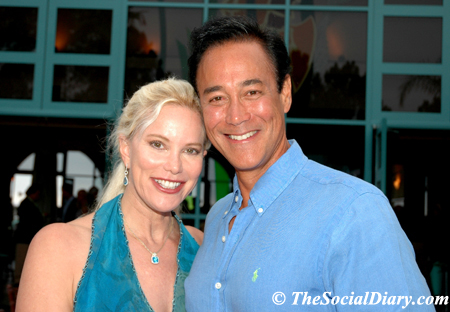 reported by Margo Schwab in Jordan Couture,
and Scott Johnston in Ascot Shop linen
all photos and content are the strict copyright 2009 of TheSocialDiary.com and it's subsidiaries
no downloading!! photos are available for purchase if it is of you! email mschwab@san.rr.com to purchase
The Buzz
Squid and giant crabs have been washing up in La Jolla....El Nino??
Opening Day at the Races promises to be a big one... certainly a day when there is a lot of 'jockeying' for position!
Seen around - The Thornton's at Zenbu, and a whole lot of big name Texan arrivals to La Jolla.... 'tis the season!
Upcoming Events
July 16th - Dr. Hugh M. Davies, the David C. Copley Director at the Museum of Contemporary Art San Diego, will lecture on contemporary painter Francis Bacon. Please visit www.mcasd.org for details.
July 18th - Patrons of the Prado Gala will be held in Balboa Park. This year the beneficiaries are the San Diego Junior Theatre, San Diego Natural History Musuem and Timken Museum of Art. Elisabeth Bergan and Anita Crider will be the Co-Chairs. Visit www.patronsoftheprado.net for details.
July 21st - Naeem Khan and his exquisite designs will be the fashionable focus at the Globe Guilders and Neiman Marcus hosted fashion show. A champagne reception, luncheon and fashion show will take place at the Sheraton San Diego Hotel and Marina. For ticket information, please ring 858-454-0014.
July 30th - 'After the Finish Line's' summer fundraiser, A Tribute to the Majesty of Thoroughbreds. Please visit www.afterthefinishline.org for details.
July 31st - August 23rd - The La Jolla Music Society will host its SummerFest series. Please visit www.lajollamusicsociety.org for details.
August 1st - Old Globe Gala will host its black tie soiree to coincide with the production of the First Wives Club. Please visit www.oldglobe.org for details.
August 8th - Las Patronas will host its Silk & Spice themed Jewel Ball at the La Jolla Beach & Tennis Club. Please visit www.laspatronas.org for details and tickets.
August 13th - ChildHelp and Leonard Simpson fashion at the W Hotel. Details to come.
August 15th - The 'Catch the Royal Wave' will be the theme for the Fur Ball at the San Diego Humane Society. Please visit www.sdhumane.org for details.
August 23rd - The Moores UCSD Cancer Center will host the 1th Annual Luau & Longboard Invitational by Scripps Pier. For more information please ring 858-822-0023.
August 23rd - Country Friends will host an exciting new event called Hats and Flats. Sip champagne among the fashionable set. The event will take place at the San Diego Polo fields. Details to follow.
August 29th - The Art of Fashion at The Timken Museum in collaboration with Fashion Careers College's Pat O'Connor. For reservations, please visit www.timkenmuseum.org
September 11th - SIMA will host the 6th annual Liquid Nation Ball at the private oceanfront residence of Fernando Aguerre. This year the Humanitarian of the Year award will go to surf star Flea. Please contact Shannon Park at shannon@sima.com for more details or visit www.liquid -nation.com
September 17th - The Costume Council of the San Diego Historical Society will be hosting a one-of-a-kind event in Balboa Park to showcase select San Diegan's couture finds. The Social Diary is pleased to be a part of this showcase. For more information about this event, please visit www.sandiegohistory.org
September 17th - The San Diego Police Hisotrical Association will host a Legends Behind the Badge gala & awards evening at the U.S. Grant. San Diego Police Department's Chief of Police William Landsowne will serve as Honorary Chair with Ramin Portemeyer serving as Co-Chair. Please ring McFarlane Productions at 619-233-5008 for ticket information.
September 24th - The Country Friends will present the 54th annual "Art of Fashion" Runway Show at The Inn at Rancho Santa Fe. Proceeds from the luncheon, fashion show, boutique shopping and wine tasting will benefit Voices for Children, which provides court advocates for children in foster care. Couture fashions presented will be provided by South Coast Plaza. For ticket information, please contact The Country Friends at 858/756-1192, Ext. 4 or via email at events@thecountryfriends.org.
September 14th - Crime Stoppers Golf Tournament.
October 16th - The Rainforest Alliance will host it's gala. Details to follow.
October 22nd - The Walden Family Services will host their 6th Annual wine D'Vine event. Please visit www.waldenfamily.org for more details.
November 7th - The Golden Hangers / FCC benefit for Make-A-Wish and San Diego Variety Children's Network.

Proud to be partnered with San Diego News Network
________________________________________________________________
Photoshopping and Photography Services
Photos on this website available if it is of you
available by The Social Diary
~ 619-384-7333
email TheSocialDiary.com
_____________________________________________________________________
Email Commentary to be added
email editor@thesocialdiary.com
* Margo Schwab, more formally known as Margaret E. Schwab, has produced, written, interviewed and photographed for various media organizations since 1989. Schwab attended Holton Arms School, La Jolla Country Day School and La Jolla High School. Schwab has a B.A. from Scripps College, spent a business internship with S.A.I.C., Science Applications International Corporation, and earned a Masters of Business degree, M.B.A., from the University of San Diego. Schwab additionally took college courses from Harvard University, and Syracuse University. Schwab volunteers for numerous charity organizations. She also continues to support animal organizations and the prevention of people and animal abuse. Schwab is the editor of The Social Diary.
The Social Diary is pleased to announce new partnerships with the San Diego Humane Society and San Diego News Network.
Warning ** photos, video and writing on this site are the
2009 copyright of The Social Diary LLC and its subsidiaries.
no reproduction of any part or parts is allowed without written permission by The Social Diary